Modiphius Brings New 3D Print Ready Files For Fallout Wastelands To My Mini Factory
Mōdiphiüs continues to innovate and is establishing itself as one of the most prominent names in the 3D printing tabletop scene, offering a regular stream of Fallout: Wasteland Warfare releases on the MyMiniFactory platform.
Mōdiphiüs is one of the first big-name studios to embrace this technology by releasing 3D print-ready files for tabletop games Fallout: Wasteland Warfare and Elder Scrolls: Call to Arms. This bucks the trend where the established studios have largely avoided the print at home tech in favor of more traditional manufacturing methods. This has created a vacuum that has been filled by independent artists releasing models direct to consumers, either paid or for free on platforms such as Thingiverse. Often their revenue is crowd-funded through platforms such as Kickstarter and Patreon. In 2018, MyMiniFactory (MMF) launched an online STL file shop that enabled creators to charge for their design work. The mini painting and wargaming community quickly embraced MMF. It has grown and become the preferred storefront for creators to distribute their work, alongside their crowdfunded campaigns on Kickstarter and Patreon.
Home 3D printing is still in its infancy, despite being around for several years. While high adoption rates in schools, maker spaces, and even libraries have made it more accessible, the learning curve can be steep, especially in post-processing. There are no one-click print and forget options out there. Printers must be maintained regularly and print files processed for individual printers; even printers from the same manufacturer can be set up differently and have different tolerances. This can lead to frustration and lots of failed attempts. That being said, a properly set up printer, correctly processed print files, and good post-processing skills can yield amazing results. You can find out more about how 3D printing can enhance your tabletop games at the link.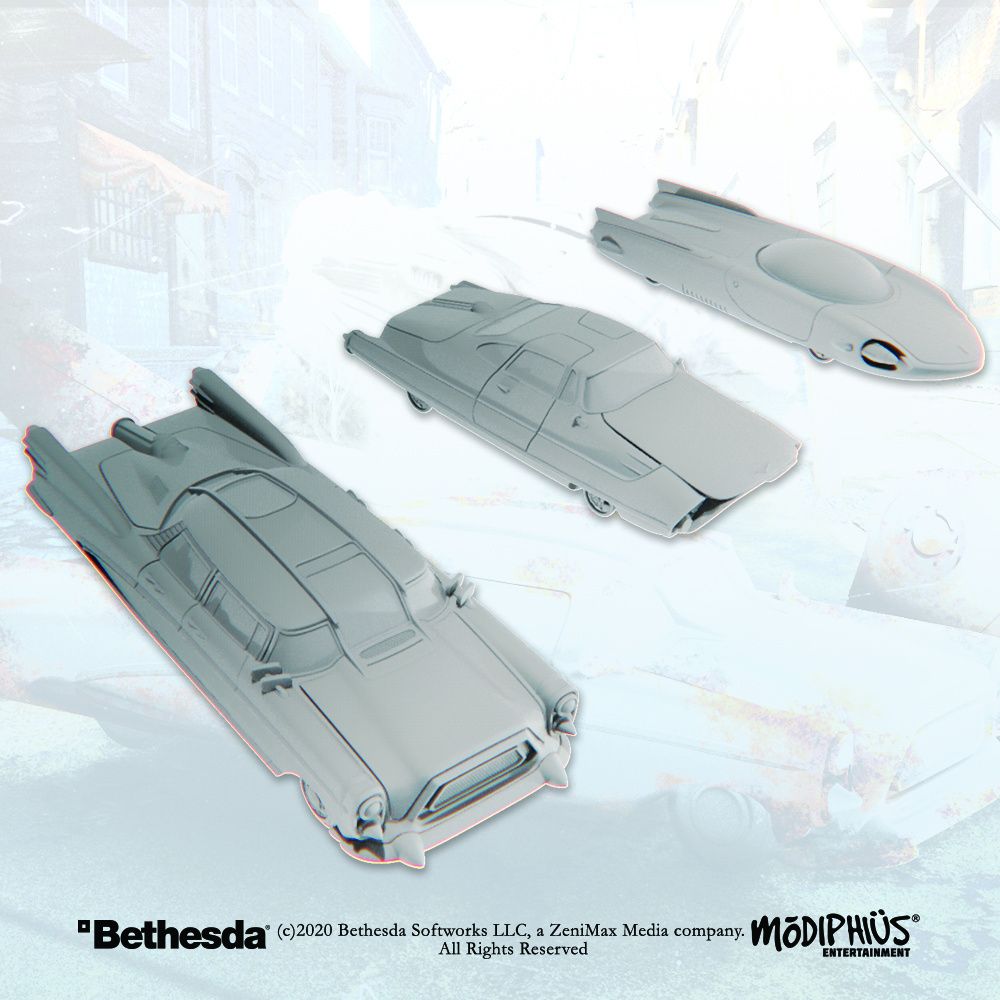 Mōdiphiüs has once again stepped out from the crowd with its latest releases. This time around.4, we've got some amazing sculpted vehicles that perfectly capture the studio's take on Fallout's post-apocalyptic future. First up is a car pack that features three civilian vehicles. There is a Chryslus Rocket, Corvega Sedan, and a Coupe of undetermined origin. Each has the signature Fallout aesthetic we have all come to love. These three models would make a welcome addition to your games as car-wrecks of a bygone era.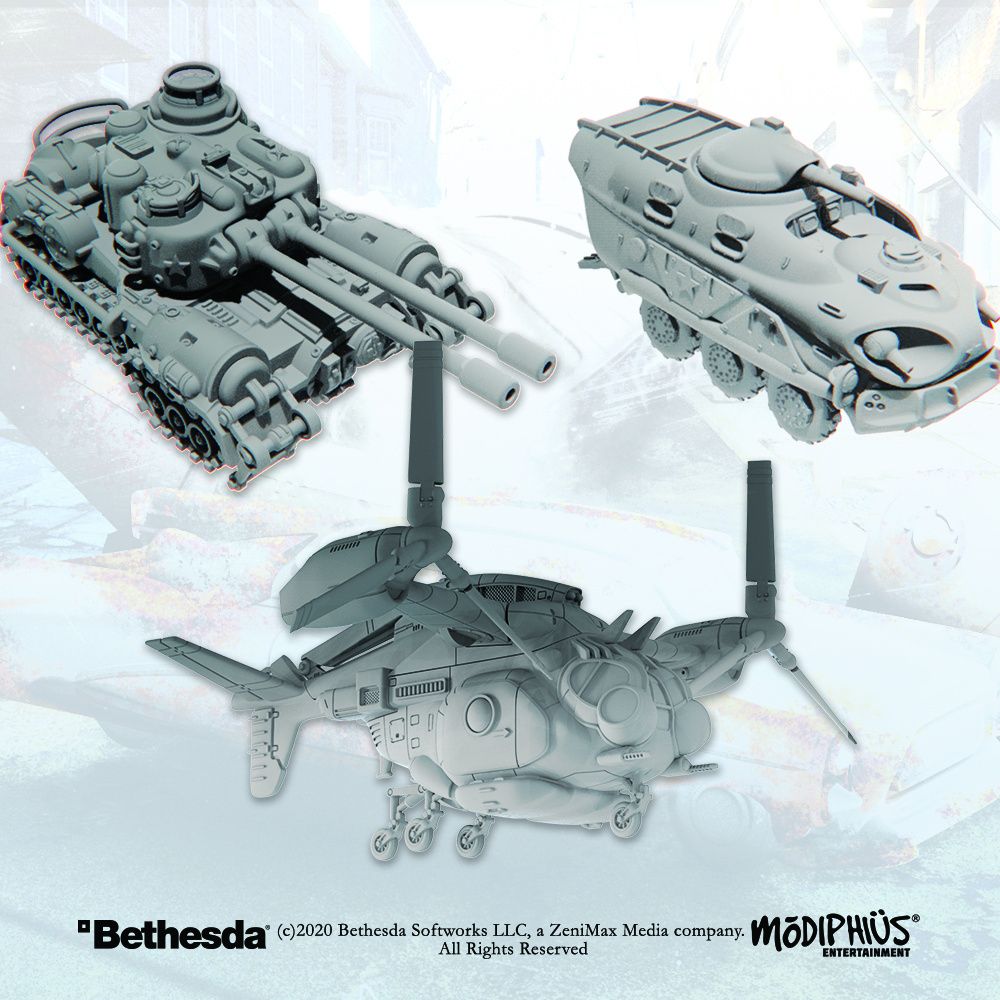 The military also had three vehicles added. The Vertibird is a large model and consequently, Mōdiphiüs recommends FDM printing. Besides the aerial powerhouse, it includes two ground-based vehicles; an APC and a Tank. The APC does a good job at capturing the same '50s feel like the civilian vehicle pack, but it's the tank that really sells the pack.
Finally, we have a set of two crashed vehicles featuring the aforementioned Vertibird and a mostly intact UFO that is part-buried deep in the ground. The UFO is the archetype flying disc that is deeply entrenched in our psyche thanks to Hollywood movies. The Vertibird comes in multiple parts to represent the disintegration of a crashed vehicle, with debris spread over a larger area.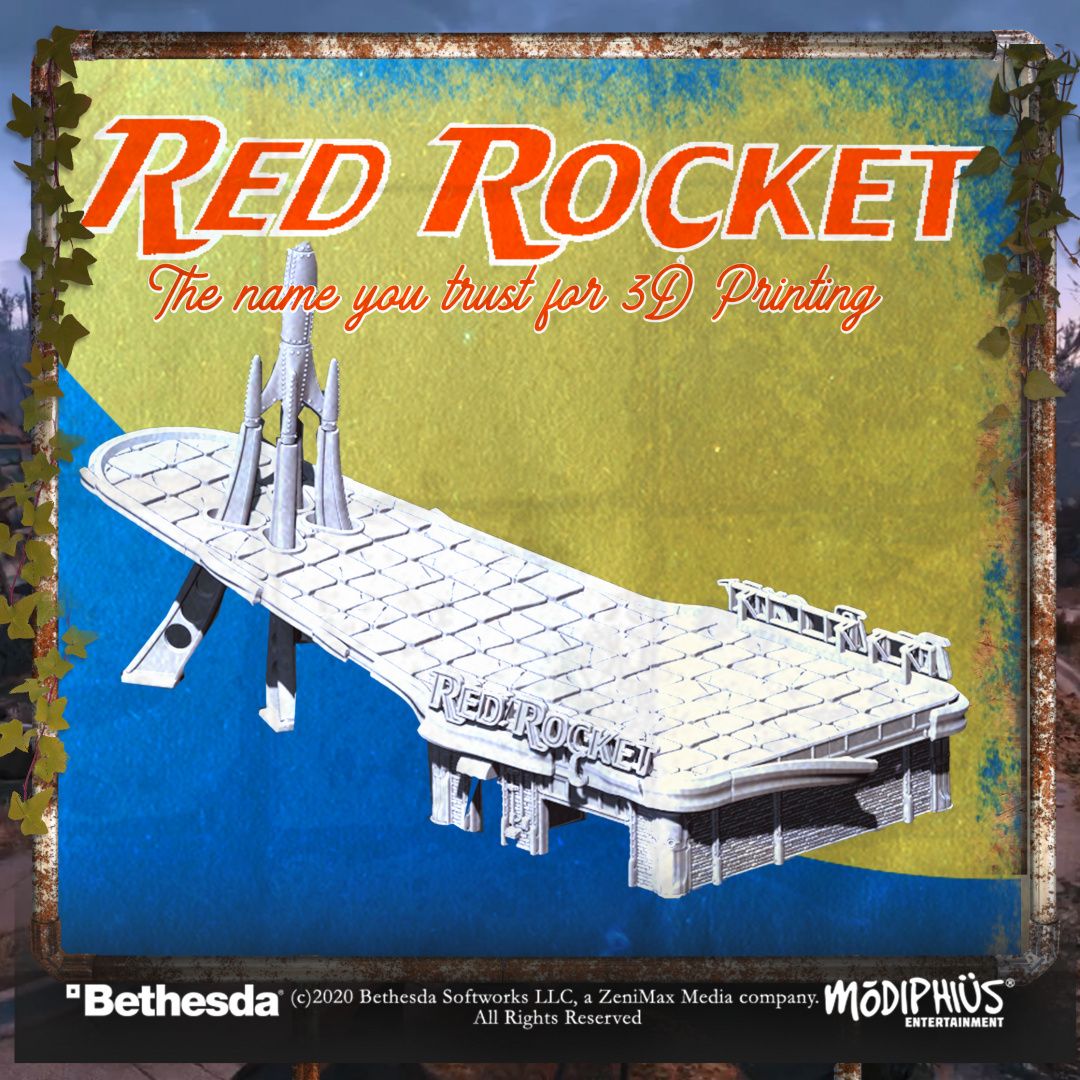 These releases join the myriad terrains and minis already released by Mōdiphiüs. It was only a couple of months ago that it released perhaps the most iconic Fallout location – the Red Rocket. This comes as a multi-part model that you can combine with other Fallout scenery to give an infinite number of possibilities. A ruined version of the Red Rocket is available for use as more general scatter terrain. This includes several rubble piles with the infamous signage sticking out, betraying the once majestic site.
While critics may argue that home-printed files lack some fidelity of commercially produced work, the difference is rapidly disappearing as higher resolution printers enter the market. This has led to consumers printing at home in order to get close to the same quality as a mass produced product. How long it will be before other studios take advantage remains unknown, but our guess is that it will be a while. Releasing models to print at home opens up the risk of piracy, something that has plagued video games since their early days. Regardless, Mōdiphiüs' strategy to engage with tabletop gamers is welcome and could point to a future of digital exclusive content.
All three packs are available as part of a combined jumbo pack, and all the models are available individually. The more you buy, the bigger the saving. We should note that experience in 3D printing and hobby modeling is key to getting excellent results, as is a good printer. Mōdiphiüs sell all the models on a personal use license; no commercial printing allowed. This means you can print them for your own games, but you can not sell or charge to print these models. For more information, you can find Mōdiphiüs on MyMiniFactory or purchase via its online store.
NEXT: December 2020 Games To Look Out For
Source: Read Full Article