Interview: Riders Republic Creative Director Igor Manceau Talks Tricks, Tech, And Offline Play
Riders Republic featured in today's Ubisoft Forward event, where its September 2 release date was revealed alongside new information on gameplay, game modes, and more. Prior to its latest showing, we sat down with the game's creative director Igor Manceau, who explained the main philosophy behind Rider's Republic – freedom to do it your way. "You can switch between all these sports, all these vehicles, on the fly," he says. "You can travel within our open world freely, which is the basis of that social outdoor sports experience. You can switch in between all of them the way you want." This means that you can play each Career Mode simultaneously, switching between them and different events at will, seeing some general progression across the game, as well as making specific progression through each discipline.
In most games with extreme sports, it tends to just be one form of motion that gets the focus. Tony Hawk's Pro Skater is all about skateboards, SSX is snowboards, and Mat Hoffman's Pro BMX is all about cycling. Riders Republic throws myriad forms of transport together, with skis, snowboards, bikes, and wingsuits all available, with different variations within these types. This sense of cohesion was a big part of the game's philosophy, Manceau says. "Our objective was to build a world community where you could enjoy outdoor experiences," he tells me. "We think that [each vehicle] is actually quite similar, both in terms of pure gameplay – you've got both racing or tricks – and also in exploration. They are pretty much the same in terms of logistics, even if each of them is specific. In terms of spirit, found it was relevant to the universe, by living in the mountains, the riders are pretty much the same. We thought that it was a great way to really expand the territory in which you can enjoy riding. You can start on snowy peaks, and then progressively get down, switching to a bike, and potentially flying in between a gauntlet or flying over a huge cliff in a wingsuit and then landing and moving on means the whole experience could be something really fresh and enjoyable."
Of course, part of the reason Riders Republic can support so many different playstyles is because of the increased technology now available to developers, which did not exist in the original heyday of Tony Hawk and Mat Hoffman. That's not the only way in which Riders is taking advantage of these tools. "It's a massive open world," Manceau says. "You can switch from one place to another with pretty much no loading at all [on PC, PS5, and Xbox Series X/S]. When you play with a friend of yours, you can press a button and directly be right behind them, and be in their experience at the top of the mountain with no loading. That was not possible previously. Then there is that social presence. You can be on top of the 3D map, which is actually the game, it's not really a map it's the game from above. And you can move around with a cursor, zooming wherever you want, and pretty much instantly it will load the social presence of real players or traces of players previously. It's an open world with 60 players around you that runs 60 frames per seconds, so hopefully it looks very nice too."
Because of how important the social side is to Riders Republic, online play is a big factor. "The progression is partly supported live, so you have to be connected," Manceau tells me. "When it comes to the interaction, on [PS5, Xbox Series X/S, and PC] we can have over 55 players within the session. On the last gen consoles, it's more than 30 players around you. I'm going to be a bit specific, but I think we have something that is really cool that we call the social presence. It is actually based on two elements – the players around you are seamlessly matchmade with you based on your position within the game world. And the cool thing with that is, the game world will always be populated with other players around you, making the world living and fun to watch. Then you have qualified interaction within the multiplayer modes. Any time you can group with any players around you, whether they're friends with you or not. When you're grouped, you can play pretty much all the content with those players in a competitive fashion, which basically means that the whole progression of the game, except the first hour which is the onboarding, you can play with with friends or others online."
However, you are able to play Riders Republic offline – just don't expect to get the full Riders Republic feel. "We do have a mode that we call the Zen Mode," Manceau says. "That allows you to play when you're not connected, so it's really a specific experience. It's riding and enjoying the playground for yourself, and that is a very specific experience. That said, to really grasp what the game is all about, you have to play connected. We think the social experiences are what makes it so special."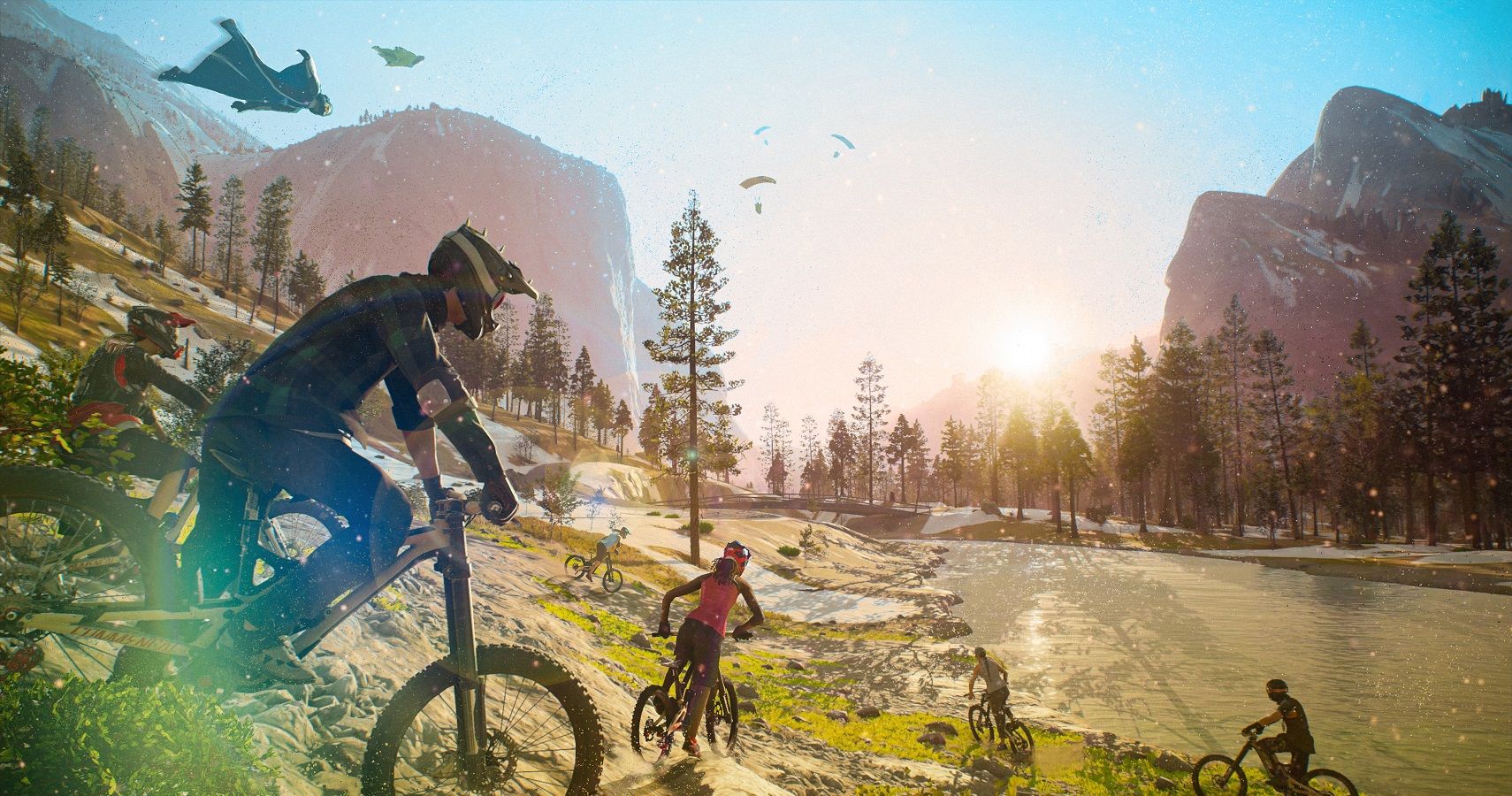 Riders Republic launches on September 2 for Xbox One, Xbox Series X/S, PS4, PS5, and PC.
Source: Read Full Article