Hunt A Killer: Blair Witch Is Great Stay-At-Home Halloween Gaming – With A Catch
It's probably not safe to go out this Halloween. Not because of spooky ghost reasons, but because of the whole pandemic thing. The sensible thing to do is have a night in… but October 31 is actually on a Saturday this year. So how does one stay safely indoors, not host a party where they infect all of their friends, and still have a scary good time? Hunt A Killer has an idea, and it involves a certain woodland witch.
Hunt A Killer is a subscription service that ships a monthly box to your door. Inside are clues that further a season-long mystery. Each season lasts six months, so the idea is to have a narrative that develops over time like a TV show. As for the game part, clues are given through a mix of websites, included props that looks like police reports, and unique physical items that differ in each month's box. Put it all together, and it plays out like an episodic tabletop escape room.
The twist for Halloween 2020 is that Hunt A Killer has partnered with Lionsgate to base a season on a hit horror franchise. The result: Hunt A Killer Horror: Blair Witch. How does Blair Witch work as a mystery board game? Very well – if you don't mind waiting until next year for the ending.
What You Get In Hunt A Killer Horror: Blair Witch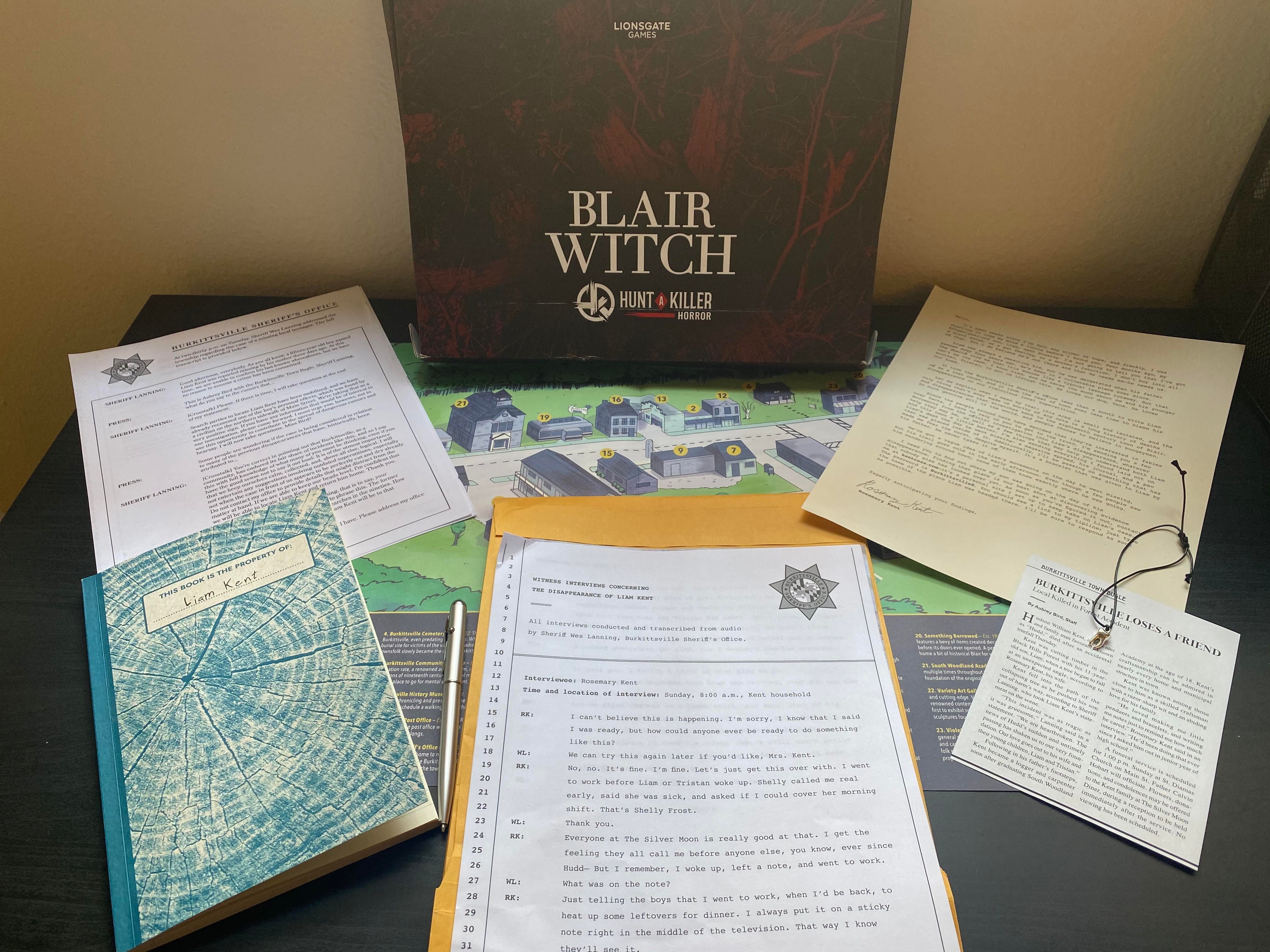 This Blair Witch edition begins much like any other Hunter A Killer season. When players open the first box, they'll find an envelope full of all the clues, a checklist to make sure nothing was missed in packing, and a postcard reminding you to follow on social media and consider more boxes. The first clue is a letter that sets the story – a mother is desperate to find her missing son in Burkittsville, the town near the woods where Blair Witch creepiness is known to happen.
The Hunt a Killer team tries to add value to its boxes by including at least one physical item that players can use after the mystery is solved. This time there's a pen and a bracelet with a charm that looks like a silver human tooth. I don't see many people wearing this bracelet, but the pen does have a fun function I won't spoil. At first glance, Blair Witch seems like any other Hunt A Killer box. Then you open the journal.
The One Downside
Again I'll avoid spoilers, but there's a puzzle in the journal. It forces the player to go through slowly as they uncover just what the missing boy saw before he disappeared. This pace works wonders for echoing the building tension of a horror movie. I found myself reading the journal entries with a creeping "Don't go in the house!" feeling. Then it ends.
When the players present their findings to the mother via a website, they're treated to a cliffhanger ending that sets up the next box. That box will, of course, be delivered sometime in November. The next in December. So on and so forth until the season ends sometime next year. It might seem stupid to complain about the core model that makes Hunt A Killer what it is, but it also feels disappointing to think that this very Halloween mystery will end next Spring. The first box does weave a compelling yarn, especially if you're into the lore of Blair Witch. Just accept that you won't get the payoff until after the spooky season is over.
NEXT: Rambo In Mortal Kombat Misses The Point Of Rambo
TheGamer Originals
Tabletop
Board Games
Blair Witch
Sergio is the Lead News Editor for TheGamer. But usually he asks people to call him "Serg" because he wants to sound cool like the guy from System of a Down. He began as a convention reporter for FLiP Magazine and Albany Radio's The Shaw Report to get free badges to Comic-Con. Eventually he realized he liked talking to game developers and discovering weird new indie games. Now he brings that love of weird games to TheGamer, where he tries to talk about them in clickable ways so you grow to love them too. When he's not stressing over how to do that, he's a DM, Cleric of Bahamut, cosplay boyfriend, and occasional actor.
Source: Read Full Article