Get A First Look At The Brotherhood Of Steel In Latest Fallout 76 Developer Gameplay Video
It's only a couple of more weeks until the official arrival of the Brotherhood of Steel to the wild Appalachian wasteland of Fallout 76. In the recent Fallout 76 – Steel Dawn (Developer Gameplay), Bethesda devs Mark Tucker and Brianna Schneider dive deep into more of what you can expect to encounter when the Fallout 76 Steel Dawn update goes live this December 1.
In the dev deep dive video, Community Manager Nate Valenta leads Tucker (Design Director) and Schneider (Lead Quest Designer) on an almost 15-minute chat filled with Steel Dawn details. To break it down into the three most important details, they cover the incoming Brotherhood of Steel (BoS) group and its mission (questline), a preview of new and old important locations, and a preview of new factions and their respective VIPs.
In response to Valenta's question about how much BoS content Steel Dawn will come with, Tucker replied that, while it isn't as much as what was included in the Wastelanders update, "we feel really good about the quality of the content," they said, adding "it's a lot of fun." Tucker compared the scope and amount to be close to either of the Wastelanders faction questlines in content. Tucker also stated the BoS has its own "completely dedicated questline", and that it consists of the "first half of an overarching story that will complete next year," effectively making it Act One of a two-act play.
Schneider chimed in by naming the BoS actors in this first act: Paladin Rahmani, Knight Shin, and Scribe Valdez. Accompanying them will be a few BoS Initiates the squad has recruited along their way to Appalachia, and added you'll also see the return of Russell Dorsey from the Fortifying Atlas event earlier this year. You can learn more about the new BoS group in the Fallout 76: Steel Dawn – "Rahmani, Shin, and Valdez" Reveal Trailer.
As for the BoS mission in Appalachia, Schneider stated info you probably already know: they are here to secure the Atlas Observatory (which will be renamed Fort Atlas) and turn it into a new BoS HQ. They then added that the Observatory was once the site of "a top-secret government project before the War", and that further info about that may be discovered as you play through the questline.
Along with Fort Atlas, you'll also discover an underground Enclave Research Facility. Tucker stated its purpose as a location where the Enclave was trying to figure things out like everyone else in the Wasteland. In its attempts at dealing with the dangers above ground, the Enclave performed some rather horrific experiments here. Tucker said you'll see "some really rare Scorched creatures" here, with one such example being "one of the most rare spawns in the game right now", the Scorched Mothman.
Schneider added that you'll see "some newer sub areas in the Foundation and in The Crater", along with a new location called The Retreat. This new group of people is lead by their matriarch, Jenni, and they've built their home ina treehouse village for safety, and hope to make a living as traders.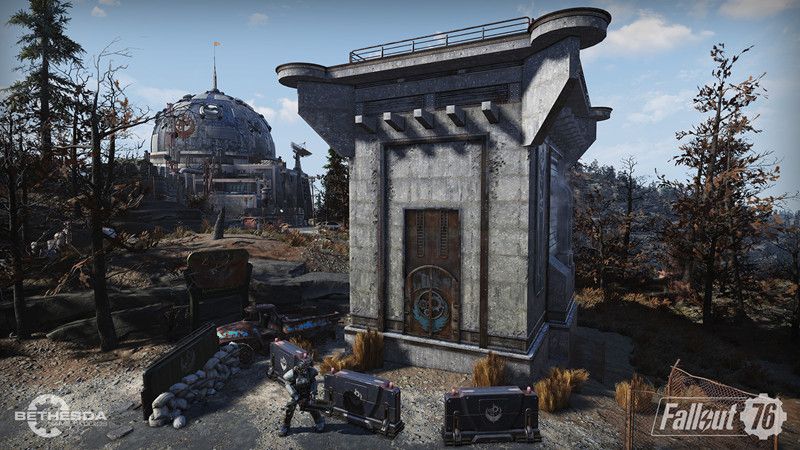 You'll also encounter "a ruthless, intelligent woman" named Dagger, a leader of a group of Blood Eagles. And you'll also be able to Scoreboard unlock two new "lite allies" who can be invited to your camp. Solomon Hardy is a Medic with the BoS, and will by request will "heal your wounds, rads, and diseases." Yasmin Chowdhury is a Chef, and once in your camp, can cook you a meal once per day.
You may want to watch the Fallout 76 – Steel Dawn (Developer Gameplay) a few times to catch all the minute details, including new weapons and camp items coming with Steel Dawn. And don't forget, all of this is coming in addition to the new C.A.M.P. Shelters content.
Source: Read Full Article