Everything We Know About The Witcher Season 2 (Based On The Books)
Netflix's The Witcher was such a massive hit that not one, but two subsequent seasons were greenlit almost immediately.
Season Two will seemingly focus on the events of Andrzej Sapkowski's second novel, Blood of Elves, and continue into the third novel, Time of Contempt. It will also purportedly touch on some material from the author's preceding compilation of short stories that didn't make the cut in season one. Thanks to a plethora of set photos and social media posts from the actors, here's what we can gather so far.
What Happened To Yennefer?
Yennefer (Anya Chalotra) disappears in season one's finale, after the Battle of Sodden. Early set leaks for season two reveal a rough-looking Yennefer along with Fringilla (Mimi Ndiweni) in the company of Filavandrel (Tom Canton) and another shot depicting Yen in shackles.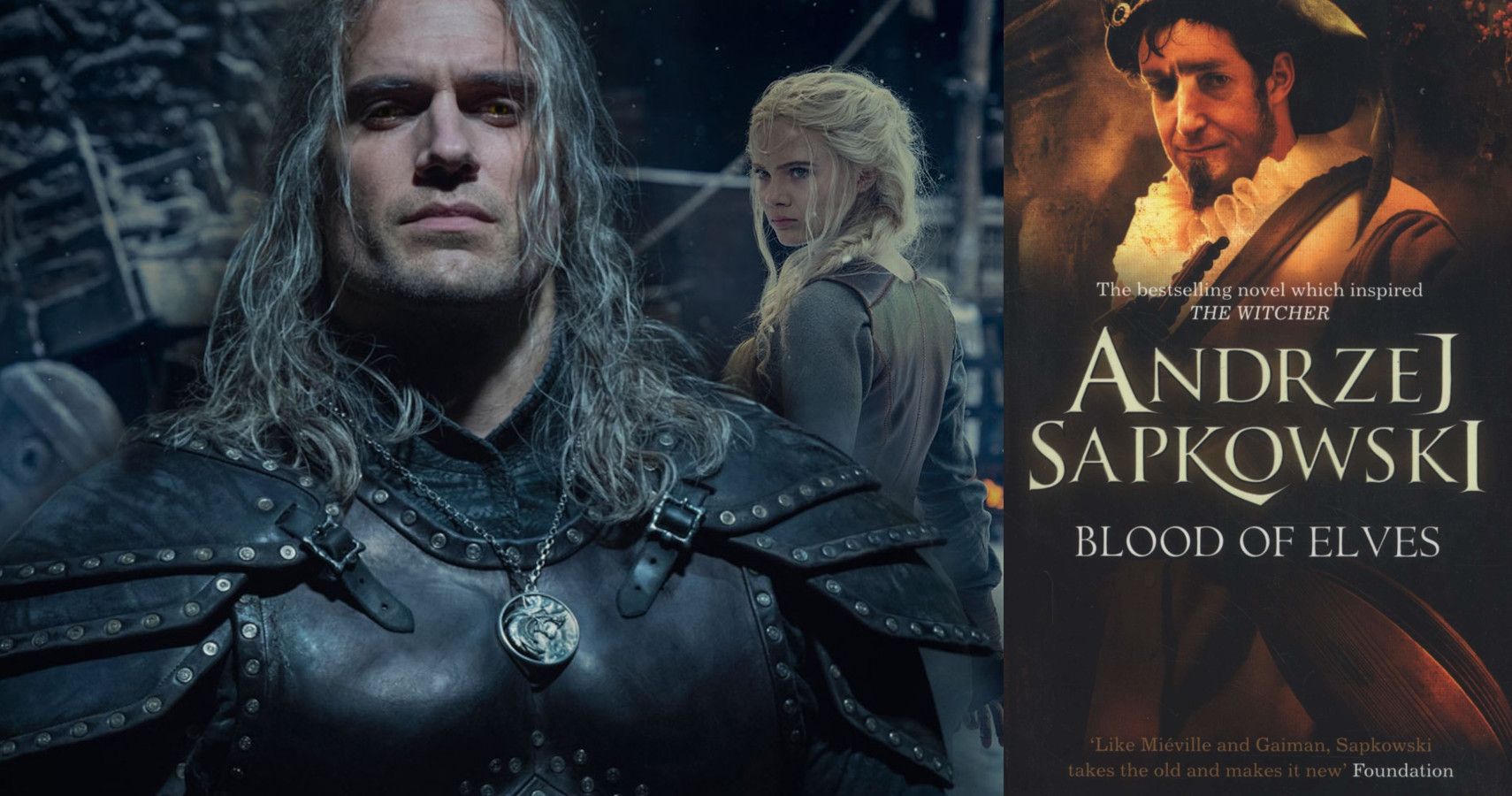 In Blood of Elves, approximately two years after the events at Sodden Hill, Yen cryptically tells Dandelion (Joey Batey's Jaskier), "I didn't see anyone after the war." While the book is referencing Yennefer's temporary blindness, Netflix could've adapted this to her being taken prisoner.
The Path To Kaer Morhen
Season 1 left off with Geralt and Ciri meeting in the woods not far from Sodden Hill. Directly after this encounter in the books, Geralt takes Ciri to Kaer Morhen. We expect to see this sequence play out on screen.
Henry Cavill (Geralt) and Freya Allan (Ciri) were said to be filming in Surrey Hills' Bourne Woods. Dead bodies and Nilfgaardian extras were also spotted on set, insinuating that these scenes could depict the fallout from the Battle of Sodden.
No matter the route, we know the duo are headed for Kaer Morhen and that Ciri's outfit for season 2 correlates to the witcher-girl armor she dons in the books.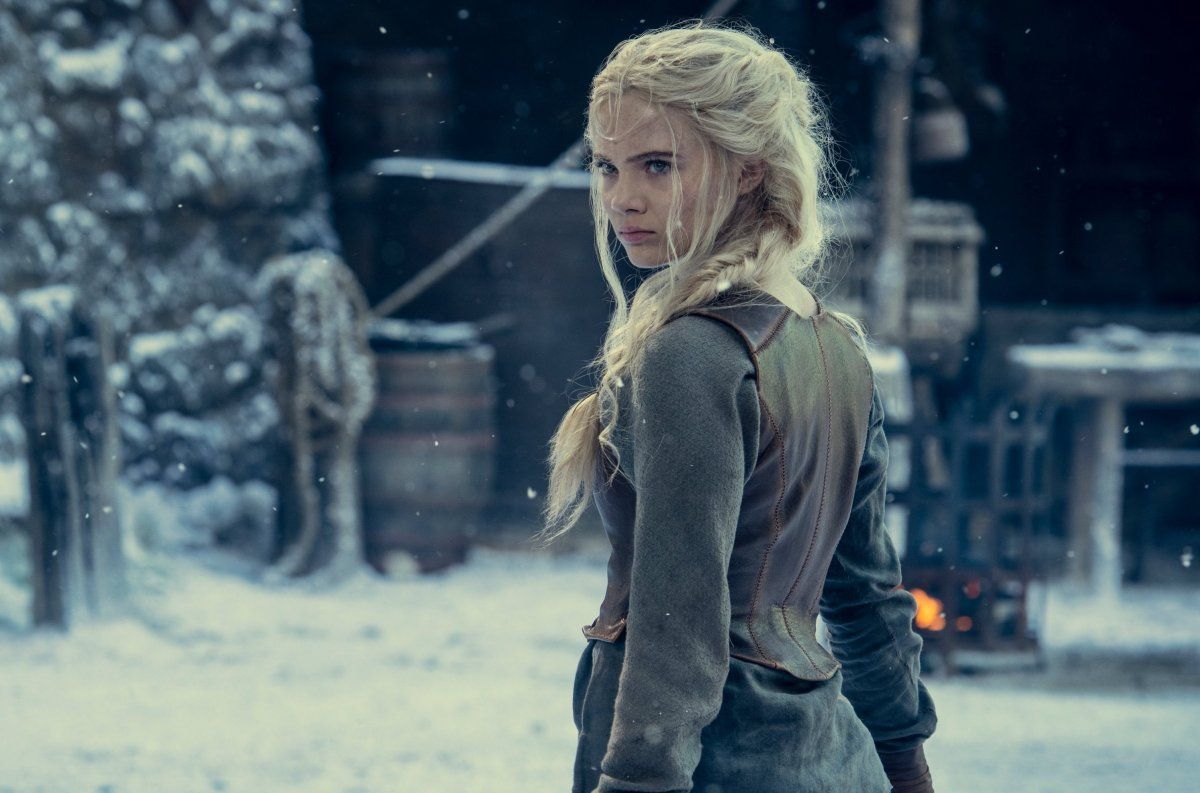 Flashback Content?
We can confirm that the events from Sapkowski's short story "A Grain of Truth" will be shown in season 2 given Game of Thrones' Kristofer Hivju's casting as the cursed beast-man, Nivellen. He resides in an enchanted palace in the middle of the woods with a bruxa (vampire) named Vereena, set to be portrayed by Agnes Borne. Given that Geralt's run-in with Nivellen occurs long before Ciri becomes his ward, it's uncertain where this story will fall in season 2's chain of events.
Leaks From Geralt Himself
Henry Cavill recently shared a picture on Instagram from his makeup chair that may pertain to Geralt's run-in with Vereena. However, judging from the chain-like bruising around his neck, these wounds are more likely to have been inflicted by humans rather than a vampire.
If it appears in the show, Geralt's bout with the river-dwelling Aeschna while en route to Oxenfurt may also be the cause of these wounds. The onslaught includes several human hostiles and Geralt is subjected to brief strangulation. If holding true to the books, however, this would be a difficult and expensive scene to shoot, and could possibly be scrapped in favor of a more cost-effective sequence.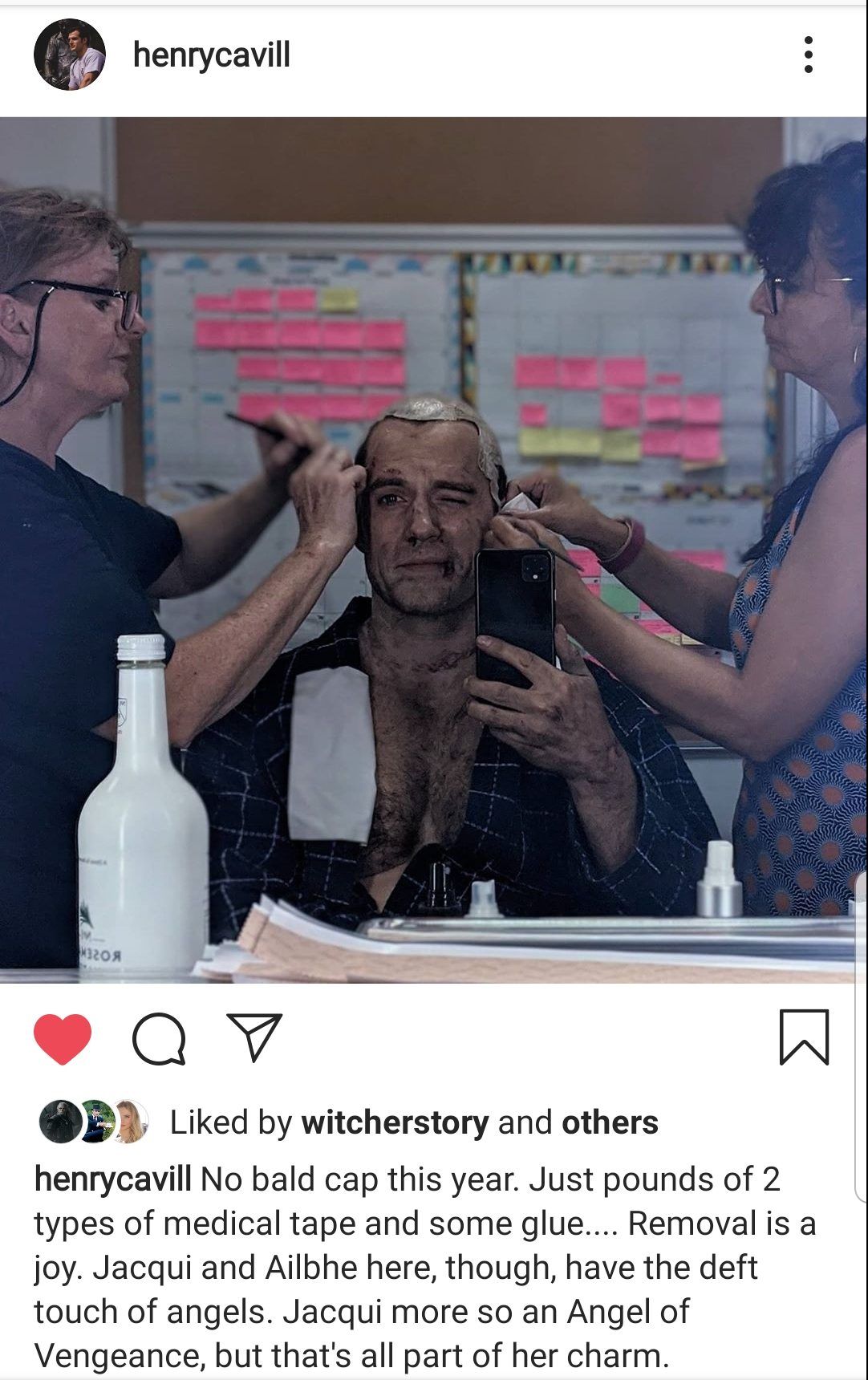 Another possibility is Geralt's run-in with Rience, a reoccurring villain who we'll cover in a minute. This is a heated scene towards the end of Blood of Elves and Geralt's in pretty rough shape by the end of it.
These are simply conjectures, however. It's also possible that this makeup could pertain to a completely show-original sequence — but if it is drawn from the books, it's likely to be one of the events described above.
Ciri's Witcher Training
The Tomlinscote Woods in Deepcut, England may portray the wilderness surrounding Kaer Morhen. Allan's presence was already confirmed here, while Cavill was also rumored to be present. Prop rocks were reported on location in order to make the area resemble a mountain pass, conducive to the books' depiction of the landscape concealing the witchers' keep.
Ciri's witcher training is another certainty for season 2. At the beginning of Blood of Elves, Ciri is wintering at Kaer Morhen with Geralt and the other witchers, including Lambert (Paul Bullion), Coen (Yasen Atour), and Eskel (Basil Eidenbenz). Furthermore, rudimentary sketches of training courses have also surfaced online, correlating to iconic Kaer Morhen equipment depicted in the books including the windmill, the pendulum, and the comb.
While Ciri's monster hunting training didn't appear in the books, there's talk of a myriapod appearing in season 2. This could be a shoutout to Geralt's first meeting with Ciri in Sword of Destiny when he rescues her from one of these giant centipedes.
Dwarves & Squirrels
Early events in Blood of Elves see Geralt take on a band of elven militia known as the Scoia'tael or 'Squirrels' alongside his old acquaintance, Yarpen Zigrin (Jeremy Crawford), while traveling with a caravan. Recent images of caravans and footage of Cavill on the same set hint at the inclusion of this sequence, which is further supported by Crawford's confirmed return via Twitter. The Scoia'tael will likely appear early in season 2 as the show focuses more on the plight of the elves and rising political temperatures across The Continent.
Fountains Abbey
Blood of Elves focuses on the events between the first and second Northern Wars. The UK's Fountains Abbey and its water gardens will seemingly serve as the setting for these political gatherings.
A group of The Continent's political figureheads — including Temeria's King Foltest — will meet with the mages early in season 2, judging from sightings of a scraggly-looking Cahir (Eamon Farren) still dressed in season 1's Nilfgaardian armor.
In the books, Cahir was held prisoner for roughly two years after the Battle of Sodden and by the looks of things, Netflix will hold true to Sapkowski's saga in that general regard. Recent set photos revealed an execution block, meaning it's safe to assume that the headsman's axe is awaiting him. However, we also know Cahir will walk away from the ordeal, as photos from the water gardens adjacent to the Abbey show a clean-cut Cahir in shiny new Nilfgaardian attire.
It's likely Vilgefortz (Mahesh Jadu) will be the one to weasel Cahir out of this fate. As book readers will likely already know, Vilgefortz is a far more conniving puppeteer than season 1 lets on, and undoubtedly has his own agenda.
Vilgefortz' scheming coupled with a gathering of this political magnitude indicates a reimagining of various conferences from Blood of Elves to decide military action regarding Nilfgaard. Combining multiple conferences into one would lessen the load of tedious logistics and heavy dialogue without compromising the sequence's execution or dramatic effect.
The Abbey's water gardens seem to be providing the backdrop for a conference between Nilfgaard and the elves. In the books, Nilfgaard and the elves ally against the Northern Kingdoms in the second Northern War. With Nilfgaardian tents and high-ranking elves such as Francesca Findabair present on set, this scene could depict an official alliance being formed.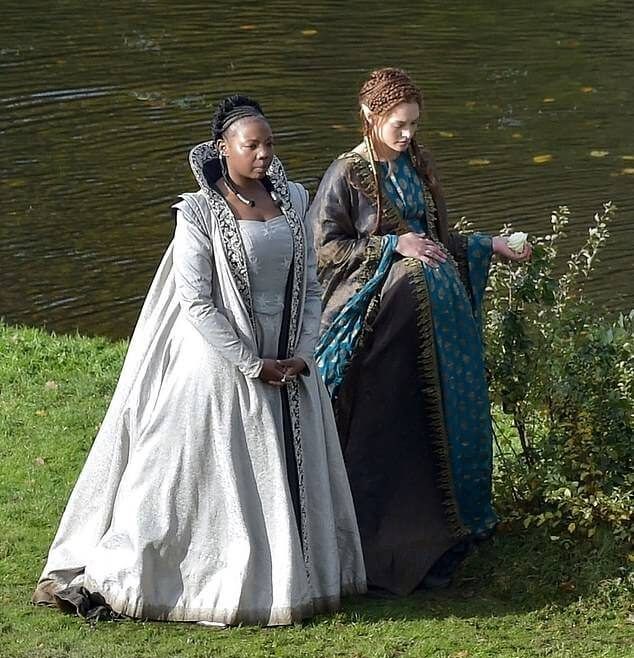 The water gardens seem to be portraying Shaerrawedd as Francesca Findabair is clearly pictured holding a white rose known to grow only in the elven ruins. If the gardens represent Shaerrawedd, the sentimental scene between Geralt and Ciri while exploring these ruins won't occur, and the elven history behind them will instead be explained by Findabair.
Additionally, the elven sorceress has produced the most significant source of fan outrage so far as she is evidently pregnant in the photographs. This is a direct contradiction to the books where she states she is long past being able to conceive.
Yennefer & Ciri Arc
In the later part of Blood of Elves, Yennefer begins teaching Ciri at the Temple of Melitele, soon after setting out with her towards Aretuza.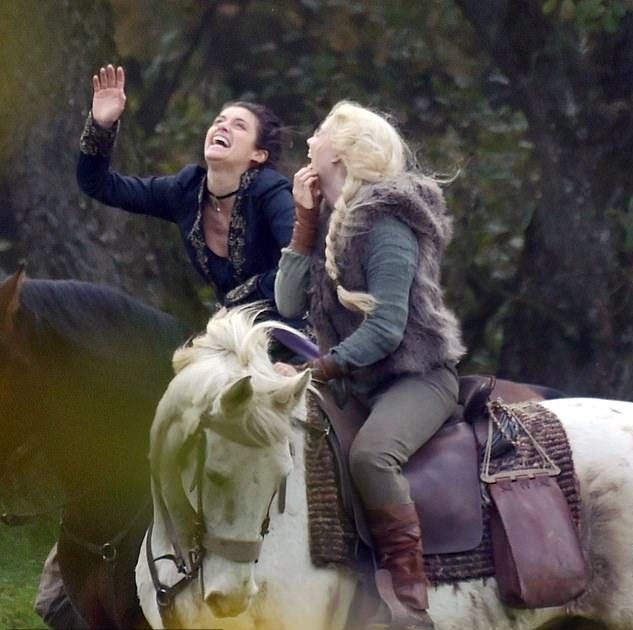 The shots of Chalotra and Allan on horseback could support imply that this journey will take place in season 2. The actresses were also spotted at a location with a broken rope bridge that could serve as part of Ciri's magic training, or possibly a botched escape route en route to their destination, but this is merely speculation.
New Faces & Places
A one-off appearance from a character aliased as "Isolde" is described as an oracle. Ithlinne, the seer who iconically foretold the prophecy of the Elder Blood and the destruction of the world, is the only canonical character to match Isolde's description. While at Kaer Morhen, Ciri goes into a significant trance in which she could meet, or become the medium for Ithlinne, explaining the oracle's one-off appearance.
Rience is a villain first introduced to the series through Dandelion (Jaskier). Another character who is on the hunt for Ciri, Rience's motives are suspiciously obscure. One casting sheet confirmed this rogue's introduction in season 2.
Both Sigismund Dijkstra and Philippa Eilhart are also introduced through Dandelion in Blood of Elves. If the show follows the books in this regard, Dijkstra, Philippa, and Rience could all be introduced through Jaskier's story arc — likely a little later in the season, given that the first few episodes seem packed with Kaer Morhen action, post Sodden outcomes, and war logistics.
Philippa's role hasn't yet been confirmed. However, the sorceress goes nearly hand-in-hand with Dijkstra in Blood of Elves, who has already been confirmed thanks to casting sheets and Graham McTavish's (The Hobbit) audition tape for the role surfacing online.
The confirmation of these roles makes scenes in the city of Oxenfurt imminent. Furthermore, there's talk of a large city set built inside the Arborsfield studios. In Blood of Elves, Oxenfurt is where Dandelion meets Dijkstra and Philippa. It's also the setting for Geralt's encounter with Rience.
Geralt enlists Codringher and Fenn, a sort of black market investigative team, to uncover more about Rience. This duo's inclusion has been confirmed thanks to audition tapes for Fenn surfacing online.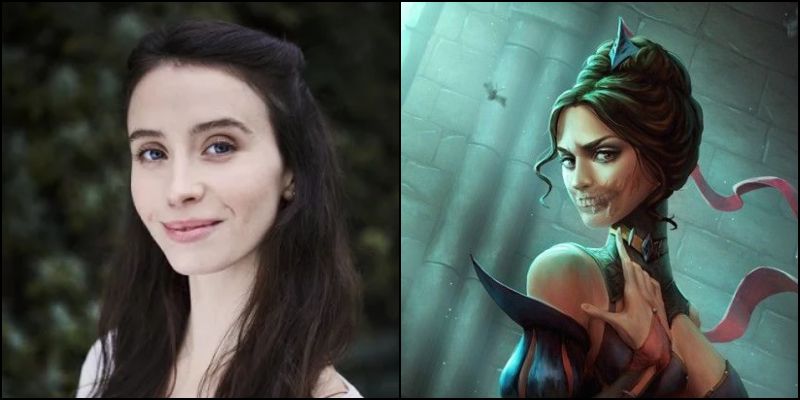 Aisha Fabienne Ross has been cast as Vilgefortz' assistant, Lydia. Introduced later in Blood of Elves, Lydia's confirmed appearance supports the inclusion of the Conclave of Mages, a monumental scene in Time of Contempt. It takes place on The Isle of Thanedd, near Aretuza, launching a huge turning point in the story as the novel depicts the events that instigate the second Northern War.
This sequence is likely to be filmed in the studio due to immense destruction and the scene's magnitude in general, thus giving little to go off of. However, Lydia is only set to appear in two episodes and her story arc canonically ends during the Conclave. Theatrically, the Conclave of Mages would make a spectacular season finale, ending on a suspenseful cliff hanger for all three leads.
Unfortunately, production has halted on The Witcher yet again in light of some positive COVID tests. However, this burst of set footage just before the shutdown has given fans a lot to mull over in the meantime.
Source: Read Full Article