"Dying Should Always Be Fun": We Talk To The Team Behind The New Crash Bandicoot Mobile Game
A lot of video games promise the world before launch. No Man's Sky boasted about its open world of 18 quintillion unique planets. Red Dead Redemption 2 was the product of eight long, hard years of development and the most expensive game ever made. Cyberpunk 2077 offered us an immersive, Blade Runner-esque world even bigger than that of The Witcher 3. The stakes just keep getting raised.
"To make the Crashiest Crash game ever has always been our mantra," Stephen Jarret, vice president of game design at King, explains.
The Crash Bandicoot series has a rich history of spin-offs into different genres over its colourful 25-year oeuvre, from kart racers to party games, and even a Japanese manga. Now, the latest addition to the legendary marsupial's universe sees his first foray into mobile in more than ten years with Crash Bandicoot: On the Run for iOS and Android.
The new release is an endless runner, perfectly suited to Crash. Set in the centre of the overall Crash timeline, it tasks players with running, smashing, swiping, and spinning through various distinct lands. The setup? Crash and his sister Coco must defeat longtime villain Dr. Neo Cortex and his cohorts of baddies, spread across the Crash universe, and get back to their own dimensions. The gameplay, complete with running challenges, time trials, collection runs, base-building, and crafting, will be made up of seasons, with new features and updates set to be released throughout them.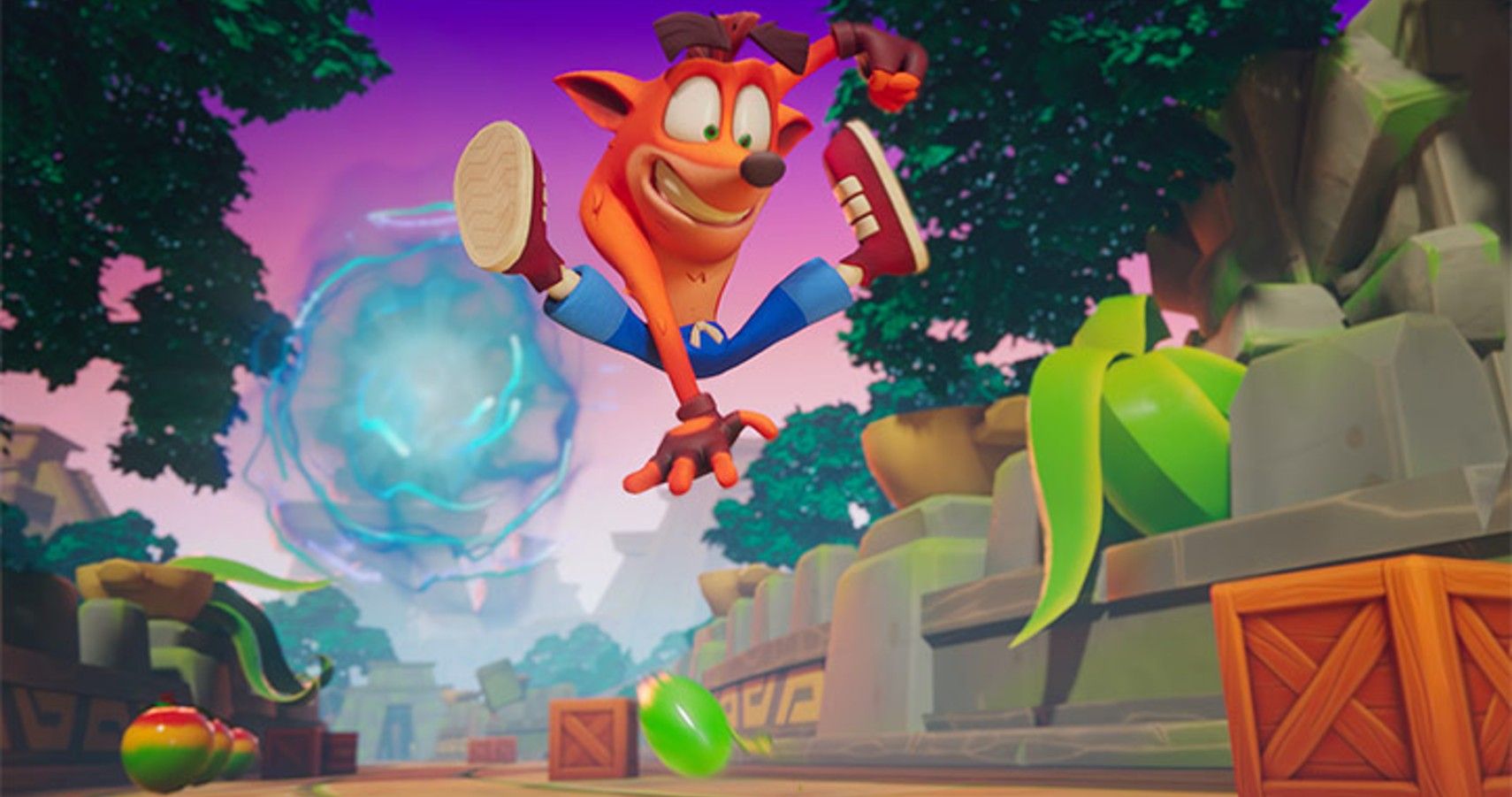 Created by Candy Crush publisher King, the game also marks the first-ever collaboration between the influential mobile studio and Activision (even though they're all part of the same company). The partnership aims to take the tried-and-tested freemium model and apply it to one of the most iconic characters in video game history.
As you race through the game, you unlock worlds that long-time Crash fans will instantly recognise, like Temple Ruins, Turtle Woods, The Lost City, and The Lab. Memorable enemies and bosses – including Scorporilla and Fake Crash – are set to appear, too. Each land sets its own tone, with its own obstacles, mechanics, and bosses – achieved with impressive attention to detail, unique music composed for every boss, and real foley sound effects (and for this runner, that means a serious amount of crunchy underfoot sounds to record).
"All the main bosses have their own themes," composer and sound designer Sebastian Aav says. "We didn't feel that we always had to directly reference all the games, but a fun experiment was with Fake Crash's theme: the idea was, 'What if a high school student orchestra tried to play the main theme from the original 1996 Crash Bandicoot – but very poorly?'"
It all adds up to something that aims to elevate not just the endless runner genre, but mobile gaming as a whole. "You feel this amazing sense of progression that hasn't been felt in runners before," says Jarret.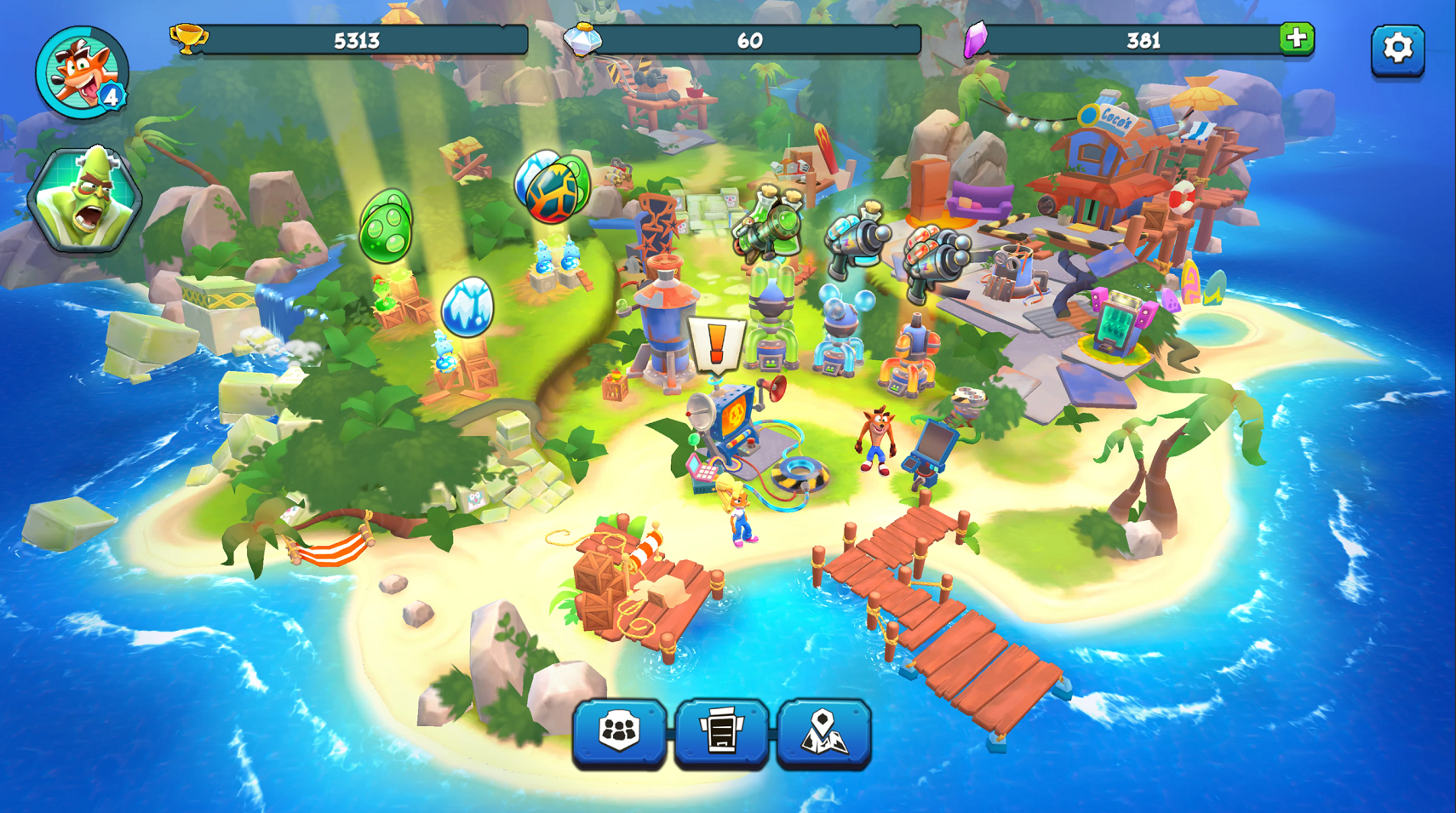 Another essential element that makes the new mobile game so "Crashy"? A healthy helping of death.
"Dying should always be fun," Jarret explains. Dying all the time, and generally being really damn difficult, is an essential part of Crash, and as with recent entries to the Crash revival, you can expect this mobile take on it to be authentically tough.
"In Crash games, you die a lot, and he has all these amazing and fun animations and fun animations when he dies," Jarret says. "We were able to put in as much of them as the console games have for Crash and Coco, when they both die in various situations.".
In fact, you expect even more death than on console: "We have a lot more mechanics and so we've added even more death animations," he adds.
Of course, death comes with difficulty – not something you immediately think of when it comes to popular mobile games.
"Difficulty has been a huge challenge for us because when you're designing a game, you get used to playing it so it becomes easier and easier for you," Jarret explains. "We've been working on this game for a while, so what we feel is easy might not be easy for other players, so we play-tested a lot.
"We're constantly balancing the game to make sure that for more casual players, it has a nice ramp for them. When we first made the game, it was a bit too intense. But then we also want to make sure that for real hardcore gamers, there are actual modes for them as well."
The solution they've found is to add more difficult modes to the game, as well as competitive Survival Runs and leaderboards that give the best players bragging rights and rewards.
But creating a smash-hit free-to-play game is about more than the gameplay itself. The dev team reveals that they're also focusing on implementing new social and community features – which includes both your own friends and family and the wider Crash community as a whole.
In Teams and Survival Runs, players can choose to join a team with their friends or start one where they can chat with other Crash fans, which allows them to play co-op through a season's missions or compete against one another in multiplayer runs to climb the leaderboard and earn special rewards. With in-game chat functions to stay connected with your pals, it's like taking the traditions of the series' retro roots – of playing Crash while shouting at your friends in the same room as you – and reimagining them for a mobile, socially distanced age. And honestly, smashing up crates with our nearest and dearest has never been more needed.
"We look into the community constantly and it's all about what people want," senior game designer Gigi Chui explains. "Launching the game is just the beginning of the journey and we're going to evolve the game so much over the next few years."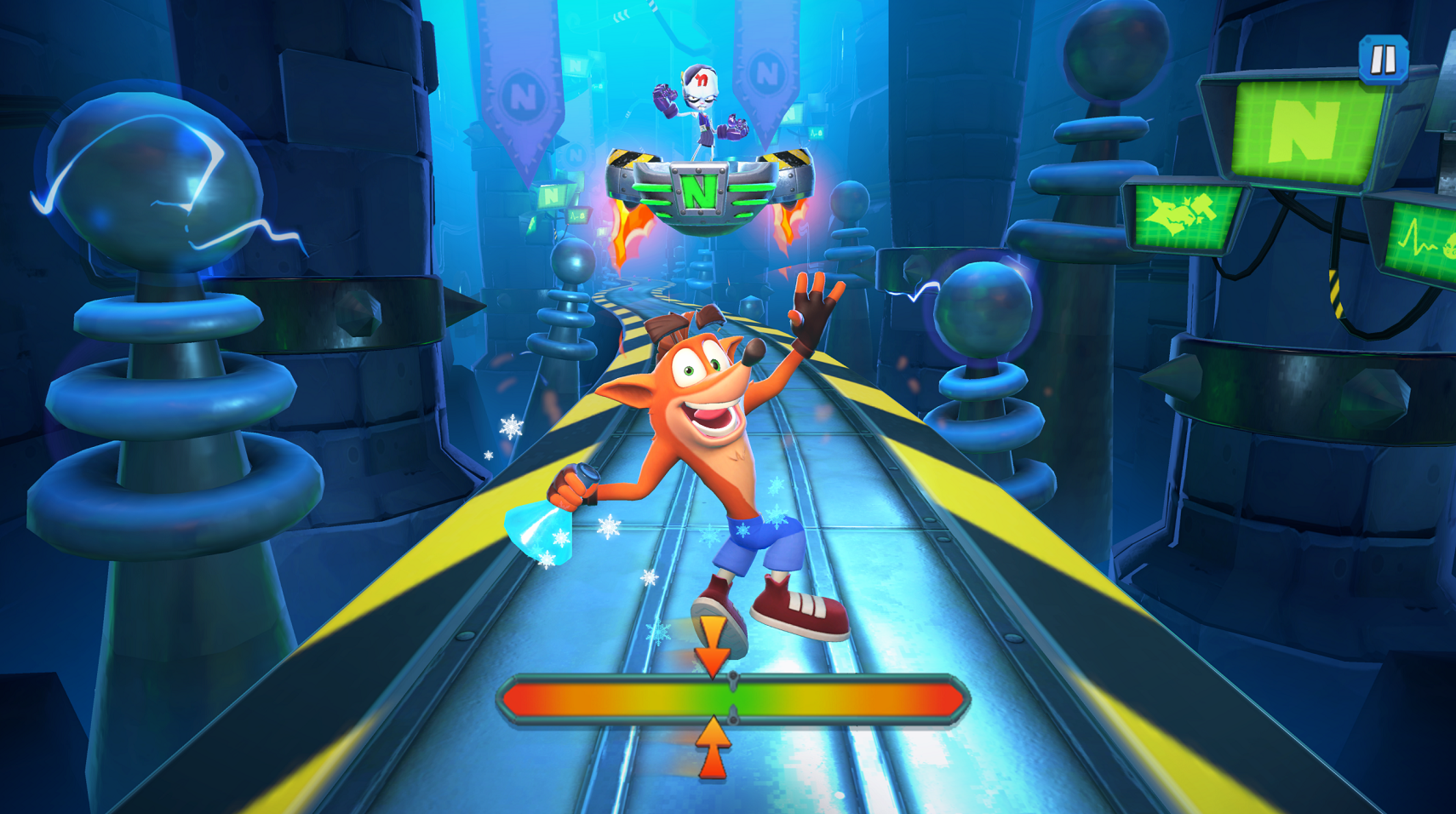 Want to have your input on the next season of the game? Just let them know, says Chui, "So, yeah, just leave us feedback. We will look at it."
According to Jarret, this was perhaps the single most important part of adapting Crash for mobile. "To have a successful mobile game, you've got to have a community, and you have to listen to them and grow the game with them," he explains. "It's a trend at the moment to have seasonal content, so we looked at some of the games that have the best seasonal content… we learned to make the base constantly change, to always introduce new bosses, new gameplay and mechanics, new themes, and new costumes."
The social functions were also crucial, says Jarret. "If you have a game that's built people around a community, you want them to play together as well. So, having a lot of social elements was really big for us."
It seems to be going down well already. As the team behind the game points out, one dedicated fan has already had a massive portrait of the specific On The Run version of Crash tattooed all over their leg: a literal Crash skin.
Crash Bandicoot: On the Run! is now available to download and play for free on iOS and Android. For more information visit CrashOnTheRun.com.
Next: Crash Bandicoot 4's Blue Gem Now Haunts My Nightmares On Three Different Systems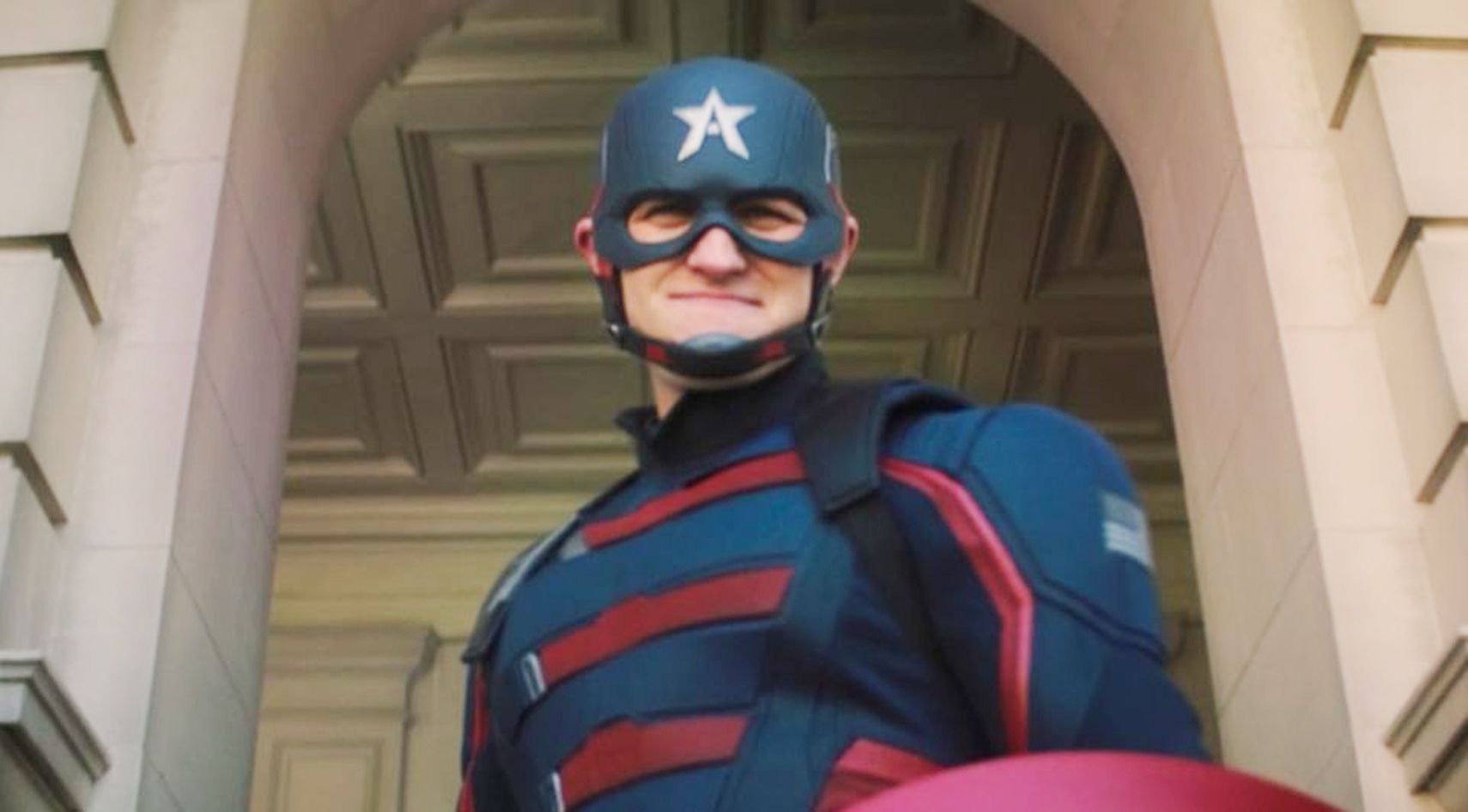 TheGamer Originals
Crash Bandicoot
Android
iOS
Source: Read Full Article