Don't Toy With Me, Miss Nagatoro And The Joy Of Anime Facial Expressions
I love anime that aren't afraid to experiment with animation styles, shows and films that don't consider themselves constrained by traditional means. It's one of the most diverse animation mediums on the planet – for better or worse – and studios take that identity and run with it as a slate of new shows arrives with each new season. Studio Trigger, Kyoto Animation, and Comix Wave are just a few of the studios pushing the boat out right now, with each new project from them being a rare treat to indulge in.
But today I want to talk about one single facet of anime – facial expressions. Last week saw the debut of Don't Toy With Me, Miss Nagataro, an animated adaptation of Nanashi's popular manga. The source material is a quirky romantic comedy that follows a high school freshman as she relentlessly pranks and teases her upperclassman. It's abrasive at first, almost anxiety inducing in the way Nagatoro refuses to leave her poor senpai alone. But this soon evolves into admiration, with the later chapters being filled with fun, touching moments.
It's neither the best nor the most original property in the world, but it has amassed a dedicated audience thanks to its deviously charming central character. Hayase Nagatoro's fang-baring smile and piercing amber eyes have become reaction images across the internet since the manga exploded in popularity, with much praise being lauded upon Nanashi's ability to spawn an endless number of expressions from a single character's face. They're a treat, with a single chapter of the manga possessing an album's worth of priceless glares and pitiful smirks of hidden admiration.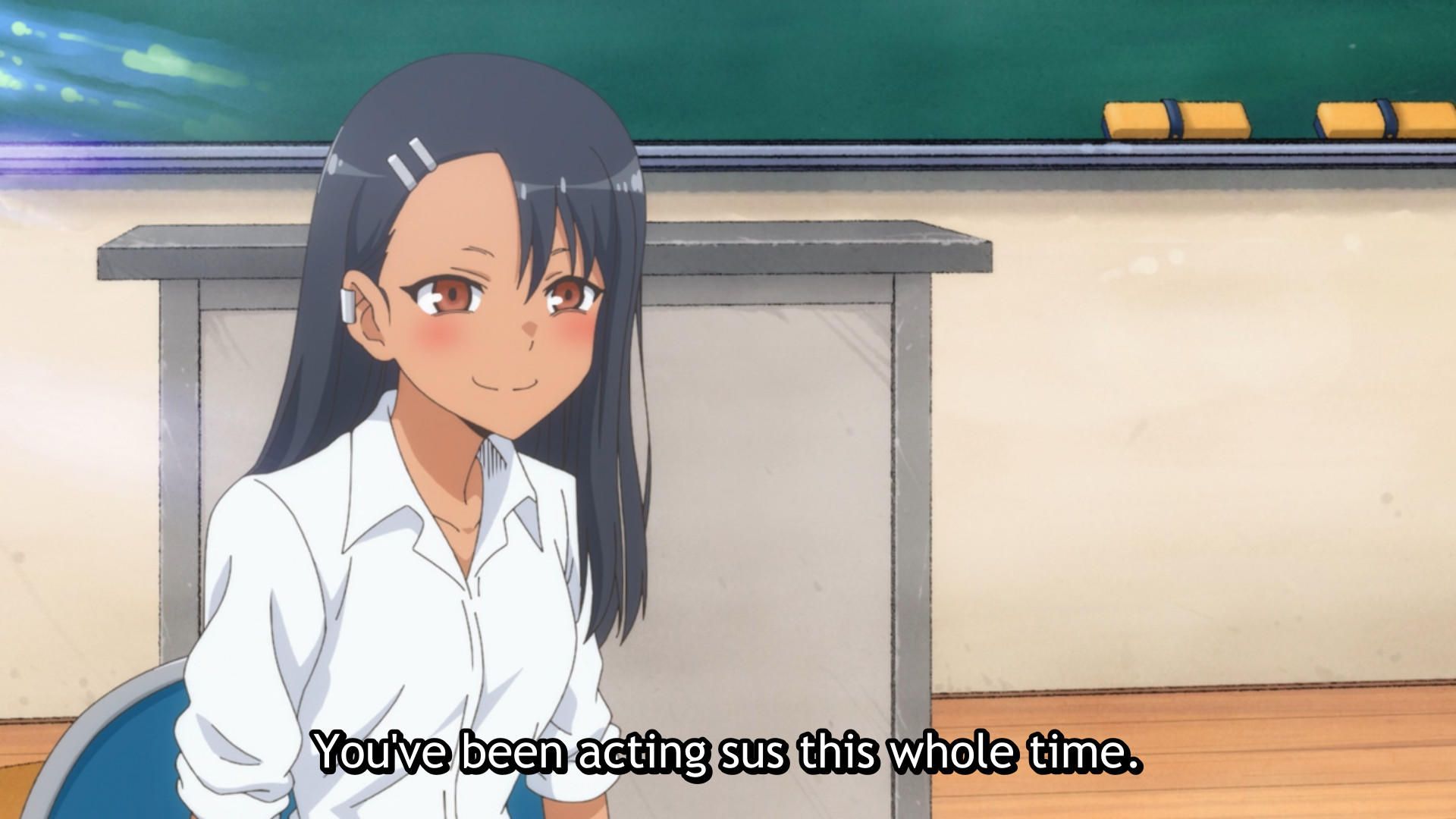 With the arrival of the anime, I was worried that her design might be butchered, or toned down to meet a lower budget that often accompanies shows like this. This is exactly what happened to an extent, but TMS Entertainment has done a fairly decent job of translating the beautifully drawn manga into a more digestible form. After one episode, I'm excited to see where this adaptation goes, and whether or not it will differ from the books when it comes to depicting the growing romance between Nagatoro and Naoto Hachioji. I should have mentioned her senpai's name earlier, but it's seldom brought up in the manga or the show, his tormentor simply choosing to refer to him as 'Senpai.' It's both a form of love and a twisting knife of anxiety through the gut, one that both reduces our central character to tears while also having him form a slow, warm bond with the titular heroine.
Its first episode takes place entirely within a library and a classroom, with humorous situations being surfaced during the couple's first meeting as Nagatoro poses as an inspiration for her senpai's artistic endeavours. It could have easily ventured into mismatched fanservice like so much anime does, but it's toned down, providing just enough risque humour to perfectly match Nagatoro's emerging personality.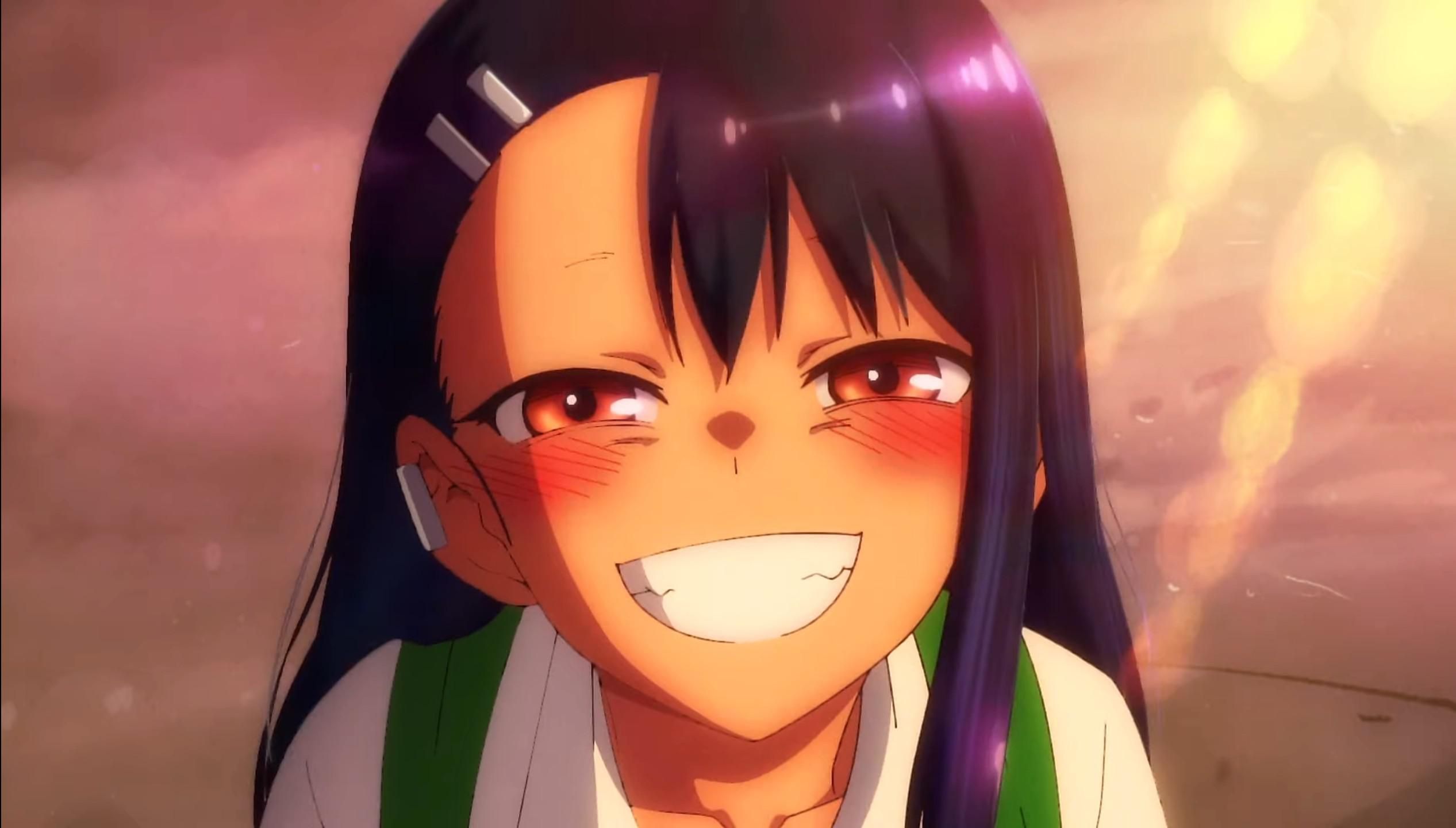 The neverending variety of expressions I love so much are peppered throughout, with Nagatoro countering every word from her senpai's mouth with a playful jape or judgemental grimace, but all of them are drenched in good natured fun. Part of me fears that the show won't reach far enough into the manga's storyline to show Nagatoro's true colours – that she isn't just an evil witch wanting to torture those with social anxiety. Trust me, she's better than that.
Don't Toy With Me, Miss Nagatoro does so much with so little, injecting its characters with so much personality that the setting surrounding them simply doesn't matter. One look at Nagatoro will make her mood and intentions clear, and the same can be said for her senpai, the poor, oftentimes unwilling pawn for her experiments. It's early days with only one episode out in the wild, but I could see this show joining the ranks of Lucky Star, Little Witch Academia, and Hidamari Sketch when it comes to animation styles that leave a lasting impact in their wake.
Next: Garden of Words And The Hesitance Of Accepting Adulthood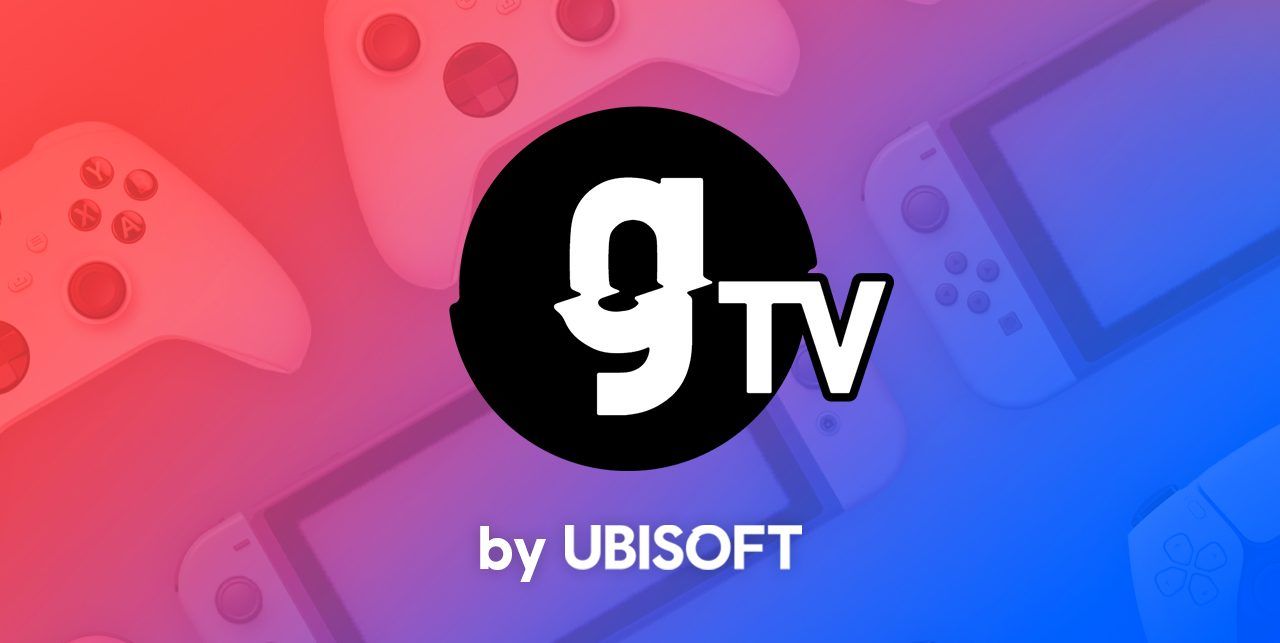 Jade King is one of the Features Editors for TheGamer. Previously head of gaming content over at Trusted Reviews, she can be found talking about games, anime and retweeting Catradora fanart @KonaYMA6.
Source: Read Full Article