Demiplane Aims To Improve The Online TTRPG Experience By Borrowing From Video Games
"The world would be better if we all played TTRPGs."
That sentiment comes from Adam Bradford, the new Chief Development Officer at virtual tabletop RPG platform Demiplane. And it makes sense – Dungeons & Dragons has been used for work team-building exercises and to help kids with behavioral issues acquire social tools. Even your average Tuesday night game can reinforce important life skills like communication and compromise. Unfortunately, many fail to even start because they can't gather a consistent group.
Bradford is known for founding D&D Beyond, a digital service that makes playing D&D easier by auto-calculating stats, hosting helpful how-tos, and giving DMs a virtual encyclopedia of monsters to throw at enterprising adventurers. Yet there are more TTRPGs than D&D out there, and finding players for games that don't have an iconic name behind them can be tricky. That's where he hopes Demiplane will service fans, and the industry as a whole.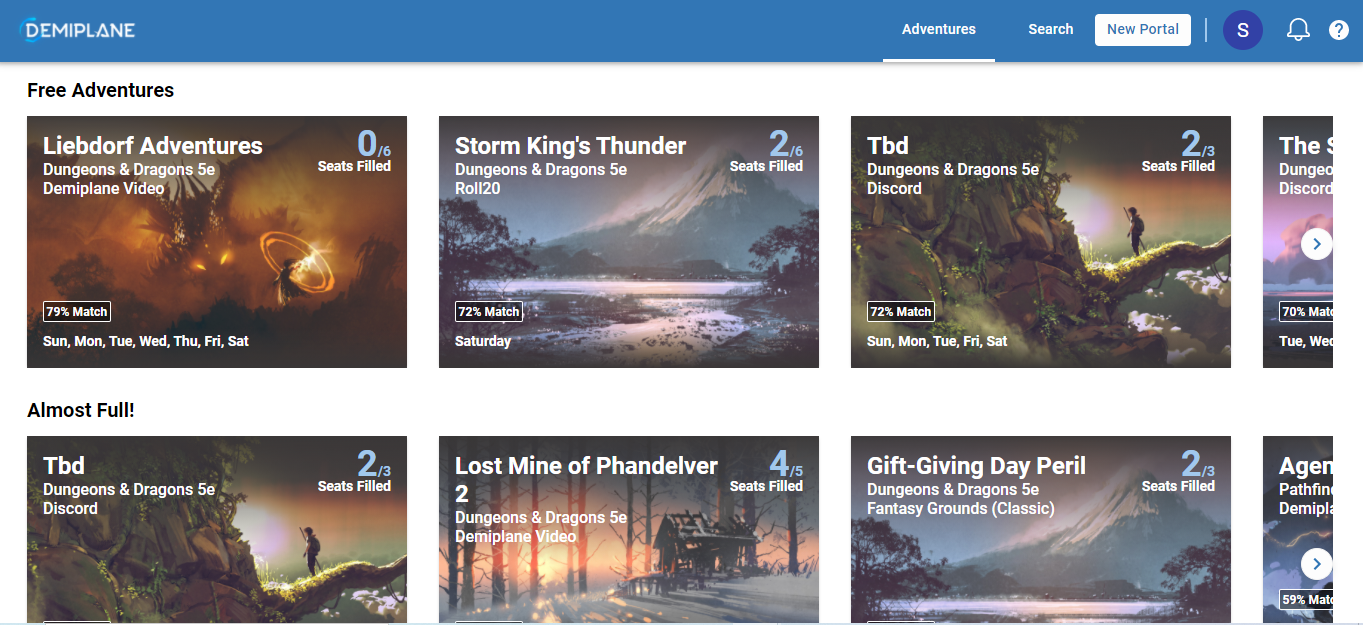 "Peter and Travis (Demiplane's co-founders) have an incredible vision for the future of tabletop roleplaying, and Demiplane is the platform that's going to help continue to evolve this genre," said Bradford. He spoke to TheGamer about how this evolution will take place, saying that Demiplane "borrows the best parts of video games."
For instance, matchmaking is standard for online multiplayer games. Yet for the TTRPG community, the burden of matchmaking falls on the players or the Game Master, with many putting in the extra work of creating an application for the games they run. This is somewhat unavoidable due to the nature of TTRPGs. You can't just mute an annoying teammate, you have to talk to one another to play. And since the GM creates the world and keeps things moving, they'll always need to be developer and moderator to an extent. That said, Demiplane aims to lessen the initial burden of finding likeminded players with its own matchmaking system.
Demiplane's matchmaking includes the ability to seek people who want to play almost any tabletop RPG system, be they Cyberpunk, Star Wars, GURPS, Call of Cthulu, or over 180+ others. Users can also get more specific by narrowing what types of games and themes they desire. They do this by scoring attributes that show their preference. One could make it known straight away that they prefer a challenging, combat-heavy campaign over silly roleplay. Then, using Demplane's chat function, potential friends could reach out and talk details.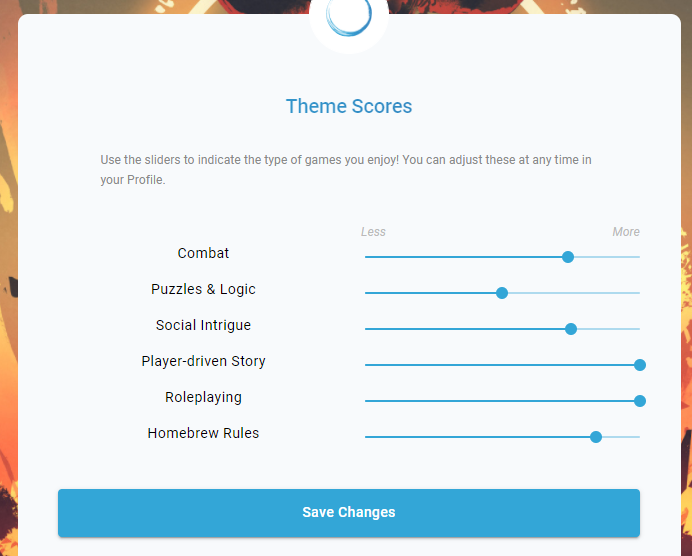 Travis Frederick, Demiplane co-founder and COO, broke down how he views that platform's services. "It tackles three phases: before game, in-game, and post-game."
The matchmaking tools help pre-game go smoothly, but in-game is where Demiplane really breaks beyond the limits of tabletop and takes inspiration from MMOs. Text chat is a given, but also on offer is Demiplane's own video and voice chat. This features Zoom-like breakouts and targeted mutes so the GM can reveal secrets to specific players as they discover them. Of course, this also allows players to get in on that whisper action and surprise the GM…
Another big function is shared notes. On a basic level, this can act as a quest log for the party, one that they can all see as it's updated. This also proves useful for keeping track of story and puzzle clues. Most importantly, it saves one player from being the group secretary and needing to keep track of everything. Frederick also mentioned that it seems to encourage players strategizing and talking in-character even outside gameplay sessions.
That leads to the post-game, which gets some help from mobile gaming. Demiplane users can rate Game Masters and each other. This can serve as as endorsement (or warning) to those who might play with those people in the future. And if the Game Master did an exceptional job, players even have the chance to tip them. Frederick's data has shown that players who tip become repeat players. Satisfied users all around!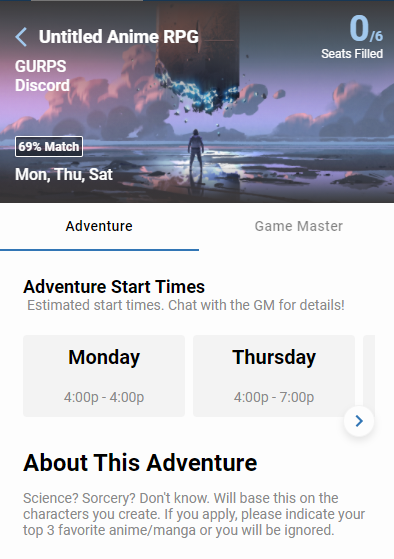 Demiplane is an ambitious concept. It aims to take the conveniences of platforms like Roll20 and D&D Beyond and expand them to cover many TTRPG systems, with a little help from video games. The hope is that, by removing the barriers of complicated rules implementation and player-seeking, tabletop gaming will become a more open hobby. We could all stand to play more TTRPGs together, and Demiplane might just transport us to a place where that can happen.
Creating a Demiplane account is free, and GMs have the option to host both paid and free games.
Next: 10 Untrue Things We Believed About Pokemon As Kids
TheGamer Originals
Tabletop
Dungeons & Dragons
RPG
Sergio is the Lead News Editor for TheGamer. But usually he asks people to call him "Serg" because he wants to sound cool like the guy from System of a Down. He began as a convention reporter for FLiP Magazine and Albany Radio's The Shaw Report to get free badges to Comic-Con. Eventually he realized he liked talking to game developers and discovering weird new indie games. Now he brings that love of weird games to TheGamer, where he tries to talk about them in clickable ways so you grow to love them too. When he's not stressing over how to do that, he's a DM, Cleric of Bahamut, cosplay boyfriend, and occasional actor.
Source: Read Full Article