Yakuza 0: Guide To The Best Pocket Circuit Builds For Each Race
Pocket Circuit Racing is one of the fan-favorite minigames within the Yakuza series, with it first debuting in Yakuza 0. It offers a fun little break from the main storyline, where players can build custom mini-kit cars to race around various tracks. Each race features a different track, so you'll need a different setup for each one to be the first to cross the finish line.
Completing all of the Pocket Circuit races will earn you the "The Dragon of Pocket Circuit" achievement/trophy. If you're looking for the best Pocket Circuit builds for each main race as well as all of the substory races, we have a complete guide just below on which parts to use for each race, as well as where to find all of the parts. Use boost sparingly when racing, as otherwise, it will make you run off the track.
Recommended Pocket Circuit Builds For Each Official Race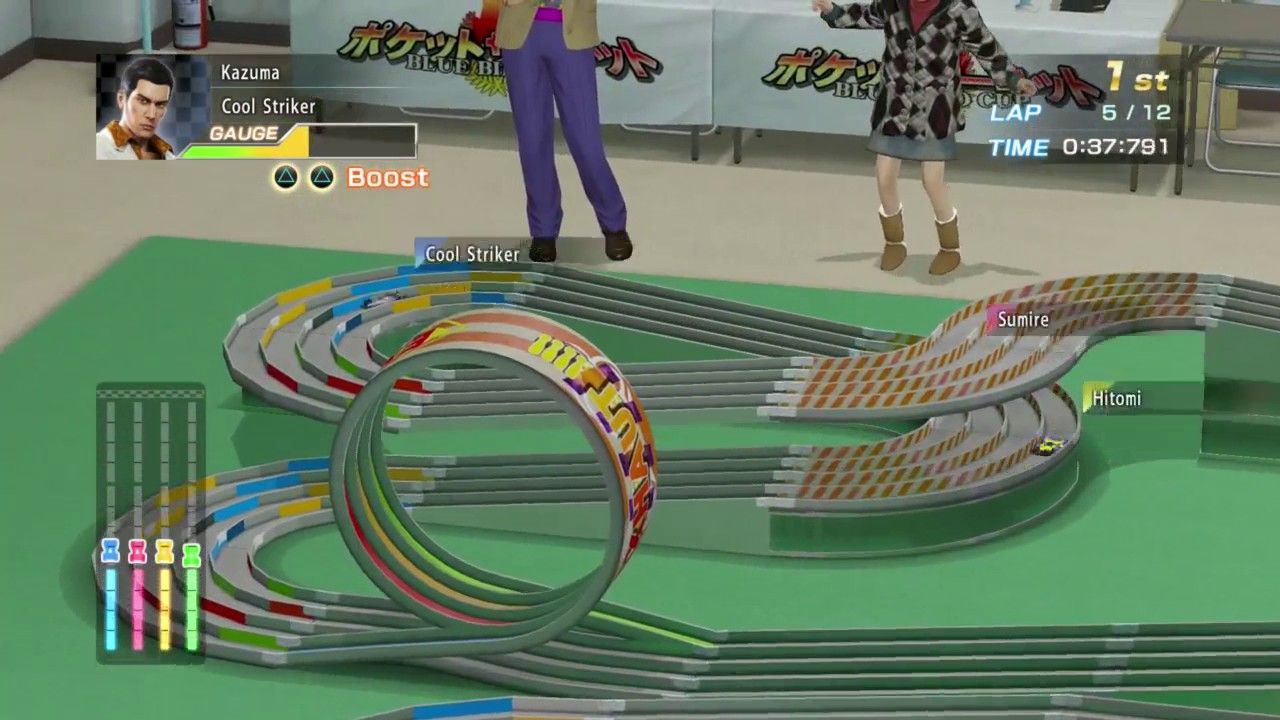 Introductory Race
Tires: Soft (Available from Don Quijote)
Frame: Balanced (Given by Pocket Circuit Fighter)
Motor: High Torque 2.0 (Available from the Kamuro Dealer after completing Substory #8 "Password Protected")
Gears: Balanced (Available from the Parts Shop)
Battery: High Speed (Available from Don Quijote)
Suspension: None
Bumper: None
Little Racer Cup
Tires: Low Profile Plus (Available from the Parts Shop after winning the Introductory Race)
Frame: Balanced Plus (Available from the Parts Shop after winning the Introductory Race)
Motor: High Torque 2.0 (Available from the Kamuro Dealer after completing Substory #8 "Password Protected")
Gears: Regular (Given by Pocket Circuit Fighter)
Battery: Regular (Given by Pocket Circuit Fighter)
Suspension: None
Bumper: None
Rookies' Race
Tires: Soft Plus (Available from the Parts Shop after winning the Introductory Race)
Frame: Balanced Plus (Available from the Parts Shop after winning the Introductory Race)
Motor: High Torque 2.0 (Available from the Kamuro Dealer after completing Substory #8 "Password Protected")
Gears: Balanced Plus (Available from the Parts Shop after winning the Introductory Race)
Battery: High Capacity (Available from Don Quijote)
Suspension: None
Bumper: Bumper Plate (Automatically obtained when you buy the Killer Bee car from Ebisu Pawn)
Pro-Am Race
Tires: Extra Spiked (Available from the Parts Shop after winning the Rookies' Race)
Frame: Balanced Plus (Available from the Parts Shop after winning the Introductory Race)
Motor: High Torque 2.0 (Available from the Kamuro Dealer after completing Substory #8 "Password Protected")
Gears: Godspeed (Available from the Parts Shop after winning the Rookies' Race)
Battery: Regular (Given by Pocket Circuit Fighter)
Suspension: None
Bumper: Bumper Plate (Automatically obtained when you buy the Killer Bee car from Ebisu Pawn)
Expert's Race
Tires: Super Soft (Available from the Parts Shop after winning the Pro-Am Race)
Frame: Super Balanced (Available from the Parts Shop after winning the Pro-Am Race)
Motor: High Torque 2.0 (Available from the Kamuro Dealer after completing Substory #8 "Password Protected")
Gears: Godspeed Plus (Available from the Parts Shop after winning the Pro-Am Race)
Battery: High Speed (Available from Don Quijote)
Suspension: None
Bumper: Bumper Plate (Automatically obtained when you buy the Killer Bee car from Ebisu Pawn)
Champions' Cup
Tires: Super Low (Available from the Parts Shop after winning the Pro-Am Race)
Frame: Super Metal (Available from the Parts Shop after winning the Pro-Am Race)
Motor: High Torque 2.0 (Available from the Kamuro Dealer after completing Substory #8 "Password Protected")
Gears: Godspeed Plus (Available from the Parts Shop after winning the Pro-Am Race)
Battery: Regular (Given by Pocket Circuit Fighter)
Suspension: None
Bumper: Bumper Plate (Automatically obtained when you buy the Killer Bee car from Ebisu Pawn)
King of Speed Cup
Tires: Ultra Slim (Available from the Parts Shop after winning the Champions' Cup)
Frame: Ultra Metal (Available from the Parts Shop after winning the Champions' Cup)
Motor: Godspeed (Available from the Parts Shop after winning the Champions' Cup)
Gears: Extra Godspeed (Available from the Parts Shop after winning the Champions' Cup)
Battery: High Capacity (Available from Don Quijote)
Suspension: Heavy (Obtained by completing Substory #41 "The Woman they Call Professor")
Bumper: Bumper Plate (Automatically obtained when you buy the Killer Bee car from Ebisu Pawn)
We haven't included side stabilizers in these builds as you can win the races without them. However, if you feel you need one, you can obtain them in the following way:
1.0 — Available from the Parts Shop after beating the Champions' Cup
2.0 — Obtained from the Dream Machine
3.0 — Available from the Kamuro Dealer after completing Substory #8 "Password Protected"
Recommended Pocket Circuit Builds For Optional Races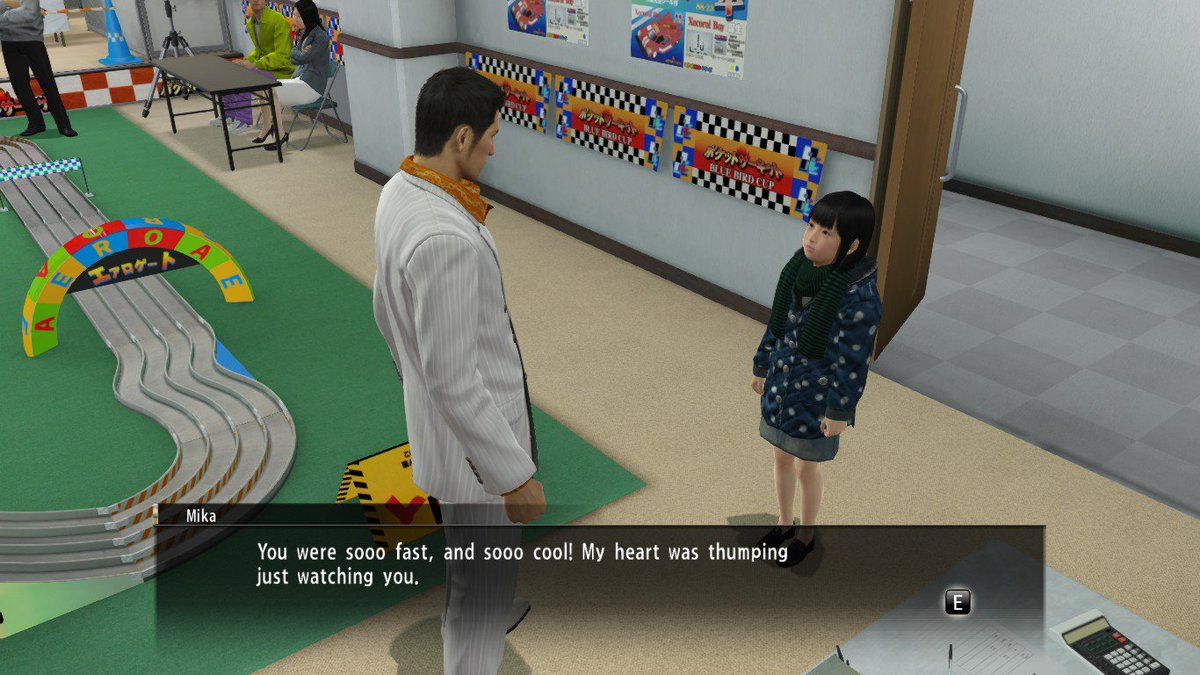 I am Kazuma-kun (Substory #36) — After increasing friendship with Pocket Circuit Fighter
Tires: Slick (Given by Pocket Circuit Fighter)
Frame: Balanced (Given by Pocket Circuit Fighter)
Motor: High Torque 2.0 (Available from the Kamuro Dealer after completing Substory #8 "Password Protected")
Gears: Balanced (Available from the Parts Shop)
Battery: High Speed (Available from Don Quijote)
Suspension: None
Bumper: None
The Rocky Road of Romance (Substory #37) — Hideki in the Children's Park
Tires: Slim Plus (Available from the Parts Shop after winning the Introductory Race)
Frame: Balanced (Given by Pocket Circuit Fighter)
Motor: High Torque 2.0 (Available from the Kamuro Dealer after completing Substory #8 "Password Protected")
Gears: Balanced Plus (Available from the Parts Shop after winning the Introductory Race)
Battery: High Speed (Available from Don Quijote)
Suspension: None
Bumper: None
Gift of Love (Substory #38) — Mika in the Pocket Circuit Stadium
Tires: Soft Plus (Available from the Parts Shop after winning the Introductory Race)
Frame: Balanced Plus (Available from the Parts Shop after winning the Introductory Race)
Motor: High Torque 2.0 (Available from the Kamuro Dealer after completing Substory #8 "Password Protected")
Gears: Balanced Plus (Available from the Parts Shop after winning the Introductory Race)
Battery: High Capacity (Available from Don Quijote)
Suspension: None
Bumper: Bumper Plate (Automatically obtained when you buy the Killer Bee car from Ebisu Pawn)
Suspicion of Perversion (Substory #39) — Mika in the Pocket Circuit Stadium after completing Substory #38
Tires: Extra Spiked (Available from the Parts Shop after winning the Rookies' Race)
Frame: Extra Balanced (Available from the Parts Shop after winning the Rookies' Race)
Motor: High Torque 2.0 (Available from the Kamuro Dealer after completing Substory #8 "Password Protected")
Gears: Boost (Obtained by completing Substory #38 "Gift of Love")
Battery: High Speed (Available from Don Quijote)
Suspension: None
Bumper: Bumper Plate (Automatically obtained when you buy the Killer Bee car from Ebisu Pawn)
The Prodigious Racer (Substory #40) — Mika's Father in the Pocket Circuit Stadium after completing Substory #39
Tires: Super Low Profile (Available from the Parts Shop after winning the Pro-Am Race)
Frame: Super Balanced (Available from the Parts Shop after winning the Pro-Am Race)
Motor: High Torque 2.0 (Available from the Kamuro Dealer after completing Substory #8 "Password Protected")
Gears: Godspeed Plus (Available from the Parts Shop after winning the Pro-Am Race)
Battery: High Speed (Available from Don Quijote)
Suspension: None
Bumper: Bumper Plate (Automatically obtained when you buy the Killer Bee car from Ebisu Pawn)
The Woman they Call Professor (Substory #41) — Pocket Circuit Professor in Earth Angel
Tires: Super Spiked (Available from the Parts Shop after winning the Pro-Am Race)
Frame: Super Balanced (Available from the Parts Shop after winning the Pro-Am Race)
Motor: High Torque 2.0 (Available from the Kamuro Dealer after completing Substory #8 "Password Protected")
Gears: Godspeed Plus (Available from the Parts Shop after winning the Pro-Am Race)
Battery: High Speed (Available from Don Quijote)
Suspension: None
Bumper: Bumper Plate (Automatically obtained when you buy the Killer Bee car from Ebisu Pawn)
The Greatest Glory (Substory #42) — Kazuyoshi-kun in the Pocket Circuit Stadium
Tires: Ultra Slim (Available from the Parts Shop after winning the Champions' Cup)
Frame: Ultra Metal (Available from the Parts Shop after winning the Champions' Cup)
Motor: Godspeed (Available from the Parts Shop after winning the Champions' Cup)
Gears: Extra Godspeed (Available from the Parts Shop after winning the Champions' Cup)
Battery: High Capacity (Available from Don Quijote)
Suspension: Heavy (Obtained by completing Substory #41 "The Woman they Call Professor")
Bumper: Bumper Plate (Automatically obtained when you buy the Killer Bee car from Ebisu Pawn)
The Fighter's Crown (Substory #43) — Pocket Circuit Fighter in the Pocket Circuit Stadium
Tires: Ultra Spiked (Available from the Parts Shop after winning the Champions' Cup)
Frame: Ultra Metal (Available from the Parts Shop after winning the Champions' Cup)
Motor: Godspeed (Available from the Parts Shop after winning the Champions' Cup)
Gears: Super Boost (Available from the Parts Shop after winning the Champions' Cup)
Battery: High Capacity (Available from Don Quijote)
Suspension: Heavy (Obtained by completing Substory #41 "The Woman they Call Professor")
Bumper: Bumper Plate (Automatically obtained when you buy the Killer Bee car from Ebisu Pawn)
Source: Read Full Article