Yahtzee Serves Up A Cup Noodles Edition
We're going to file this one under the category "It's 2020, and if it's not burning the Earth to bare bedrock then it's confusing the ever-loving s— out of us."
Hasbro, in collaboration with The OP (formerly USAopoly) and Nissin Foods, have come out with a new version of the classic 1956 dice game, Yahtzee. Instead of the usual Yahtzee cup, this game replaces it with a replica plastic cup from Nissin's world-famous Cup Noodles.
The game is inspirationally called Yahtzee: Cup Noodles.
Most of you are probably even more familiar with Cup Noodles than you are with Yahtzee. Cup Noodles have been feeding college kids for decades thanks to their easy-to-use packaging and almost instantaneous cooking time (hence the name "instant ramen bowl"). They can be found and consumed basically anywhere, from international flights to mall convenience stores.
To further enhance the image that you're playing with a bowl of food, Yahtzee: Cup Noodles replaces the regular dice with ones featuring food icons typically found in Cup Noodles: beef, carrots, shrimp, lime, corn, and chicken.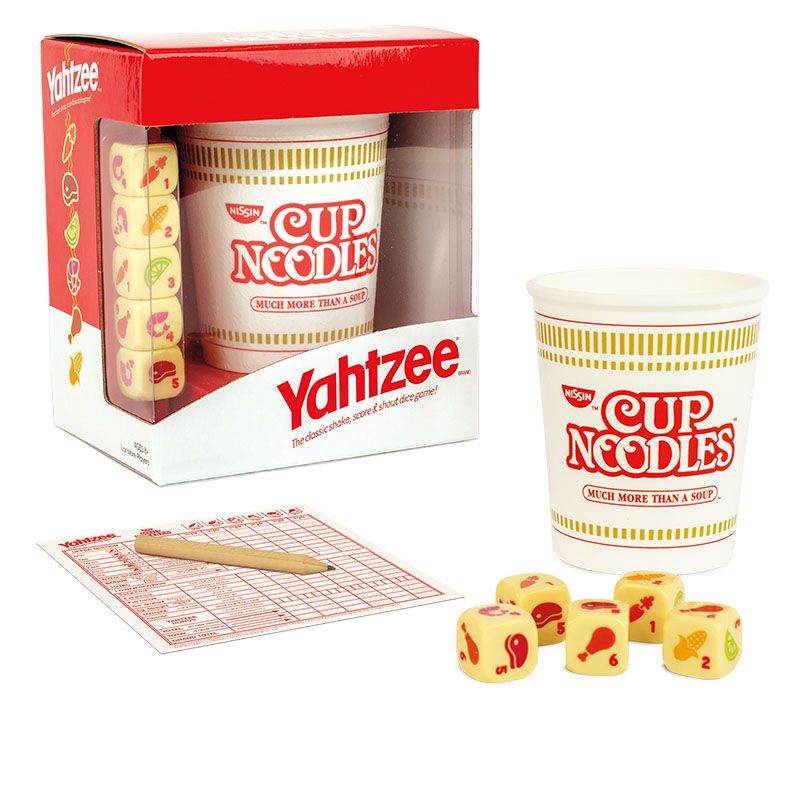 And if tallying up numbers of chicken and shrimp are too confusing, there are little numbers in the bottom corner of each face of the die. There's also a helpful warning altering players not to eat the dice.
Yahtzee: Cup Noodles is available now at The OP or Nissin's website for $14.99.
Source: Read Full Article