Watch A Half-Life Garden Gnome Get Shot Into Space Today
Earlier this month, we found out that beloved Half-Life and Left 4 Dead garden gnome Gnome Chompski was going to be launched into space. The surprise terrestrial ejection of a lawn ornament comes courtesy of Gabe Newell, who has been hiding out in New Zealand ever since the COVID pandemic made 2020 the worst year of modern memory.
But it's been great for Newell. He's lost weight, grown his beard out, and is rockin' a Hawaiian shirt every day of the week. There's even talk of him moving to New Zealand since the country just seems to agree with him so much.
Even without permanent residence, Newell has been settling in with his adoptive country. He's put on charity concerts, talked to local media, and today he'll help out with New Zealand's burgeoning commercial space exploration business by having Rocket Lab launch a 3D-printed Gnome Chompski into space.
Liftoff is set for today at 8:44 PM EST, or 2:44 PM local time, weather permitting. To celebrate the launch, Newell released a new video today encouraging people to watch the rocket's ascent. For every person that watches Rocket Lab's livestream, Newell will donate $1 to Starship Children's Hospital, a local pediatric hospital.
Also to celebrate the launch of Gnome Chompski, Half-Life 2 has been updated with a brand new achievement. Called "Gnome Alone," the achievement basically marks the successful launch and will be given to all Half-Life 2 players so long as everything goes according to plan.
"If you did not also receive the achievement 'Manufacturing Ascent,'" the achievement adds, "Newell has abandoned his plans to shoot Noam Chomsky into space."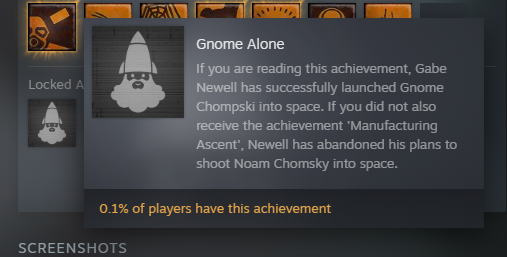 You can tune in to watch Rocket Lab's launch and help out a worthy cause by clicking this link here.
Source: Read Full Article