Warzone & Cold War Season 4 Update: Everything You Need To Know
It's time to get locked and loaded as the fourth season of Call of Duty: Warzone and Black Ops Cold War go live worldwide on June 17. Coming in at an average 11GB across all platforms, the Warzone update appears to be the biggest draw as a satellite comes bearing down on Verdansk, bringing in tow a range of new points of interest across the map, in addition to a limited-time event aptly coined "Ground Fall."
Cold War fans won't be left sleeping, either, as four new multiplayer maps and Zombie content make their way into the game, alongside a slew of new weapons, blueprints, operators, and game modes. Following a trip to Nakatomi Plaza, fans are now beckoned back as the tides of war are born anew in this action-packed update to Call of Duty.
Let's dive right in and see what new features both Warzone and Cold War have in store.
Season Four's New Weapons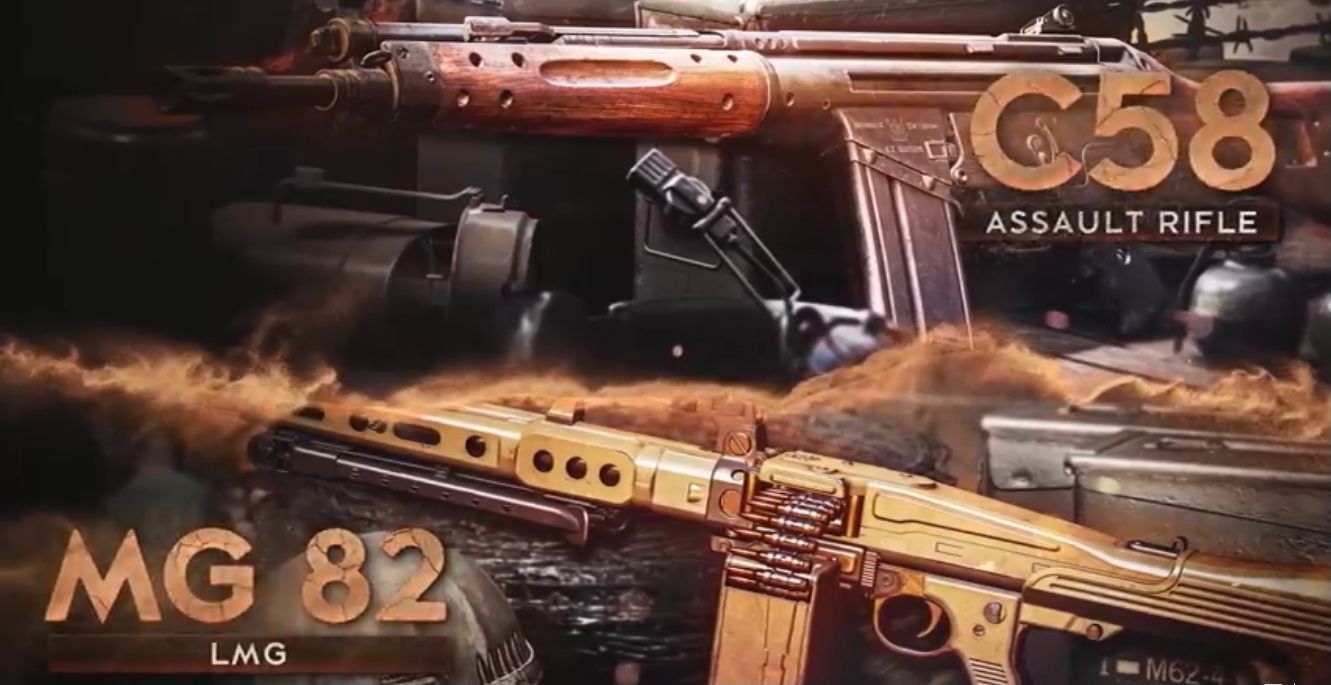 Of most importance to the sweats are the five new weapons coming with Season Four. Three will be available in Cold War and Warzone immediately upon launch. They are:
The Nail Gun – Which will act as a submachine gun in Warzone and a special weapon in Cold War.
The C58 Assault Rifle
The MG 82 Light Machine Gun
The most interesting of the bunch seems to be the Nail Gun, a 1980s variant of the same weapon last seen in Black Ops III. It arrives on the heels of a still rather hot SMG meta, diversifying the portfolio for close-range combatants and potentially becoming itself a new favorite tool of the trade for those Bullfrog and LC-10 enthusiasts.
The more conventional assault rifle, the C58, will utilize a smaller ammo capacity and slower fire rate in tandem with a more damage-heavy output.
The MG 82 seems like a rather odd twist on the LMG format, relinquishing damage and recoil in favor of better stability and the fastest fire rate in its section. It will be fun divvying these up, if applicable, into the best loadouts and gear for this updated season.
The C58 will be available at Tier 31 of the Season Four Battle Pass, whereas the LMG will be gifted to players at Tier 15.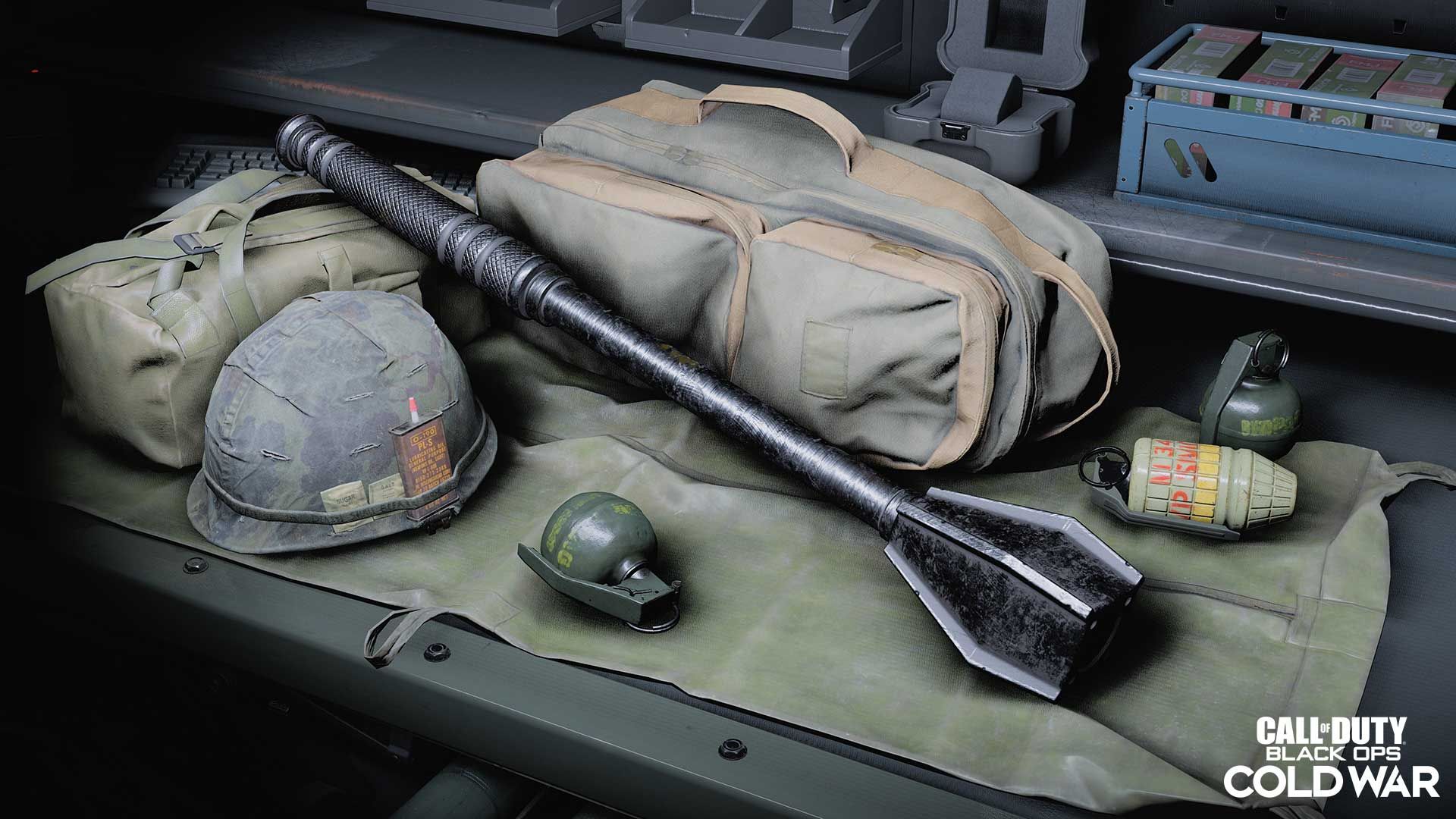 The final two guns of note coming at a later date in Season Four are:
The OTs 9 – A 20-round SMG that looks like a blend of the new Nail Gun.
The Ak-74u.
There's also a Mace melee weapon, which will be a cool new tool for those looking to switch out their Kali Sticks.
Both SMGs and the Mace can be acquired during season four either by way of completing an in-game challenge or via one of the many new Blueprint bundles that will be available in the Call of Duty store
Though not a gun, the dirtbike from Cold War will also be making its way into Warzone, giving vehicular soldiers a whole new weapon of choice, as well as a set of sleek new wheels.
It will be the fastest mode of transport in the game, allowing you and a buddy a swift getaway when the area of operations gets a bit too hot.
Season Four Warzone Content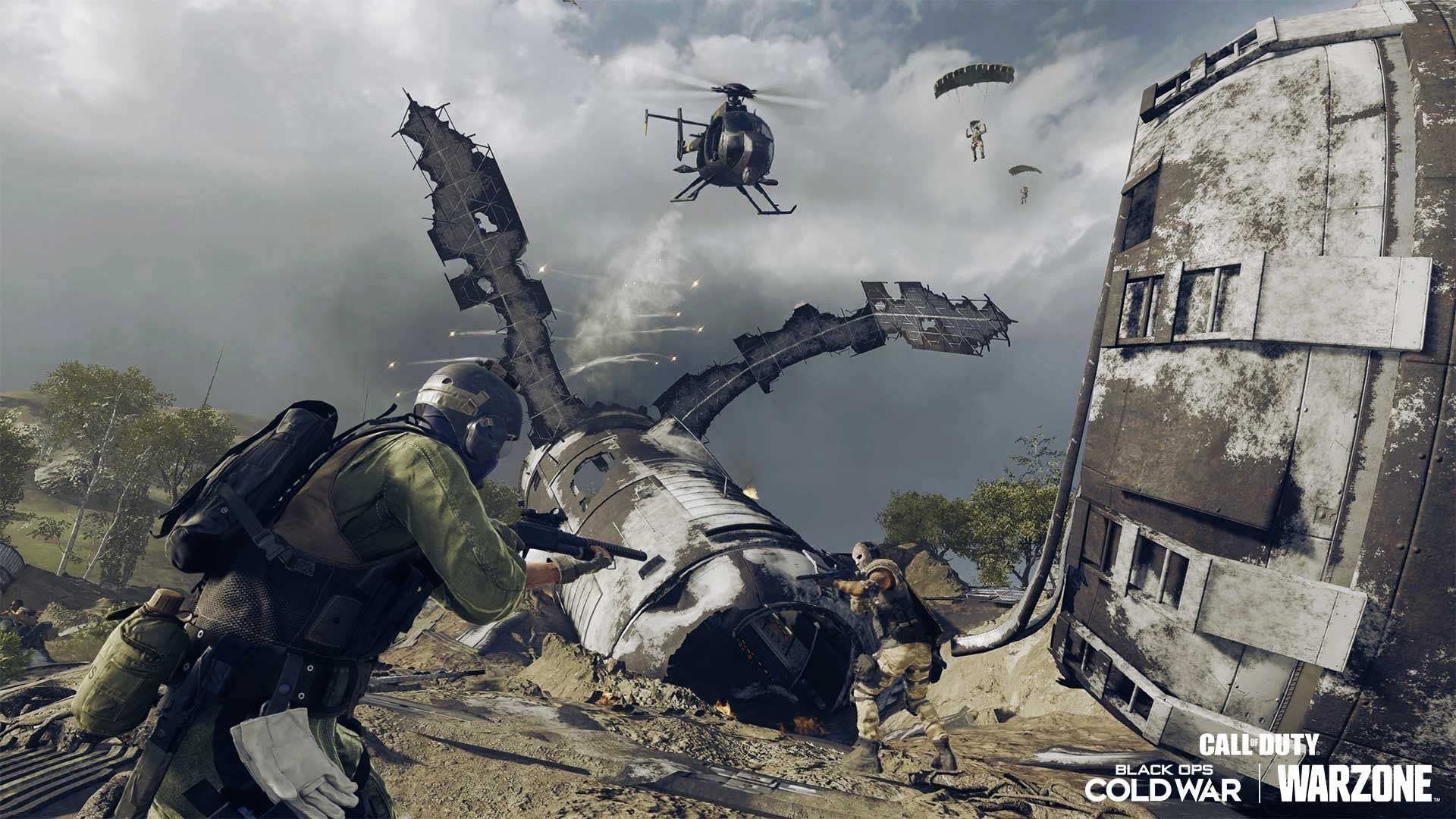 In tandem with the "Ground Fall" Season Four event, which will also have exclusive rewards in Cold War, upon launch on June 16, you will notice crashed satellites littered throughout Verdansk.
These Satellite Crash Sites, which won't appear on your map, will act similarly to Rambo's dog tags locations, giving combatants a chance to test their skills via specific objectives, rewarding the most valiant with Calling Cards, Emblems, and more.
The special event will be for only a short period of time, so make sure to secure as many locales as possible and interact with the Sat-Links before the Ground Fall meets its end.
Nakatomi Plaza will also be reimagined as Downtown Tower, relinquishing its vault and special Die Hard operations for a more traditional building that is "under new management."
Additionally, you will also find special Red Doors, which are at the moment highly classified pieces of intel. Though much of the info is redacted, these doors can be activated and entered by first pinging them, but who knows what you may find on the other side.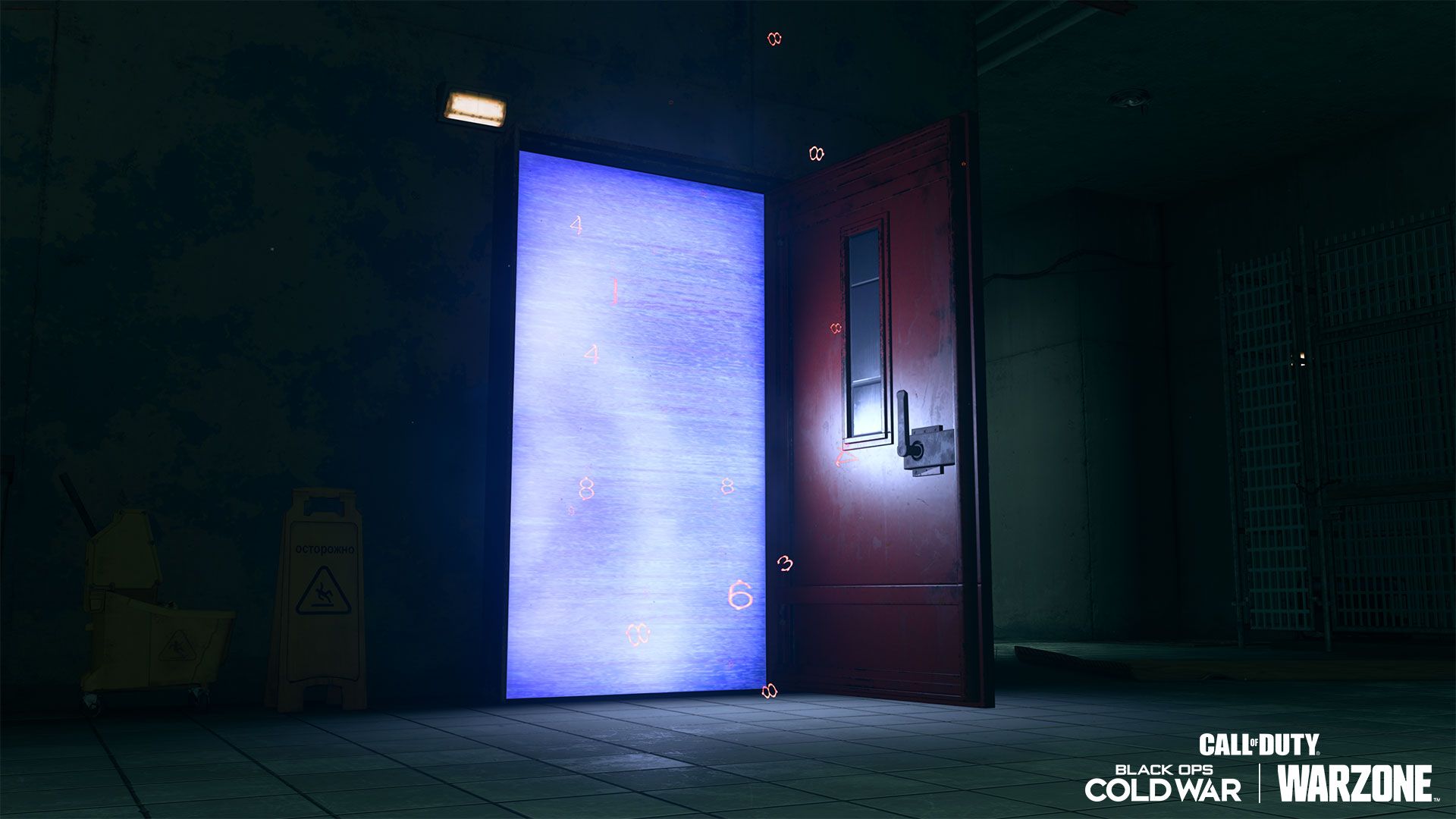 Two new modes will be joining Warzone Season Four, as well:
Resurgence mode will be taking its rebirth-style of play from the island to Verdansk in a smaller area of operations, available at launch to all squad sizes.
Payload, which will be arriving mid-season, offers a more objective-focused experience to the tried and true Battle Royale format. This 40-player mode will see you tackling two varied operations: either protecting or sabotaging a group of two moving caravans.
The gulag will likewise be updated with Season Four upon launch to fit the new Hijacked map, replacing the current Standoff.
Season Four Cold War Content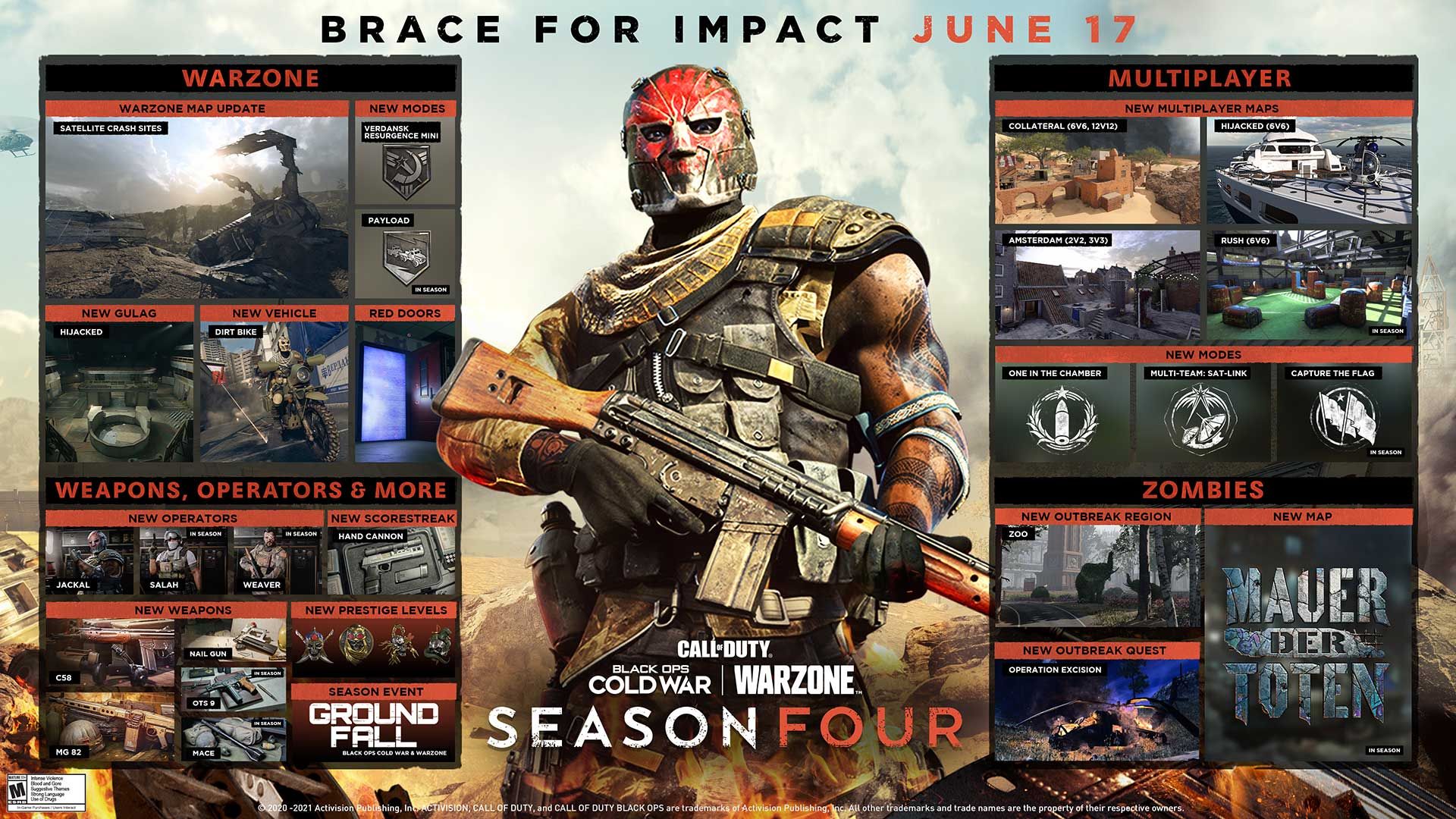 Call of Duty: Black Ops Cold War Multiplayer will be seeing four brand new maps with the Season Four update. The three areas that will be available at launch are:
Amsterdam – A smaller Gunfight and Face Off map
Collateral – A more traditional 12v12 and 6v6 arena,
Hijacked – The superyacht classic from Black Ops II.
Yet another returning area of interest from Black Ops II is the paintball-inspired Rush, a 6v6 map that will be arriving much later into Season Four.
Three new operators will also be joining the ever-growing cast of characters in Black Ops Cold War, those being:
The Warsaw Pact's Jackal
NATO's Salah
NATO's Weaver
Jackal will become available at Tier 0 of the Season Four Battle Pass and will also include, upon reaching Tier 100, a special skin called Ultra-Rarity.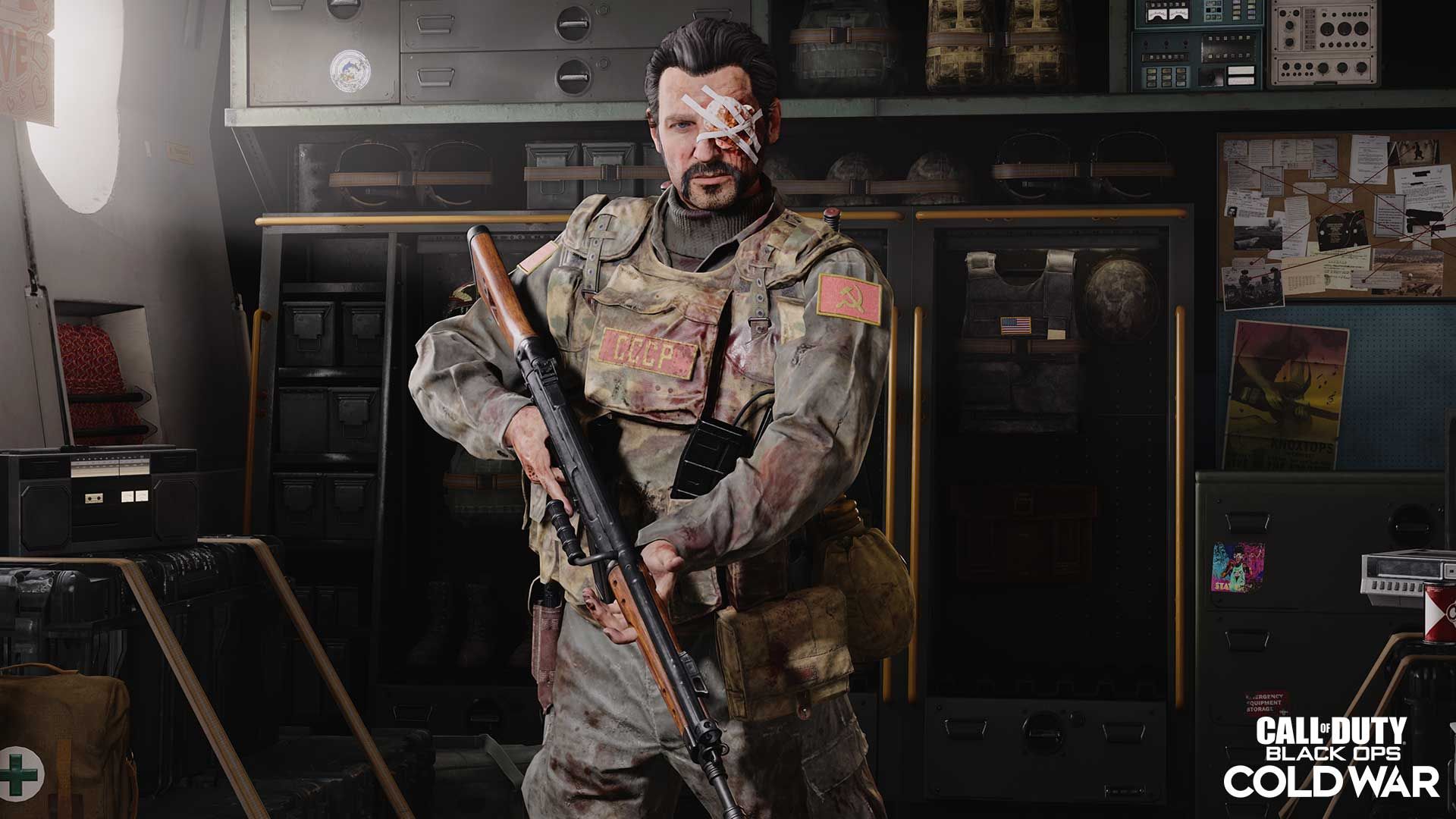 Multiplayer is getting a slew of additional content in the form of three modes, two of which will make longtime fans extremely happy. At launch, you can expect to see:
One in the Chamber – A classic game mode from the original Black Ops, which offers you only one bullet per kill, as well as the newly-introduced Sat-Link.
Multi-Team: Sat-Link – A blend of Hardpoint and King of the Hill, wherein you will have to strategize in keeping the marked location secure as you upload crucial data and are aided by Scorestreak-laden loot boxes within the vicinity.
On the subject of Scorestreaks, the all-new Hand-Cannon will come in handy, giving players eight powerful shots to deal damage not only to enemies but also to their Scorestreak vehicles, as well.
Later into Season four, Capture the Flag will also be joining this ever-growing roster of Black Ops game modes.
Season Four Zombies Content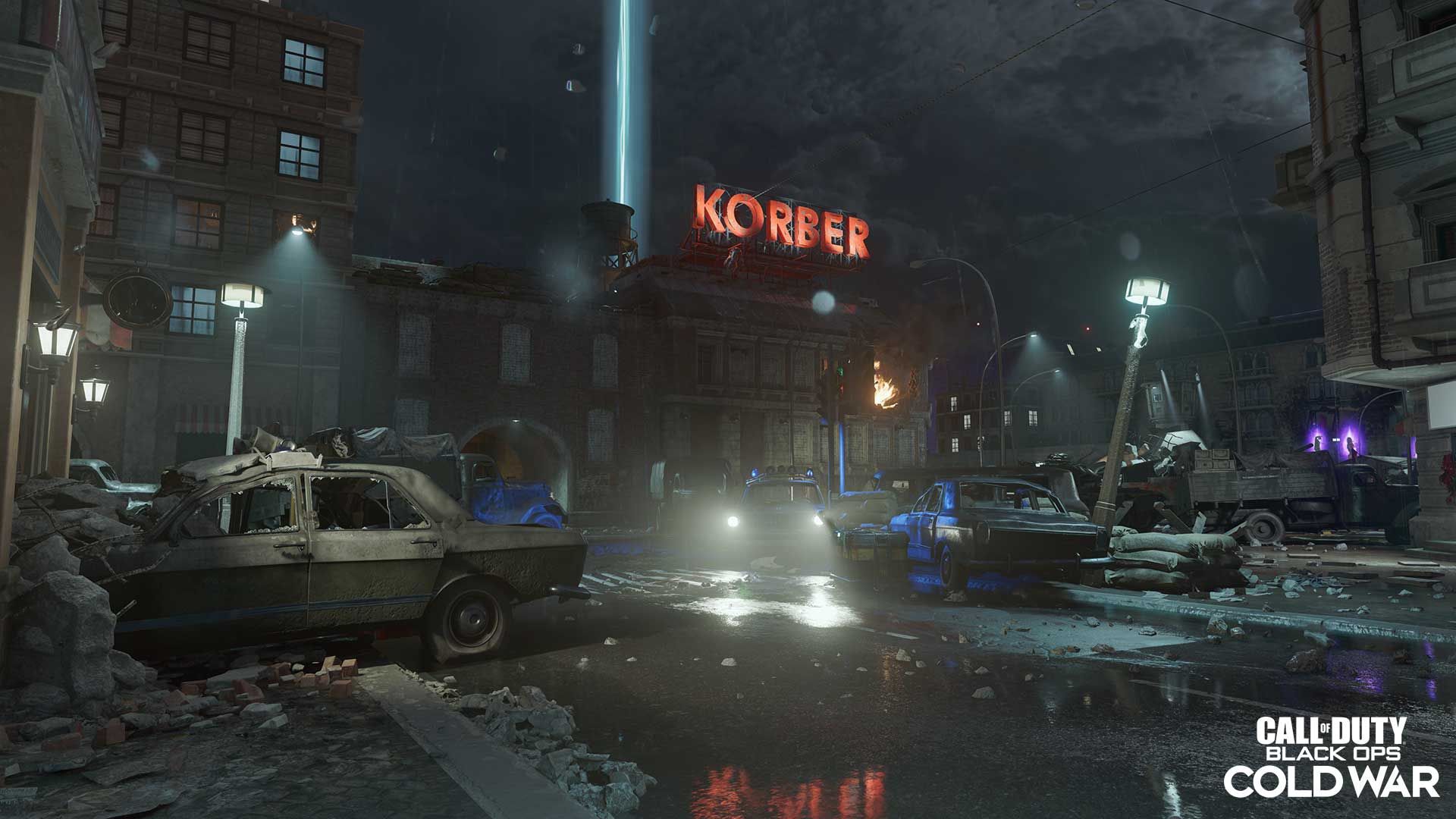 Treyarch has seemingly not forgotten about its beloved Zombies fanbase, adding a whole new region to the Outbreak game mode as well as a new map for the more traditional Zombies experience, called Mauer de Toten.
The map will be made available mid-season while Outbreak fans can dive right into the Zoo at Season Four's release.
PlayStation players will also be getting Onslaught updates, specifically with the addition of Collateral and Rush as new maps for undead killing, in addition to a new limited-time mode, called "Onslaught Accelerated," which will come well after launch.
All launch day material for Black Ops Cold War will be available at 9 pm PT on June 15 with the Season Four update, whereas Warzone players will have to wait until the same time on June 16 for their content to take full effect.
Source: Read Full Article