Two Point Campus: How To Build Student Relationships
Two Point Campus is a management game where you're tasked with running a successful school by building facilities, hiring the right staff and micromanaging timetables. But while you're focused on students' education, many of them will be distracted by each other, either by forming friendships or romantic relationships.
Building student relationships in Two Point Campus is essential over time since better relationships will improve students' happiness, which will subsequently improve their grades and academic performance. So it's in your best interest to invest in these relationships just as much as the educational facilities around the campus.
How Do Student Relationships Work?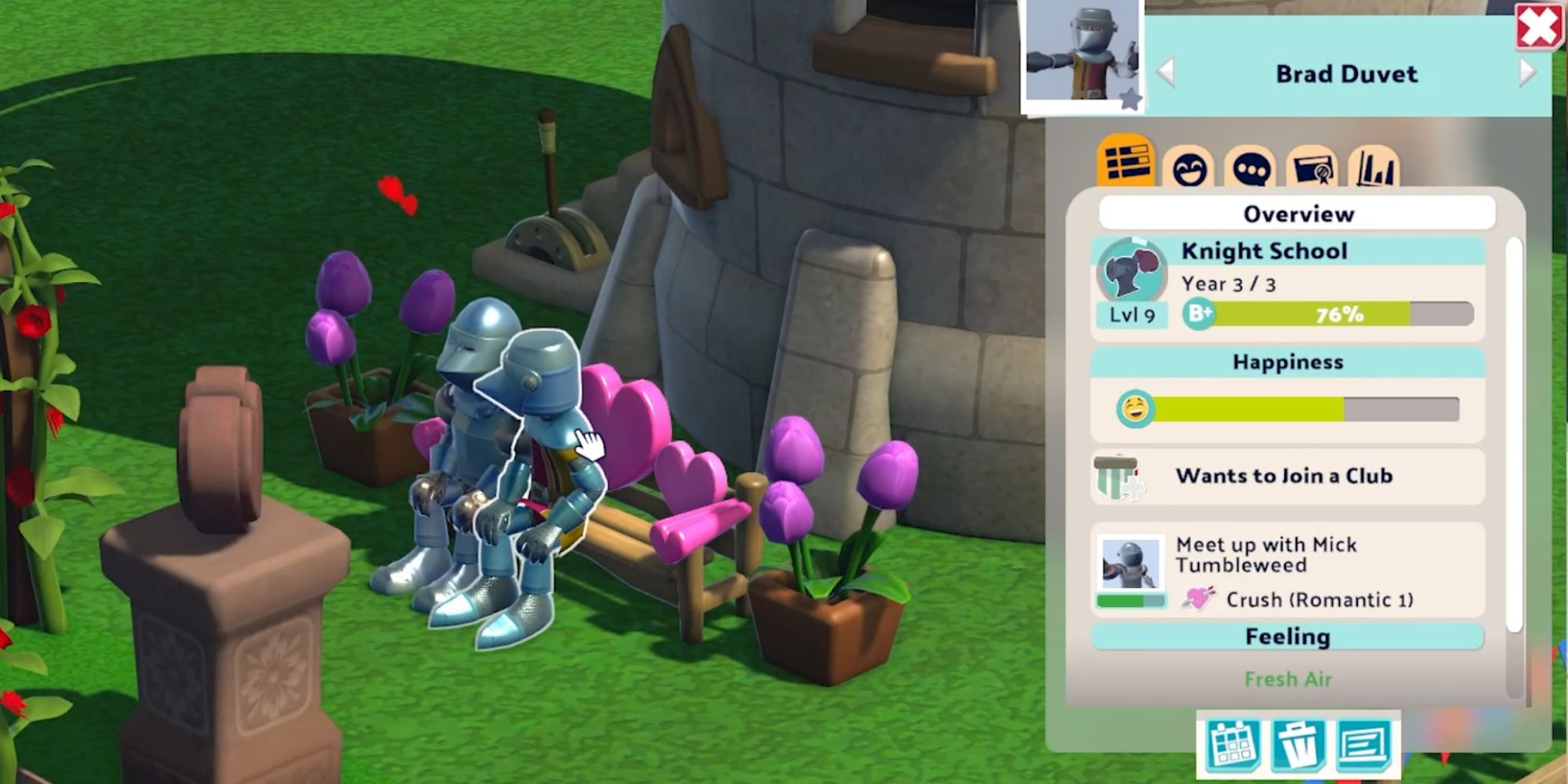 As students walk around campus, there's a chance that they'll stop by each other and begin to socialise, forming either a friendship or the start of a romantic relationship. Friendships and romantic relationships work in the same way, as students will be able to improve and level up their relationships from Level 1 (Crush), to Level 2 (Dating), Level 3 (Sweethearts), and Level 4 (Soulmates).
But stopping your crush in the corridor isn't the most efficient way to fall in love. Once a relationship is initiated they start at level 1, but students can only level up their romance by using relationship items that you can place around the campus. Student happiness will improve more when their relationships are at higher levels.
You can check which items will improve romantic relationships in their description box before you buy them, but each relationship item has an assigned level that will affect which students can use them. For example, a relationship item at levels 1-2 can only be used by couples at relationship level 1 until they level up to dating. At this point, students that are dating can use items at level 3, and so on. The Love Bench item is the only item that will take a level 1 relationship to a level 2 dating situation, so you're going to want to place them first.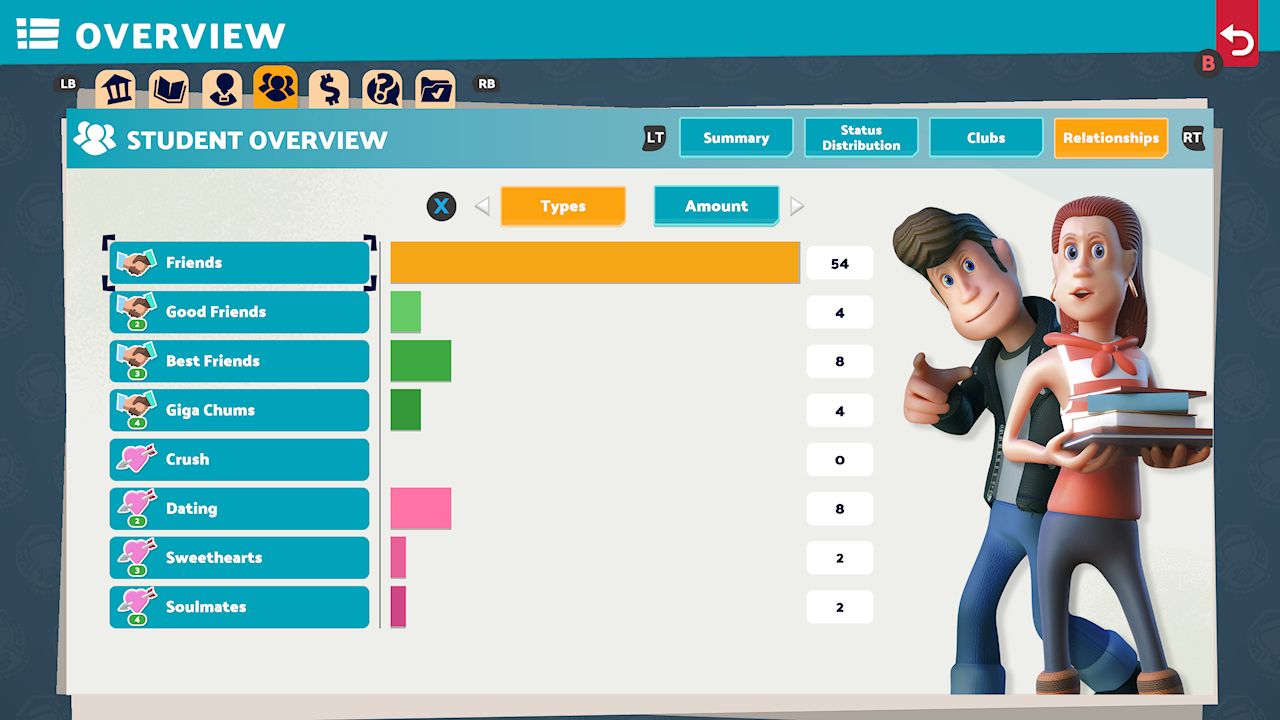 As you may have noticed, a lot of the relationship items are for outside which means you need to consider different things. For example, make sure that the exterior of your campus is well heated, otherwise students could get sick after socialising, or just avoid socialising outdoors altogether.
You can also see a breakdown of your student's dating life in the Campus Overview menu. This page will detail how many relationships there are on your campus, what level they are at, and how happy your students are in their relationships.
Every Romantic Relationship Item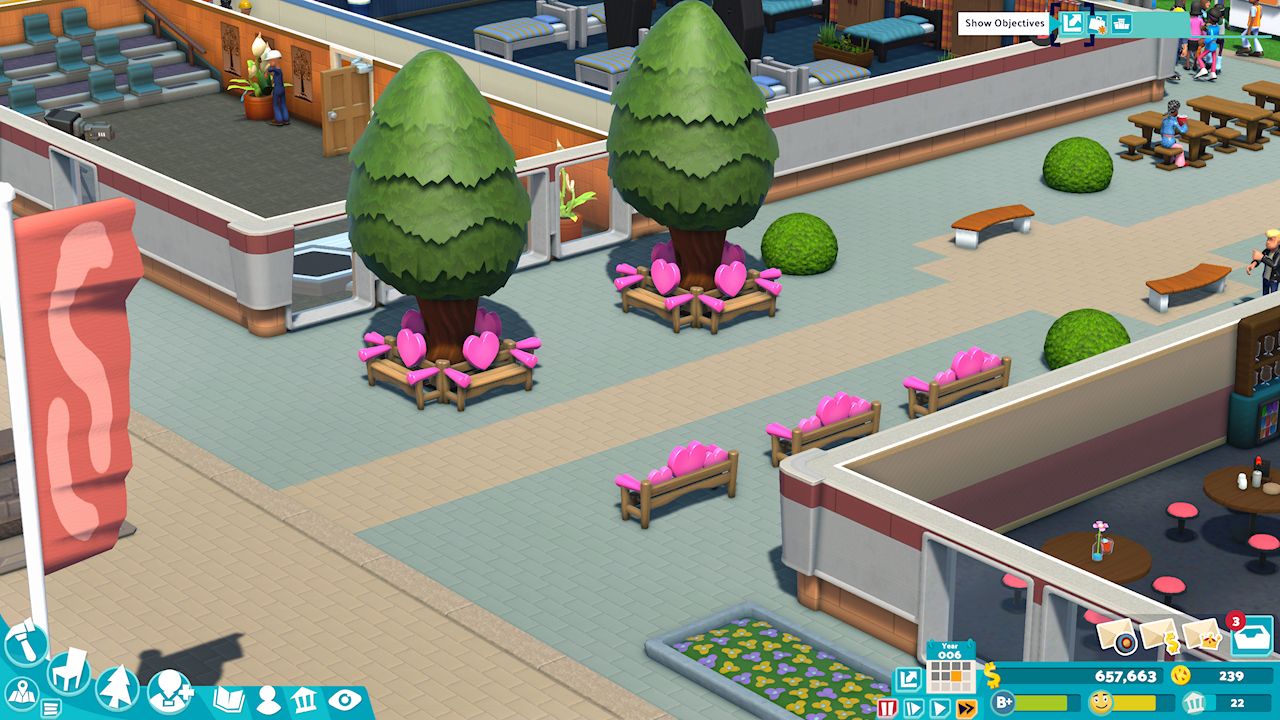 An item's description box will let you know if it's a relationship item before you buy. The description box will also let you know which level of relationship it's used for. However, there's no option to filter for items that nurture romantic relationships specifically, so make sure you don't miss any.
Love Bench

Lv.1 – Lv.2
Crush – Dating
Exterior
$600

Tree Bench

Lv.2 – Lv.3
Dating – Sweethearts
Exterior
$4000

Statue Of Love

Lv.2 – Lv.3
Dating – Sweethearts
Exterior
$1,200

Love Trumpet

Lv.3 – Lv.4
Sweethearts – Soulmates
Exterior, Corridor
$750

Double Jump Bed

Lv.3 – Lv.4
Sweethearts – Soulmates
Dormitory
$4,000

Rose Garden

Lv.3 – Lv.4
Sweethearts – Soulmates
Exterior
$7,500
Source: Read Full Article