Tiny Tina's Wonderlands: Everything We Know So Far
News of a brand new title from Gearbox has swept the gaming community off its feet. Tiny Tina's Wonderlands was announced during the Summer Game Fest to outstanding fan excitement. Gamers adored the Tiny Tina DLC (Assault on Dragon Keep) for Borderlands 2 and are thrilled to experience it as a stand-alone title.
With so much gaming news flooding the internet during E3 and the various other events this summer, it can be hard to keep up with the games you actually care about. This is your be-all-and-end-all guide to the latest details for Tiny Tina's Wonderlands.
Tiny Tina's Wonderlands Release Date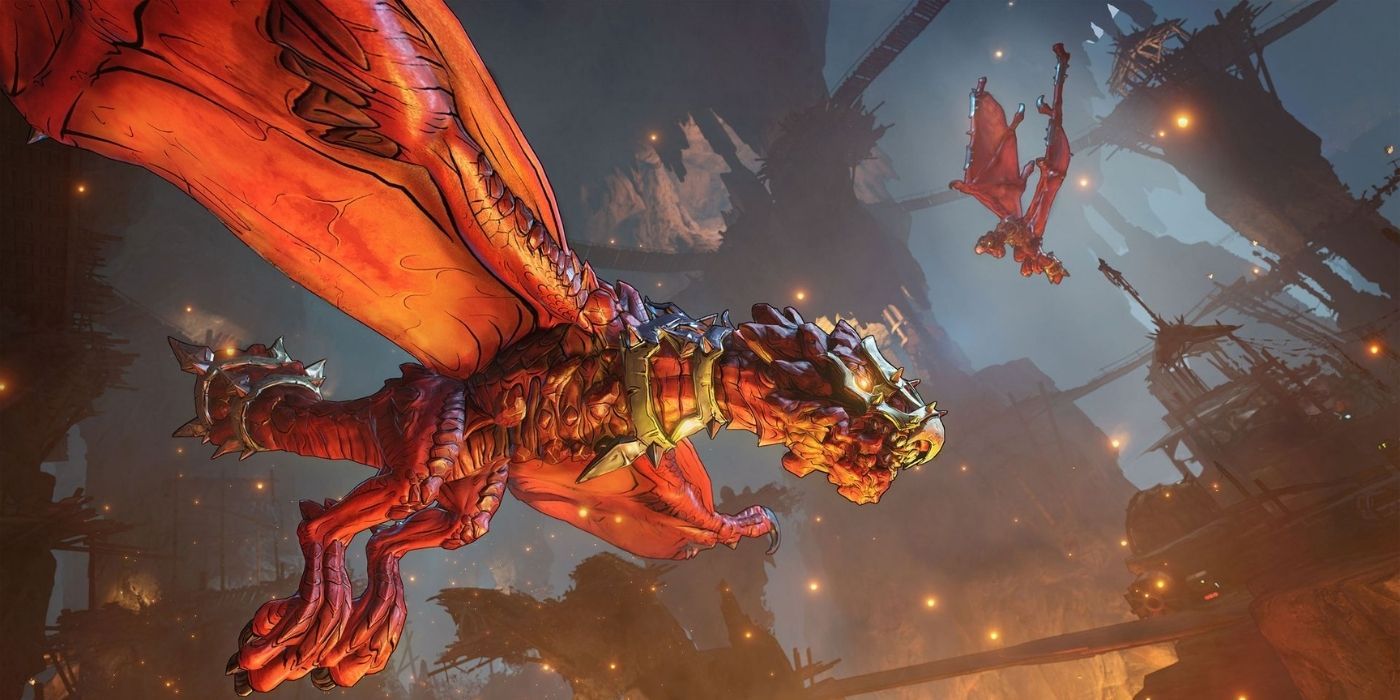 Fans can expect to play Tiny Tina's Wonderlands in Early 2022. No specific date has been released yet.
It's also not yet clear whether players will enjoy it on Xbox Series S/X, Xbox One, PlayStation 5, PlayStation 4, and/or PC.
Tiny Tina's Wonderland Trailers
Announcement Trailer
The announcement trailer provided the first peak of Tiny Tina's Wonderlands for fans everywhere. It features a character with a machine gun-wielding some kind of magic against an attacking dragon as well as an impressive cast list.
We got a brief taste of how the game would call back to the Borderlands franchise while becoming a world entirely in-and-of-itself.
Q&A With Ashly Burch
When Tiny Tina's Wonderlands was announced at the Summer Game Fest, Ashly Burch was interviewed live on-stage about the game.
She provided enticing details and a few hints about what features might be upcoming in the game.
Interview At E3
E3 viewers were treated to a special interview with Kayla Belmore, the senior producer of Tiny Tina's Wonderlands.
Belmore discussed how the game was inspired by the Borderlands 2 DLC Assault on Dragon Keep and introduced some of the enemies that players can expect to fight. 
World Lore For Tiny Tina's Wonderlands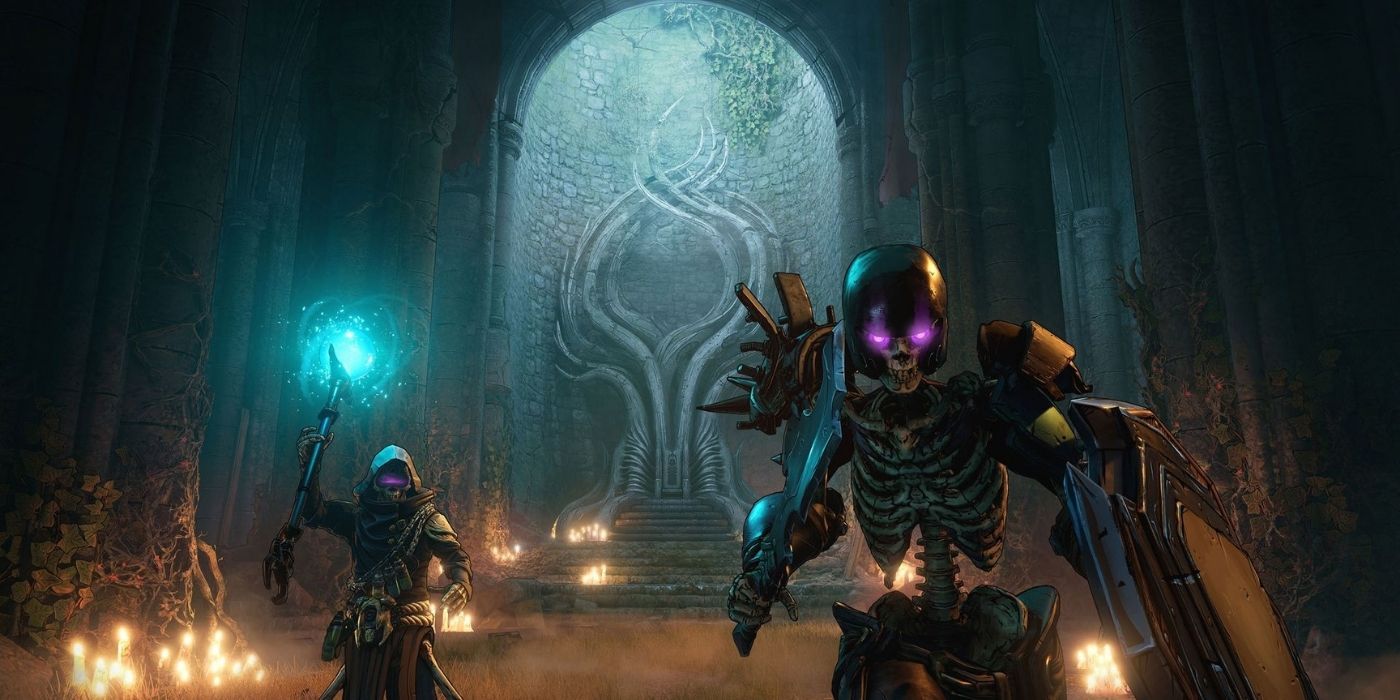 Tiny Tina's Wonderlands will be a high fantasy video game inspired by the Borderlands 2 DLC: Assault on Dragon Keep. Tiny Tina will lead players through a topsy-turvy world that will be fully separate from Borderlands; it exists in an entirely different setting and, though there will be callbacks to the original series, gamers who haven't played Borderlands will have no trouble enjoying Tiny Tina's Wonderlands.
From the few screenshots available now, we know that players will be able to traverse medieval-style keeps, ancient ruins, underground caves, and snowy mountains.
Your Antagonist: The Dragon Lord
The confirmed antagonist of the game is a character entitled "the Dragon Lord," though it's unclear what his motivations (or the players') will be.
Opponents will include:
Dragons
Wyverns
Goblins
Reanimated Skeletons
Tiny Tina's Wonderlands Gameplay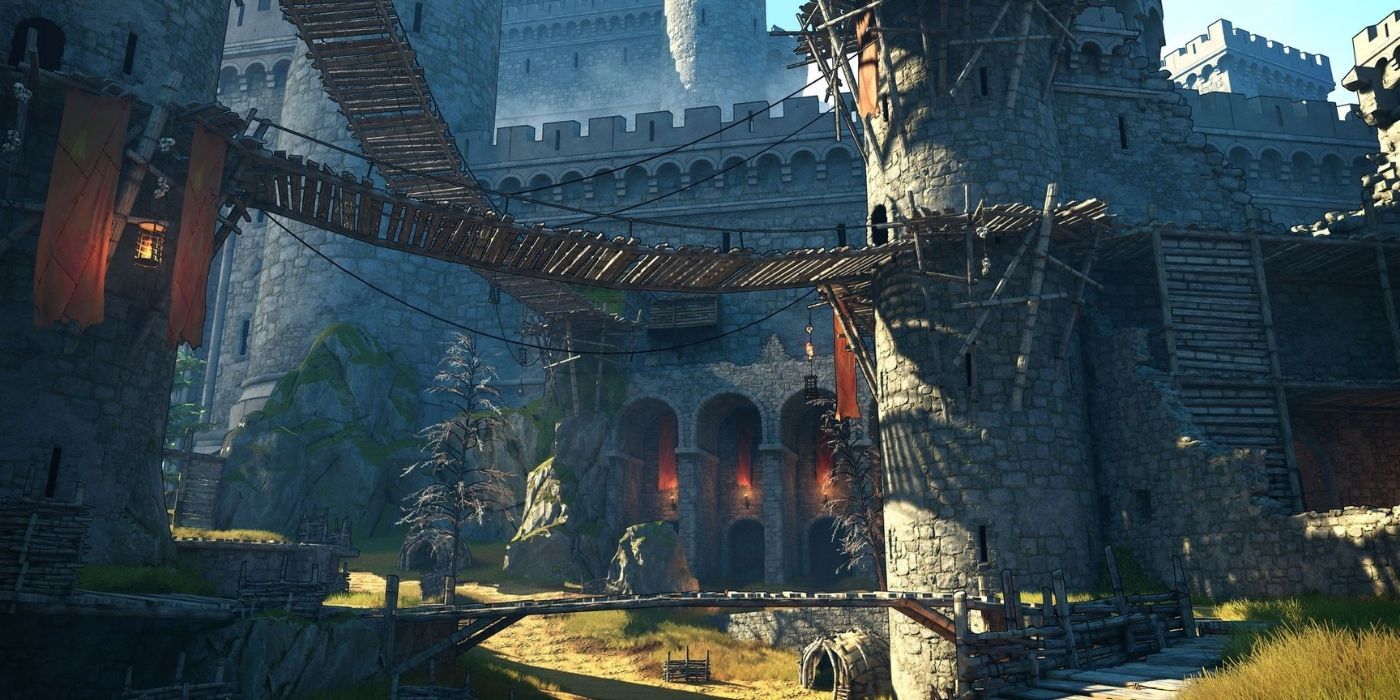 Looter-Shooter
Tiny Tina's Wonderlands is going to be a looter-shooter, just like the Borderlands franchise. That means that it'll be a first or third-person shooter where the progression revolves around loot from drops, rewards, quests, and more. Borderlands is known for melding this looter-shooter gameplay with elements of RPG gameplay.
Confirmed Game Mechanics
Ashley Burch discussed two features in her interview when the game was announced:
Spellcasting
Customizing Your Character
Cast And Characters in Tiny Tina's Wonderlands
Ashly Burch as Tiny Tina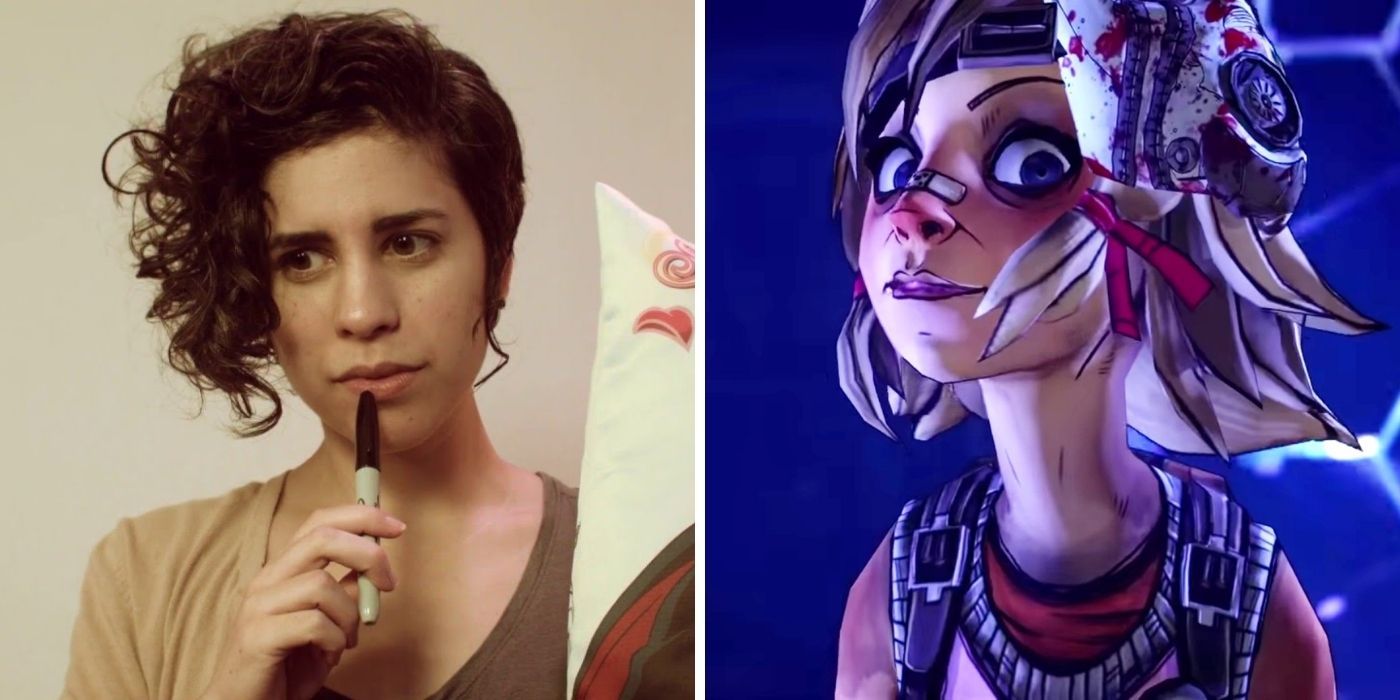 Tiny Tina is a character from Borderlands by whom this new game is titled. She's a wacky young woman of only 13 or so who lost her parents in unethical Hyperion experiments. She first appeared in Borderlands 2 before returning for Borderlands 3.
Her instantly recognizable voice comes from Ashly Burch, a popular actress who is known for her roles as Chloe Price in Life Is Strange, Aloy in Horizon Zero Dawn, and Sasha Braus in the English dub of Attack on Titan.
Andy Samberg as Captain Valentine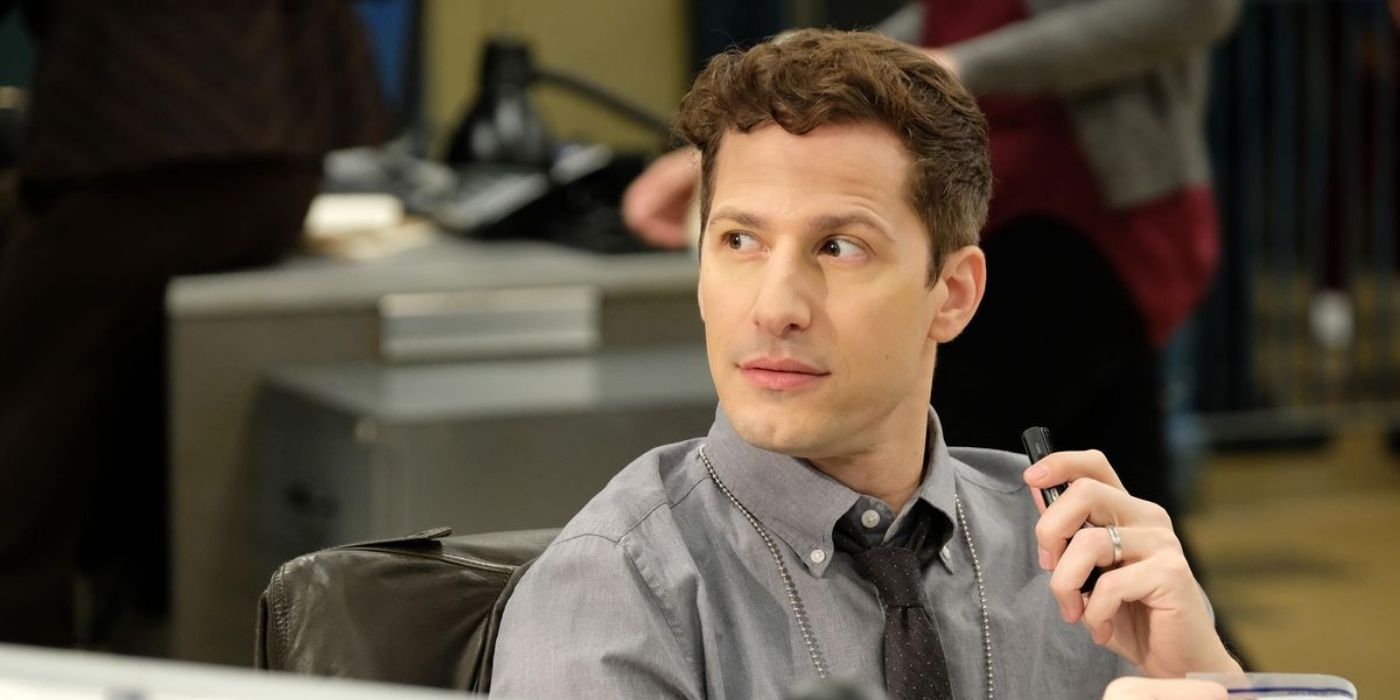 Captain Valentine's character is a mystery thus far; the only hint that players have is from a Borderlands blog post describing him as "headstrong." Is he the man facing off against a dragon, featured in the announcement trailer? Only time will tell.
The actor playing him is the ever-popular Andy Samberg. Samberg is a beloved comedian, known for the television shows Saturday Night Live and Brooklyn Nine-Nine, his band The Lonely Island, and much more.
Wanda Sykes as Frette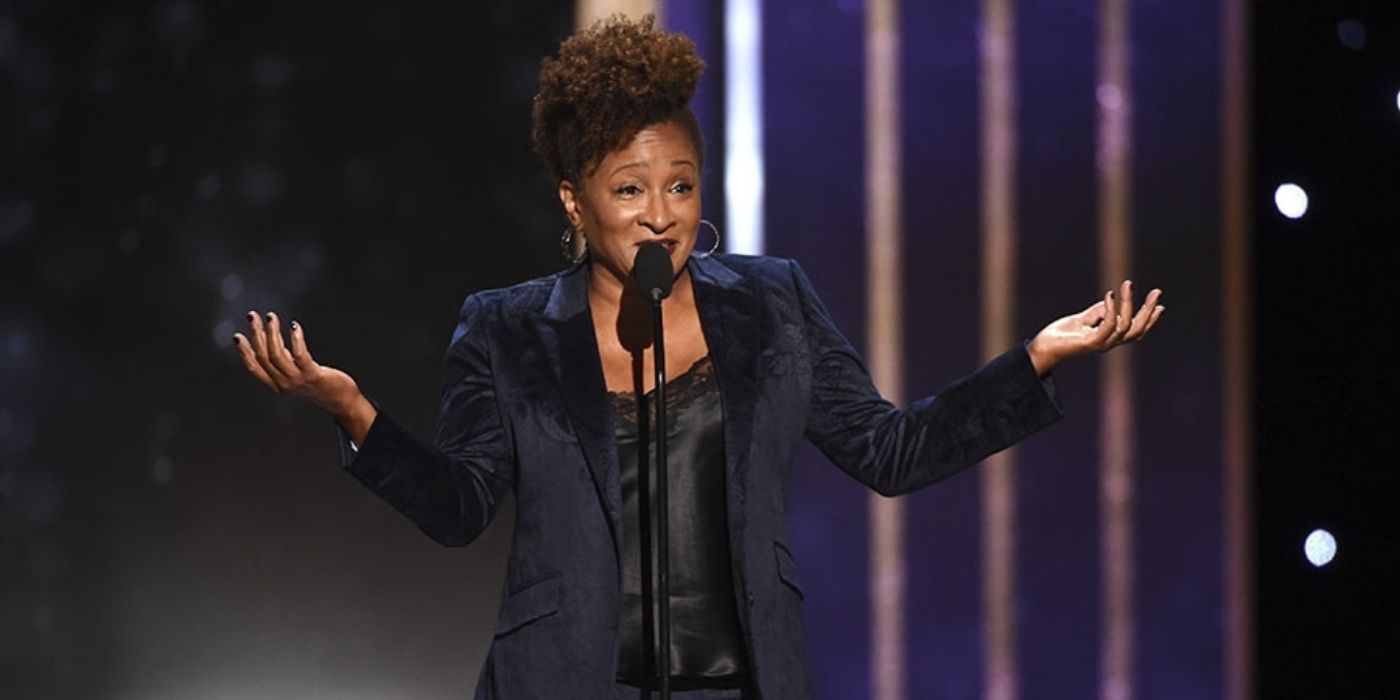 Frette is described as a "rule-obsessed robot," but they didn't appear in the announcement trailer anywhere.
All we know is that they'll be played by stand-up comic Wanda Sykes, who is known for (other than her stand-up) her roles in Bob's Burgers, Bad Moms, Ice Age, Futurama, and more.
Will Arnet as the Dragon Lord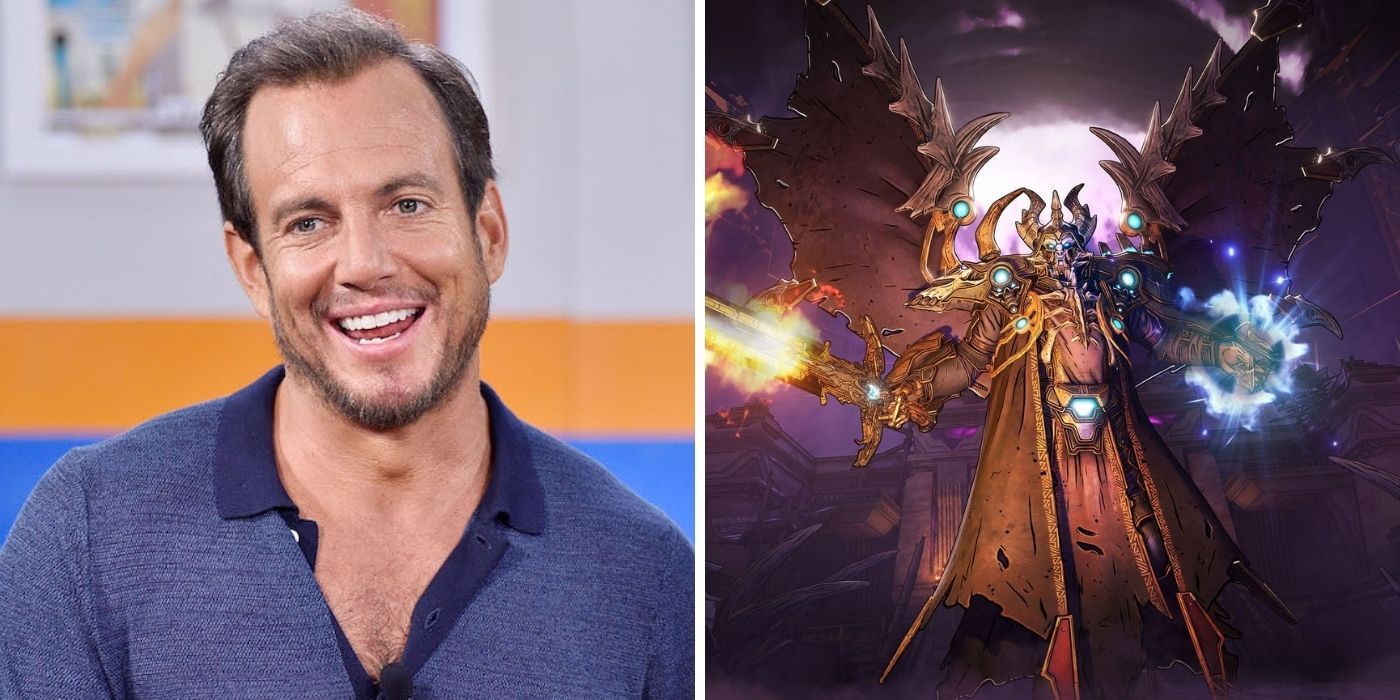 Though the Dragon Lord didn't appear in the announcement trailer, Gearbox posted a photo of him to the @playwonderlands Instagram account and feature him on playwonderlands.2k.com. Players only know him as the antagonist that Tiny Tina will lead them to seek victory against.
He'll be played by Will Arnett, a stunning performer who has a long history of voice acting. He was in The Lego Movie and The Lego Batman Movie, played BoJack Horseman, appeared in Arrested Development, and more.
Latest News On Tiny Tina's Wonderland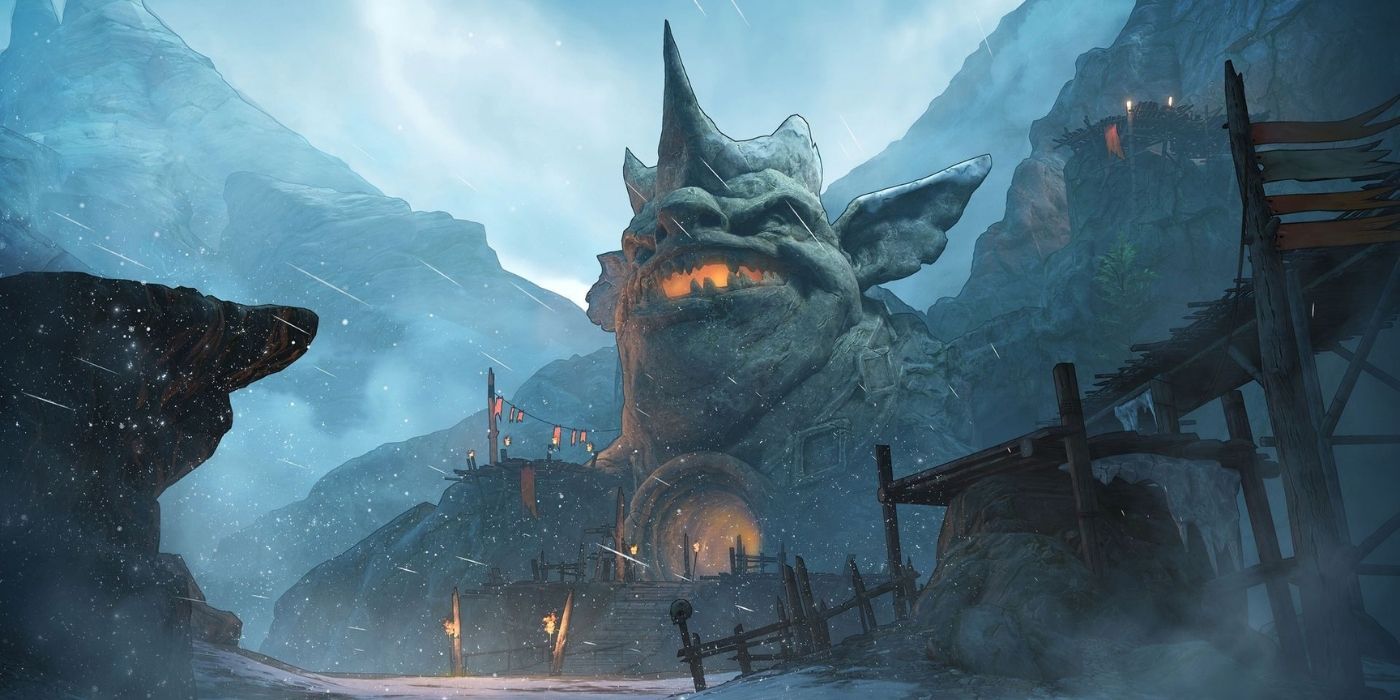 At the moment, the latest news about Tina's Tiny Wonderland is its recent announcement and trailer. We will update this article as more details are revealed.
Source: Read Full Article