Tiny Tina's Assault On Dragon Keep: How To Unlock The Challenge Accepted Trophy/Achievement
Quick Links
Details About the Achievement/Trophy
Challenges For The Achievement/Trophy
There's a plethora of fun, action-packed activities to engage in when playing Borderlands 2 and its various DLC. This extends to the robust, memorable expansion starring the quirky Tiny Tina; the fantasy-based Assault on Dragon Keep. In addition to cool new weapons to gather and quests to complete, this add-on features a number of challenges to tackle throughout its colorful campaign.
In response to the strong reception of this DLC — and as a lead-in to the anticipated Tiny Tina's Wonderlands —, 2k and Gearbox have re-released Assault on Dragon Keep a stand-alone title, with the moniker "One-Shot Adventure." While it's largely unchanged, the game does feature a handful of additions and tweaks. These include a new opening cinematic, revamped campaign scaling (with players starting fresh at level one), and some unique challenges wrapped into a new Achievement/Trophy: Challenge Accepted.
This guide will serve as a blueprint regarding the details behind this challenge. It will cover the specific challenges needed to earn this coveted Achievement/Trophy and provide additional details where appropriate.
Details About the Achievement/Trophy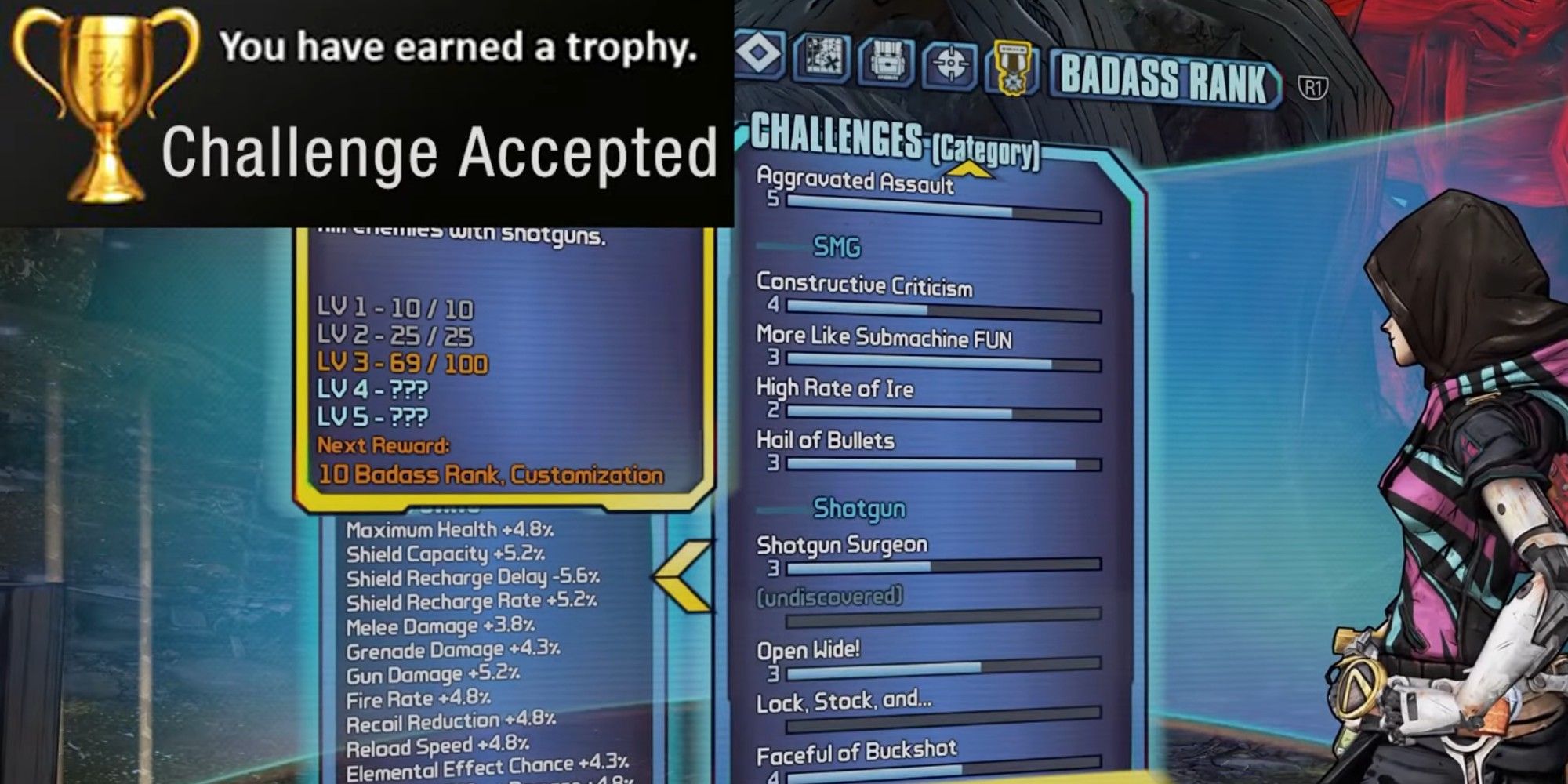 "Challenge Accepted" requires players to complete tasks such as slaying various enemies in different ways, retrieving and exchanging cash/goods, and using the Second Wind ability in certain scenarios.
This challenge rewards the player with 70 Gamerscore on Microsoft platforms or a Gold Trophy on Sony consoles when completed.
Below are a series of notes you should keep in mind while completing your tasks.
These objectives are considered completed and count towards the "Challenge Accepted" Achievement/Trophy after completing the first level for each. However, a few of the challenges do require completion through the fifth level in order to unlock another required challenge.

One example of this is Open Wide in the Shotgun category, which unlocks an additional Shotgun challenge.
The other example is Splish Splash in the Rocket category, which unlocks Catch-a-Rocket!. Open Wide and Splish Splash should be prioritized early on for this reason.
With regard to each other challenge — they're all available from the start (or will be revealed upon completing them).
The challenges listed below are the requirements for level one completion.

Most of the challenges (level one) are simple enough and will typically be completed — or nearly so— just by playing through the One-Shot Adventure campaign.

However, a few can take some extra time and effort. Be sure to check back on the menu screen to view your progress.
You can always return to previously visited areas upon completing the main story to finish off any challenges left incomplete.
The challenges listed below are specifically for Tiny Tina's Assault on Dragon Keep: A Wonderlands One-Shot Adventure.

However, these challenges are mostly the same that exist in the Borderlands 2-specific Tiny Tina DLC, with only a few small differences that include enemies and Projectile-related challenges.

Challenges For The Achievement/Trophy

The challenges are divided into 16 categories.

Dragon Keep (Specific Enemy Kills)

| Name of Challenge: | Requirement for Completion (level 1): | Additional details: |
| --- | --- | --- |
| Scot-Free | Kill 50 dwarves. | Small foes that comprise ranged units as well as melee-oriented fighters who toss various weapons. |
| Rock Out With Your Rock Out | Kill 10 golems. | These are sentient rock beings that are typically sluggish but powerful and can jump high. They're a threat at close range. |
| Knighty Knight | Kill 10 knights. | These foes run towards you to close range while striking with their swords. They also occasionally toss their blades. |
| Orcs Should Perish | Kill 50 orcs. | Quick and agile enemies, usually melee-based but some use ranged attacks. Vulnerable to incendiary damage. |
| Bone Breaker | Kill 50 skeletons. | Mix of melee and ranged fighters, often found in small groups. Most are resistant to incendiary attacks. |
| Ew Ew Ew Ew | Kill 25 spiders. | Weak when faced alone, but flock to groups often. They usually leap in for close-range strikes or lob cumbersome webbing. |
| Cheerful Green Giants | Kill 10 treants. | Strong, but slow-moving trees. Appear exclusively in The Forest. Vulnerable to incendiary damage and can be slagged. |
| Magical Massacre | Kill 10 wizards. | Various spells at their disposal. They usually fight on their own but can be powerful. Can teleport and use shield-depleting white magical energy. |
| Fus Roh Die | Kill 10 dragons. | The color of their scaly hides reveals its elemental affinity. Each has a unique kind of breath attack. Example: Blue dragons shoot electric projectiles. |
| Can't Fool Me | Kill 5 mimics. | Disguises as loot boxes who snap at the nearest foe. |

Elemental (Damage And Kills Involving Elemental Moves)

| Name of Challenge: | Requirement for Completion: |
| --- | --- |
| Cowering Inferno | Light 25 enemies on fire. |
| Acid Trip | Kill 5 enemies with corrosive damage. |
| Boom | Kill 5 enemies with explosives. |
| Slag-Licked | Deal 5,000 bonus damage to slagged enemies. |
| Say "Watt" Again | Deal 5,000 damage with shock DoT (damage over time) effects. |
| Corroderate | Deal 5,000 damage with corrosive DoT effects. |
| I Just Want To Set the World on Fire | Deal 5,000 damage with incendiary DoT effects. |

Loot (Includes Pick-Ups And Purchases)

| Name of Challenge: | Requirement for Completion: |
| --- | --- |
| Open Pandora's Boxes | Open 25 lootable crates, lockers, and other objects. |
| Gun Runner | Pick up or purchase 10 weapons. |
| The Call of Booty | Open 5 treasure chests. |
| Nothing Rhymes with Orange | Loot or purchase 1 legendary item. |
| Purple Reign | Loot or purchase 1 purple-rarity item. |
| I like My Treasure Rare | Loot or purchase 3 blue-rarity items. |
| Another Man's Treasure | Loot or purchase 10 white items. |
| Its Not Easy Looting Green | Loot or purchase 5 green-rarity items. |

Money and Trading

| Name of Challenge: | Requirement for Completion: |
| --- | --- |
| Whaddaya Buyin'? | Purchase 1 item with Eridium. |
| For the Hoard! | Save a lot (10,000) of money. |
| Psst, Hey Buddy… | Trade with 1 other player. |
| Wholesale | Sell 10 items to vending machines. |
| Limited-Time Offer | Buy 1 item of the Day. |
| Dolla Dolla Bills, Y'all | Collect 5,000 dollars from cash drops. |

Health And Recovery (Includes Second Winds And Revives)

| Name of Challenge: | Requirement for Completion: |
| --- | --- |
| I'm Back! Shocked? | Get Second Winds by killing 1 enemy with a shock DoT. |
| Death, Wind, and Fire | Get Second Winds by killing 1 enemy with an incendiary DoT. |
| I'll Just Help Myself | Get Second Winds by killing 5 enemies. |
| Green Meanie | Get Second Winds by killing enemies with a corrosive DoT. |
| This is no Time for Lazy! | Revive a co-op partner 5 times. |
| Badass Bingo | Get Second Winds by killing 1 badass enemy. |
| Heal Plz | Recover 1,000 health. |

Grenades

| Name of Challenge: | Requirement for Completion: |
| --- | --- |
| Pull the Pin | Kill 10 enemies with grenades. |
| Singled Out | Kill 5 enemies with Singularity grenades. |
| EXPLOOOOOSIONS | Kill 5 enemies with MIRV grenades. |
| Chemical Sprayer | Kill 5 enemies with Area-of-Effect grenades. |
| Woah, Black Betty | Kill 5 enemies with Bouncing Betty grenades. |
| Health Vampire | Kill 5 enemies with 5 Transfusion grenades. |

Shields

| Name of Challenge: | Requirement for Completion: |
| --- | --- |
| Game of Thorns | Kill 5 enemies with reflected damage from a Spike shield. |
| Amp It Up | Kill 5 enemies while buffed by an Amplify shield. |
| Roid Rage | Kill 5 enemies while buffed by a Maylay shield. |
| Super Novas | Kill 5 enemies with a Nova shield burst. |

Rocket Launcher

| Name of Challenge: | Requirement for Completion: |
| --- | --- |
| Sky Rockets in Flight | Kill 10 enemies from long range with rocket launchers. |
| Catch-a-Rocket! | Kill 5 enemies with direct hits from rocket launchers. |
| Splish Splash | Kill 5 enemies with rocket launcher splash damage (50 kills needed to unlock another challenge). |
| Gone with the Second Wind | Get 1 Second Wind with rocket launchers. |
| Rocket and Roll | Kill 5 enemies with rocket launchers. |

Sniper Rifle

| Name of Challenge: | Requirement for Completion: |
| --- | --- |
| Surprise! | Kill 5 unaware enemies with sniper rifles. |
| Longshot Headshot | Get 10 critical hits with sniper rifles. |
| Longshot | Kill 10 enemies with sniper rifles. |
| No Scope, No Problem | Kill 5 enemies with sniper rifles without using the scope/iron sights. |
| Leaf on the Second Wind | Get 1 Second Wind with sniper rifles. |
| Snipe Hunting | Kill 5 enemies with critical hits using sniper rifles. |

Assault Rifle

| Name of Challenge: | Requirement for Completion: |
| --- | --- |
| Aggravated Assault | Kill 10 enemies with assault rifles. |
| This Is My Rifle… | Get 10 critical hits with assault rifles. |
| …This Is My Gun | Kill 5 enemies with critical hits using assault rifles. |
| From My Cold, Dead Hands | Get 1 Second Wind with assault rifles. |
| Crouching Tiger, Hidden Assault Rifle | Kill 5 enemies with assault rifles while crouched. |

SMG

| Name of Challenge: | Requirement for Completion: |
| --- | --- |
| High Rare of Ire | Kill 5 enemies with critical hits using SMGs. |
| More Like Submachine FUN | Get 1 Second Wind with SMGs. |
| Constructive Criticism | Get 10 critical hits with SMGs. |
| Hail of Bullets | Kill 10 enemies with SMGs. |

Shotgun

| Name of Challenge: | Requirement for Completion: |
| --- | --- |
| Shotgun! | Kill 10 enemies with shotguns. |
| Faceful of Buckshot | Get 25 critical hits with shotguns. |
| Lock, Stock, and… | Get 1 Second Wind with shotguns. |
| Open Wide! | Kill 10 enemies at point-blank range with shotguns (250 kills needed to unlock another challenge). |
| Shotgun Surgeon | Kill 5 enemies with critical hits using shotguns. |
| Shotgun Sniper | Kill 5 enemies from long range with shotguns. |

Pistol

| Name of Challenge: | Requirement for Completion: |
| --- | --- |
| Hard Boiled | Get 1 Second Wind with pistols. |
| Pistolero | Kill 5 enemies with critical hits. |
| Quickdraw | Kill 5 enemies shortly after aiming down the sights with a pistol. |
| Deadeye | Get 10 critical hits with pistols. |
| The Killer | Kill 10 enemies with pistols. |

Melee

| Name of Challenge: | Requirement for Completion: |
| --- | --- |
| Fisticuffs! | Kill 10 enemies with melee attacks. |
| A Squall of Violence | Kill 10 enemies with melee attacks using bladed guns. |

General Combat

| Name of Challenge: | Requirement for Completion: |
| --- | --- |
| Gun Slinger | Deal 5,000 damage with Tediore reloads. |
| Boomerbang | Kill 5 enemies with Tediore reloads. |
| Critical Acclaim | Kill 10 enemies with critical hits. And Rainbows. |
| Knee-Deep in Brass | Fire 300 rounds. |
| …To Pay the Bills | Kill 5 enemies while using your Action Skill. |
| Not Full of Monkeys | Kill 5 enemies with stationary barrels. |

Miscellaneous

| Name of Challenge: | Requirement for Completion: |
| --- | --- |
| Haters Gonna Hate | Win 1 duel. |
| Sidejacked | Complete 1 side mission. |
| Yo Dawg, I Heard You Like Challenges… | Complete 5 challenges. |

Source: Read Full Article