The Sims 4 Wedding Stories: All New Wedding Dresses, Ranked
The Sims 4 My Wedding Stories focuses on your Sims saying "I do" – or, whatever that translates to in Simlish. You now have the opportunity to dictate the dress code for the special day, and while your guests will surely look stunning, nobody's outfit receives more attention at a wedding than the bride's.
The pack features a staggering 19 additional full-body outfits classed as "feminine" options, and while you do get some wedding-related occupational offerings and more subtle formal dresses, the bulk of it is bridal. And the best part is that a number of them easily, with a swatch change, double as a perfect Sim of Honor or attendee dress. So, whether you're looking for classic elegance, international flair, something off the beaten path, or a fun combination of the three, The Sims 4 My Wedding Stories has you covered.
10

The One-Shoulder Scallop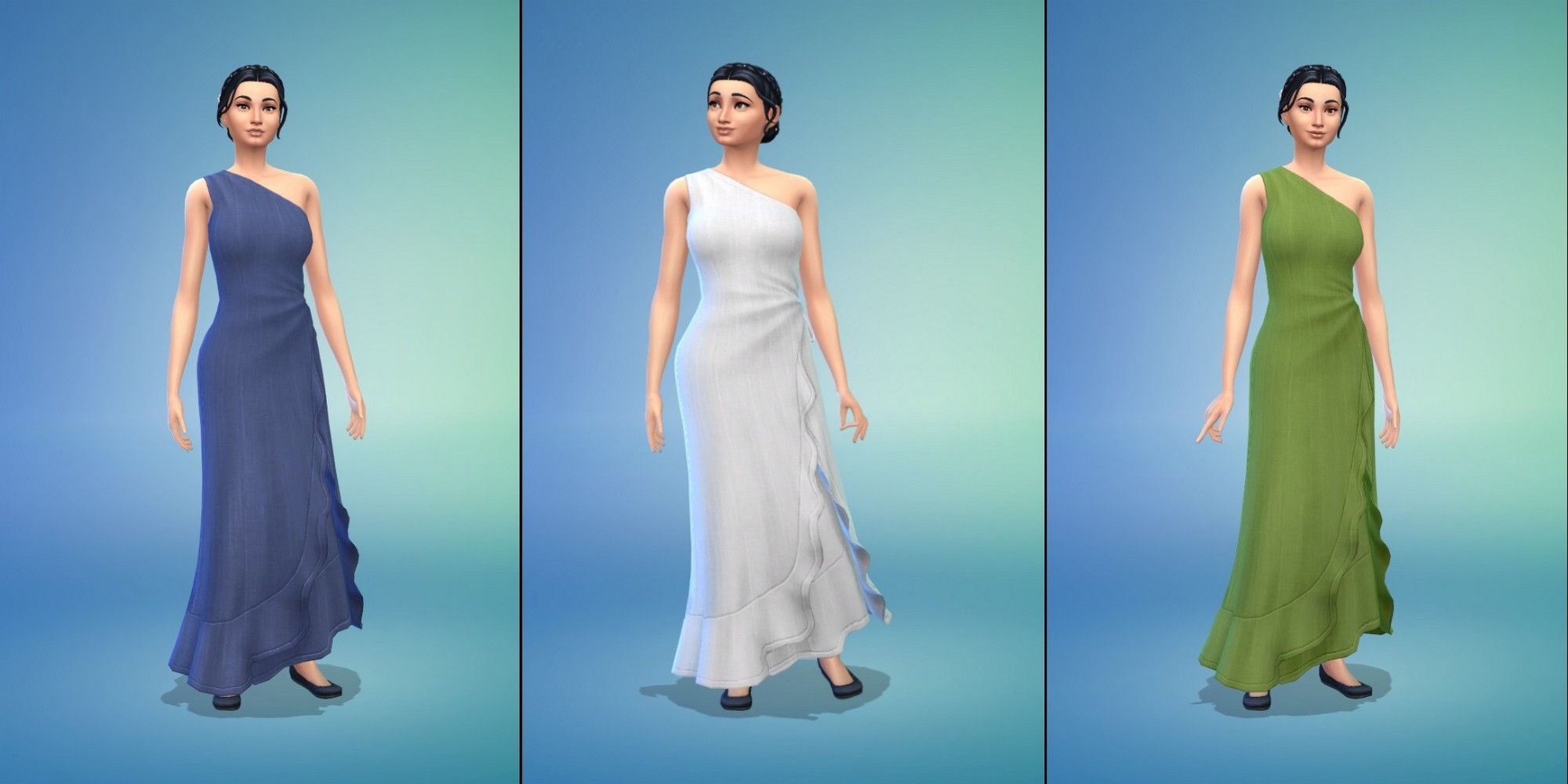 You can dress this one up, but on its own, it doesn't strike quite the same as the other new pieces. It's not an unflattering dress by any means – it just feels like it was designed with the Sim of Honor in mind, because the white swatch is, comparatively, a little plain.
It comes in eight color options, and that's where this dress shines. They're more subtle than some other dresses on this list, but simplicity can be a tasteful thing. This one's perfect for smaller weddings and outdoor ceremonies, or any other somewhat-formal event.
9

The Simple Springtime Sleeveless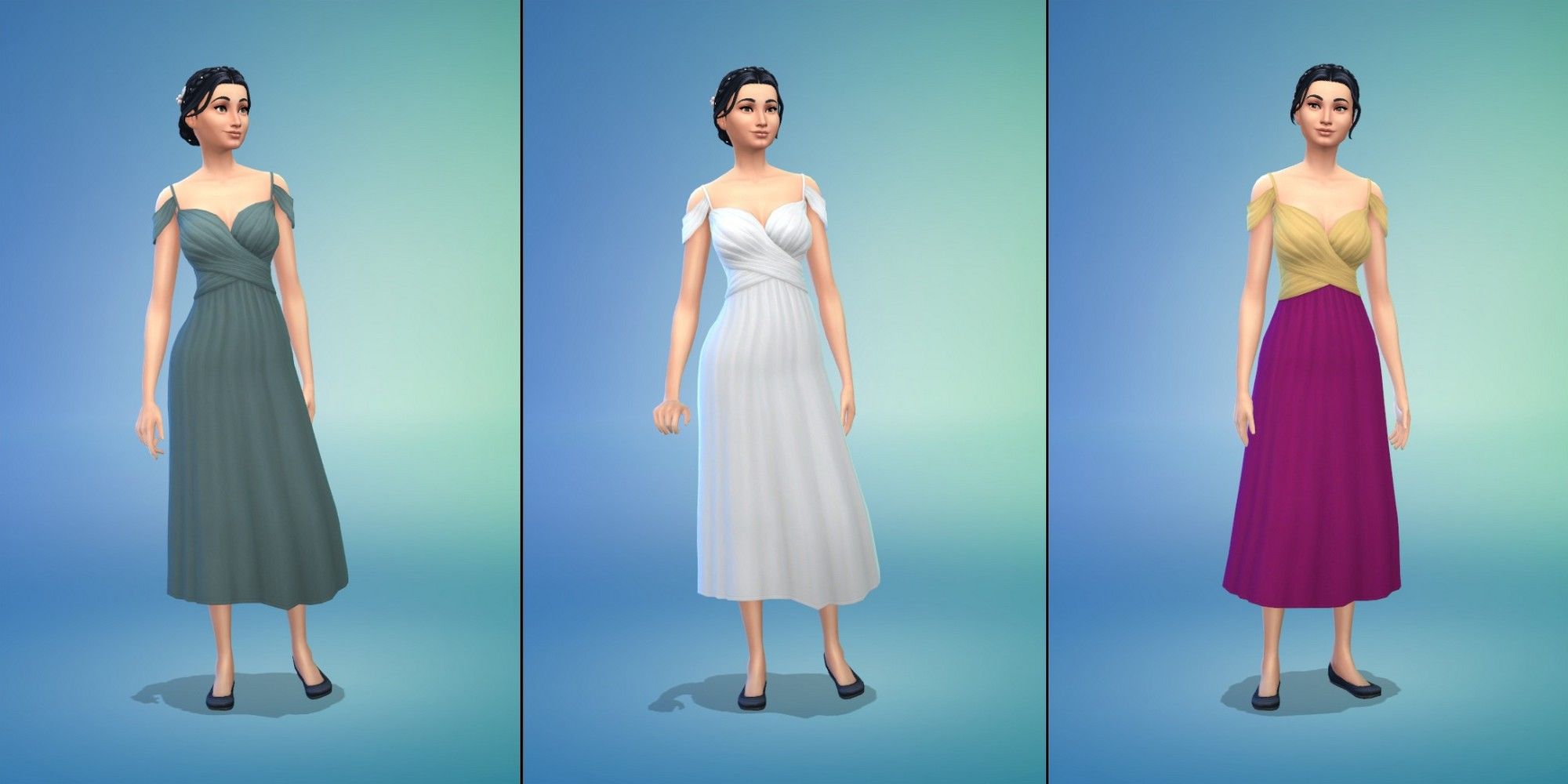 This one's another dress that's pretty in its subtlety, but feels more designed for your Sim of Honor. The flowing material and deep neckline make stylish statements when used for the wedding guests, too. It's perfect for use at venues around Tartosa, the pack's new romance-centric world, from the beaches and the parks to your own private lots.
Your bride could surely pull off this dress at a smaller or more casual event, but it lacks the luster of the other gowns. If opulence is what you want for your wedding, leave this dress to your guests.
8

The Cascading Beadwork Deep V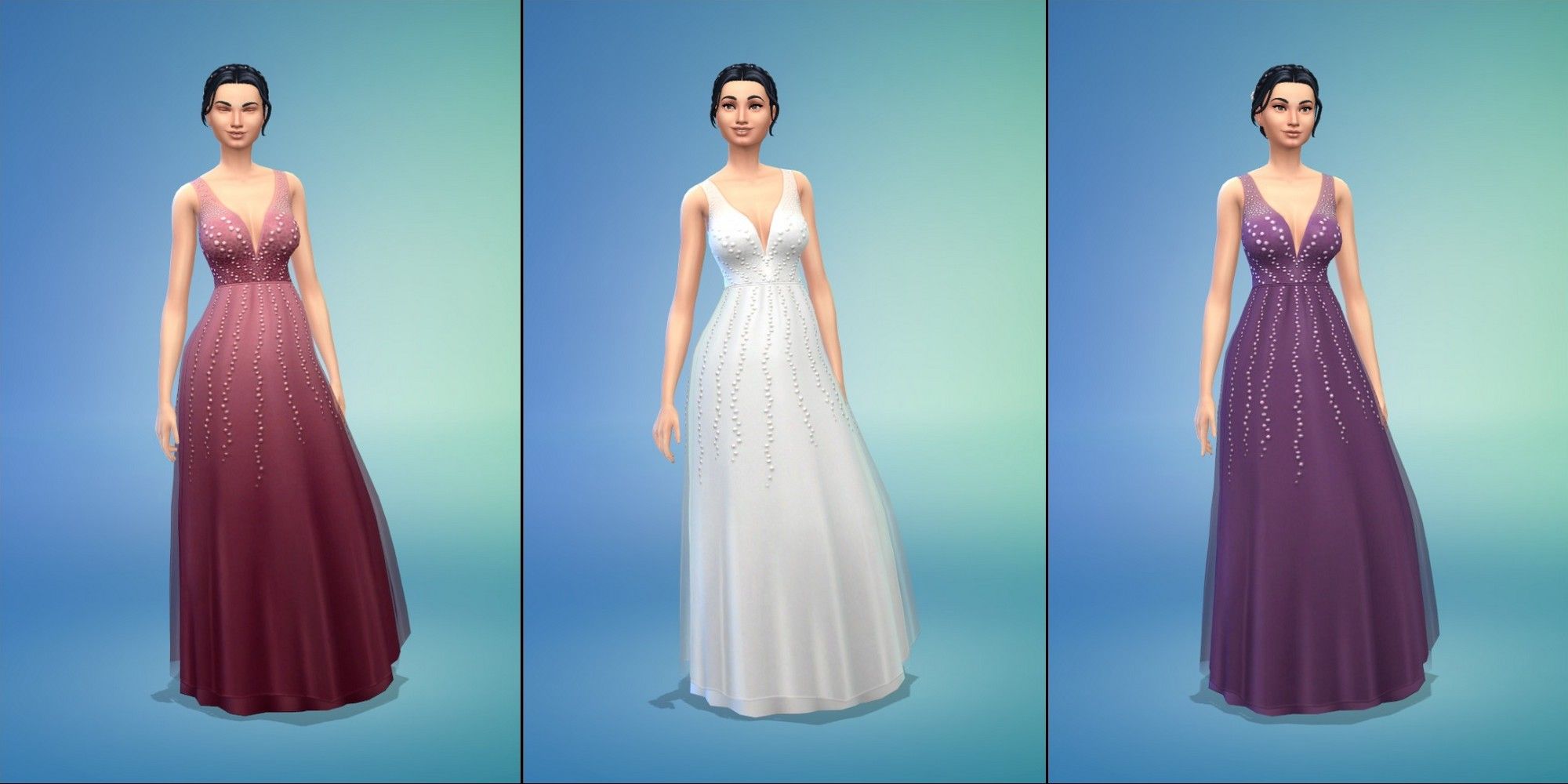 A sleeveless dress with a big skirt and plunging neckline, this piece is decorated most of the way down with elaborate beadwork in colors that perfectly match the swatches. It's pretty, but it's kind of a prom dress, more fitting for the Sim of Honor than the bride herself.
Don't get us wrong – this piece comes with some jewel-tone ombre swatches that would be absolutely stunning on someone in the wedding party, but the white swatch doesn't quite hold up against some of the more elaborate ones in the pack.
7

The Sultry Deep V Half-Sleeve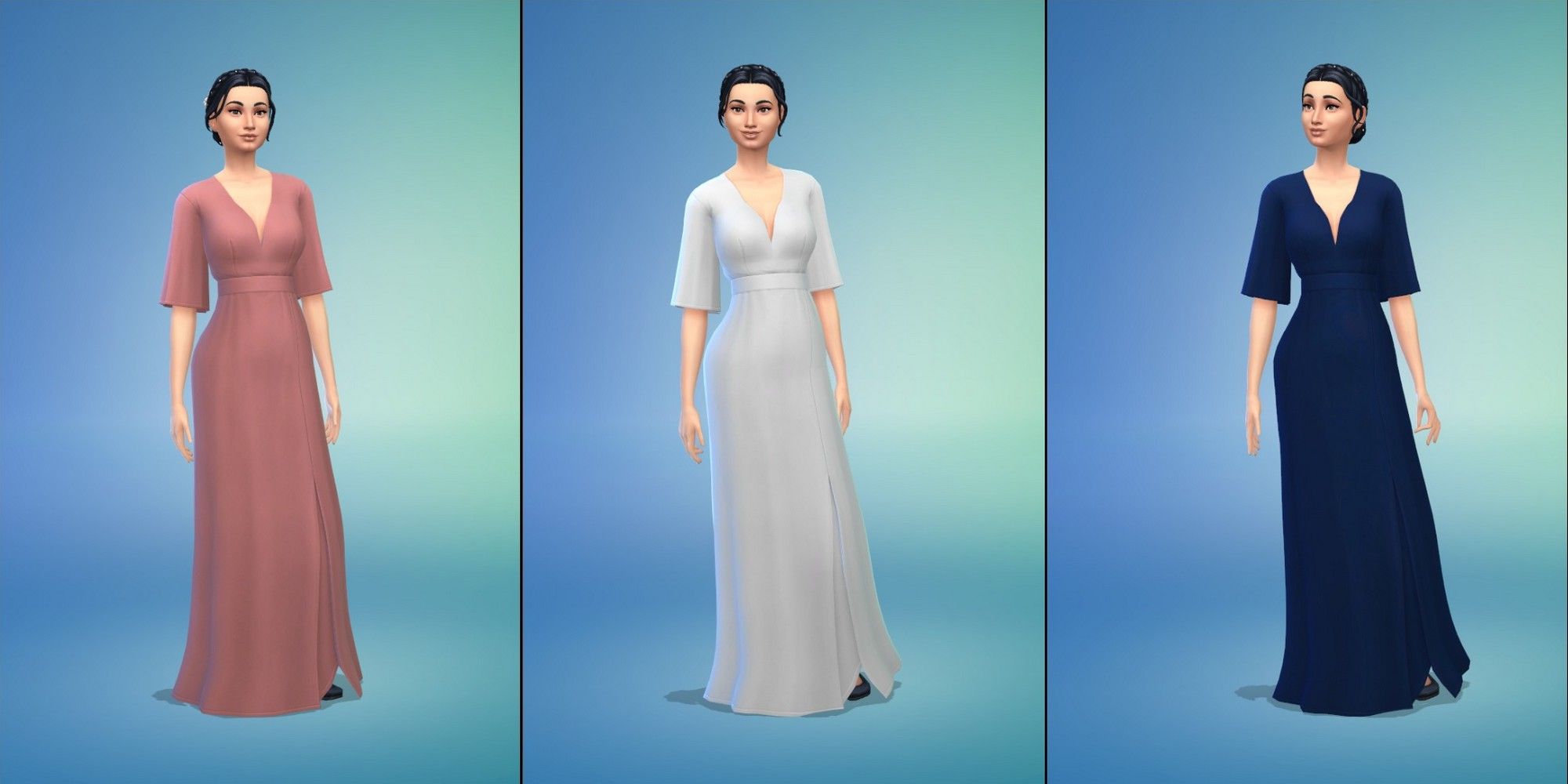 Between the deep V-neck, the elegant skirt, and flowy half-sleeves, this gown is a winner no matter who you put it on. Careful color choice can easily make this chic piece perfect for anyone at the wedding.
There are two white swatches on this dress in addition to 13 colorful ones, mostly in jewel tones or pastels. Additionally, because of this adaptability, you could easily re-purpose this one to be for another event as well. Good on its own or with some simple jewelry, your Sim will be attending their event in style.
6

The Sheer, Tiered, and Detailed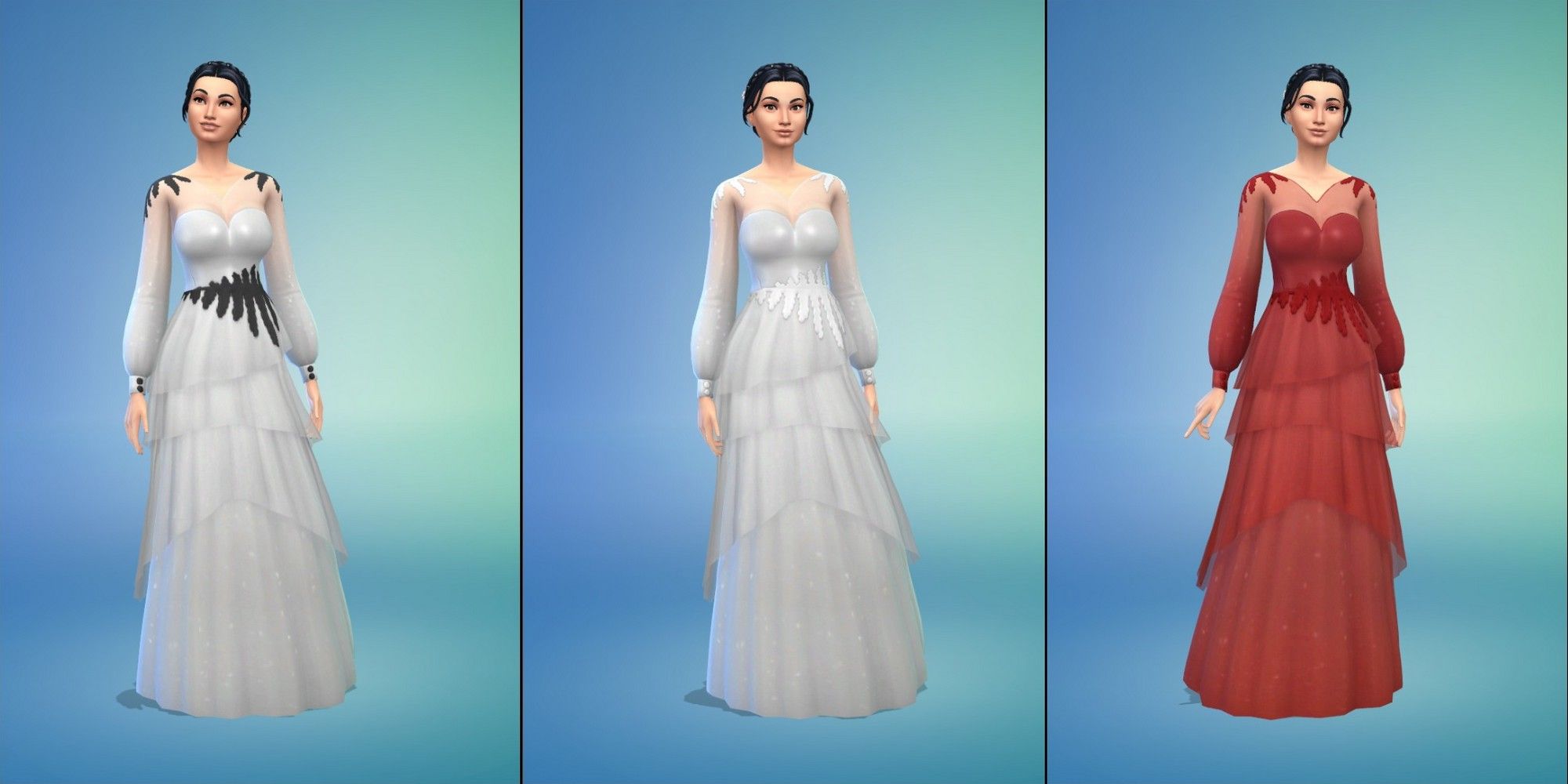 This statement dress can very easily be worn by your bride or any of her attendees because of how simple-chic the 14 color swatches feature a little something for everybody. For your blushing bride, four white-based shades: a plain white one, and three where the details are colors you could easily match to the theme of your special day.
And for attendees, you've got a solid ten different color choices as well. The light blue swatch even gives us "Mt. Komorebi ice princess" vibes. For a bride in white or a guest in color, this dress is perfect to make a splash.
5

The Old-Fashioned Off-The-Shoulder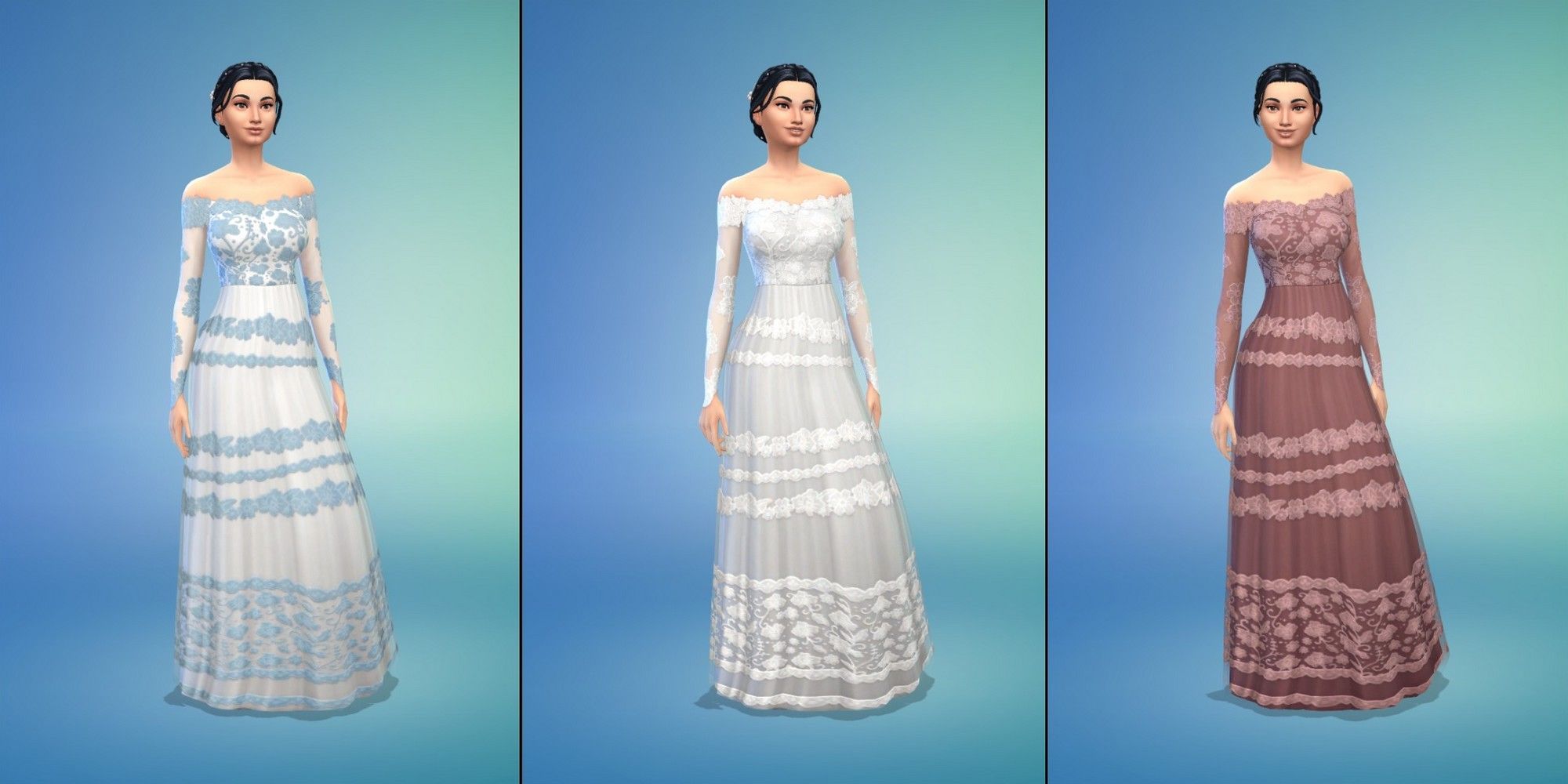 While the neckline of this dress makes it feel more modern, something about the horizontal lace striping on the piece feels kind of vintage. Whether that's a good thing is up to you.
The solid-color options could easily be worn by an attendee of the event, and the white swatch does have an old-fashioned flare, but some color options feel a little off for wedding attire. That said, it could be added to a legacy challenge that sees this dress passed down through the lineage.
4

The Full-Sleeve Vintage Floral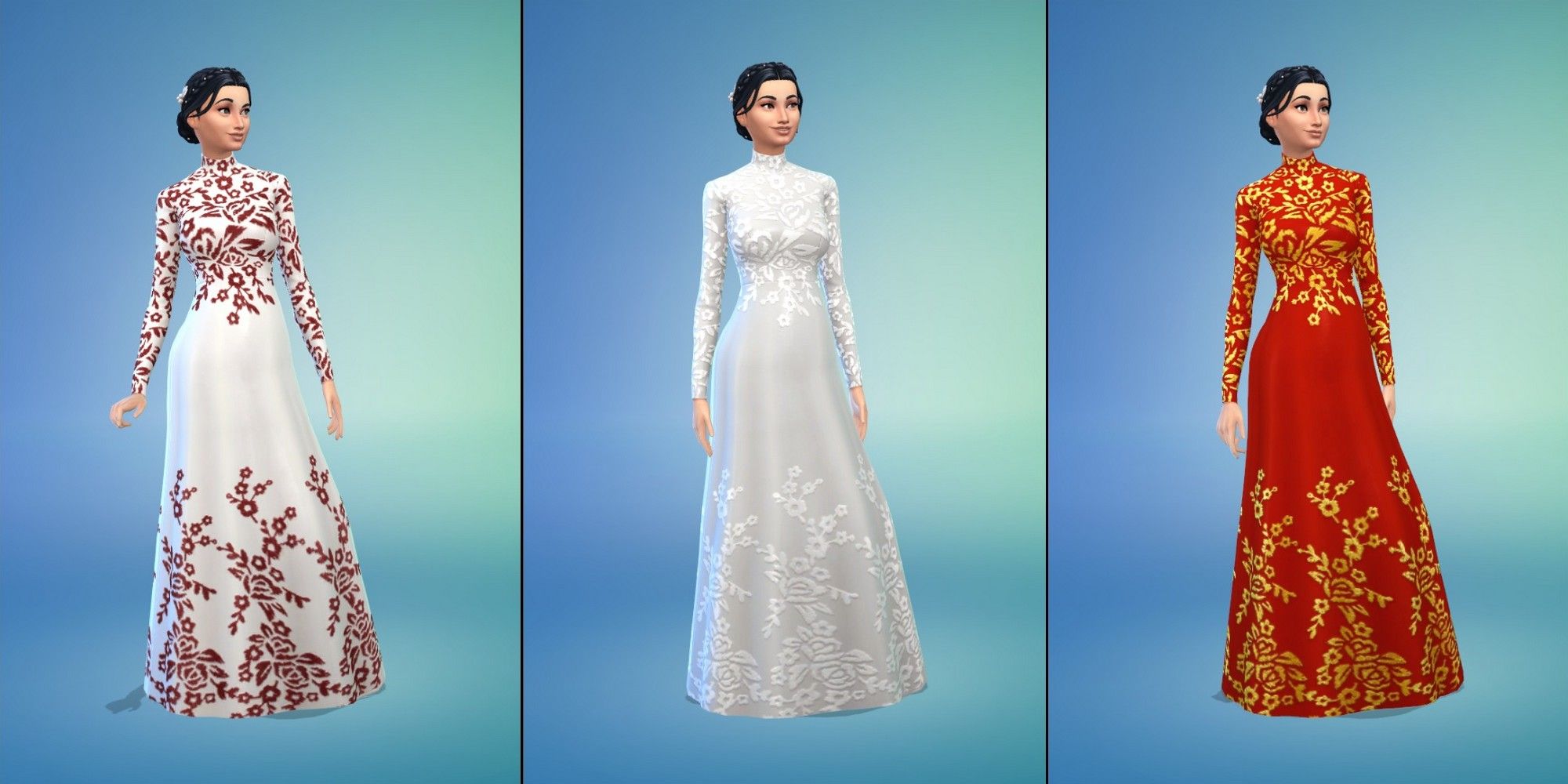 Gorgeous but decidedly focal (and there's no problem with that in a wedding pack), this dress looks best on the bride. This long-sleeved piece with a chic high neckline is emblazoned with a floral overlay in what looks to be lace, and in white, it's stunning.
But on anyone else at the wedding, it looks overdone. The dress has ten colored options outside the three white ones, but any attendee wearing this might take the spotlight off the bride. The swatches are fun and the dress itself is pretty, but its usage feels somewhat singular.
3

The Off-The-Shoulder Glamour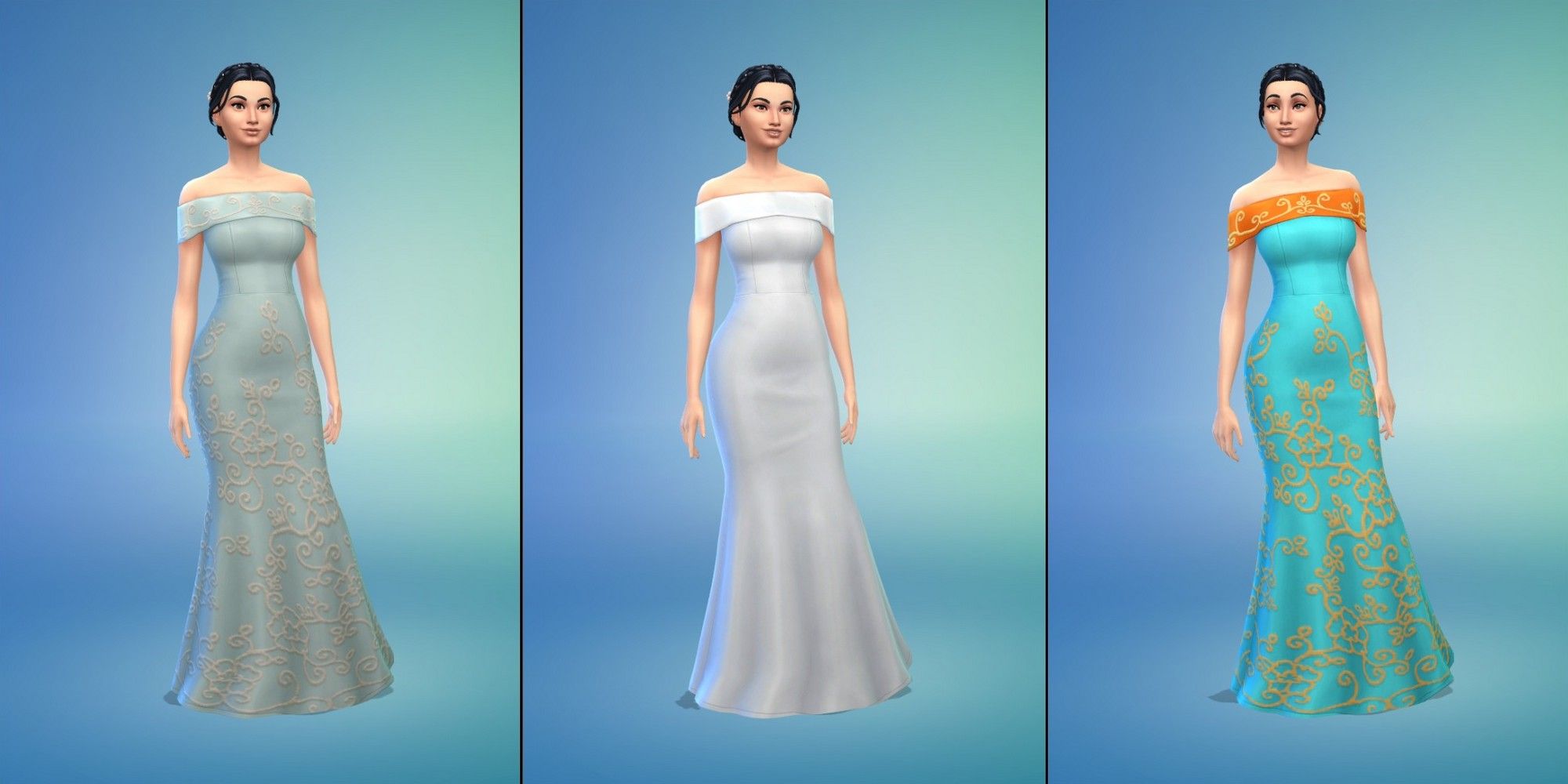 This classic style comes in two variants, depending on which swatch you choose: five solid-color options, as well as seven colorful ones, each featuring an intricate floral swirl. But more isn't always better: some of these feel too much for a wedding.
The solid colors are stunning and most of the colorful ones are nice as well, decorative enough without being decadent, but the brighter ones feel like prom dresses more than wedding attire. A brave bride might enjoy breaking with tradition and adding color, but this dress seems best off as a simple classic.
2

The Open-Chest Floor-Length Floral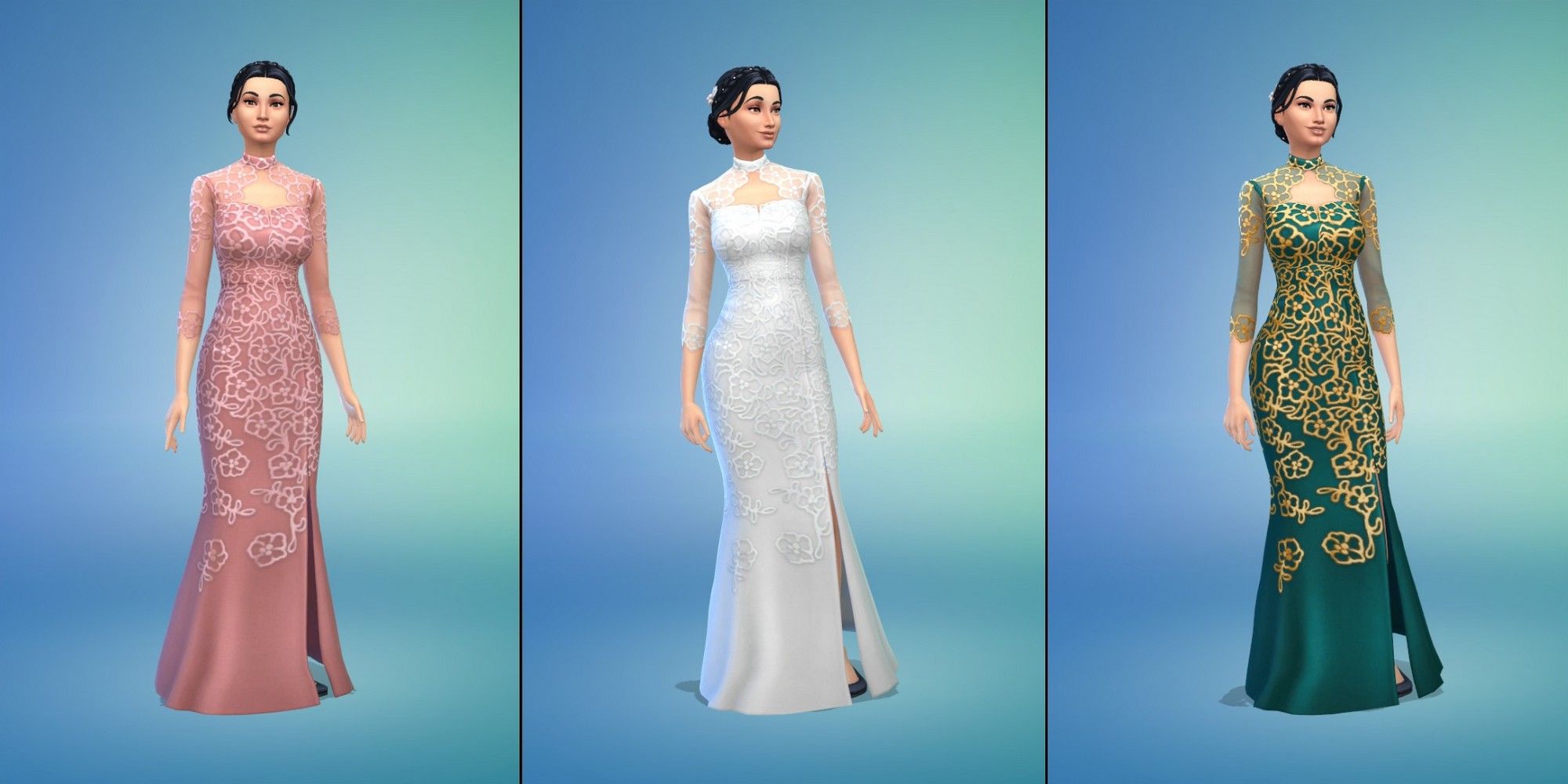 Modern, stylish, and sultry, the eye-grabbing cut-out in the gorgeous lace overlay on the chest ensures that any bride is sure to wow. That said, it might be difficult to put on anyone else.
The white and cream swatches are decidedly bridal, and more subtle swatches could be tastefully pulled off by an attendee, but the multicolor swatches are a little bold for a wedding. The pattern stands out more in color and starts looking jumbled and slightly too busy. And nobody wants their outfit to take the spotlight from the bride's.
1

The High-Necked Sweetheart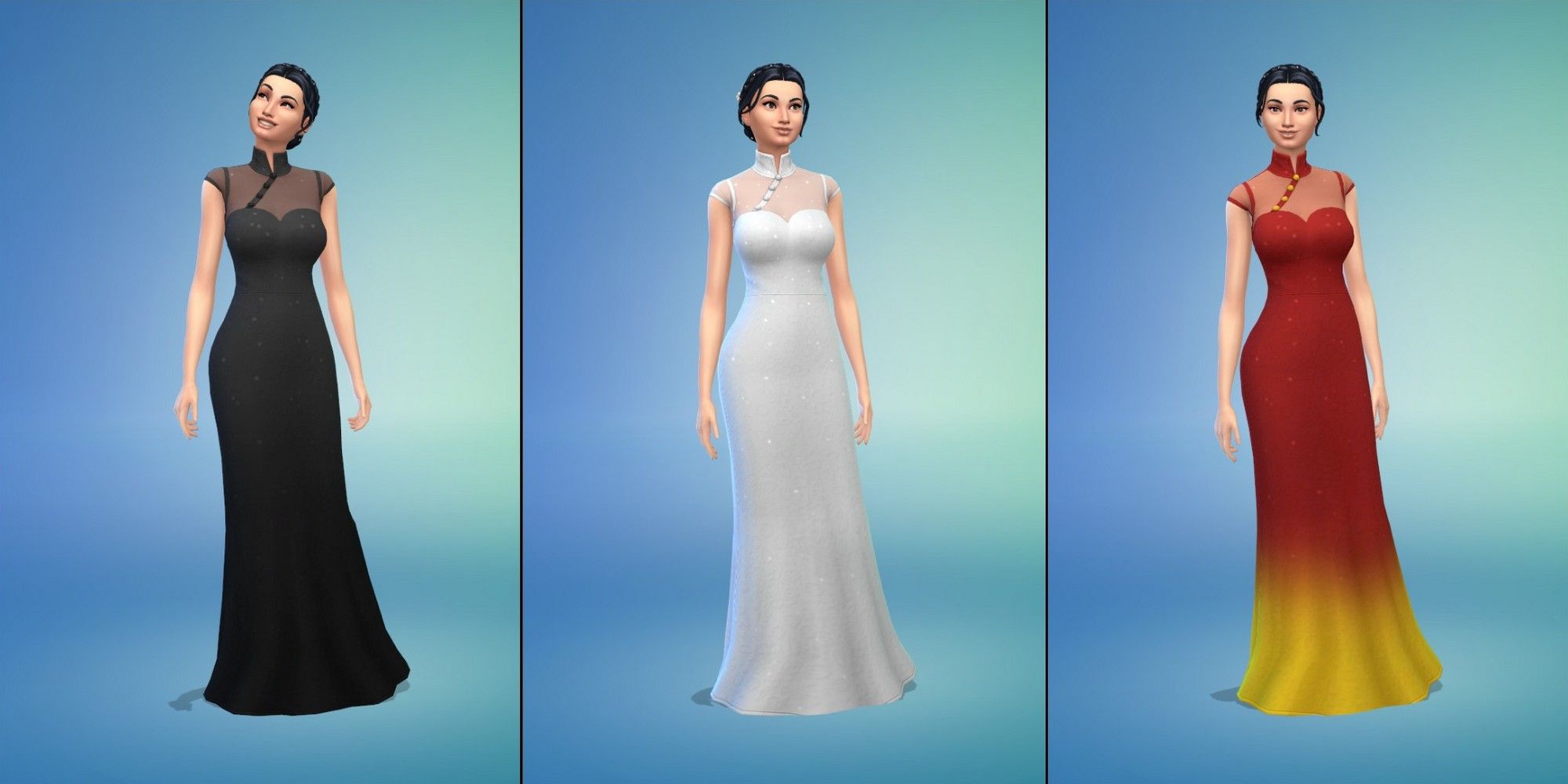 Bedazzled and beautiful, this casual-chic style is one of the more versatile of the pack. It boasts a stylishly high collar, accent buttons that streak across a sheer lace chest, a sweetheart neck, and enough sparkle to truly be the star of your special day.
Available in classic white, as well as seven additional swatches (several two-tones and one rainbow), this gown will easily dazzle on anyone in attendance – the bride, the Sim of Honor, or any of the guests. Additionally, if your Sim is off to a non-matrimonial black-tie affair, almost all the non-white swatches can easily double as a dazzling evening gown, too.
Source: Read Full Article