The Sims 4 Courtyard Oasis Kit Brings Vibrant Colors And Elaborate Designs
EA has just announced the release of The Sims 4 Courtyard Oasis Kit. In keeping with previous kits, this pack focuses on a more niche theme as well as a specific playstyle and features a limited number of items.
Courtyard Oasis is said to be inspired by the Riads of Morocco and this is evident in the vibrant colors we see in the images released so far. The pack appears to be designed with builders in mind, incorporating colorful fountains, latticed wooden windows, elaborate archways, and beautifully tiled staircases.
Despite the outdoor courtyard focus, many of the items appear to have some versatility as we can see furniture sets, tropical plants, lighting, and other decorative items in these images. The chairs and table, in particular, wouldn't look out of place in any Sim's home. nor would many of the plants.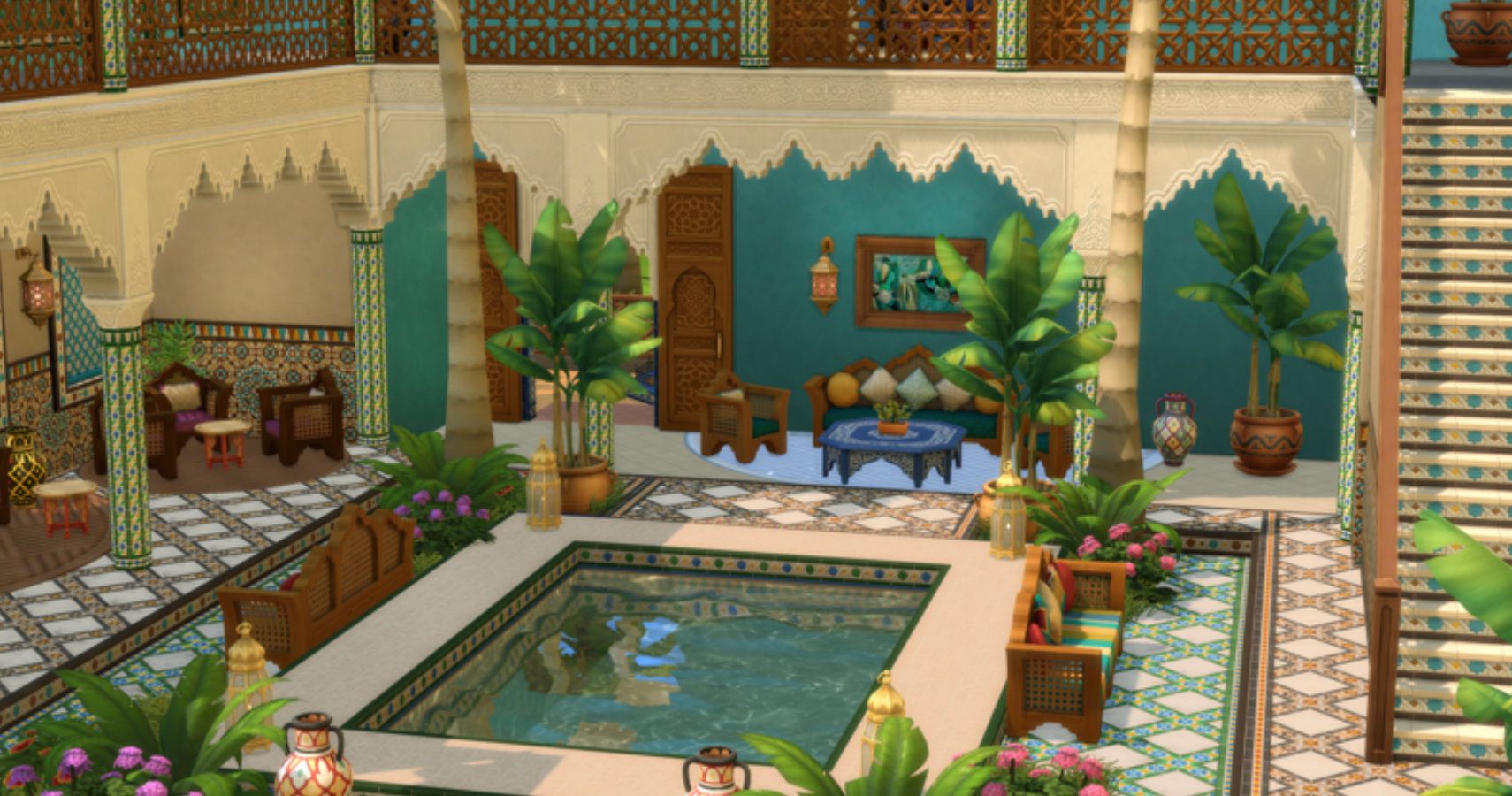 Previously, The Sims 4 has given the base game some free updates inspired by different cultures, including Mexican, Caribbean, and Hispanic-themed items. Many of the items in those updates are likely to match this vibrant and elaborate addition.
Ahead of the kit's release, a small patch has been applied to the base game that also helps further increase the game's diversity, something the team keeps stressing the importance of. It adds Asian Eye Presets for both sexes, as well as finally overhauling the afro hairs so they no longer look like low-resolution candyfloss.
Courtyard Oasis will be the third kit to be released with the first three; Bust the Dust, Country Kitchen, and Throwback Fit kit all releasing at the same time back in March. Kits were introduced as a way to add smaller bite-sized content updates for a lower cost. They focus on one type of gameplay, in this case, building, and are built around a specific theme. The previous kits were released to mixed reviews at best so it remains to be seen if this kit will gain more approval from simmers.
The Sims 4 Courtyard Oasis Kit will be available on May 18, 2021, for PC and Mac via Origin and Steam as well as on PlayStation 4 and Xbox One.
Source: Read Full Article