The Half Life: Alyx Speedrun At SGDQ 2020 Was Nothing Short Of Insanity
Buffet Time's Half-Life: Alyx speedrun at SGDQ 2020 is being praised as one of the all-time great speedruns in Games Done Quick history, as well it should be. Buffet Time put on two shows at once, absolutely decimating the game engine and physics on the game screen, and hilariously running and crawling around his room to pull off these crazy tricks on the runner cam.
VR speedruns are a thing of absolute beauty. It's not often that you see speedrunners need to actually run in order to play through a game quickly, but that certainly was the case during the Half-Life: Alyx speedrun at this year's SGDQ. Buffet Time's 31 minute and 16 second run of Alyx was the first VR speedrun in GDQ's ten year history, and it certainly set the bar high for any future VR games in these speedrunning marathons. The run was filled with nonstop action and glitches, with fantastic commentary and explanations throughout.
The run's time of 31 minutes and 16 seconds was a very respectable time, coming up just 3 minutes and 59 seconds short of a world record, which is incredibly good for a no-resets run with the added pressure of having 60 thousand people watching you flop around your bedroom like a fish out of water. If this sounds like something that would interest you – which it should – the full video of the run is available here.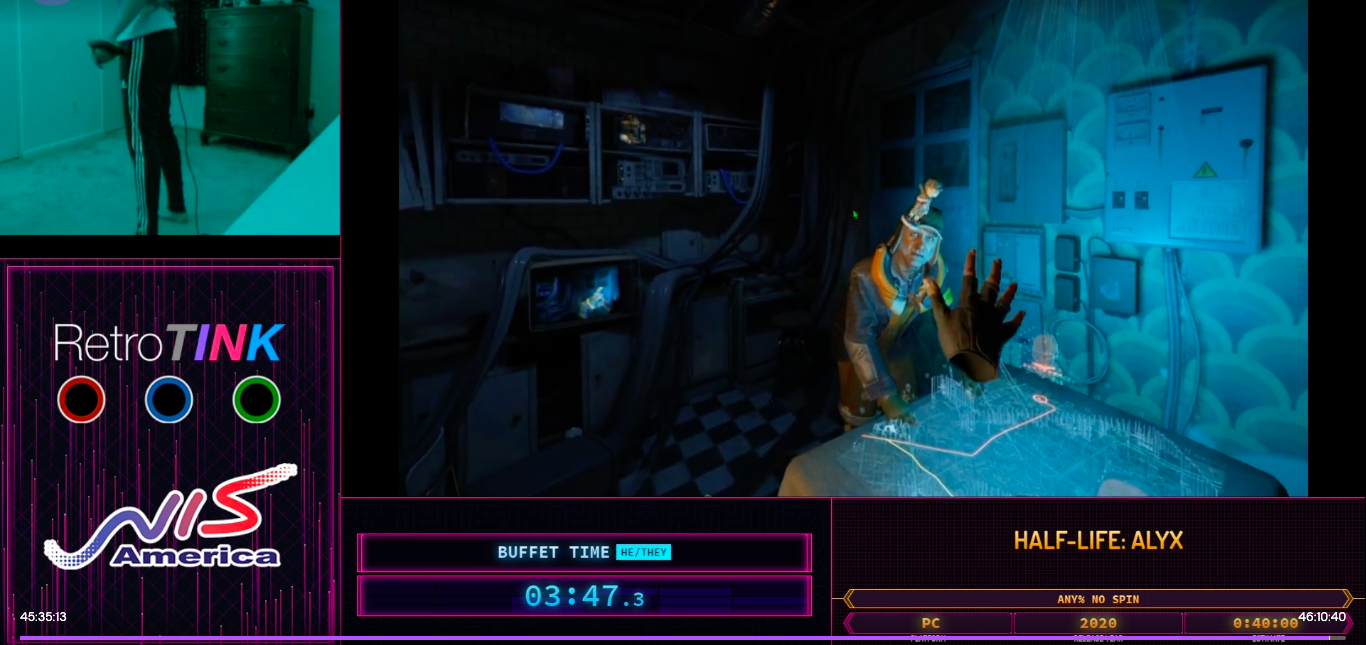 Buffet Time was able to make quick work of the game using a plethora of exploits. He bound teleportation to an analog button, allowing him to teleport every frame and dodge the cooldown timer, meaning he was able to fly through every area with wicked pace. The runner frequently used a glitch called "Height Adjust," where he crouches down on the floor, presses the stand button on his controller, then stands up in real life to push his character model double the distance upwards, allowing him to glitch through ceilings. He can use the crouch button to accomplish a similar glitch but through floors, where he will then crawl around his bedroom, repeatedly reorienting his play-space to traverse the world out of bounds. Buffet Time executed all these glitches back-to-back at in incredible pace, getting a legitimate workout in. Seeing glitches like these in games is already crazy enough, but seeing a runner pull them off in VR is a whole other experience.
Anyone who's ever seen a Half-Life speedrun would know that the series has a sort of reputation as being one of the most glitch-heavy, nonsensical, fast-paced speedrunning franchises out there. When Half-Life: Alyx was released, it was unclear as to whether or not it would live up to the glitchfests that were Half-Life 1 and 2, but boy did it ever deliver. Very little of the speedrun is spent playing the game properly, which is exactly what makes a speedrun so great. Even for people who don't follow speedrunning, this isn't something you'll want to miss.
Source: Read Full Article