The Division 2 Is Getting Year 5 Updates
Ubisoft isn't done with The Division 2 just yet as it has announced plans for Year 5 content.
As reported by Eurogamer, The Division 2 will continue to be updated with new features and content through 2023, but Ubisoft is still working on Season 10 and 11 for this year. The roadmap outlines that we can expect a new Manhunt to launch sometime in August alongside new gear, weapons, and two apparel events. August will also see new legendary difficulty strongholds implemented.
Manhunts, for context, are in-game events that task you with hunting five rogue agents. So far, there are ten of these. Season 11 will also be adding a new Manhunt, a new game mode, new gear, weapons, and two more apparel events, as well as various quality of life improvements. This will all roll out in December.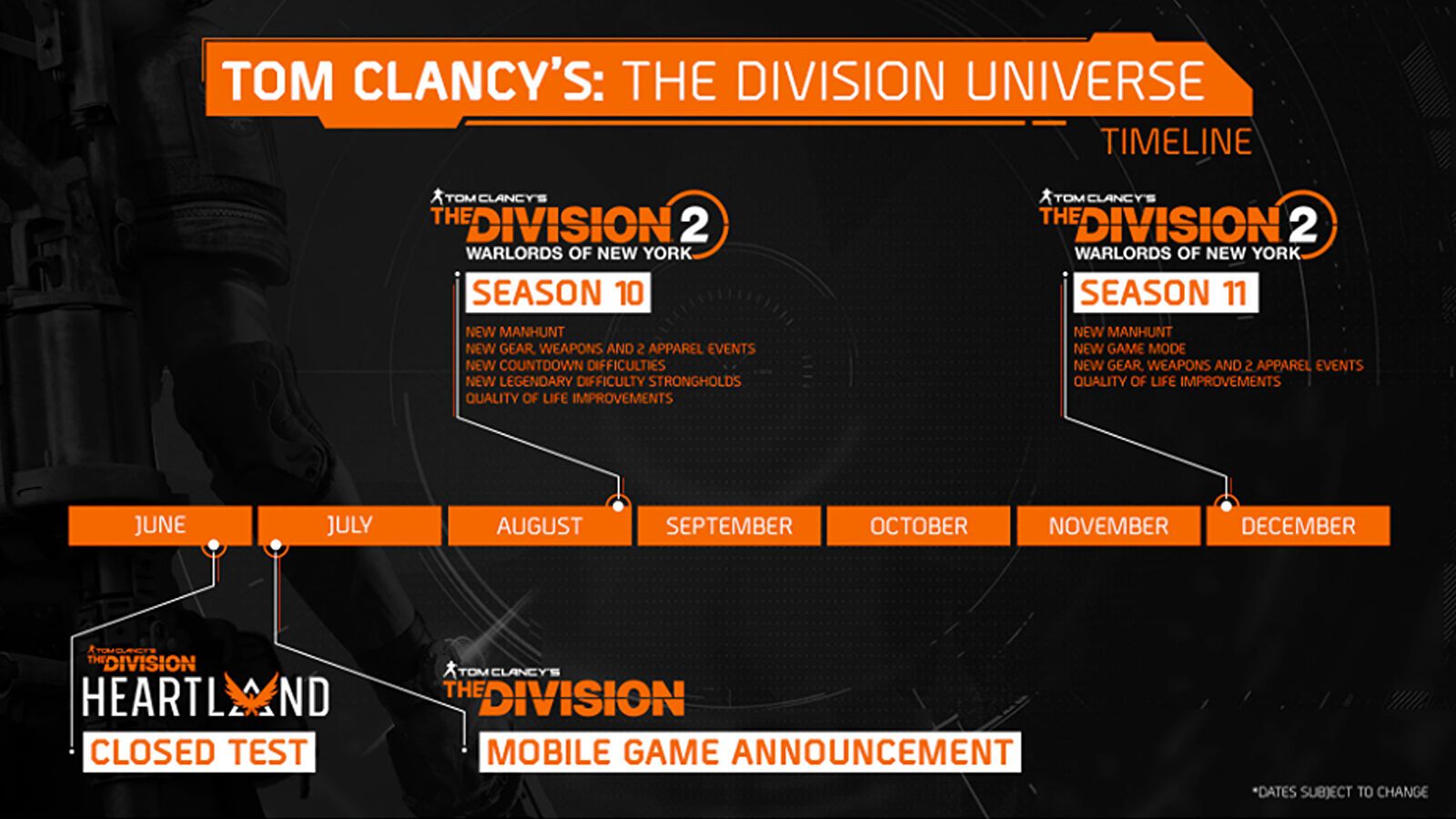 For next year's content, Ubisoft is bringing in veterans from developer Massive as well as Ubisoft Bucharest, Toronto, and Shanghai, although there's no word on what we can expect from next year or any further details on the new game mode and Manhunts outlined in the roadmap.
Year 5 isn't the only new Division content we can expect to dip our toes into as Ubisoft has also announced a mobile game that the publisher will detail "in the very near future." However, while new mobile games are in development and The Division 2 continues to receive support, 15 older games are being shut down with access to DLC being lost. This has sparked backlash not only from players but game developers too as Mainz's studio has called on Ubisoft to keep supporting Anno 2070.
In the meantime, we can look forward to a new Ubisoft Forward and a Skull & Bones live stream in September and on Thursday respectively. Skull & Bones is being re-revealed following years of trouble behind the scenes. Perhaps we'll finally get a release date. You can tune in tomorrow at 11 AM PT.
Source: Read Full Article