Super Monkey Ball: Banana Mania DLC Will Let You Dress As A Dreamcast
A DLC pack available on Super Monkey Ball: Banana Mania's launch day will allow you to traverse the game's courses as classic Sega consoles.
Nintendo's E3 Direct was so jam-packed with new games and additional information that you may have forgotten some of the non-tentpole announcements. Super Monkey Ball: Banana Mania, for example. The rebooted series will return this fall via a collection of Super Monkey Ball remasters. It will also celebrate other corners of the Sega universe in some pretty unique ways.
One of those ways will be the ability to dress up as some of Sega's most iconic consoles. If you pre-order or purchase the Digital Deluxe Edition, one of the added bonuses you'll get is a pack of three skins based on the Dreamcast, Game Gear, and Sega Saturn. You will also be able to purchase the DLC pack separately from launch day if you didn't opt for the Digital Deluxe Edition.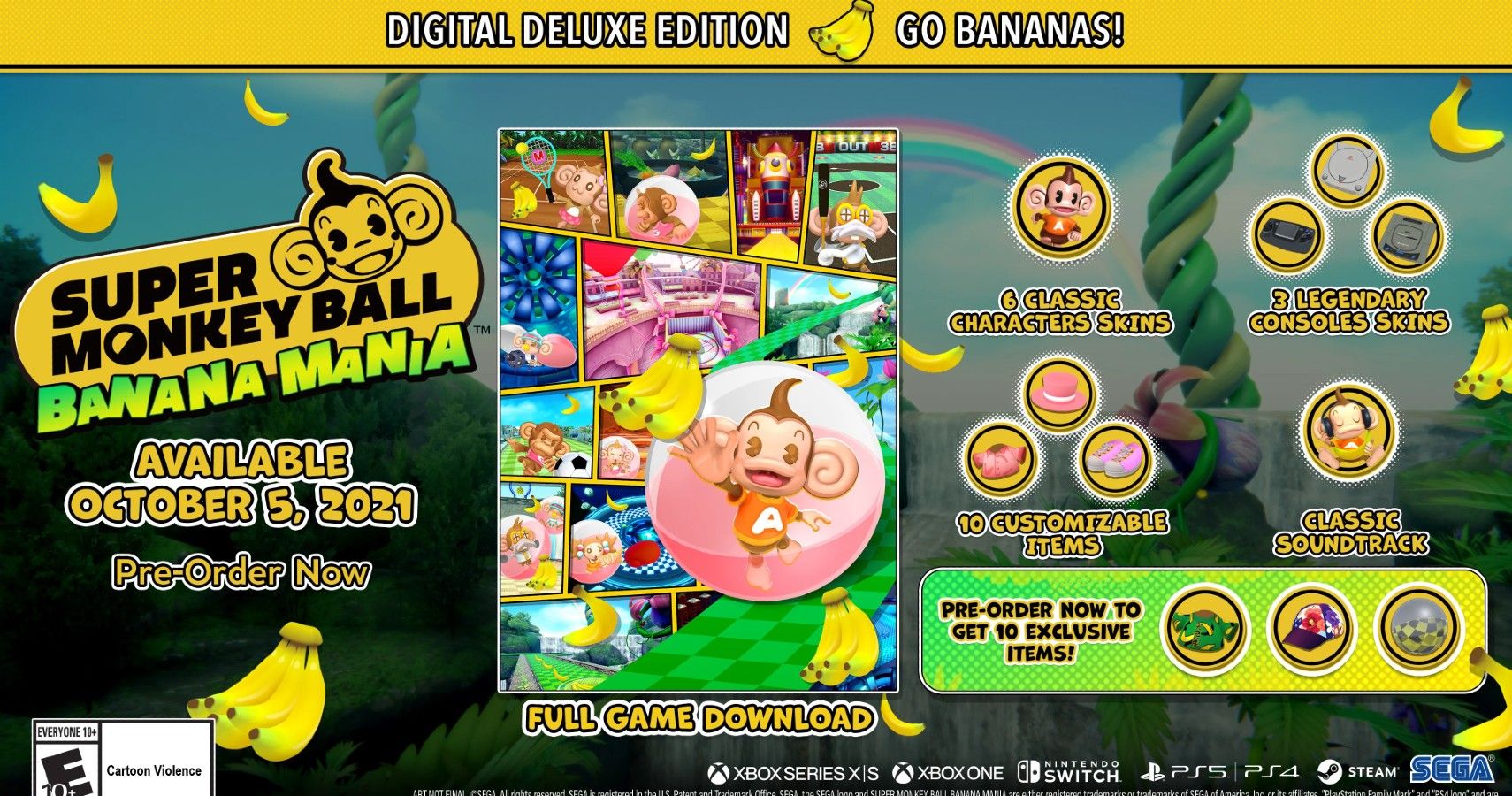 It's unclear what exactly these special skins will look like at this point. Whether Super Monkey Ball's Aiai will be dressed in console-themed colors, or if he will be replaced with a console and you'll literally be a virtual Dreamcast instead of one of the game's six playable monkeys. Speaking of which, another DLC pack, the Classic Character pack, includes classic skins for all six base characters.
Shortly after Banana Mania was revealed at E3, fans of the series appeared to discover Sega has additional characters in the works. Code and images showing playable versions of Sonic and Tails were discovered, explaining why there seem to be two gaps on the Banana Mania roster. It also means Aiai and Sonic will be able to celebrate their 35th and 20th anniversaries together in the same game.
Unlike Aiai who will remain in his own game to ring in his birthday, Sonic is popping up all over the place. As well as the Sonic Colors remaster coming later this year, the blue blur is also making cameo appearances in Lost Judgment, Minecraft, and the official Tokyo Olympics game which hits the market later this week. Super Monkey Ball: Banana Mania will arrive on all major platforms on October 5, 2021.
Source: Read Full Article