Stuntman Reveals Stunning Cosplay Of Eivor From Assassin's Creed Valhalla
German stuntman Ben Bergmann has a passion for cosplay, and he's one of the most talented in the field. His latest creation, Eivor from Assassin's Creed Valhalla, is a work of art that excels in bringing Ubisoft's viking to life.
Bergmann's attention to detail and ability to harness every character detail in his cosplay has gained the artist a healthy following. His recent creation was brought about by a collaboration with Ubisoft, who asked the artist if he would be part of the promotion for Assassin's Creed Valhalla. With a skip in his step, the giddy cosplayer set to work on his impressive costume to embody the ruthless viking Eivor, and kept fans up to date with his progress on Facebook.
Related: Amidst Harassment Scandal, Ubisoft Finally Releases Valhalla Trailer With Female Eivor
Working under the name Maul Cosplay, Bergmann first posted multiple photos of Eivor's replica weapons, consisting of various axes and shields. "Making these costumes is so much fun because of the historic theme," he commented along with the weapon imagery. A couple of weeks later, Bergmann posted a video revealing the "fitting test" for the completed costume, made from foam instead of fur and leather.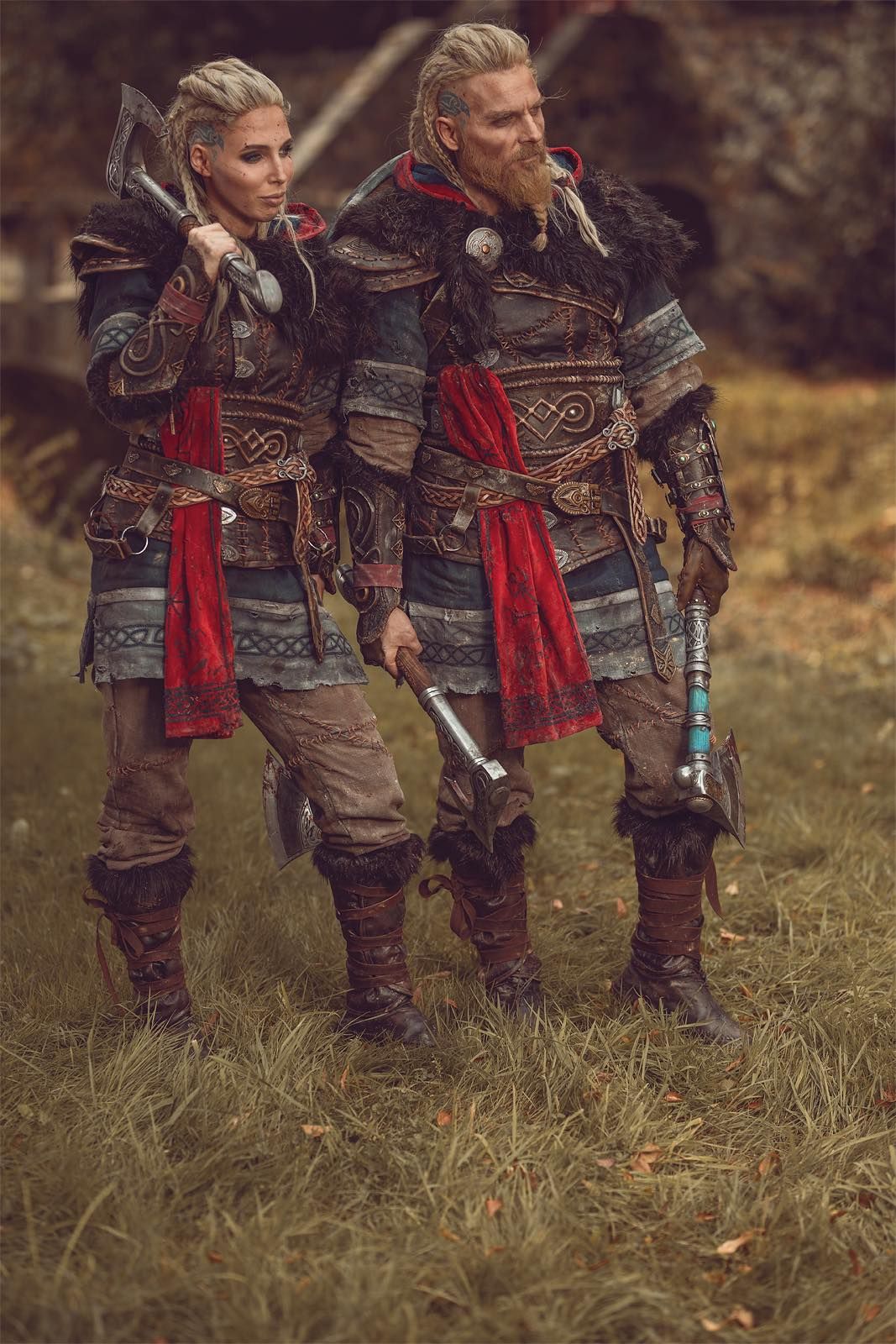 Bergmann's final stage was the atmospheric photoshoot by eosAndy, who took the cosplayer's pristine work into the wild and framed it with the perfect ambiance. Accompanying Bergmann was Maja Felicitas, another German cosplayer, who portrayed female Eivor alongside Bergmann for the promotional ad. Felicitas has worked with Maul Cosplay on several occasions, covering various characters such as Geralt of Rivia and Yennefer from The Witcher franchise, and male and female V for the promotion of Cyberpunk 2077.
Whilst working as a professional stuntman, Bergmann decided to turn his 10-year hobby of cosplaying into a business, and became a cosplay promoter. His company Defcon Unlimited is driven to create authentic costumes and props to promote various video games. His relentless passion and dedication brought about a trip to the exclusion zone of Chernobyl in 2017, to find the perfect atmosphere for his cosplay as Joel from The Last of Us. Dedication indeed.Bergmann is also a skilled stage combat fighter, who has traveled Europe performing as Darth Maul. The cosplayer can be seen portraying the iconic Star Wars villain in a fan-made YouTube video called 'Darth Maul Apprentice' by T7pro.
Source: Read Full Article