Story of Seasons: Pioneers of Olive Town Development Reportedly 80% Done
The newest issue of Japanese gaming magazine Famitsu revealed that development for the next entry in the Story of Seasons series, Pioneers of Olive Town, is 80% complete. Famitsu's four-page SoS: PoOT feature included new art and screenshots, as well as this detail about developer progress.
This update suggests that developer Marvelous Inc. is on track to launch the game on its promised February 25, 2021 release date in Japan. (The localized versions of the game currently have a release set for March 23, 2021. With the game first announced in an October 2020 Nintendo Direct, the company promises a fairly quick turnaround for series enthusiasts. They give Japanese fans about four months to wait between trailer and release, while Western fans only have to wait a month after release for their localization.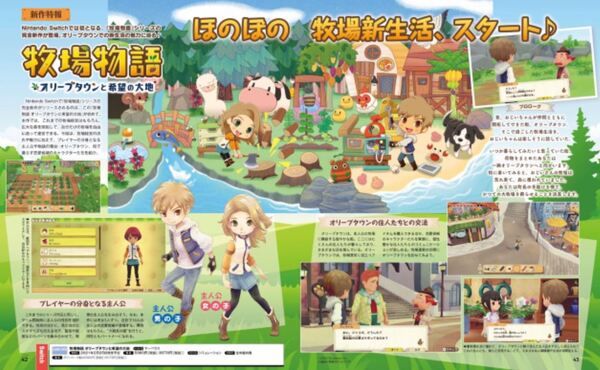 Over at GoNintendo, nintendojam shared a scan of two of the feature's pages and a quick overview of its contents. The two pages that the author shared seem to highlight the character creator and screenshots of NPC interactions.
As with any aspect of game development, timelines are always subject to change, but this update seems promising for people looking forward to a new Story of Seasons flagship title. The previous Story of Seasons game, More Friends of Mineral Town, remade a series classic for the Nintendo Switch. Meanwhile, the entry before it, Doraemon Story of Seasons, was a spin-off of the Japanese cartoon Doraemon. Story of Seasons: Trio of Towns, the most recent flagship game, was released in the West in February 2017.
SoS: PoOT continues the Bokujō Monogatari series of games in Japan. Bokujō Monogatari games came out as Harvest Moon titles until 2015's Story of Seasons. After the American publisher, Natsume, lost the licensing rights to Bokujō Monogatari, it created its own farming simulators under the Harvest Moon series. That's why the Friends of Mineral Town remake is under the Story of Seasons name instead of the Harvest Moon name.
Trailers and press suggest that SoS: PoOT will bring back plenty of series staples, including romanceable bachelors and bachelorettes, festivals and a customizable character. It follows the classic farming simulator story of a budding farmer from the city trying to revitalize their grandfather's old farm.
Source: Read Full Article