Should You Complete The Moise Kean POTM SBC In FIFA 23?
Quick Links
Should You Complete Moise Kean?
Moise Kean is the latest player to receive the POTM month for the Serie A after a stellar set of performances with Juventus. Kean recently received an in-form that is going for a decent price on the market, so this FIFA 23 card is actually an okay price.
This guide covers how to complete this SBC, along with the cheapest players for the squad requirements, and a deep-dive into the card's stats compared to his previous cards and other cards on the market in this position.
How Much Is Moise Kean?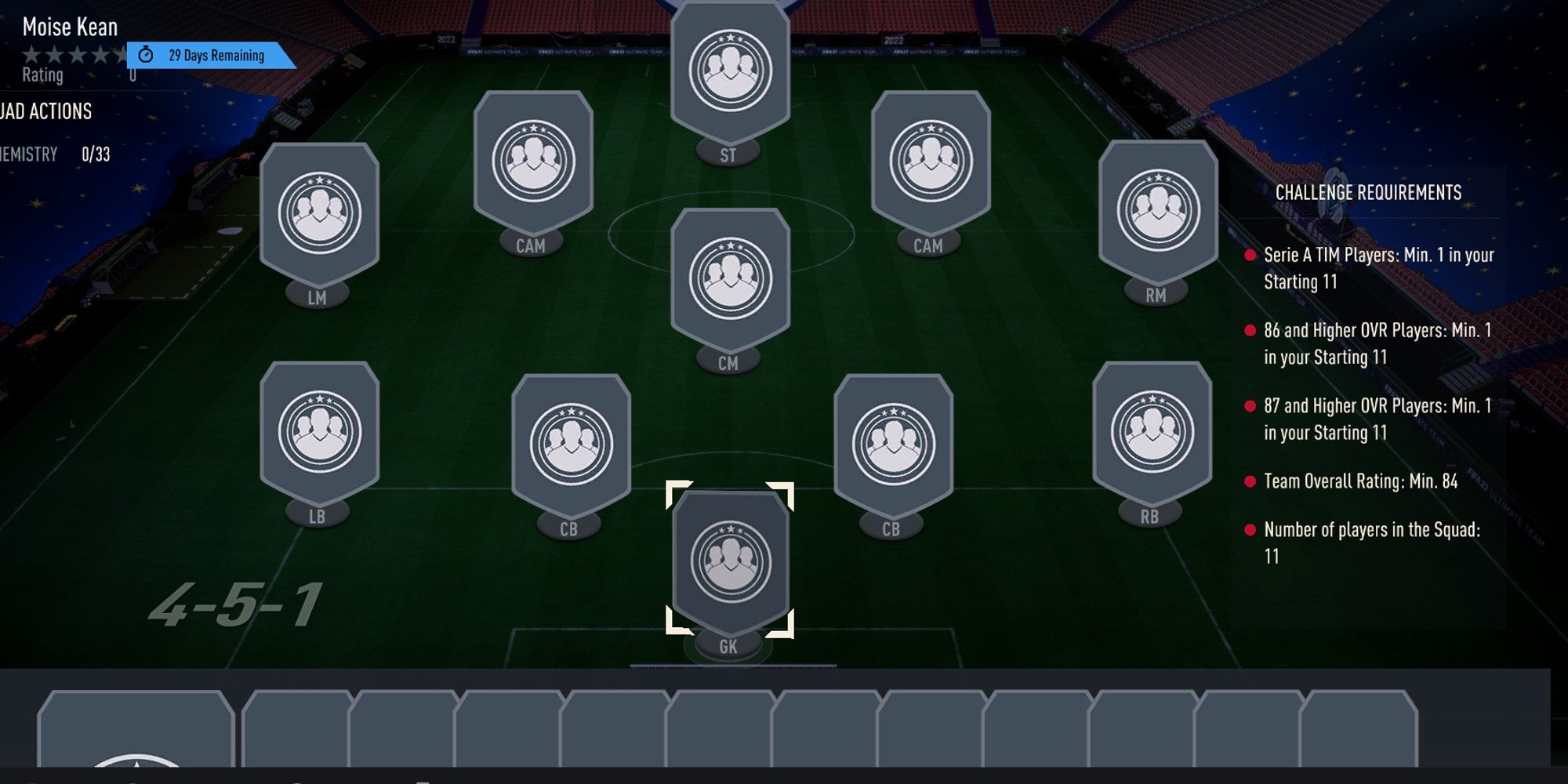 Moise Kean is around 30k all-in, and this will obviously drop in price a lot if you use some of that fodder that should hopefully start rolling in this weekend.
How To Complete Moise Kean
Moise Kean requires this squad to complete:
An 84-rated squad with one Serie A player, one 86-rated player, one 87-rated player

86-rated players are currently available for around 11k or 12k (the cheapest are Coman, Knkunku, Laporte)
87-rated players are currently available for 15.5k (cheapest are Trent, Muller, and Maignan)

This will be a good weekend for fodder with a lot of limited-time packs arriving, including 10 coin packs on the store. This might see lots of fodder released onto the market to reduce the price of this SBC even further.

Should You Complete Moise Kean?

Moise Kean's in-form card is about 15k on the market, and this card has a boost in some key areas.

+1 boost to Pace, Dribbling, Shooting, Defending, and Physical
+3 boost to Passing
Both the in-form and POTM card have Four-Star Skills and Four-Star Weak Foot
Kean only has one trait (Flair)

Overall, Moise Kean has some really impressive stats – that 92 Pace paired with the incredible 94 Strength makes this a really impressive card up top.

This SBC version of Kean can't become Lengthy because the card now has too much Agility. However, the Lengthy meta has changed, so this shouldn't impact your decision-making too much.

For fun, and to give you an idea of just how good this Kean card could be, here's the POTM compared with Drogba's Base Icon card.

Kean
Drogba Base Icon

86 Shooting

89 Finishing matches Drogba here, and 95 Shot Power is superior

87 Shooting

Better Long Shots, Volleys, Penalties

These are similar cards in terms of Strength and Shooting, but Kean outdoes Drogba in terms of Dribbling and Pace.

With a Finisher Chemistry Style Moise Kean is a 93-rated Striker with 92 Pace, 94 Dribbling, and 93 Shooting. Unbelievable stats really, for this value.

Overall

Overall, we think this SBC is exceptional value. We reckon Kean's card would hover around the 25k or 30k price on the market if it was a tradeable card, and you get a great First Owner Serie A card for future objectives – and also to make an appearance in your upcoming weekend league as a starter or super-sub. We recommend this SBC!

Source: Read Full Article