Republican Congressman Matt Gaetz Gets Only Six Viewers On Twitch
Last week, Republican congressman Matt Gaetz announced that he was opening a Twitch channel to bring his "America First message to a new generation of viewers", but that message only made its way to six, and most of those were busy spamming rude ASCII images and insults.
He started his first stream on the 22nd but he wasn't playing a game of Among Us while updating everyone on the latest in American politics – he instead chose to talk about the January 6 Capitol riot with ex-Trump speechwriter Darren Beattie. They dove into conspiracy theories, "wokeism" in public schools, and defending the police from calls to defund. But all this rambling only reached six viewers (thanks, Vice).
When it stopped, he left his chat open for people to talk in, and many started to ridicule him. One user, LitrallyJustVibingHere, said, "Hey fuckin bitch matt whats up dumb fuck… you dumbass imbecile." Matt Gaetz was also under investigation back in April of this year for allegedly having sex with a minor, and many in the chat started to call him a paedophile while spamming ASCII dick art. All in all, his Twitch debut didn't go well.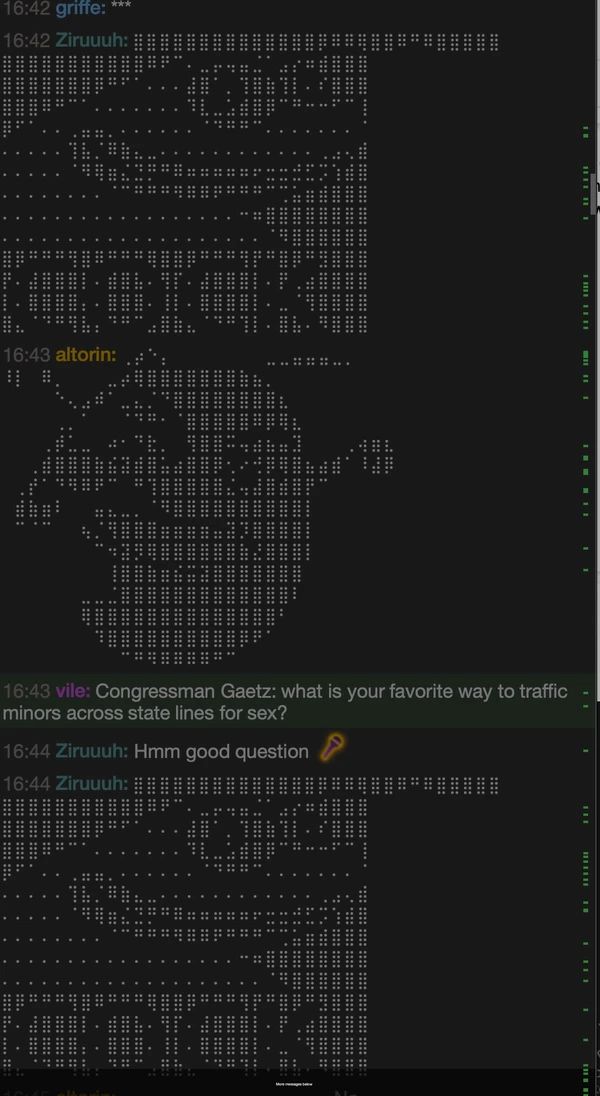 ASCII messages made up the bulk of messages, and if you don't know what those are, they're essentially text art. Think old text-based adventure games but instead of getting a fantasy backdrop to set the scene, you get a big picture of Pepe with the word 'cock' scribbled underneath. Or Shrek. People also spammed Shrek. You can see as much above.
Other ASCII art included "GAETZ IS A PEDO" and "MATT PogChamp GAETZ PogChamp TRAFFICKS PogChamp MINORS PogChamp" and so on. One user, Lard_, commented, "Are you guys worried about your kids driving home during rush hour?? It can get kind of crazy out there! Thankfully brave folks like Matt are fighting to keep our roads safe. Google 'Matt Gaetz Minor Traffic' to learn more".
While Gaetz has over 1.7 million followers on Twitter, this hasn't translated to his Twitch, boasting only 1,600 followers. But that again doesn't translate to views or subscribers, and most of these followers don't appear to be there in support of Gaetz.
Source: Read Full Article