Razer Gets Cute With Hello Kitty Collab
Razer is going ka-ka-ka-ka-kawaii with Hello Kitty-themed PC equipment.
The famed computer company is releasing a collection of Hello Kitty merchandise this Spring after its initial run in China. According to GameSpot, the set in China included a keyboard, a Razer Chroma headset, wired mouse, and mouse pad that is super cute and feature Sanrio characters. We don't know exactly what Razer will be releasing in the West or if there's more designs incoming, but Hello Kitty fans should be excited.
We especially hope they release the headset that includes the main character's signature bow tie. No prices have been announced as of yet, so stay tuned for more details in the spring.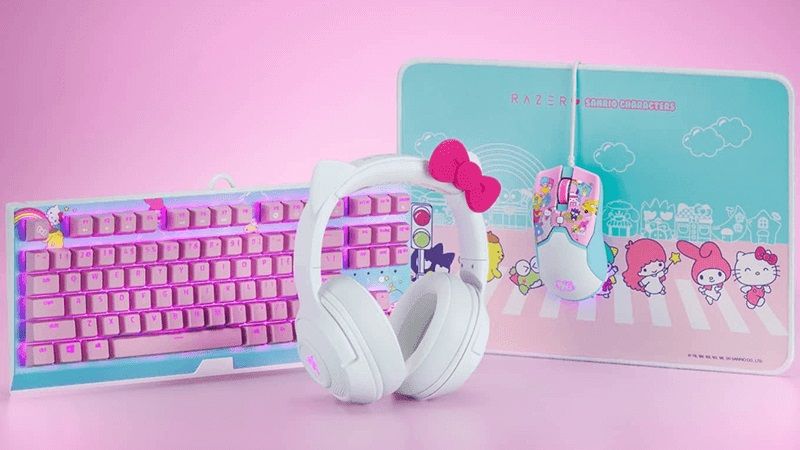 Hello Kitty is one of the biggest brands on the planet. TitleMax says that this Sanrio-owned property is the second-largest media franchise on the planet, beating out Harry Potter, Mickey Mouse, and even Star Wars. Pokemon still remains on top, for now. Ultimately, this is a big deal for Razer.
If you're scratching your head and wondering why Hello Kitty is so popular, we asked our resident (and slightly obsessed) Senior Features Editor Bella Blondeau why she loves these furry creatures. She explained that the characters appeal to every sensibility and can be crossed over into any product: case in point, Razer with their upcoming collection. Hello Kitty has even collaborated with Animal Crossing: Pocket Camp for unique costumes. She further says that you can project any feeling on to her because the characters are expressionless.
It's strange that with all this brand potential, Hello Kitty hasn't had a massively successful video game yet. There has been a very brief MMO based on the property that failed to succeed and a very addictive gacha game, but there hasn't been one that became a gaming hit. Perhaps the characters are better suited to adorning accessories.
Razer also announced at CES a COVID mask with RGB lightning. Nope, I'm not making this up. It comes with twin rechargeable active ventilators and N95 filtration. It's supposedly very comfortable as it has form-fitting silicon. It certainly doesn't look cute, but for this technologically inclined, it's very cool.
Source: Read Full Article