Pokemon Unite: Anniversary Cake Challenge Guide
Quick Links
Anniversary Cake Challenge Rewards
Pokemon Unite is celebrating its first anniversary since its initial launch – offering you several new events and rewards as part of the celebration. Amongst these new celebratory features, the Anniversary Cake Challenge event will be available to you; remaining active until September 1, 2022.
While the Anniversary Cake Challenge event is active, you will have the opportunity to earn Frosting. You can obtain Frosting, this event's specific currency, through a few different methods; each adding to your overall cumulative total. Use the following information to efficiently unlock and redeem several in-game rewards, including various in-game currency, Pokemon Holowear, and Unite Licenses.
How To Earn Frosting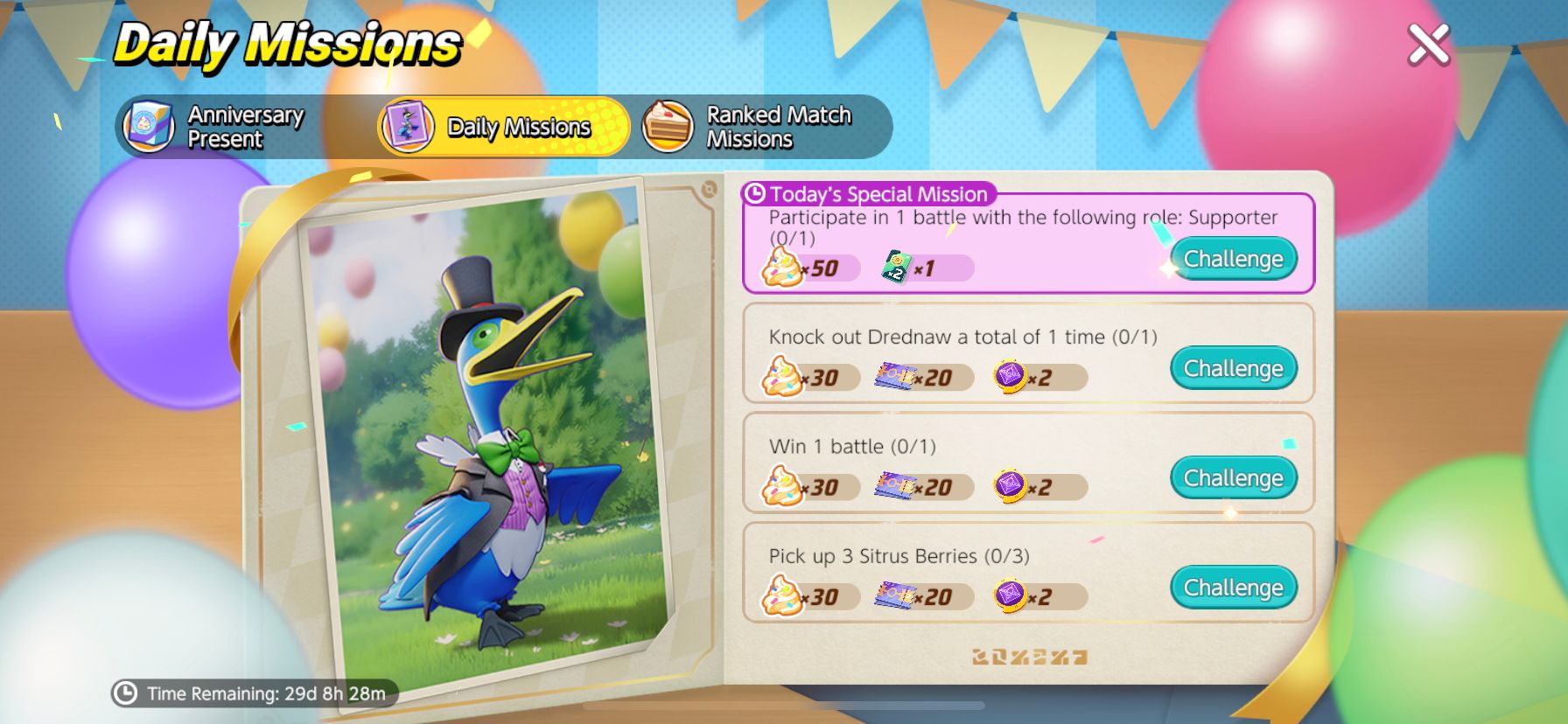 There are three different ways that you can earn Frosting during this event; each adding to your overall total. There are many rewards being offered for this event, so it is important that you earn Frosting via the following methods when possible, if you wish to obtain everything possible.
Daily Missions
There are Daily Anniversary Missions that can be completed during the event window. There will be four missions available on a daily basis, replaced upon each daily reset. Each day, there will be three standard missions offered, providing you with 30 Frosting, 20 Aeos Tickets, and two Item Enhancers each upon completion. Examples of these missions include:
Knock out Drednaw a total of one time
Win one battle
Pick up three Sitrus Berries
Additionally, there will be one Special Mission, rewarding you with 50 Frosting and a 1-Day Aeos Coin Boost Card. All four of these Daily Missions you are required to complete are relatively quick and simple tasks, so make sure to log in and complete them, earning you Frosting with ease.
Ranked Match Missions
You can also complete Ranked Match Missions as an efficient method to acquire Frosting. Each week, you can participate in Ranked Matches, providing you with 50 Frosting upon completing each one. This can be done up to 10 times per week, allowing you to earn up to 500 Frosting weekly, solely from these missions. This proves to be an extremely effective way to acquire Frosting; only requiring you to participate in Ranked Matches, regardless of whether you win or lose.
Anniversary Presents
Additionally, each day you can open one Anniversary Present Box. These boxes will provide you with a random amount of Frosting, adding to your overall total. Additionally, upon selecting and opening one of these Present Boxes, you may receive a Bonus Chance; allowing you to open a second Present that day. Make sure to log in daily and claim this, as it is an easy way to earn Frosting with little to no effort.
Anniversary Cake Challenge Rewards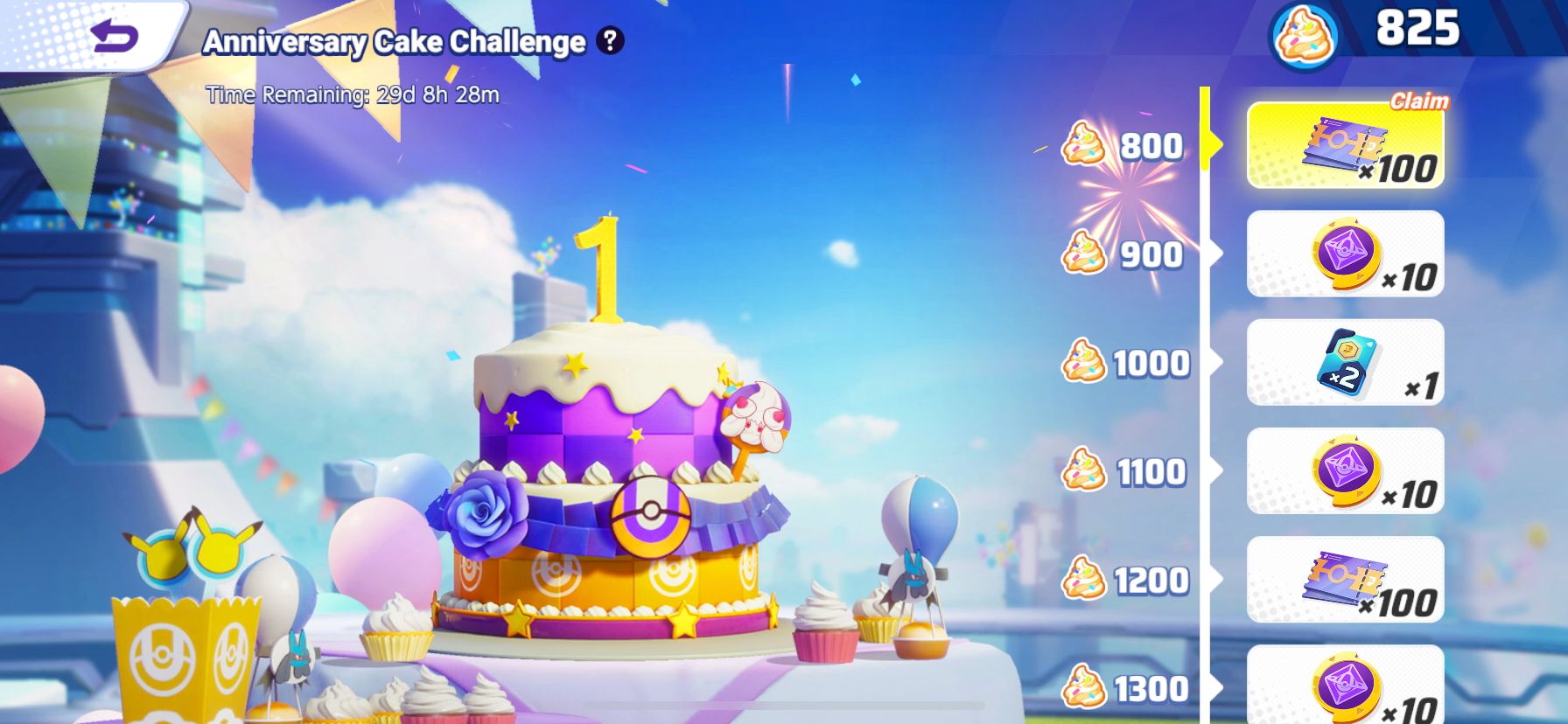 There are over 60 rewards being offered for the Anniversary Cake Challenge. You can obtain each of these rewards by earning Frosting through the various methods mentioned previously; earning a new reward each time 100 Frosting is accumulated.
When obtaining specific amounts of Frosting, you will add a layer to your cake for this event; working toward building an entire cake by the end of the event. These, in addition to each event reward, are provided below, as well as the amount of Frosting needed to unlock each one.
You do not have to spend your Frosting to obtain each of these rewards. Once you have reached the desired total for a particular item, you can redeem it without taking any Frosting away from your overall total.
Anniversary Cake Challenge Rewards
Reward
Frosting Required
1st Anniversary Celebration Sticker
1
100 Aeos Tickets
100
New layer of cake
200
100 Aeos Tickets
300
10 Item Enhancers
400
100 Aeos Tickets
500
Energy Boost Tank
600
10 Item Enhancers
700
100 Aeos Tickets
800
10 Item Enhancers
900
3-Day Aeos Coin Boost Card
1,000
10 Item Enhancers
1,100
100 Aeos Tickets
1,200
10 Item Enhancers
1,300
7-Day Limited License: Crustle
1,400
Tuxedo Style: Crustle
1,500
100 Aeos Tickets
1,600
10 Item Enhancers
1,700
100 Aeos Tickets
1,800
7-Day Battle Point Boost Card
1,900
New layer of cake
2,000
100 Aeos Tickets
2,100
10 Item Enhancers
2,200
100 Aeos Tickets
2,300
10 Item Enhancers
2,400
Energy Boost Tank (4x Speed)
2,500
10 Item Enhancers
2,600
100 Aeos Tickets
2,700
10 Item Enhancers
2,800
7-Day Aeos Coin Boost Card
2,900
New layer of cake
3,000
100 Aeos Tickets
3,100
10 Item Enhancers
3,200
100 Aeos Tickets
3,300
10 Item Enhancers
3,400
Extra-Energy Tank
3,500
10 Item Enhancers
3,600
100 Aeos Tickets
3,700
10 Item Enhancers
3,800
7-Day Limited License: Cramorant
3,900
Tuxedo Style: Cramorant
4,000
100 Aeos Tickets
4,100
10 Item Enhancers
4,200
100 Aeos Tickets
4,300
10 Item Enhancers
4,400
100 Aeos Tickets
4,500
10 Item Enhancers
4,600
100 Aeos Tickets
4,700
10 Item Enhancers
4,800
100 Aeos Tickets
4,900
10 Item Enhancers
5,000
100 Aeos Tickets
5,100
10 Item Enhancers
5,200
100 Aeos Tickets
5,300
10 Item Enhancers
5,400
100 Aeos Tickets
5,500
10 Item Enhancers
5,600
100 Aeos Tickets
5,700
10 Item Enhancers
5,800
100 Aeos Tickets
5,900
10 Item Enhancers
6,000
Source: Read Full Article