Pokemon Scarlet & Violet: Guide To Marks And Titles
Quick Links
What Are Marks And Titles?
Marks and Titles are a returning feature to Pokemon Scarlet and Violet first introduced in Sword and Shield. Very rarely, when capturing a Pokemon, it will have a Mark in its description, indicating a special condition present on its capture. Marks range from things like the Pokemon being caught during the day or during certain weather.
Marks also grant a Title to the Pokemon when it is sent out in battle, allowing you to customize your favorite Pokemon to their personality. Below, we'll take a look at how to get every single Mark and its associated Title currently in the game.
What Are Marks And Titles?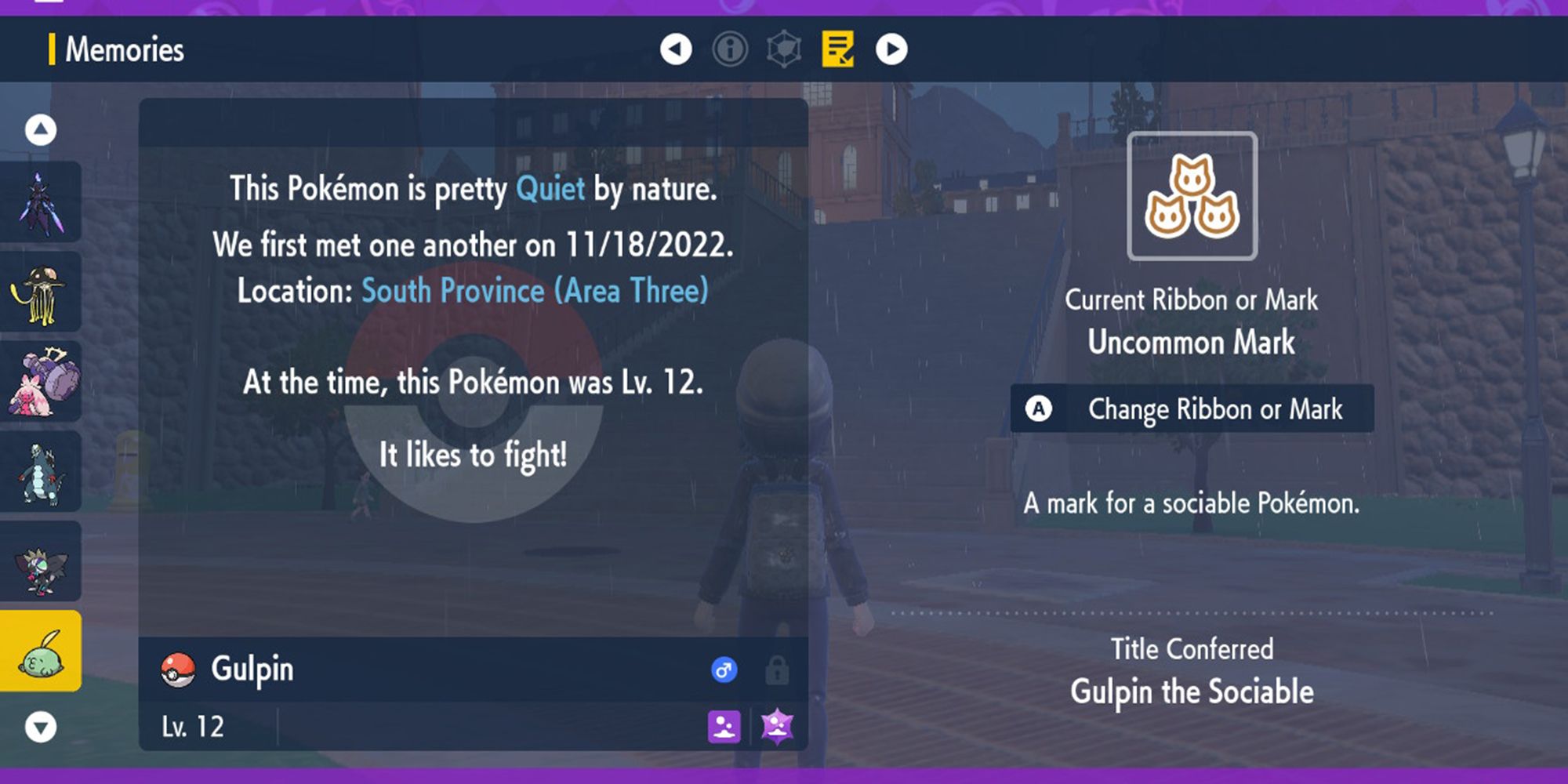 As mentioned above, Marks are special badges that are applied to the Pokemon when it is captured or when certain conditions are met. Several Marks can be obtained on already captured Pokemon by fulfilling objectives, like raising its friendship level or finding items with it.
Each Mark has a Title that is also applied to the Pokemon, and Pokemon with several Marks can have one selected as the Title displayed when the Pokemon is sent into battle.
How To View And Set Marks
When you catch a Pokemon with a Mark, it won't be readily apparent. To see which Pokemon have a Mark, look at the third section of the Pokemon's description. If you are looking at the Pokemon in your boxes, a Pokemon with a Mark will have the words Title Conferred at the bottom of the screen.
Take this Pokemon and put it in your party, then go back to this tab of their description. Now, you will be able to press A to select which Mark you want to display. You will only be able to change a Pokemon's Mark from your party.
How To Get Every Mark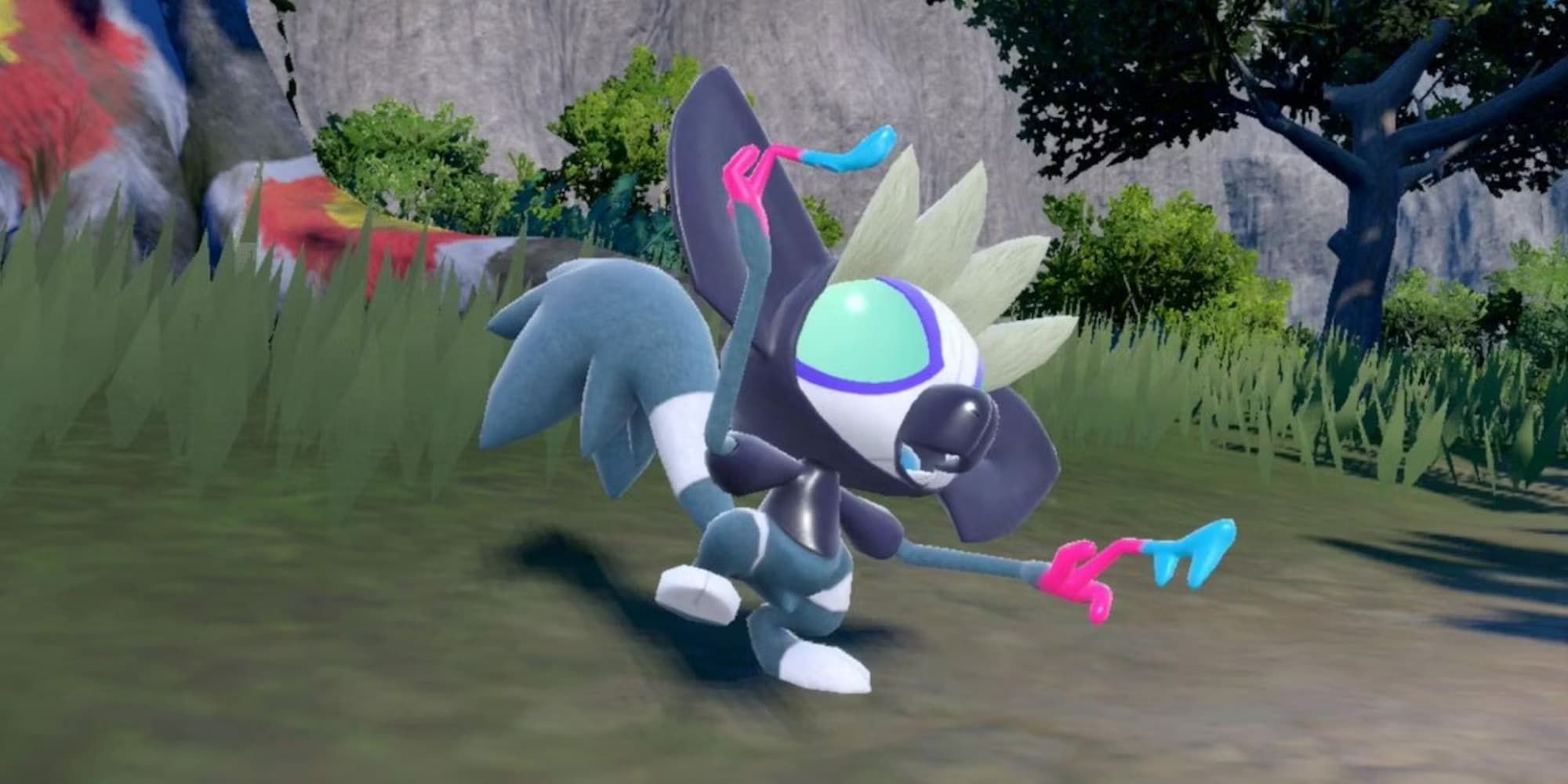 | Mark | Title | How To Get It |
| --- | --- | --- |
| Absent-Minded Mark | the Spacy | 1% chance to obtain upon catching the Pokemon |
| Alpha Mark | the Former Alpha | Given to a Pokemon that was an Alpha in Legends Arceus |
| Angry Mark | the Furious | 1% chance to obtain upon catching the Pokemon |
| Blizzard Mark | the Shivering | 2% chance to obtain on Pokemon caught in a snowstorm |
| Calmness Mark | the Serene | 1% chance to obtain upon catching the Pokemon |
| Charismatic Mark | the Radiant | 1% chance to obtain upon catching the Pokemon |
| Cloudy Mark | the Cloud Watcher | 2% chance to obtain on Pokemon caught during overcast weather |
| Crafty Mark | the Opportunist | 1% chance to obtain upon catching the Pokemon |
| Dawn Mark | the Early Riser | 2% chance to obtain on Pokemon caught during the morning |
| Destiny Mark | the Chosen One | Chance to obtain on Pokemon caught during your birthday |
| Dry Mark | the Parched | 2% chance to obtain on Pokemon caught during intense sunlight |
| Dusk Mark | the Dozy | 2% chance to obtain on Pokemon caught during the evening |
| Excited Mark | the Giddy | 1% chance to obtain upon catching the Pokemon |
| Ferocious Mark | the Rampaging | 1% chance to obtain upon catching the Pokemon |
| Flustered Mark | the Easily Flustered | 1% chance to obtain upon catching the Pokemon |
| Gourmand Mark | the Gourmet | Chance to obtain upon making sandwiches with the Pokemon |
| Humble Mark | the Humble | 1% chance to obtain upon catching the Pokemon |
| Intellectual Mark | the Scholar | 1% chance to obtain upon catching the Pokemon |
| Intense Mark | the Feisty | 1% chance to obtain upon catching the Pokemon |
| Itemfinder Mark | the Treasure Hunter | Chance to obtain upon the Pokemon picking up items in Let's Go! mode |
| Jittery Mark | the Anxious | 1% chance to obtain upon catching the Pokemon |
| Joyful Mark | the Joyful | 1% chance to obtain upon catching the Pokemon |
| Jumbo Mark | the Great | Awarded to Pokemon with maximum size values by the NPC with two Pachirisu in Mesagoza |
| Kindly Mark | the Kindhearted | 1% chance to obtain upon catching the Pokemon |
| Lunchtime Mark | the Peckish | 2% chance to obtain on Pokemon caught during the middle of the day |
| Mightiest Mark | the Unrivaled | Obtained on Pokemon captured from 7-star Tera Raids |
| Mini Mark | the Teeny | Awarded to Pokemon with minimum size values by the NPC with two Pachirisu in Mesagoza |
| Partner Mark | the Reliable Partner | Obtained by increasing the Pokemon's friendship to the max |
| Peeved Mark | the Grumpy | 1% chance to obtain upon catching the Pokemon |
| Prideful Mark | the Arrogant | 1% chance to obtain upon catching the Pokemon |
| Pumped-Up Mark | the Driven | 1% chance to obtain upon catching the Pokemon |
| Rainy Mark | the Sodden | 2% chance to obtain on Pokemon caught during rain |
| Rare Mark | the Recluse | 0.1% chance to obtain upon catching the Pokemon |
| Rowdy Mark | the Rowdy | 1% chance to obtain upon catching the Pokemon |
| Sandstorm Mark | the Sandswept | 2% chance to obtain on Pokemon caught during a sandstorm |
| Scowling Mark | the Stern | 1% chance to obtain upon catching the Pokemon |
| Sleepy-Time Mark | the Sleepy | 2% chance to obtain on Pokemon caught during the night |
| Slump Mark | the Worn-Out | 1% chance to obtain upon catching the Pokemon |
| Smiley Mark | the Beaming | 1% chance to obtain upon catching the Pokemon |
| Snowy Mark | the Snow Frolicker | 2% chance to obtain on Pokemon caught during snow |
| Stormy Mark | the Thunderstruck | 2% chance to obtain on Pokemon caught during a storm |
| Teary Mark | the Teary-Eyed | 1% chance to obtain upon catching the Pokemon |
| Thorny Mark | the Pompous | 1% chance to obtain upon catching the Pokemon |
| Titan Mark | the Former Titan | Obtained on Pokemon that were previously a Titan |
| Uncommon Mark | the Sociable | 2% chance to obtain upon catching the Pokemon |
| Unsure Mark | the Reluctant | 1% chance to obtain upon catching the Pokemon |
| Upbeat Mark | the Chipper | 1% chance to obtain upon catching the Pokemon |
| Vigor Mark | the Lively | 1% chance to obtain upon catching the Pokemon |
| Zero Energy Mark | the Apathetic | 1% chance to obtain upon catching the Pokemon |
| Zoned-Out Mark | the Daydreamer | 1% chance to obtain upon catching the Pokemon |
Source: Read Full Article