PlayStation Aims To Launch Half Its Games On PC And Mobile By 2025
When you hear the term PlayStation exclusives, some of the first games that spring to mind are likely God of War, The Last of Us, and the Horizon series. Beautiful games that tell epic stories. Certainly something to be proud of, but the studio's boss has made it clear PlayStation wants more than that. It wants to expand, and one of the ways it continues to do that is by extending its reach onto PC and mobile, an arena that will house half of its library by 2025 if all goes to plan.
That's one of many projections Jim Ryan made during a business briefing on Thursday, reports VGC. In one of the PlayStation head's slides, which you can check out below, you can see the studio's aim is for half of its new releases to be on PC and mobile by 2025. The other half will be on PS5. It should also be noted that there is no place for new games on PS4 by 2025 if those projections turn out to be accurate.
Ryan noted that PlayStation takes pride in its "narrative rich, graphically beautiful single-player games," but by making them exclusives, it has restricted those games to a narrow audience. "We have the opportunity to move from a situation of being present in a very narrow segment of the overall gaming software market, to being present pretty much everywhere," Ryan explained.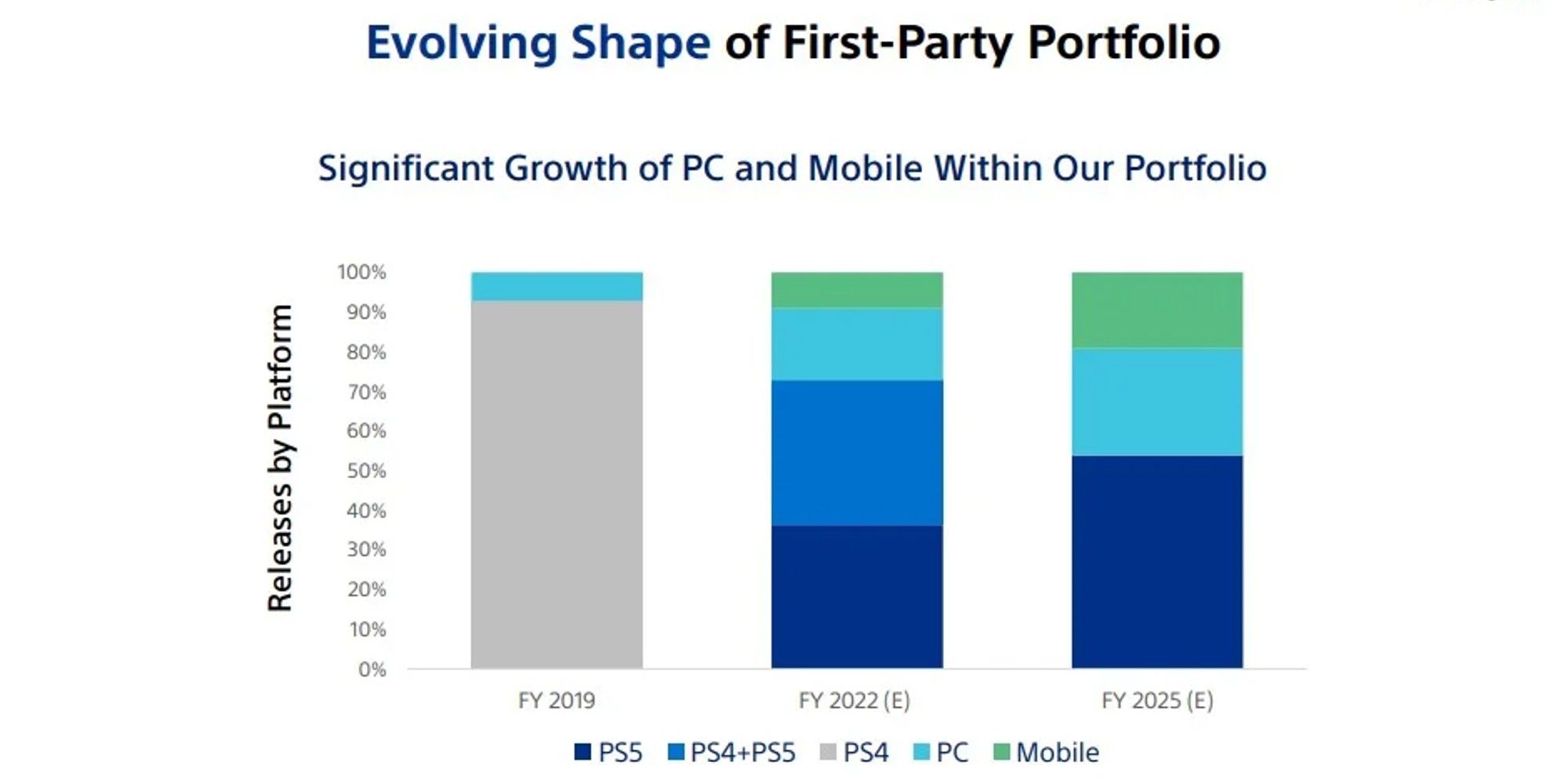 This isn't anything new, of course. PlayStation started porting its exclusives to PC in 2020, kicking things off with Horizon Zero Dawn. Days Gone followed, and 2018's God of War debuted on PC earlier this year. Games from the Uncharted series will also make the leap before the end of 2022. As for mobile, while PlayStation hasn't done anything major in that market yet, it clearly has big plans. Sony recruited Apple Arcade's Nicola Sebastiani to lead the way in that regard and will be bringing "iconic IP" to mobile in the future.
PlayStation's PC and mobile expansion isn't the only way it plans on broadening the audience it appeals to. Ryan lumps the studio's massive live service plans into the same conversation, reminding those listening that PlayStation currently has no fewer than 12 of them in development. Ryan also added that two of those 12 will be here before the end of this current financial year should everything go to plan.
Source: Read Full Article