November 2020's Xbox Games With Gold Selection Mixes Indies With Retro Classics
With November seeing the launch of both the Xbox Series S and X, fans were left wondering if Microsoft would be tweaking the offerings of its "Games With Gold" freebie service that's included in Xbox Live Gold subscriptions. As it just so happens to have turned out, that answer is no. November 2020 will be business as usual and see gamers getting four titles with a mixture of new and old across both Xbox One, Xbox 360, and the original Xbox.
The clear headliner this month is Full Spectrum Warrior. Released back in the ancient times of 2004, the title is notable for a few reasons. The first is that it was another classic from the dearly departed Pandemic Studios, the company responsible for the original Star Wars Battlefront games and Mercenaries. The second is that the Full Spectrum Warrior is based on prototype training software that the US Army employs to train soldiers. As creepy as that might sound in 2020, it was a big deal back in the day.
As for the other games, Aragami is a solid grab for Xbox One gamers. It may not be all fancy and next-generation, but its inclusion is likely because developer Lince Studios is currently working on a sequel for PS5 and Series X. Why not give it a shot on your Series X? It's not like anything else is releasing this holiday season.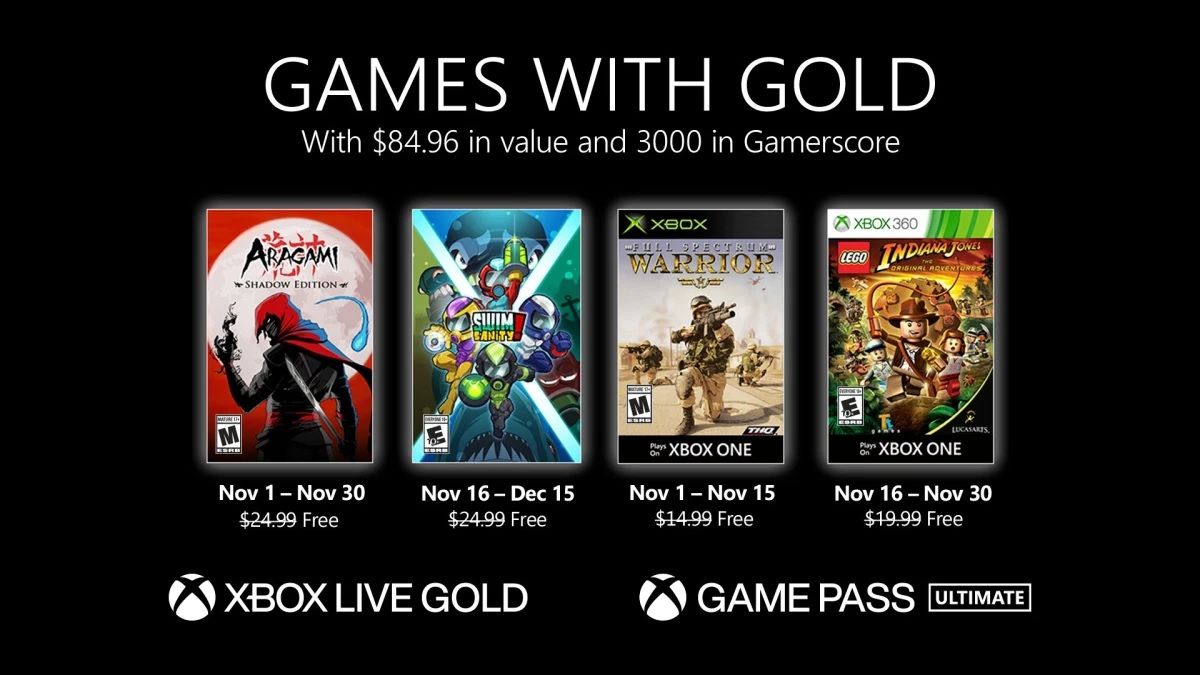 The final two games are Swimsanity! and Lego Indiana Jones. I can't speak much about the former, but the latter is what I consider to be the last quality Lego release. After Indy, everything kind of got samey.
With Microsoft making a full commitment to providing backward compatibility support on both the Series S and X, these titles should shine on newer hardware. It remains to be seen if Microsoft will start offering next-generation titles in Games with Gold (something Sony is doing), but bolstering your collection with classic games is never a bad thing.
Here is when you'll be able to claim each of these games from the Xbox Store.
Agamari: Shadow Edition (Xbox One) – Nov 1 – 30
Swimsanity! (Xbox One) – Nov 16 – Dec 15
Full Spectrum Warrior (Xbox) – Nov 1 – Nov 15
Lego Indiana Jones (Xbox 360) – Nov 16 – Nov 30
Source: Read Full Article