Monster Hunter Rise: Sunbreak – Qurious Crafting Guide
Quick Links
How To Unlock Qurious Crafting
Where To Get Each Afflicted Material
With the release of Monster Hunter Rise: Sunbreak's first title update comes Anomaly Investigations and Qurious Crafting. These two features will allow you to upgrade your gear with random effects, letting you chase the perfect piece of equipment.
Through Qurious Crafting, you can add random skills to your gear by using materials earned from hunting Afflicted monsters. Let's take a look at how to unlock Qurious Crafting, how to augment your gear, and where to find all of the materials you'll need to utilize these features.
How To Unlock Qurious Crafting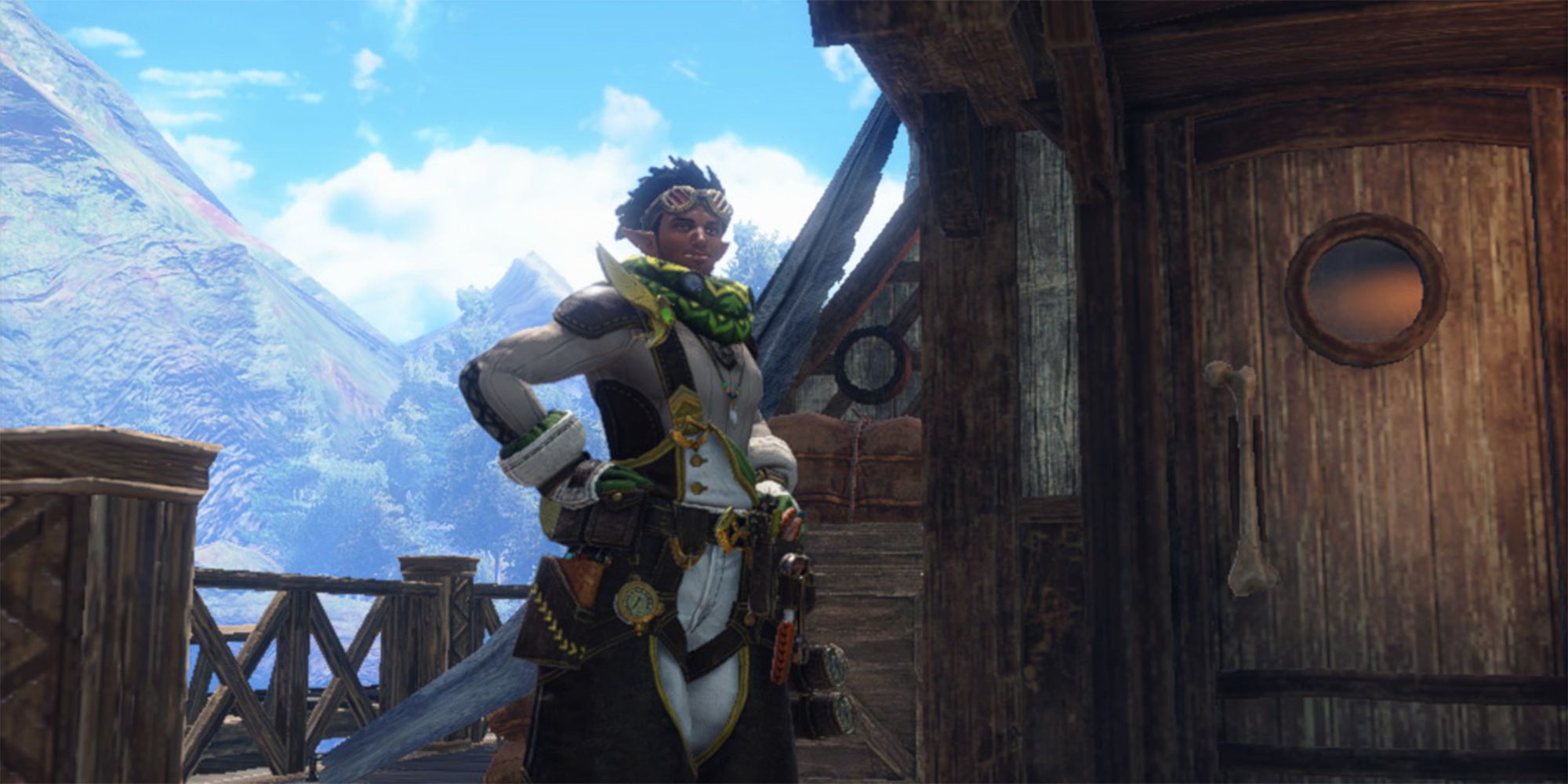 Qurious Crafting is unlocked by first speaking to Bahari about Anomaly Investigations after unlocking Afflicted monsters at Master Rank 10. Then, head to the Smithy and talk to Minayle to unlock Qurious Crafting. Before you can use Qurious Crafting to upgrade your gear, you'll need to enable Augmentation for the gear first.
How To Augment Armor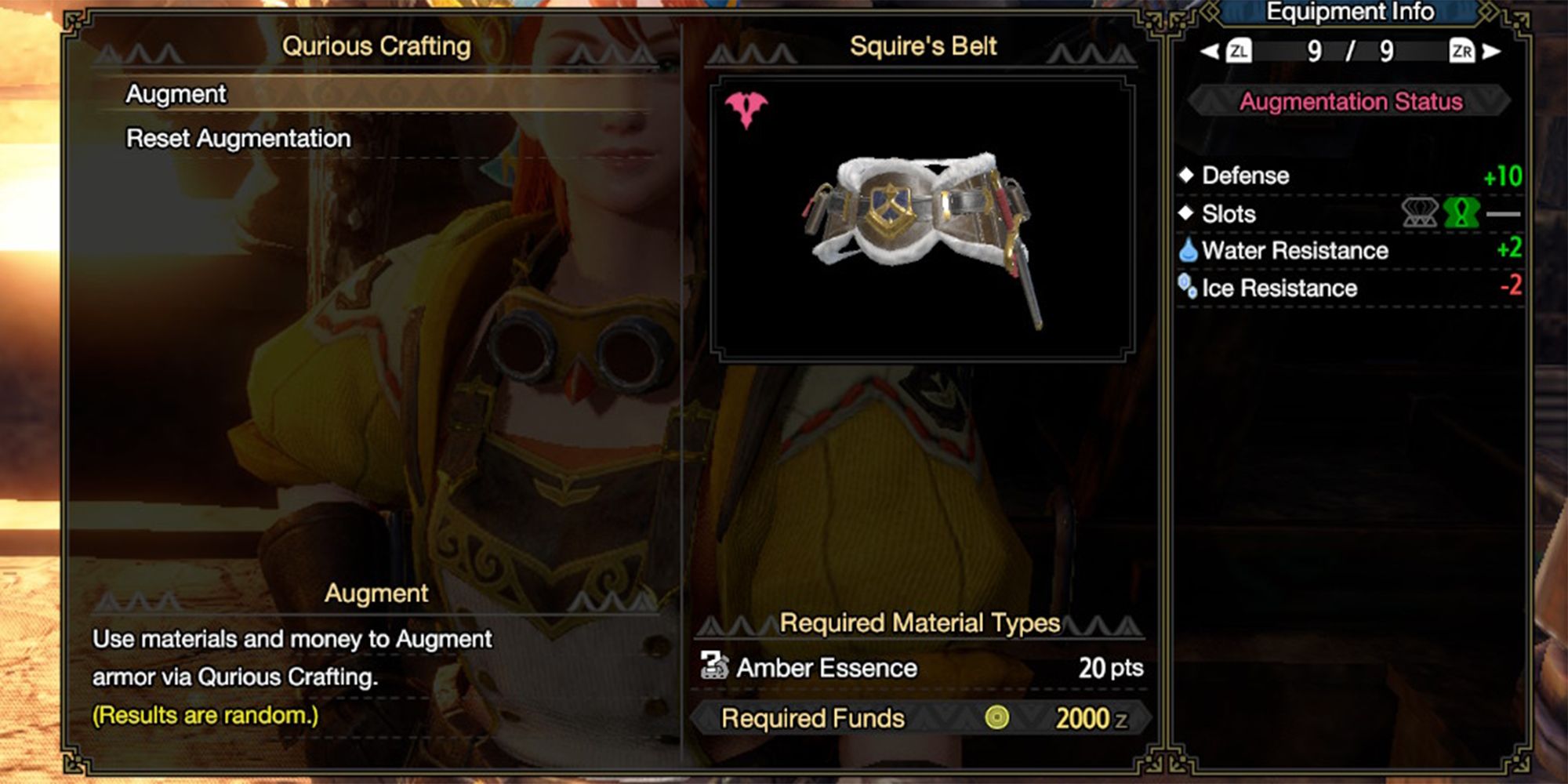 To Augment Armor, you'll need to first enable Augmentation by spending Amber Essence and Afflicted Materials. The type of Amber Essence and number of Afflicted Materials required depends on the rarity of the armor you want to Augment. Only Rarity 8 and higher gear can be Augmented for Qurious Crafting.
Armor Rarity
Materials Needed
Rarity 8

1x Amber Essence
10pts Afflicted Materials

Rarity 9

1x Amber Essence+
20pts Afflicted Materials

Rarity 10

1x Prime Amber Essence
30pts Afflicted Materials
After enabling Augmentation, you can now use Qurious Crafting to add random bonuses to that piece of armor. To do so, you'll need to spend Amber Essence of varying amounts. Deliver enough Amber Essence, and you will be able to add random effects to your armor. If you're unsatisfied with the skills, slots, or stats of that attempt, you can repeat the process as much as you want by spending more Amber Essence.
How To Augment Weapons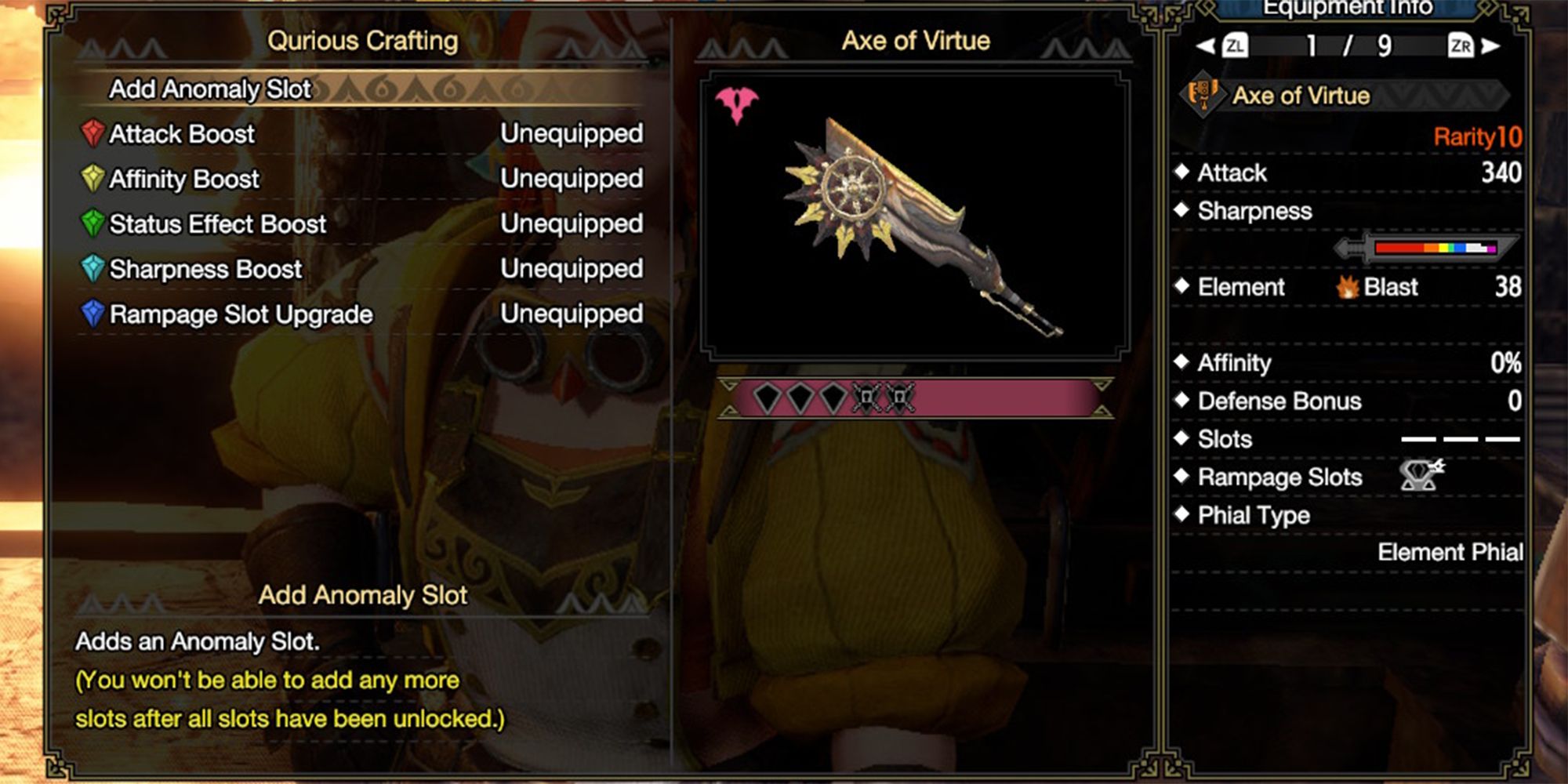 Augmenting weapons is similar to Armor, but does not involve random bonuses. To enable Augmentation of weapons, you'll need to spend Afflicted Materials and some Zenny. After enabling Augmentation, you will have access to three out of five of the weapon's Anomaly Slots, which allow you to add various upgrades to your weapon. Each weapon has different bonuses available, allowing you to customize your equipment however you wish.
Only Rarity 10 Weapons can be Augmented through Qurious Crafting.
Each upgrade costs different Afflicted Materials, and takes up a certain number of your weapon's available Anomaly slots. You can unlock the two additional slots by spending Afflicted Materials of varying types and amounts.
How To Get Amber Essence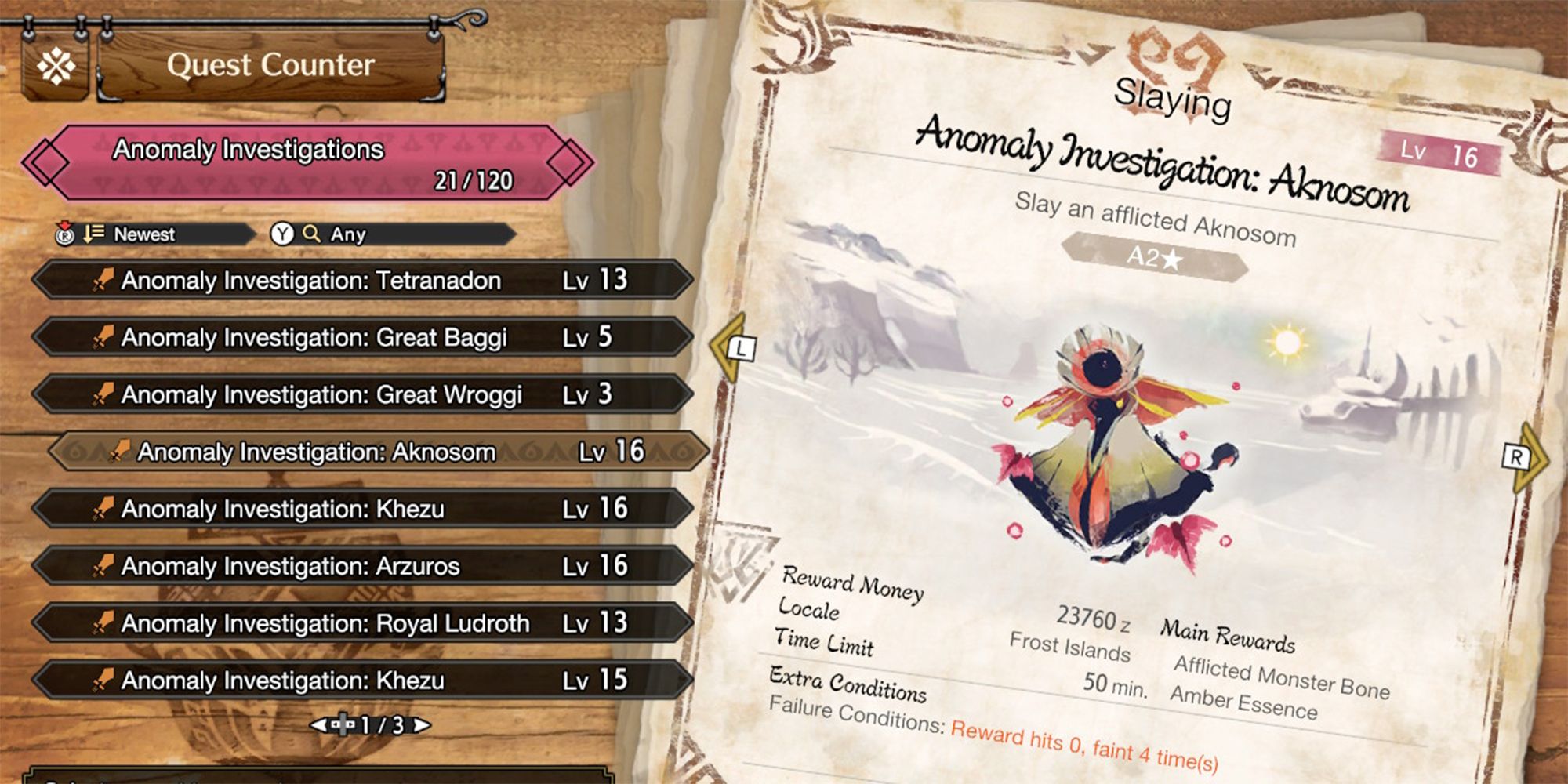 Amber Essence, Amber Essence+, and Prime Amber Essence are required when Augmenting weapons and armor, and can be obtained from Anomaly Investigations at different levels, detailed below.
| Anomaly Investigation Level | Essences Found |
| --- | --- |
| Anomaly Investigations Level 1+ | Amber Essence |
| Anomaly Investigations Level 31+ | Amber Essence+ |
| Anomaly Investigations Level 51+ | Prime Amber Essence |
You can increase your Anomaly Investigation level by hunting monsters in Anomaly Investigations and gathering materials affected by the Qurio during Investigations. Higher level Investigations will give more Anomaly Investigation points.
Additionally, Amber Essence can be purchased from Bahari by spending 25 Investigation Coins, earned by completing Anomaly Investigations and Research Requests.
Where To Get Each Afflicted Material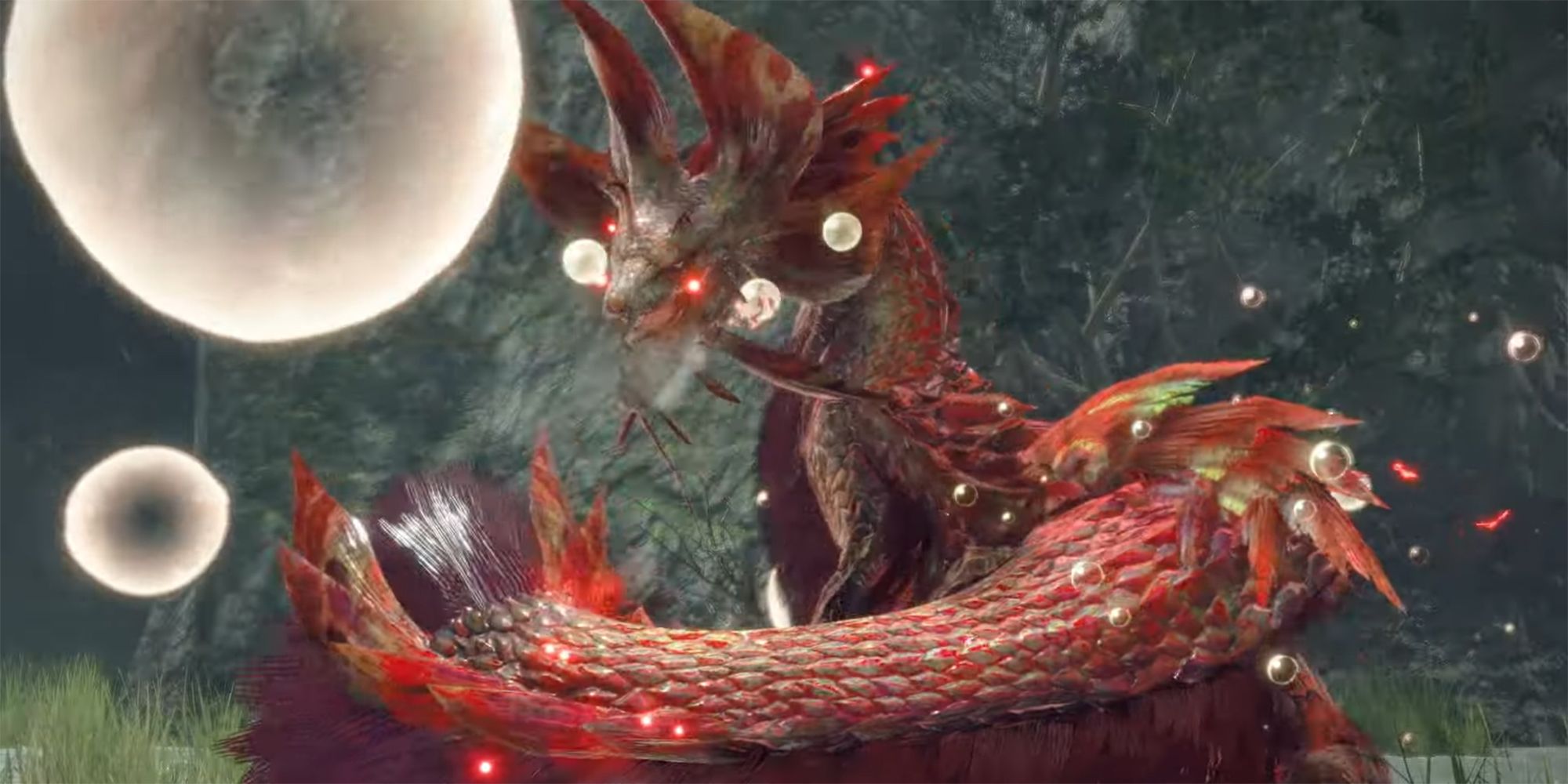 Doing any amount of Qurious Crafting will have you spending tons of Afflicted Materials. Listed below is each type of Afflicted Material and which monster it can be obtained from, as well as the Investigation Level required for that material to drop.
Afflicted Material
Monsters Dropped From
Anomaly Investigation Level Requirement
Afflicted Bone
A*1/Anomaly Investigation Level 1+
Afflicted Pelt

Great Baggi
Great Izuchi
Kulu-Ya-Ku
Great Wroggi

A*1/Anomaly Investigation Level 1+
Afflicted Monster Bone

Aknosom
Barroth
Basarios
Royal Ludroth

A*2/Anomaly Investigation Level 1+
Afflicted Blood

Bishaten
Daimyo Hermitaur
Khezu
Tetranadon

A*2/Anomaly Investigation Level 1+
Afflicted Shell

Blood Orange Bishaten
Jyuratodus
Shogun Ceanataur
Somnacanth

A*3/Anomaly Investigation Level 1+
Afflicted Scale

Anjanath
Pukei-Pukei
Rathian
Tobi-Kadachi

A*3/Anomaly Investigation Level 1+
Afflicted Claw

Almudron
Aurora Somnacanth
Goss Harag
Rakna-Kadaki

A*4/Anomaly Investigation Level 1+
Afflicted Fang

Barioth
Garangolm
Mangamalo
Nargacuga

A*4/Anomaly Investigation Level 1+
Afflicted Bone+
Anomaly Investigation Level 31+
Afflicted Hide+

Great Baggi
Great Izuchi
Kulu-Ya-Ku
Great Wroggi

Anomaly Investigation Level 31+
Afflicted Monster Hardbone+

Aknosom
Barroth
Basarios
Royal Ludroth

Anomaly Investigation Level 31+
Afflicted Dragon Blood+

Bishaten
Daimyo Hermitaur
Khezu
Tetranadon

Anomaly Investigation Level 31+
Afflicted Carapace+

Blood Orange Bishaten
Jyuratodus
Shogun Ceanataur
Somnacanth

Anomaly Investigation Level 31+
Afflicted Scale+

Anjanath
Pukei-Pukei
Rathian
Tobi-Kadachi

Anomaly Investigation Level 31+
Afflicted Claw+

Almudron
Aurora Somnacanth
Goss Harag
Rakna-Kadaki

Anomaly Investigation Level 31+
Afflicted Fang+

Barioth
Garangolm
Mangamalo
Nargacuga

Anomaly Investigation Level 31+
Afflicted Dire Scale
Anomaly Investigation Level 51+
Afflicted Dire Bone

Lunagaron
Magna Almudron
Tigrex

Anomaly Investigation Level 51+
Afflicted Dire Horn
Anomaly Investigation Level 51+
Source: Read Full Article