Monster Hunter Rise: Sunbreak – Cursed Buddy Gear? Side Quest
Quick Links
Cursed Buddy Gear? Side Quest
Cursed Buddy Gear? Side Quest – Rewards
Monster Hunter Rise: Sunbreak brings you to Elgado, where you must unveil a mystery behind the bloody Malzeno and the Qurio life beings surrounding him. Now known as the savior of Kamura, you must aid the Knights Of The Royal Order to reclaim their home once and for all.
One of the many missions you can complete on your journey is "Cursed Buddy Gear?", and it involves obtaining some monster materials so you can trade them for new weapons for your Buddies. Here's all you need to know about this side quest.
Cursed Buddy Gear? Side Quest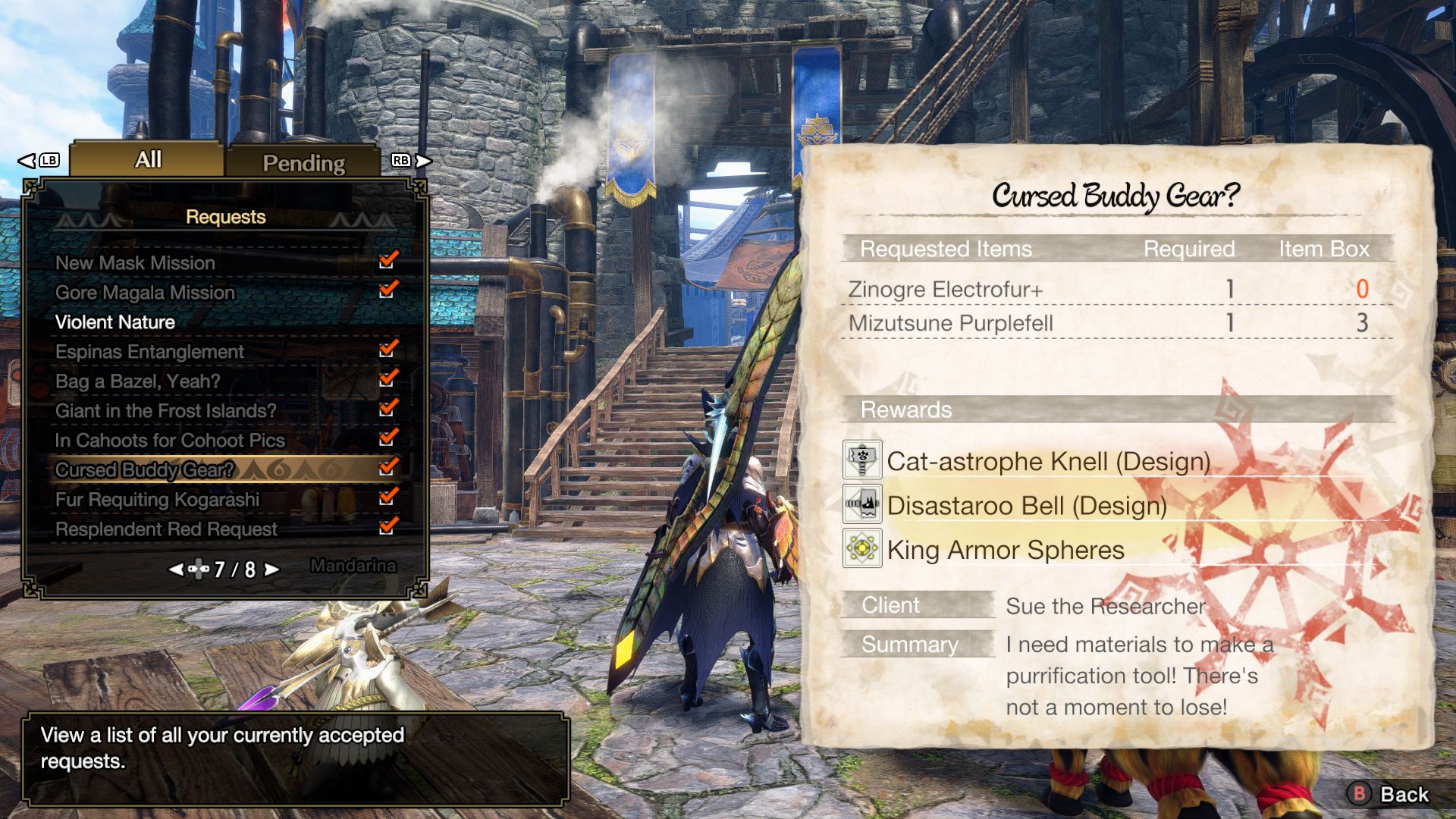 In the Command Post area of the Elgado Outpost, you can find an Felyne NPC called Sue The Researcher, a blue cat with glasses doing some work on a scaffold. She will provide you with this side quest.
Your objective for this mission is to find two specific monster materials belonging to Master Rank Zinogre and Mizutsune. These are the following:
Zinogre Electrofur+
Mizutsune Purplefell
Both materials are dropped by either defeating, capturing, or breaking parts of those two monsters. Zinogre is weak to Ice Damage, and Mizutsune is weak to Thunder Damage, but both are weak to Blastblight, so you may want to prioritize that element in your weapon to kill two birds (monsters?) with one stone. Slashing weapons will also do wonders against those powerful enemies, so keep that in mind at the moment of assembling your arsenal.
Once you fulfilled your objective, go back to Sue and turn the items in, so she can reward you with some armor spheres and two new weapon blueprints for your Buddies.
Cursed Buddy Gear? Side Quest – Rewards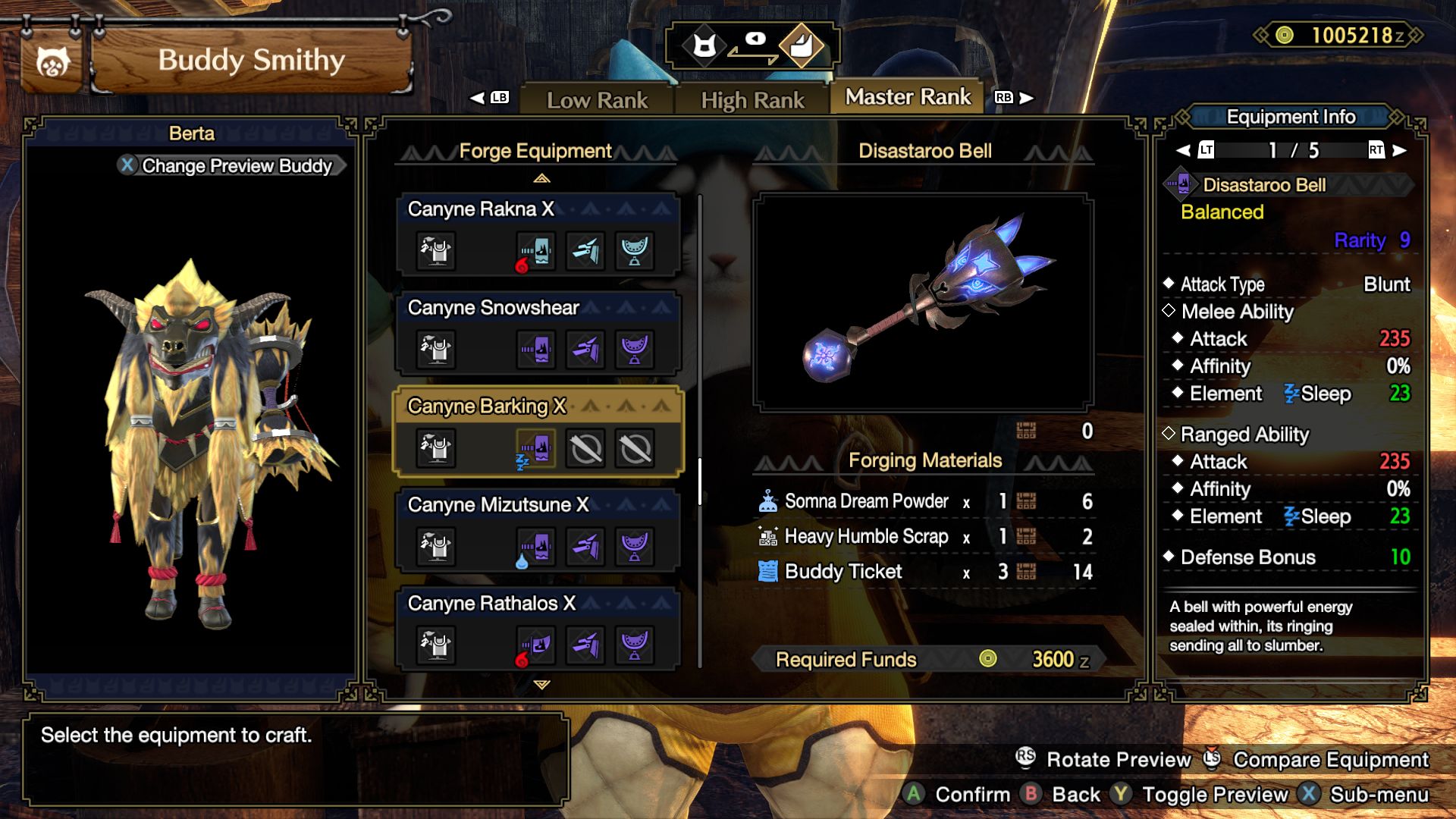 As a reward, you will obtain 3 King Armor Spheres and two weapon designs for your Palico and Palamute, called the Cat-astrophe Kneel and the Disastaroo Bell, respectively. These ghastly, hammer-like weapons have fairly good Raw Damage, but also a whopping amount of Sleep damage as well, particularly useful to make enemy monsters drowsy and vulnerable for you to hit with some bombs.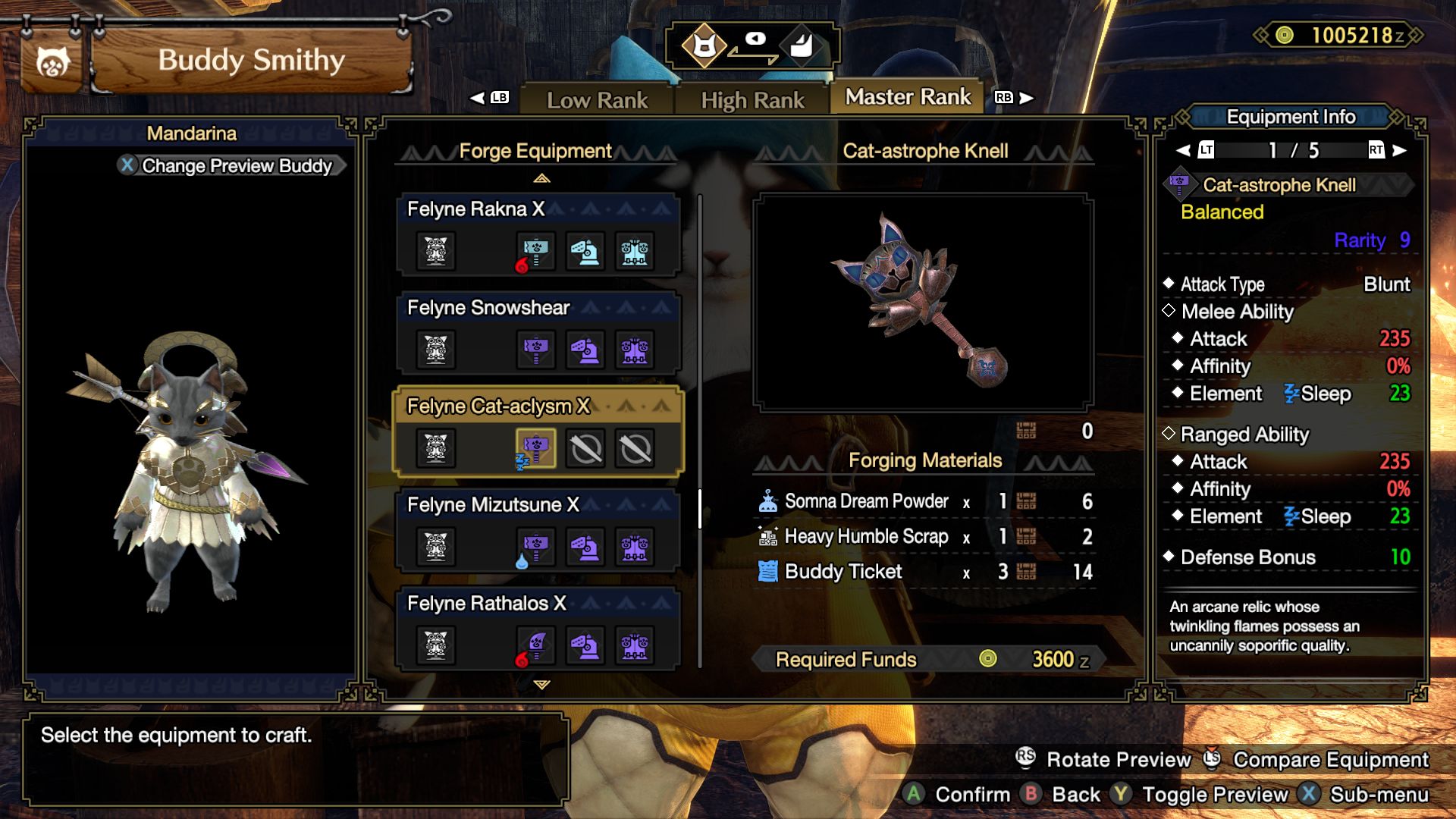 Source: Read Full Article