Magic The Gathering Arena – Every Freebie Code
Quick Links
How To Redeem Your Free MTG Arena Codes
Magic The Gathering Arena is one of the easiest ways to learn and play Magic. With its slick interface, cross-platform play and progression, and even digital-exclusive cards and formats, there's a lot to try out when you're getting started.
Fortunately, there are also a lot of freebies you can redeem to kickstart your collection. No matter if you're a newcomer or someone who just forgot to redeem them, here is every free code currently valid for Magic The Gathering Arena.
How To Redeem Your Free MTG Arena Codes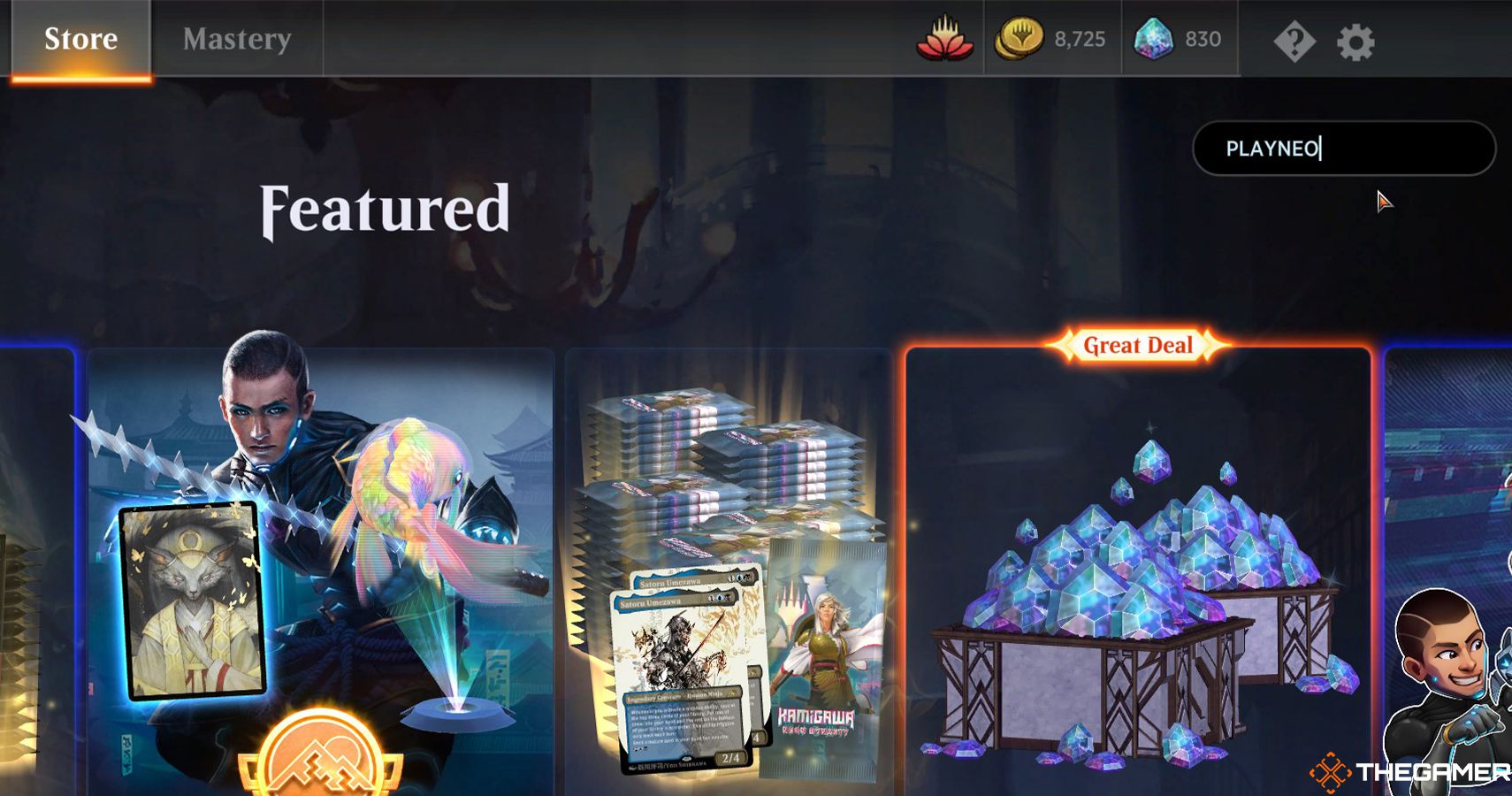 There are two ways to redeem your codes, depending on which platform you play on.
If you're playing on PC or Mac, you can do it straight through the game client. From the main menu, head to the Store tab and in the top right corner you will see a box. Put the code in there, press enter, and the code will be redeemed. You won't be able to redeem codes this way until you've beaten the initial, unskippable tutorial.
If you're playing on mobile devices, you'll need to head to your Wizards Account page (myaccounts.wizards.com). On the main page, there is a box to the far right that says "Redeem Code". Simply put the code in there and you'll find the rewards in your account next time you log on.
Every Code For MTG Arena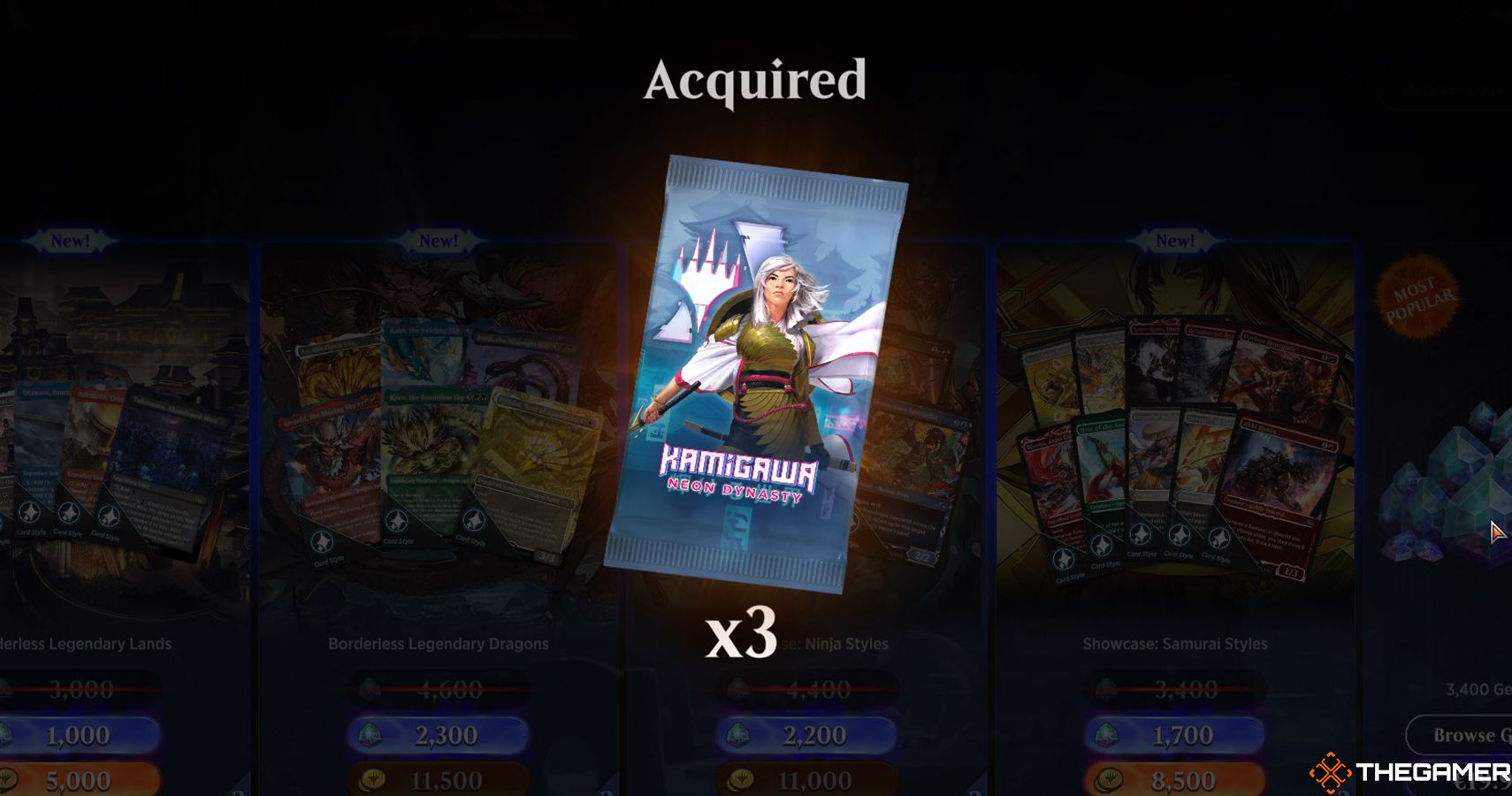 This code is accurate as of February 11, 2022, following the launch of Kamigawa: Neon Dynasty.
Keep in mind that the codes for older sets, like Throne of Eldraine, Theros: Beyond Death, and Ikoria: Lair of Behemoths, will become invalid at some point in the future. It could be months or even years (as was the case with the now-finally-invalid Ravnica Allegiance and War of the Spark codes), though, so you don't need to rush.
Each code is only valid one time per Wizards account, and is case-sensitive.
| Code | Reward |
| --- | --- |
| PlayEldraine | Throne of Eldraine Booster Packs (x3) |
| PlayTheros | Theros: Beyond Death Booster Packs (x3) |
| PlayIkoria | Ikoria: Lair of Behemoths Booster Packs (x3) |
| PLAYM21 | Core Set 2021 Booster Packs (x3) |
| PlayZendikar | Zendikar Rising Booster Packs (x3) |
| PlayKaldheim | Kaldheim Booster Packs (x3) |
| PlayStrixhaven | Strixhaven: School of Mages Booster Packs (x3) |
| PLAYDND | Dungeons & Dragons: Adventures in the Forgotten Realms Booster Packs (x3) |
| PLAYMID | Innistrad: Midnight Hunt Booster Packs (x3) |
| PLAYVOW | Innistrad: Crimson Vow Booster Packs (x3) |
| PLAYNEO | Kamigawa: Neon Dynasty Booster Packs (x3) |
| TRYKALADESH | Kaladesh Remastered Booster Pack (x1) |
| LevelUp | 2000 Mastery XP |
| ENLIGHTENME | Narset, Parter of Veils Card Style |
| WRITTENINSTONE | Nahiri, Storm of Stone Card Style |
| SHIELDSUP | Teyo, The Shieldmage Card Style |
| INNDERDEMON | Ob Nixilis, the Hate-Twisted Card Style |
| OVERTHEMOON | Arlinn, Voice of the Pack Card Style |
| SwampPunks | Witherbloom Sleeve |
| RockJocks | Lorehold Sleeve |
| ArtClub | Prismari Sleeve |
| DebateDuelists | Silverquill Sleeve |
| MathWhizzes | Quandrix Sleeve |
| SparkleDruid | Druid of the Cowl + Card Style |
| SuperScry | Opt + Card Style |
| ParralaxPotion | Revitalize + Card Style |
| ShinyGoblinPirate | Fanatical Firebrand + Card Style |
| FoilFungus | Deathbloom Thallid + Card Style |
Source: Read Full Article