Lucas Kane Returns In Fahrenheit: 15th Anniversary Edition
Video game developer Quantic Dream recently announced the release date for its ground-breaking interactive paranormal action-adventure drama Fahrenheit: 15th Anniversary Edition. Mark your calendars, the game is scheduled to hit the shelves on January 26, 2021, exclusively for the PlayStation 4.
In today's edition of 'another video game re-release that's making us feel like really old gamers again', Fahrenheit is the game you might know better as Indigo Prophecy, released back in 2005, and published by Atari, Inc. Fahrenheit writer-director David Cage initially announced the anniversary edition on November 4, in the year that shall no longer be named, but no release date was given along with that announcement. Now that that important piece of info is known, you can go ahead and clear your schedule for a week or two to (re)play this excellent game.
According to the official announcement, the Fahrenheit: 15th Anniversary Edition "will include a unique case and sleeve, specially created for this edition, a sticker set, a high quality printed artbook and a special letter from the devs written by the team at Quantic Dream." It also states the game is now available to preorder from "specialist gaming stores" for £24.99 / €29.99 (about $33.95), with links to those stores at the bottom of the press release page. Sadly, the game doesn't yet have a listing on the U.S. Playstation store, but you can still get Indigo Prophecy for $14.99 from there. You can also get the Fahrenheit: Indigo Prophecy Remastered edition that was released in 2015; the Steam version is currently available for just $9.99.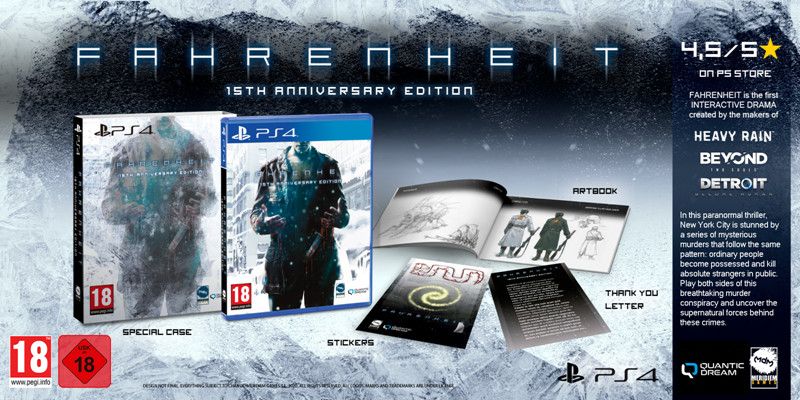 If you're a fan of Quantic Dream games, and enjoyed playing Detroit: Become Human, Beyond: Two Souls, and Heavy Rain, then you owe it to yourself to play Fahrenheit. In what has become a sort of hallmark for Quantic Dream games, you actually play as four different characters in the game: Lucas Kane (the main character), detectives Carla Valenti and Tyler Miles, and Markus, Kane's brother. Your actions and decision with these characters throughout the game will decide which of the three endings you'll get, with each ending leaving the door open just enough to wonder why there isn't a sequel yet.
Click over to the official announcement to read it in full, and check in with the Quantic Dream and Meridiem Games Twitter channels for live updates.
Source: Read Full Article