Like A Dragon: Ishin Preview
When I heard that Sega was debuting the Like a Dragon: Ishin demo for the first time in Europe at MCM London Comic Con, you better believe I immediately booked a train ticket and made sure I was there on day one. I had to play it. My body needed it. Quite frankly, I was having a severe case of FOMO at the prospect of not going.
For those unfamiliar, Ryu Ga Gotoku: Ishin is a spin-off of the main Yakuza series that was originally launched in 2014 in Japan. Set in the Bakumatsu phase of the late Edo period, it follows the story of the historical figure Sakamoto Ryoma as he hunts for his mentor's killer. The notable thing about Ishin, much like the series' other historical setting spin-off Kenzan, is you'll find that most of the characters share the appearance of beloved Yakuza characters. Ryoma has the same physical appearance as Kazuma Kiryu, though with some nice Edo-style threads and an up-do, of course.
Western fans have begged and pleaded for a port of Ishin for years, but Sega decided to do one better — a full remake using Unreal Engine 4 titled Like a Dragon: Ishin. As well as getting a much-needed face-lift, the remake will include new content features, such as changing some of the character appearances to those of characters from Yakuza 6 and Yakuza: Like a Dragon.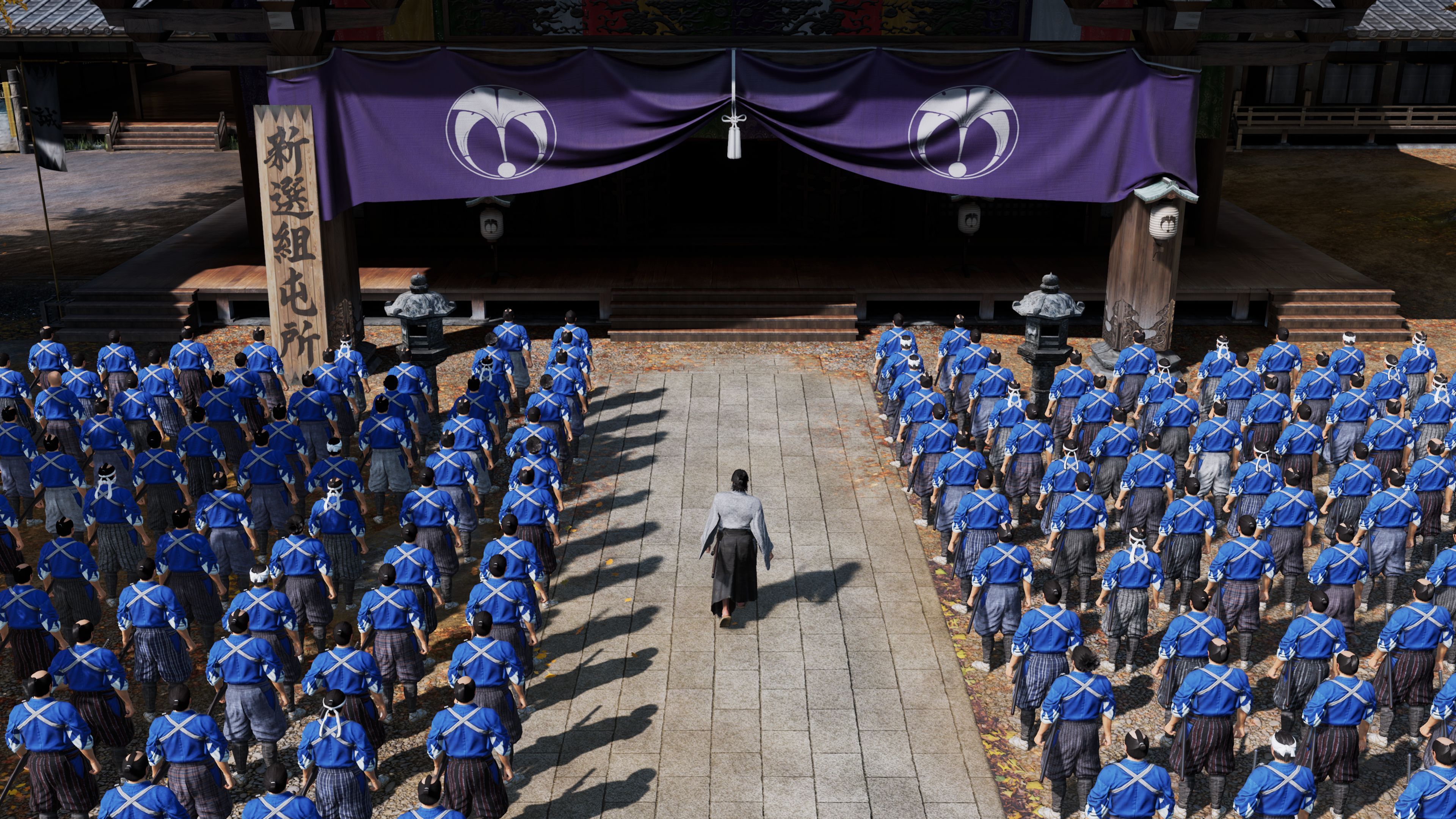 The demo I played today was split into two different sections, the first of which was the Afternoon Mode. It immediately opened with a cutscene of Kiryu, sorry, Ryoma, joining the Shinsengumi as a captain. It took all of my self-control not to squeal when 30 seconds into the cutscene you see Okita (that's my boy, Majima). Naturally, despite taking on a different role, he's still very much him — covered in blood and lounging across Ryoma's cushion. You gotta love the sass.
There were plenty of familiar faces in this scene, including some of the new-look characters, such as Zhao from LaD. After the cutscene, we were given free rein for 20 minutes to free roam around the city. I tried to speak to Okita before leaving, but alas, there was no option, so after one last longing look, I set off to explore Kyo.
Yakuza fans will find themselves in familiar territory when it comes to gameplay. Kyo is another densely populated city with twisting alleys and little stores to venture into. There are some great nods to the main series to enjoy, such as the Don Quijote vendor and series characters such as Bacchus and Miss Tatsu making an appearance, to name just a few You can eat or drink at different stalls, which can prompt a cutscene to show you building a bond with the vendor who served you — a feature that's not unfamiliar to main series Yakuza players. There are substories once again too, where Ryoma finds himself helping out locals with different requests and plot threads, and more importantly — there are minigames again. Though I was disappointed that the karaoke minigame wasn't available in the demo. Sad times.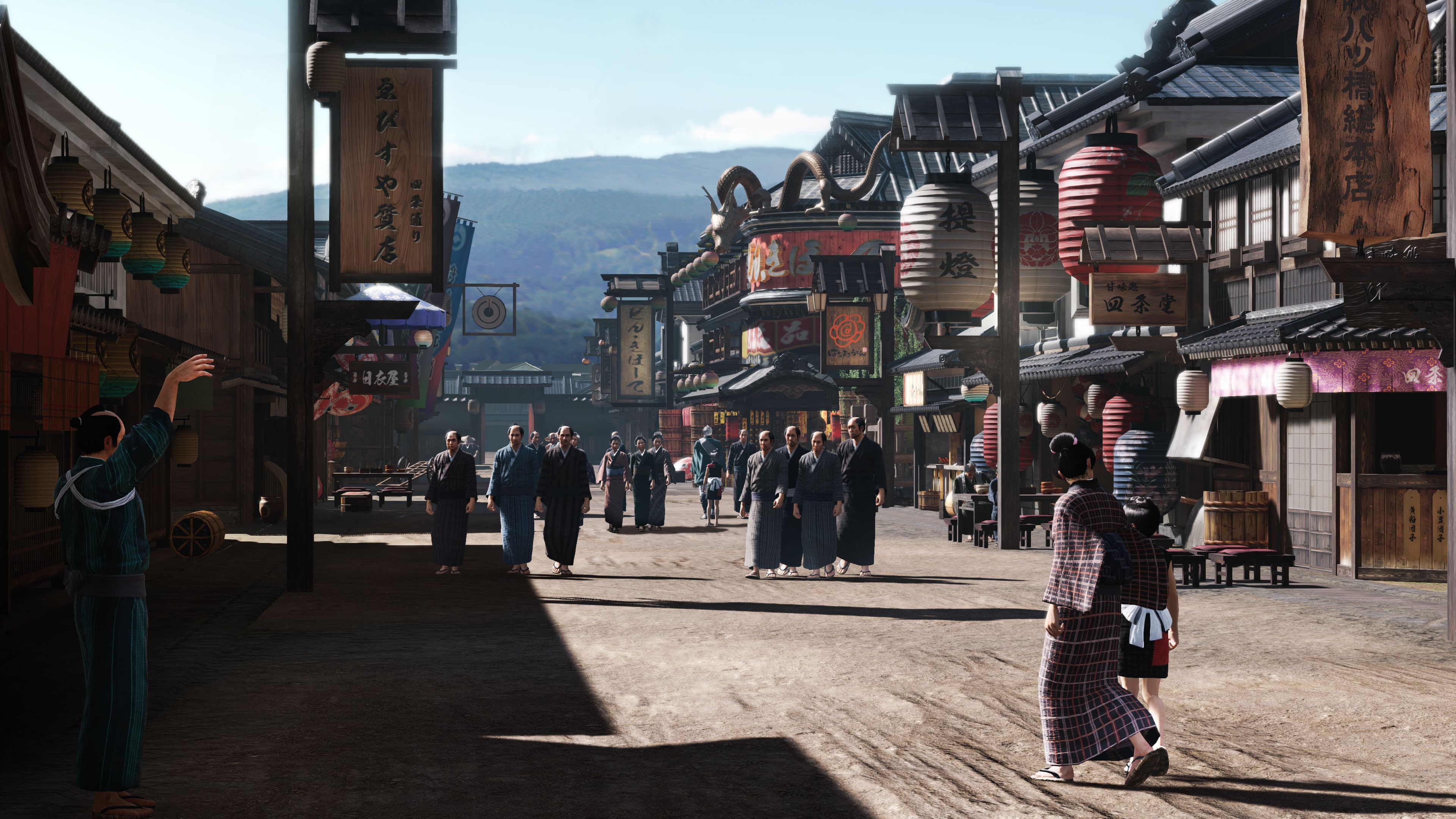 As usual, you can't go more than ten paces without some group of thugs calling out to you and mistakenly thinking you'll be easy prey. I normally don't mind kicking some thug-butt, but in a time-limited demo, I was chomping at the bit to be done with those numskulls so I could get on with exploring the area.
Ishin retains the series' original action combat, rather than the turn-based battle that LaD adopted. You can switch between styles at the press of a button, choosing between Brawler, Gunman, Wild Dancer, and Swordsman Styles. However, there's an added twist — Soldier Cards. While these featured in the original version of Ishin, they were limited to use in dungeons only. In the upcoming remake, they feature in all combat. You have four soldier cards equipped and once they have charged, they'll allow you to unleash an impressive attack or receive some kind of additional benefit, such as slowing time down for your enemy so you can get more attacks in. We're not talking bog-standard samurai moves either, one of them is essentially Ryoma using Kamehameha against his enemies.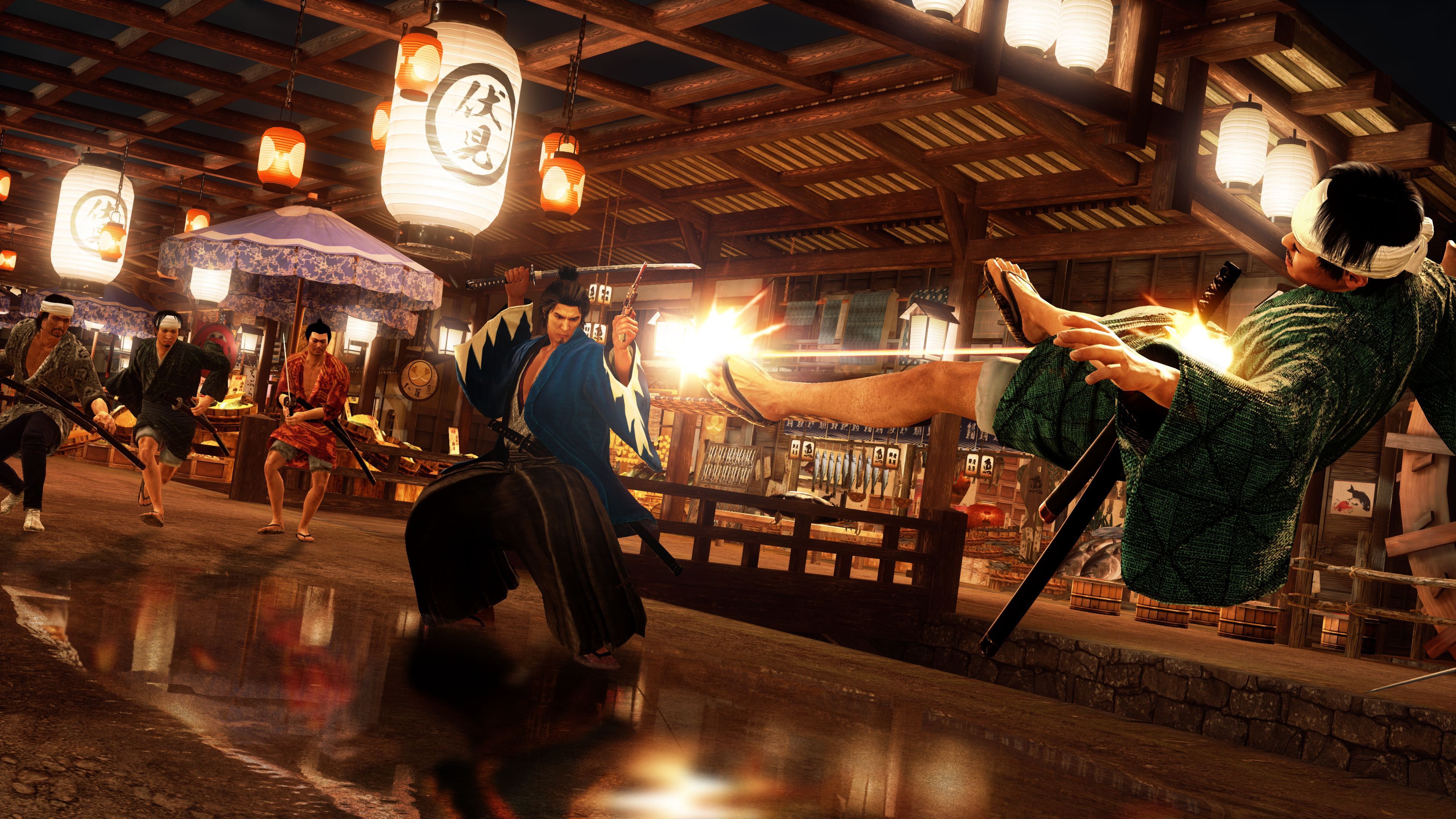 The Night Mode portion of the demo focused on yet another, and far bloodier, cutscene that was followed by a boss battle against Okada Izo — that's Nishiki to Yakuza fans, only now he's this kick-ass swordsman nicknamed 'the Slayer'. Again, it's pretty much what you expect from a Yakuza game boss battle, you need to use your normal array of combat options to whittle down your opponent's HP, then you'll have to hit the correct button for the quick time event to ensure you don't get your ass handed to you. Noticeably, during this battle, one of the Soldier Cards I could use was Ichiban Kasuga from LaD, so I'm keen to see which other characters we'll see cameo in this way.
It was really enjoyable getting to grips with Ishin properly. I own the Japanese version, but could never truly appreciate it as I don't understand Japanese. Ishin looks gorgeous, and, as much as I loved LaD, I'm looking forward to going back to the action combat, and even more so because I'm super interested in this new card flair. I just know I am going to get carried away with collecting and leveling up Soldier Cards of all my favourite characters at launch. I was already hyped for the launch of Like a Dragon: Ishin, but after getting to see my best boys in action, February just can't come soon enough.
Like a Dragon: Ishin will be launching for PlayStation 4, PlayStation 5, Xbox One, Xbox Series X|S, and PC in February 2023.
Source: Read Full Article