It's Weird That Isaac Doesn't Say A Word In The Dead Space Launch Trailer
Isaac Clarke has a voice in the upcoming Dead Space remake, but you wouldn't know that from watching the launch trailer. Gunner Wright returns to the role after playing the character in the two sequels and hopes to offer a softer, more anxious performance as he goes through hell fighting necromorphs and discovers the dark truth behind unitology. While I initially had reservations, redefining the original narrative with a spoken protagonist presents a lot of interesting opportunities, even more so in a game that promises to expand on what came before. But for some reason, EA and Motive have opted for silence.
When it launched way back in 2008, Dead Space felt like a step forward for survival horror. It built on the success of Resident Evil 4 and Gears of War with strategic gunplay, explosive set-pieces, and a sense of claustrophobia aboard the USG Ishimura that soon became iconic. Even today it holds up, but throughout the entire journey Isaac Clarke is a silent spectre. He has motivations – primarily to search for his definitely not dead girlfriend – but aside from the grunts and screams that come from being torn to pieces or stomping on aliens, he doesn't say a word. Instead, our protagonist obediently follows every order he's given and receives context from other characters and audio logs.
By all accounts, we are Isaac Clarke, his silence designed to make us feel alone aboard a space station where the very few living humans are torn apart as we've no choice but to leave them behind. My first playthrough in 2008 had me shouting at the television as friends betrayed me or Isaac was forced to put himself through yet another ordeal to keep everyone alive. It's ludicrously gamified, but the inclusion of silence was far more effective than not. The last thing I want is a dude mumbling incoherently to himself like Deacon St. John as I turn into yet another dark corridor hoping my face doesn't get chewed to pieces.
Now, Isaac will presumably respond to orders or protest potential advancements in the narrative that might put him in danger or hurt those he cares about. It's the human thing to do, and I'm curious to see if this will change the pacing or design of certain objectives, so they feel a smidge more realistic. Isaac is a good-hearted person and will want to do what's right, so there's a chance this will take over the laughable obedience that once defined him.
A voice driving the character we control doesn't make survival horror less effective – classics in the genre have proven that much – but an uneven performance or poor implementation can make the fear less impactful. For Dead Space, I'm willing to accept that gamble.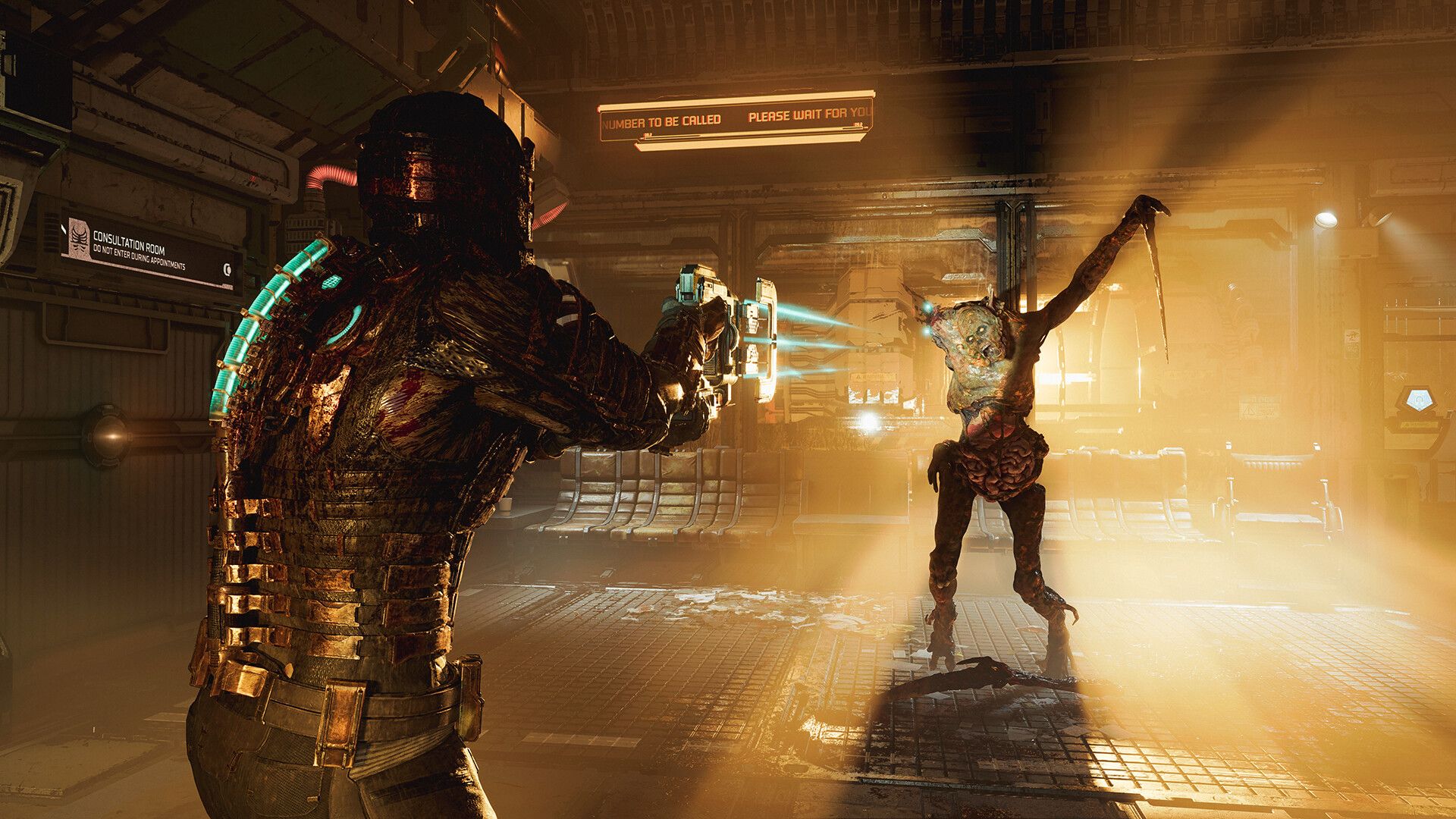 Gunner Wright has been playing Isaac for decades, although the sequels paint him as almost an entirely different character. His voice and the tone of delivery turned him into a driven and paranoid everyman who was less a casual engineer and more an unstoppable space marine who could survive the most ridiculous of circumstances. There was no time for levity as sequels upped the action and downplayed the scares, meaning Gunner had to match the tone Irrational was aiming for. Over time he was seen as a clichéd example of boring white protags who could have been far better, and I hope the remake avoids making the same mistakes. Even more so if additional revivals are on the way after this.
We're going back to the beginning, a time when Dead Space wasn't intended to be the beginning of an ill-fated mega franchise, just a spooky adventure inspired by Event Horizon that wanted to terrify us in all manner of ways. Giving Isaac Clarke a voice knowing all that context comes with a lot of weight, and I'd much rather EA and Motive showed us their hand instead of shying away in fear of backlash.
Source: Read Full Article