Interview: How Dead By Daylight Is Breaking Its Own Rules With The Resident Evil Chapter
In the grand scope of its life, I'm a Dead by Daylight newbie. The game is now celebrating its five-year anniversary, but like many of its fans, I was pulled in by one of its partnerships. On the eve of the Silent Hill chapter last year, I downloaded Dead by Daylight and jumped into my first asymmetric horror experience. What I thought would be something I pick up and forget after a few nights as Pyramid Head soon became a daily ritual – pun intended – for myself and my friends.
Plenty of people have been asking for its upcoming Resident Evil chapter for far longer than I have, but I certainly joined the chorus of voices hoping for this shortly after Silent Hill's launch. It's seemingly the perfect marriage of franchises, and as we prepare to officially face off against Nemesis tomorrow, I had the opportunity to send a few questions over to some of the team at Behaviour Interactive, including Dead by Daylight creative director David Richard and game director Mathieu Côté.
I'm in awe of Behaviour's ability to completely turn some of the game's mechanics upside down with each new crossover. For example, Behaviour introduced The Twins recently, establishing the first killer duo in the game and allowing you to swap between two different characters. I often wonder how the Dead by Daylight team doesn't just constantly break their game – but it somehow always works. In the Resident Evil chapter, Behaviour has added a new AI zombie mechanic. It's the first AI-controlled set of allies that a Killer will have at their disposal. That's right, in Dead by Daylight's newest chapter, you won't just run from Nemesis – you have to dodge past his zombie buddies, too.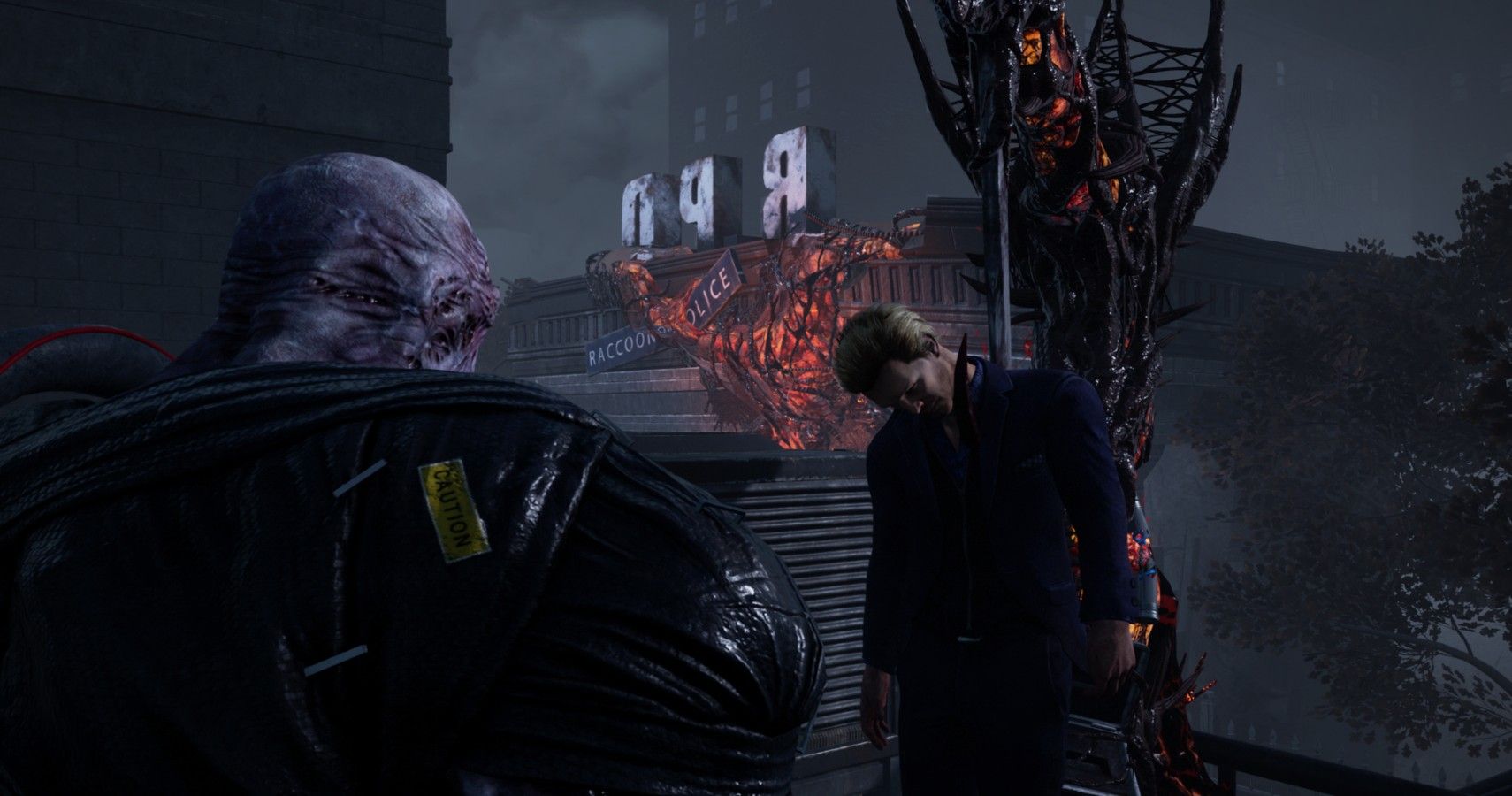 "The mechanic of using AI in-game is something we've wanted to do for a very long time," Richard begins. "We had mentioned many times in the past that we wouldn't integrate a zombie Killer, but the Resident Evil Chapter was so conducive to introducing zombies in the game because they are so important to the franchise and we wanted to stay as close to it as possible – this was really the turning point that encouraged us to go there and invest in this feature."
This Resident Evil chapter has also laid the groundwork for upcoming Dead by Daylight updates, since the work is done, opening up a range of possibilities for more AI enemies, which will "really come in handy" as the team works on future Killers.
So, we've got zombies, we've got Nemmy, but what else could Behaviour pull out of Capcom's monster closet? With the internet still losing its collective minds over Lady Dimitrescu, it made me wonder if there were plans to bring more iconic Resident Evil villains across.
"As a huge Resident Evil fan, I would have liked to add them all to the game," Richard laughs. "Although there are so many characters to choose from, for me, the classic of all classics is Nemesis – he's the one who left me with the strongest impression when I first played the game and so for me, he's just the ultimate. Our game is a love letter to classic horror icons and aims to continue their legacy – so for us, Nemesis was a natural fit."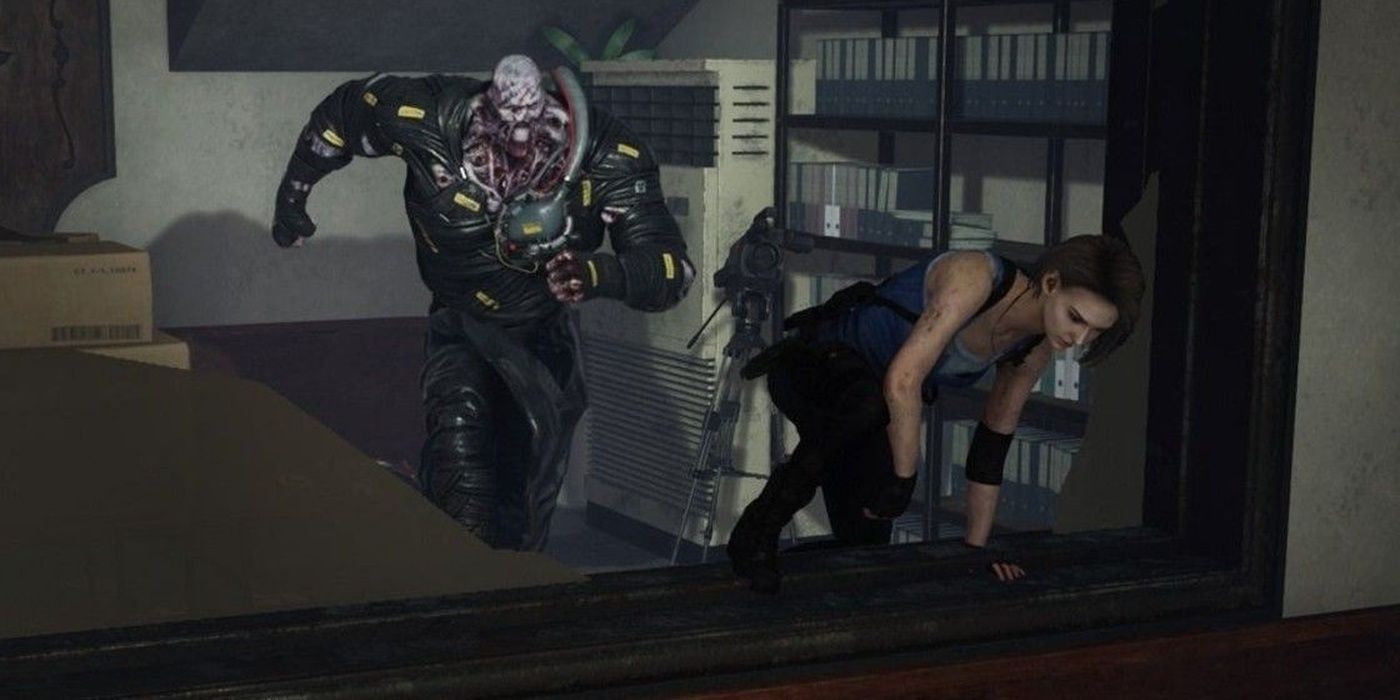 Both Richard and Côté seem to be looking for something striking, something iconic, something that really represents the franchise. And while I adore Lady D myself, she's only a very small, very recent part of Resident Evil's history. While Nemesis isn't in every game, he has had years in the spotlight, and we all instantly recognize him. Côté's answer reflects that: "For Dead by Daylight, our way of being the Horror Hall of Fame is always by going back to the source, to these legendary characters. So for us, it was fitting to go back to the first Resident Evil games and source our material from there."
With the participation of Côté, who is head of partnerships as well as the game director, I have to pry a little more – I'm always curious about how some of these collaborations come to life. According to Côté, it was an"immense honor" to work directly with Masachika Kawata – the producer of all Resident Evil content for the past twenty years, including the films. Côté says Kawata is an encyclopedia, and that the team feels confident that they were as truthful as they could be to Resident Evil thanks to his involvement. And if you look at Kawata's resume, you realize he's right – the producer has had a hand in Resident Evil's biggest launches, including everything involving Nemesis.
While the team won't be drawn on an answer when it comes to Survivor costumes, I'm personally holding out for Ada Wong, and I hope Capcom will stick around and deliver at least a few more goodies for us Survivor mains. But on a more hopeful note, as I question them on changes from the PBT to the live version, Richard notes that it's still a bit early to reveal all of the balance changes in the works for Nemesis, Leon, and Jill, but he adds that "this is the most positive PTB" they've ever had.
Obviously, they won't reveal their next big project just yet, but I do want to know what the team wants to see, even just as horror fans. Côté explains their rise to becoming the Horror Hall of Fame as they add Silent Hill and Resident Evil, and that "there are only a few names on the list" for Dead by Daylight's pantheon, all of which "have a standing invitation." And that's enough for me – there are invitations out there for other familiar spooky faces, and I'm waiting to see who answers the call of The Fog next.
Source: Read Full Article