How To Win The Stardew Valley Fair Grange Display Contest
The Stardew Valley Fair is a wondrous event that takes place on the 16th of Fall every year in Pelican Town. It's a time for the townspeople to come together for fun events and for local craftspeople and shopkeepers to display their excellent craftsmanship. Of most interest to players is that farmers can show off the very best of their annual harvest.
Players can compete in the Grange Display contest against Marnie, Willy, and Pierre to prove that their farm produces the absolute best goods in Stardew Valley. The one to beat is Pierre, who famously wins the competition every year. This guide will give you all the info you need to put him in his place, year after year.
How Many Points Do You Need?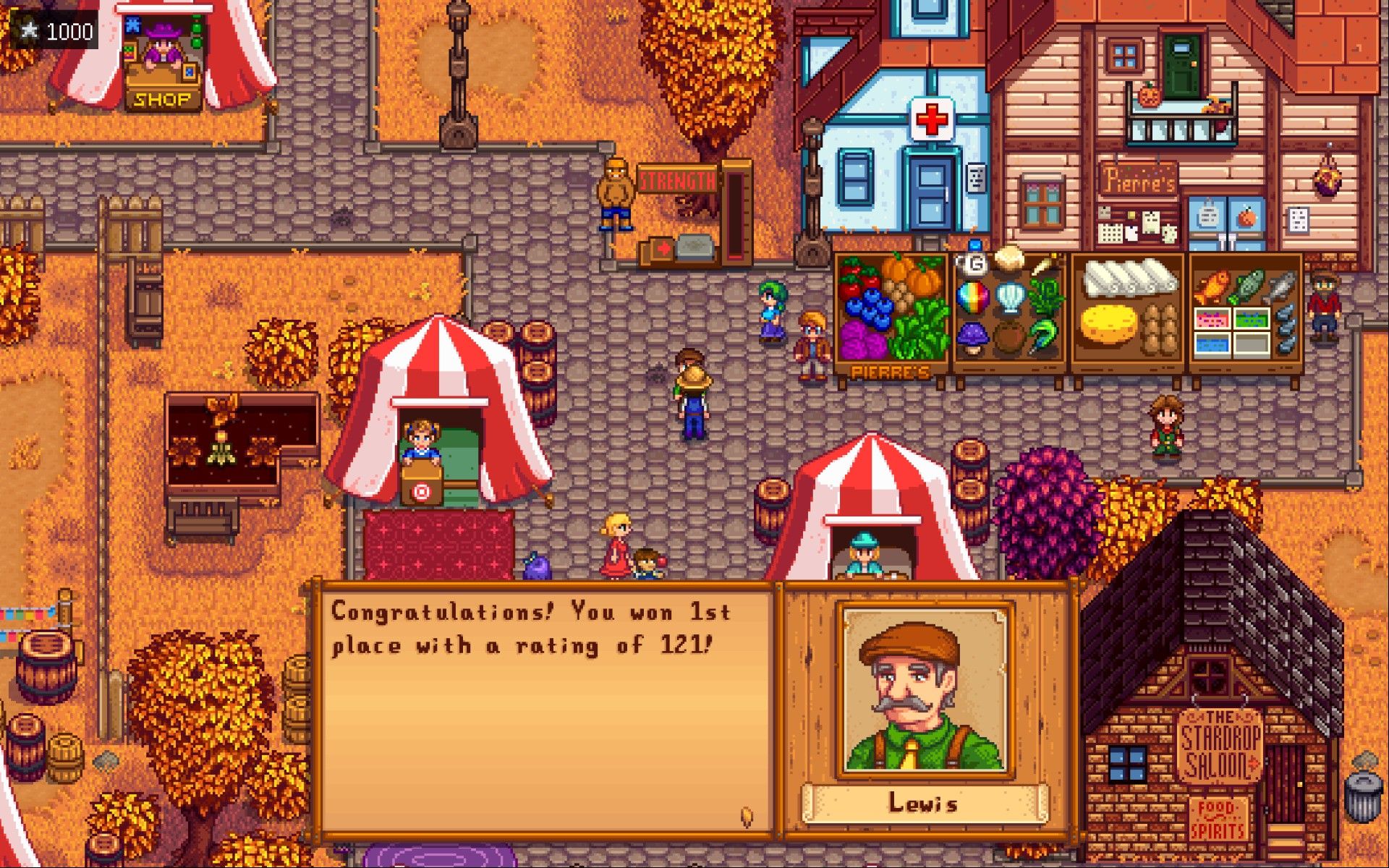 There are five different rankings you can achieve in the Grange Display contest:
First Place: 90 or more points
Second Place: 75 points
Third Place: 60 points
Fourth Place: less than 60 points
Disqualified: include Mayor Lewis' shorts
If you're interested in grabbing some items from the Star Token shop, including one of the only Stardrops in the entire game, you'll want to earn as many Tokens as possible. Here's how many points you'll get for each placement:
First Place: 1,000 Star Tokens
Second Place: 500 Star Tokens
Third Place: 200 Star Tokens
Fourth Place: 50 Star Tokens
Disqualified: 750 Star Tokens (as a bribe)
Scoring Points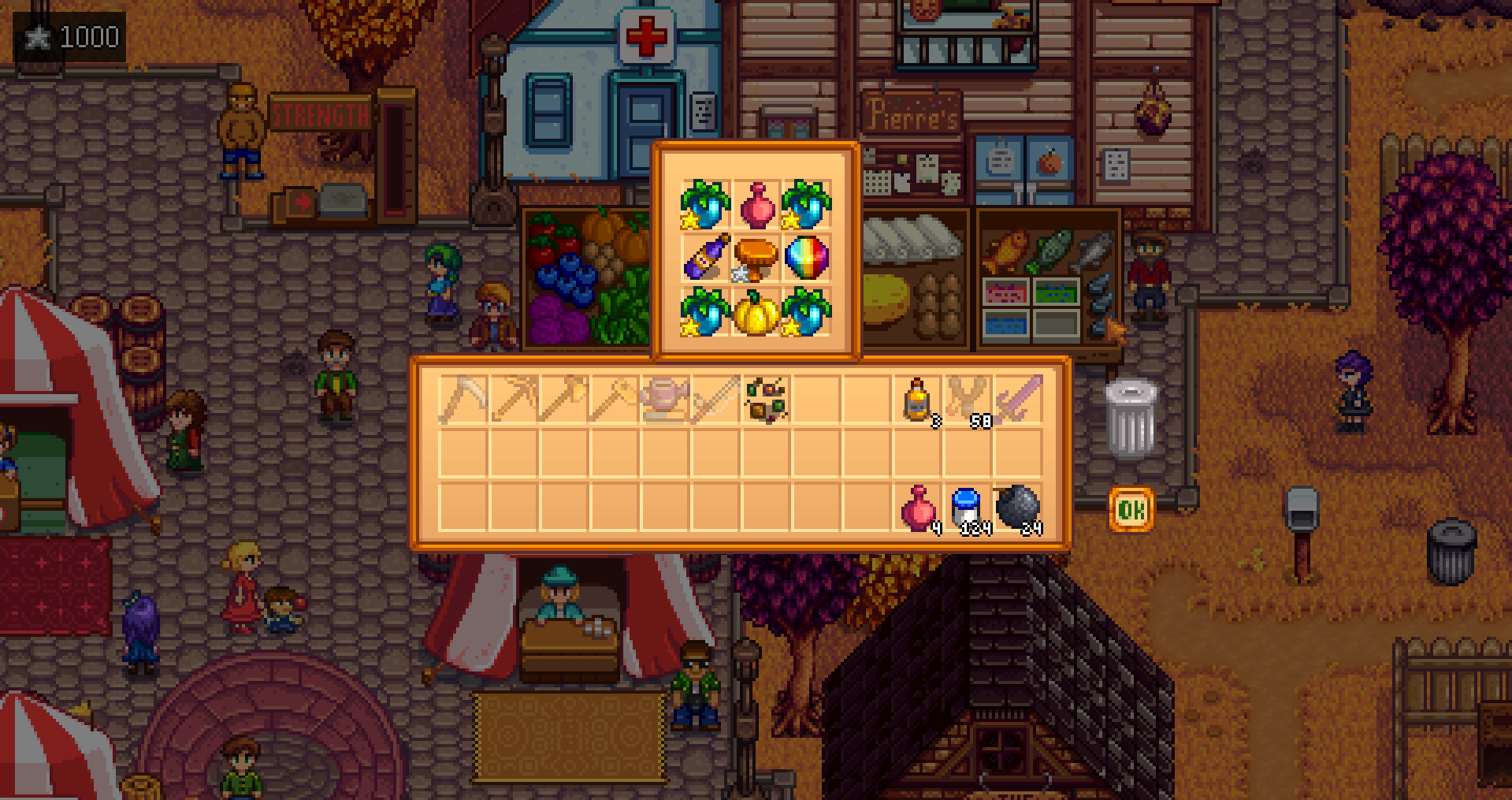 You'll earn points four different ways once you've entered the competition.
Base
Just by entering the competition, you've earned 14 points.
Number Of Items Entered
Your display will earn points just for being full, too! Always include nine items, even if some of the items are no good or even trash, because it'll increase your point total and ensure you don't lose any points.
9 Items Entered: 9 points
8 Items Entered: 7 points
7 Items Entered: 5 points
6 Items Entered: 3 points
5 Items Entered: 1 point
4 Items Entered: -1 point
3 Items Entered: -3 points
2 Items Entered: -5 points
1 Item Entered: -7 points
0 Items Entered: -9 points
Categories
The fair recognizes eight item categories for the display. Including an item from each category will earn your display 5 extra points. However, this will only work a maximum of six times, so you only need items in six of the categories, not all eight. Your last three items can be repeats, if you so choose!
The item categories are…
Animal Products (anything gathered from your animals, such as eggs, milk, or wool)
Artisan Goods (anything created using a keg, preserves jar, oil maker, etc., such as pickles, jellies, honey, wine, or mayonnaise
Cooking (any food item, often made in a kitchen, such as maki rolls, ginger ale, pancakes, spicy eel, or survival burger)
Fish (anything caught with a rod or in a crab pot, such as sea cucumbers, snails, stingrays, pike, lobster, halibut, or lingcods)
Foraging, Flowers, and Tree Saps (items found in the wild or flowers grown on the farm, such as holly, mushrooms, poppies, winter roots, or cave carrots)
Fruits (any fruit grown on a tree or in the ground on the farm, such as melon, starfruit, strawberries, cactus fruit, apples, blackberries, or coconuts)
Minerals (any special gem or stone found while mining rocks, including amethyst, aquamarine, obsidian, jade, star shards, or thunder eggs)
Vegetables (any vegetable you can grow on the farm, such as beets, amaranth, pumpkins, taro roots, tea leaves, garlic, corn, or hops)
Sell Price and Quality Of Items Entered
The final way players earn points is based on the sell value and quality level of their items. Ideally, you want to place iridium quality items that would sell for 200g or more, because that'll earn 8 points (the maximum for one item).
If the item's sell price is between 0g and 19g…
Normal Quality: 1 point
Silver Quality: 2 points
Gold Quality: 3 points
Iridium Quality: 5 points
If the item's sell price is between 20g and 89g…
Normal Quality: 2 points
Silver Quality: 3 points
Gold Quality: 4 points
Iridium Quality: 6 points
If the item's sell price is between 90g and 199g…
Normal Quality: 3 points
Silver Quality: 4 points
Gold Quality: 5 points
Iridium Quality: 7 points
If the item's sell price is between 200g and 299g…
Normal Quality: 4 points
Silver Quality: 5 points
Gold Quality: 6 points
Iridium Quality: 8 points
If the item's sell price is between 300g and 399g…
Normal Quality: 5 points
Silver Quality: 6 points
Gold Quality: 6 points
Iridium Quality: 8 points
If the item's sell price is 400g or more…
Normal Quality: 6 points
Silver Quality: 6 points
Gold Quality: 6 points
Iridium Quality: 8 points
The Grange Display considers the actual sell price of an item, not its base sell price. For example, an albacore is worth 75g at normal quality and 112g at gold quality. You should consider a gold albacore to be at the 90g-199g level, and then also add the bonus for gold star quality. So, a gold albacore would be worth 5 points.
Some Winning Display Combinations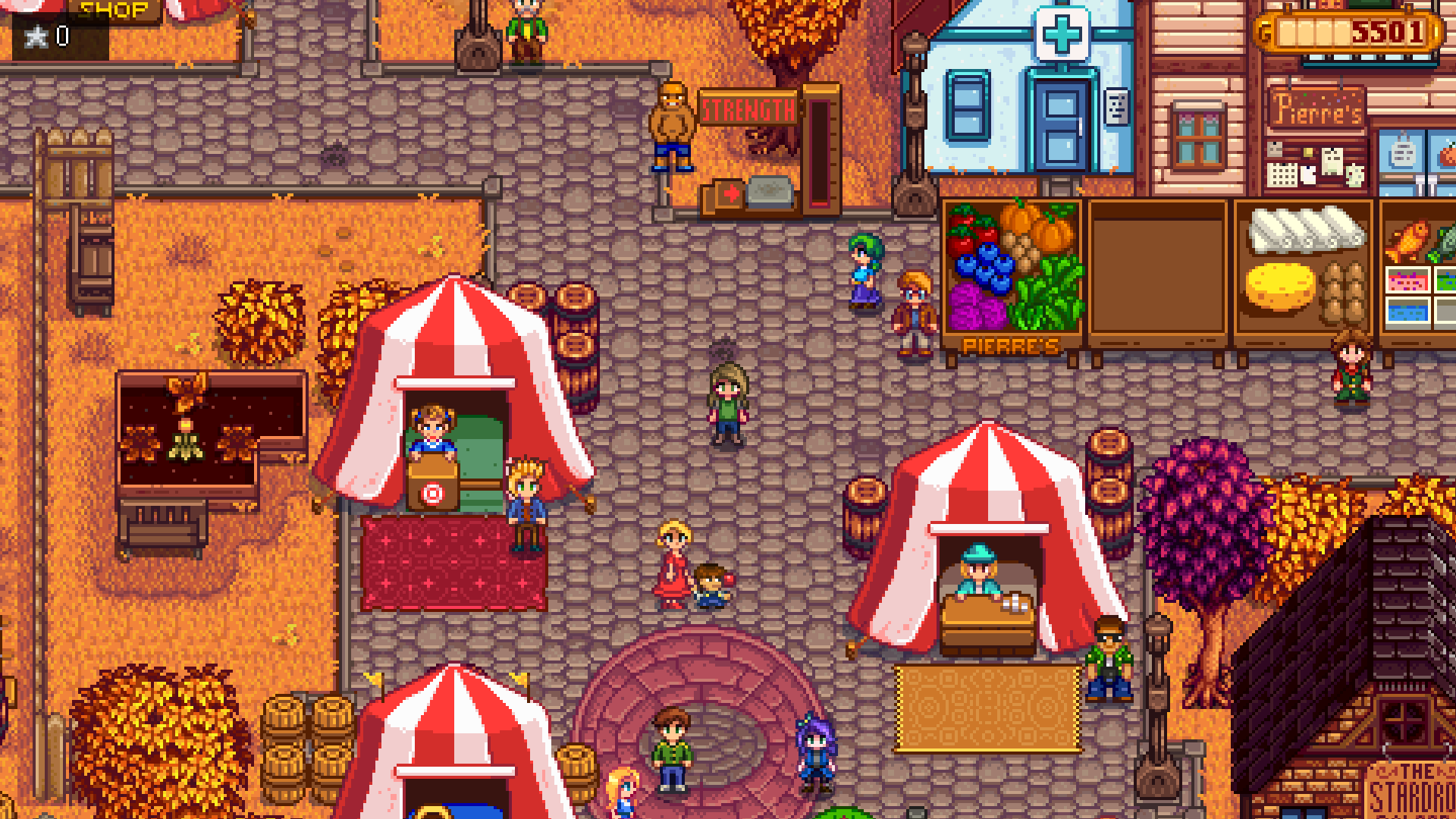 124 points:
4 Iridium Quality Goat's Cheese
1 Iridium Quality Fiddlehead Fern
1 Iridium Quality Coconut
1 Iridium Quality Duck Feather
1 Iridium Quality Purple Mushroom
1 Iridium Quality Pike
118 points: 
1 Iridium Quality Large Milk
1 Iridium Quality Woodskip
1 Iridium Quality Sashimi
1 Normal Quality Diamond
1 Normal Quality Starfruit
1 Normal Quality Goat Cheese
1 Iridium Quality Super Cucumber
1 Iridium Quality Sturgeon
1 Iridium Quality Tiger Trout
96 points:
1 Gold Quality Mayonnaise
1 Gold Quality Purple Mushroom
1 Gold Quality Midnight Carp
1 Gold Quality Strawberry
1 Gold Quality Pumpkin
1 Gold Quality Artichoke
1 Gold Quality Sardine
1 Gold Quality Crystal Fruit
1 Gold Quality Coral
Can You Win In Your First Year?
While tough, it's absolutely possible to win the contest during your first year in Stardew Valley. Prioritize variety and getting at least six of the applicable categories and then high quality silver or gold items, in that order (don't sacrifice having all six categories just for a slightly higher quality item).
Some items that earn great points and you can include in the first year are:
Gold cheese is absolutely obtainable in your first year so long as you've been giving your cows the love and attention they need. They're part of the "Artisan Goods" category, and at the gold level are worth 6 points.
The recipe for Cheese Cauliflower is easy to obtain; Pam will mail it to you once you've achieved three hearts of friendship with her. Not only that, but it's ingredients aren't unreasonable either — cauliflower, which you can grow in spring, and regular ol' cheese. This dish — which counts as part of the "Cooking" category — is worth 5 points even at its normal quality.
If you have managed to invest in goats already, goat cheese of normal quality is worth 6 points. It only goes up to 8 points if it's Iridium, so you don't need to worry about having to invest in a relationship with your goats to score high here. Like regular cheese, goat cheese is an "Artisan Good."
Melons, which you can grow in the summer, fall into the "Fruits" category. They are worth four points at their normal quality. However, bumping the melon up to silver (which can be reliably done with a little fertilizer) means it's worth 6 points! Just be careful to plant them the very first day of summer, because they'll take 12 days to grow.
It's tempting to experiment with the things you find while foraging, but if you come across a purple mushroom, put it away for your grange display! It counts as part of the "Foraging, Flowers, and Tree Saps" category, and is worth 4 points at normal quality. If you're lucky enough in your first year to stumble upon a silver or gold quality purple mushroom, it'll be worth 6 points.
Grow some cauliflower in your first spring and save at least one — once preserved, they become pickles. Pickled cauliflower is worth 6 points, at normal quality! It also counts as an "Artisan Good."
Source: Read Full Article