Heroes Of The Cypher System Kickstarter Heroically Funds In An Hour
When Monte Cook Games initiates a Kickstarter, it's become standard operating procedure for it to get unerringly funded, and quickly. That's the case in point for the famed tabletop roleplaying game creator's newest Kickstarter for Heroes of the Cypher System. The pledge goal is for $40,000, and the Cypher Legion of fans super-punched that out in just about an hour. As of this writing, it's funded at almost $64,000, from almost 600 backers, and there's still 31 days remaining.
The Heroes of the Cypher System Kickstarter has funded the creation of two new sourcebooks for the excellent Cypher System tabletop RPG titled Claim the Sky and First Responders. Stretch goals include two more sourcebooks – The Origin (at $100k), and the Cypher System Bestiary (at $250k) – along with increasing the content for First Responders. Additionally, every backer here will receive "a copy of the complete Cypher System Rulebook in PDF," in case you don't yet have it, or you're brand new to the Cypher System.
According to the Kickstarter notes, Claim the Sky "is a 224-page hardcover that delves deeply into all aspects of the superhero genre." This new sourcebook is the latest in "the series of genre-focused books that includes The Stars Are Fire (science-fiction), Stay Alive! (horror), We Are All Mad Here (fairy tales), and Godforsaken (fantasy)." Within the bounds of the Boundless adventure setting, Claim the Sky will feature deep dives into all aspects of being a super-hero. It'll come complete with details covering "the many facets and subgenres of superhero comics, movies, and fiction, with rules and options for all of them" and will also contain info on numerous new artifacts, creatures, and, of course, new cyphers.
First Responders "is a 128-page hardcover that presents rules, options, gear, and more for heroes inspired by the real world to take on massive challenges and dangers." In an obvious nod to our real-world first responders who are indeed heroes, this sourcebook will feature guidelines for roleplaying as heroes who have zero supernatural powers. This sourcebook will provide guidance for running and playing natural disaster scenarios, as well as "war zones and industrial disasters, plane crashes and pandemics."
Ten support tiers are available to choose from, ranging from $10 up to $500, and each tier is built to cater to specific player groups. For example, real-life first responders may be most interested in the Real-World Heroes ($10 or more) tier, as it "gives you First Responders and the Cypher System Rulebook at a deep discount just for you." The Brand New Hero tier will net you "every title funded by this campaign, plus the CSR in print (a $70 value)", and the Any Character, Any Campaign tier includes the four previously released genre books (The Stars Are Fire, Stay Alive!, We Are All Mad Here, and Godforsaken). Both these tiers are built for new Cypher System players, and for players who don't yet have all the sourcebooks.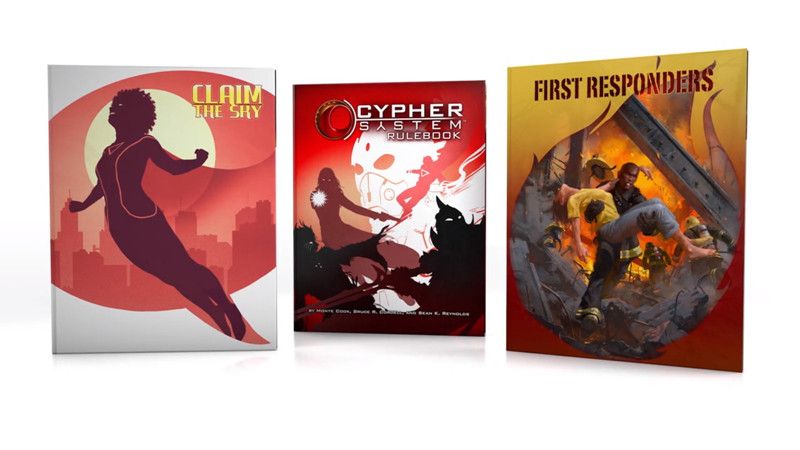 It doesn't seem as if any of the tiers have backer limits, but check out the Heroes of the Cypher System ASAP if you'd like to help make these sure-to-be outstanding products a reality.
Source: Read Full Article