Guardian Games Returns To Destiny 2 With A Few Changes Next Week
It's time once again for Guardians to face off against one another in a friendly competition that will almost certainly become unfriendly by the time closing ceremonies arrives on May 11. The Guardian Games are set to make its triumphant return to Destiny 2 next week with some big changes in store that aspiring competitors should really know about.
Starting with the way scoring will work. Last year, Bungie tried to balance the Guardian Games medal standings by accounting for the fact there are WAY more Hunters than there are Warlocks and Titans. However, they failed to account for the fact that Hunters are like cats–they lose interest in something very quickly. This resulted in a blowout win for Titans with Hunters coming dead last.
Bungie won't be applying an early weighting advantage for other classes, but will instead provide the third-place Class a 10% bonus to their scores at the end of each day. This will likely result in Hunters gaining the early lead, but internal testing using last year's data showed that we should wind up with a fairly close race by the end of the Games.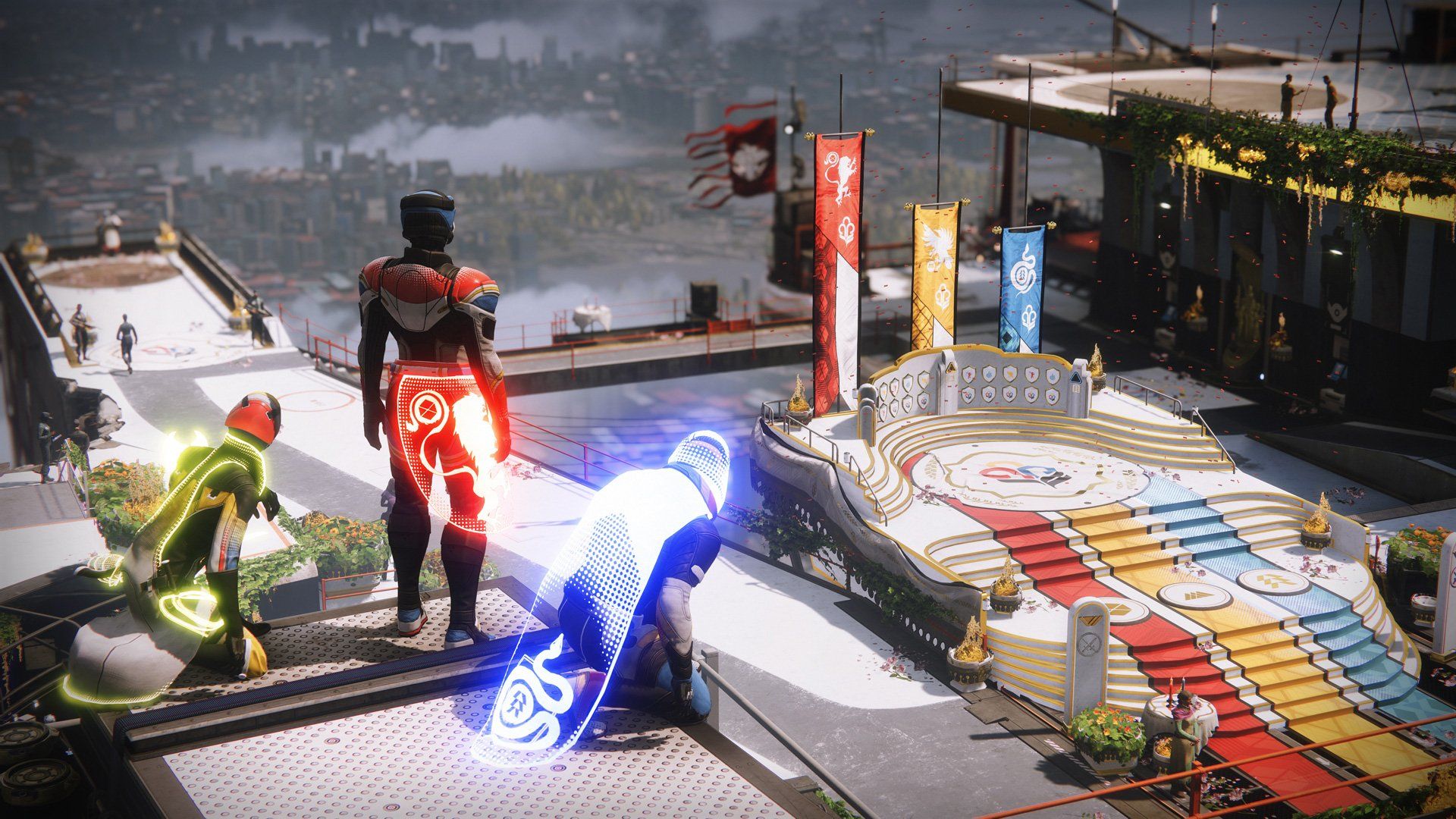 The Guardian Games also brings a new event-specific Strike Playlist that will group everyone together by class. This will ensure Guardians get the maximum benefit from Laurels generated by teammates of the same class.
Additionally, these Strikes will have a set of modifiers that are dependent on where a Guardian's class is ranked. Gold-ranked classes will get additional health, shields, and recovery, with extra damage from kinetic weapons. Silver-ranked classes will have faster melee recharge and do more elemental damage. Bronze gets a MUCH faster grenade recharge and deals increased elemental damage from all sources.
However, the Gold and Silver-ranked classes will also be struck by negative modifiers to give a boost to the bottom-ranked class. Gold gets two negative modifiers while Silver gets one. The negative modifier depends on who is currently in Bronze–for example, if Titans are in last place, then Silver-ranked classes receive more melee damage from enemies, while Gold-ranked classes receive "significantly more damage" from enemy melee attacks.
Finally, and perhaps most importantly, there's a new way to earn medals for your team than just endlessly grinding out Bounties. Eva will now provide Contender Cards that will require players to complete objectives in Strikes, Crucible, or Gambit for Gold medals. She'll also provide a Platinum Contender Card that has objectives for the most difficult activities in Destiny 2, including Nightfalls, Survival Crucible matches, and Trials of Osiris.
Completing the Platinum Contender card will award players with a glowing class item when it comes time for the weekly Podium Ceremony, which happens every weekend until May 11.
Check out our previous coverage on the Guardian Games to see what rewards are up for grabs. The Guardian Games run from April 20 to May 11.
Source: Read Full Article