Get Crack'd And Crook'd With The Call Of Cthulhu Mystery Program Nov 13-14
In what could easily be called a match made in Arkham, tabletop roleplaying game creators Chaosium and the Call of Cthulhu Mystery Program have teamed up to host two nights of improvised cinematic storytelling. The Crack'd and Crook'd Manse roleplaying event is set for this November (Friday) 13 and (Saturday) 14, at 7 p.m. Eastern, and will be streamed live at CthulhuMystery.com/LIVE.
The Crack'd and Crook'd Manse live roleplay event will be done in true Call of Cthulhu Mystery Program fashion, "with cinematic music and sound effects, surreal old-timey radio adverts, and laugh out loud mayhem," according to the announcement. Up until now, the Mystery Program has been solely an audio presentation in the same design as the old radio programs from the 1930s and 1940s. This event will mark the program's first foray into the video realm, but you can expect to hear (and this time, see) the same great quality content you may already be familiar with.
More importantly, the liveplay game will also be a charity fundraiser supporting the Transgender Law Center, "the largest national trans-led organization advocating self-determination for all people." During the game, your donations can affect the players' actions and results, such as boosting a character's valuable Sanity stat. You'll also have a chance to win digital and physical copies of Chaosium's recently remastered Call of Cthulhu adventure Mansions of Madness: Vol 1 – Behind Closed Doors. The group of Investigators for this event will be playing through one of the Mansion of Madness' five scenarios, The Crack'd and Crook'd Manse.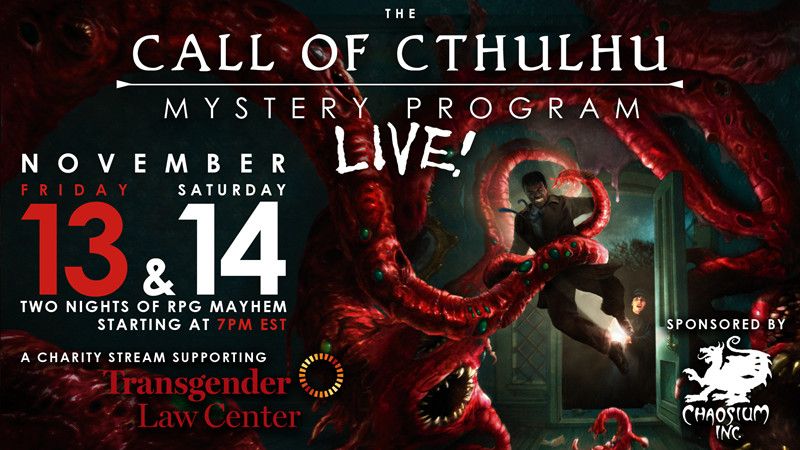 In case you're just now being introduced to The Call of Cthulhu Mystery Program, it is a Call of Cthulhu radio play that combines audio drama and live tabletop roleplaying, creating "a standalone tale, boldly exploring Lovecraftian lore in new and uncanny ways." The Mystery Program cast of players for this event include:
Caleb Del Rio of Valence and Inn Between
Dottie Vox of Dungeons & Doritos
Joshua La Forge also of Ghostbusters: Resurrection and RPG From Scratch
Sawyer Greene of This Planet Needs a Name
Mystery Program series showrunner Cat Blackard
and Keeper of Arcane Lore Luke Stram
More info can be found on the Chaosium and Call of Cthulhu Mystery Program websites.
Source: Read Full Article