Genshin Impact: How To Get Diluc And Fischl's Outfits
Quick Links
How To Get Diluc's Outfit – Read Dead Of Night
How To Get Fischl's Outfit – Ein Immernachtstraum
Will There Be More Character Outfits In Genshin Impact?
Hoyoverse has released yet another set of outfits in Genshin Impact and this time, Diluc and Fischl have been selected to get their own outfits with a fantastic design. These were released alongside the Summer Event, which also saw the return of the Golden Apple Archipelago.
DIluc's outfit, Red Dead of Night, and Fischl's outfit, Ein Immernachtstraum, can be acquired through different means in the game, and they're essentially available in it forever. The outfits were released alongside a brand-new character in Version 2.8, the last update before the fourth region and the beginning of the 3.0 series.
How To Get Diluc's Outfit – Read Dead Of Night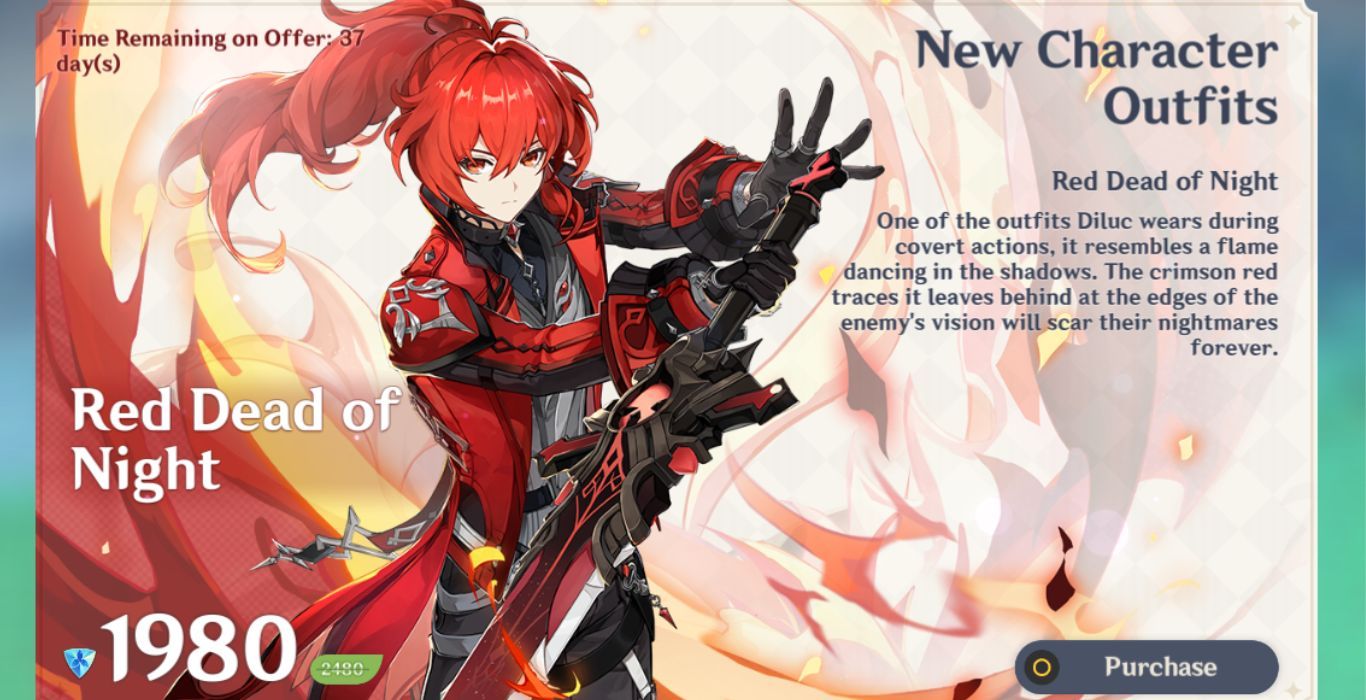 Unlocking Diluc's outfit is pretty simple, but it also comes at a cost, literally. The only way to get this outfit is by purchasing it with Genesis Crystals, which is a currency that can only be acquired after spending real-life money in the game.
Red Dead of Night is also the first five-star outfit in Genshin Impact. This means that the outfit has its own special effects for abilities, voice lines, and many other cool things that aren't present in the four-star outfits! Unfortunately, this also means that this outfit costs more than the others.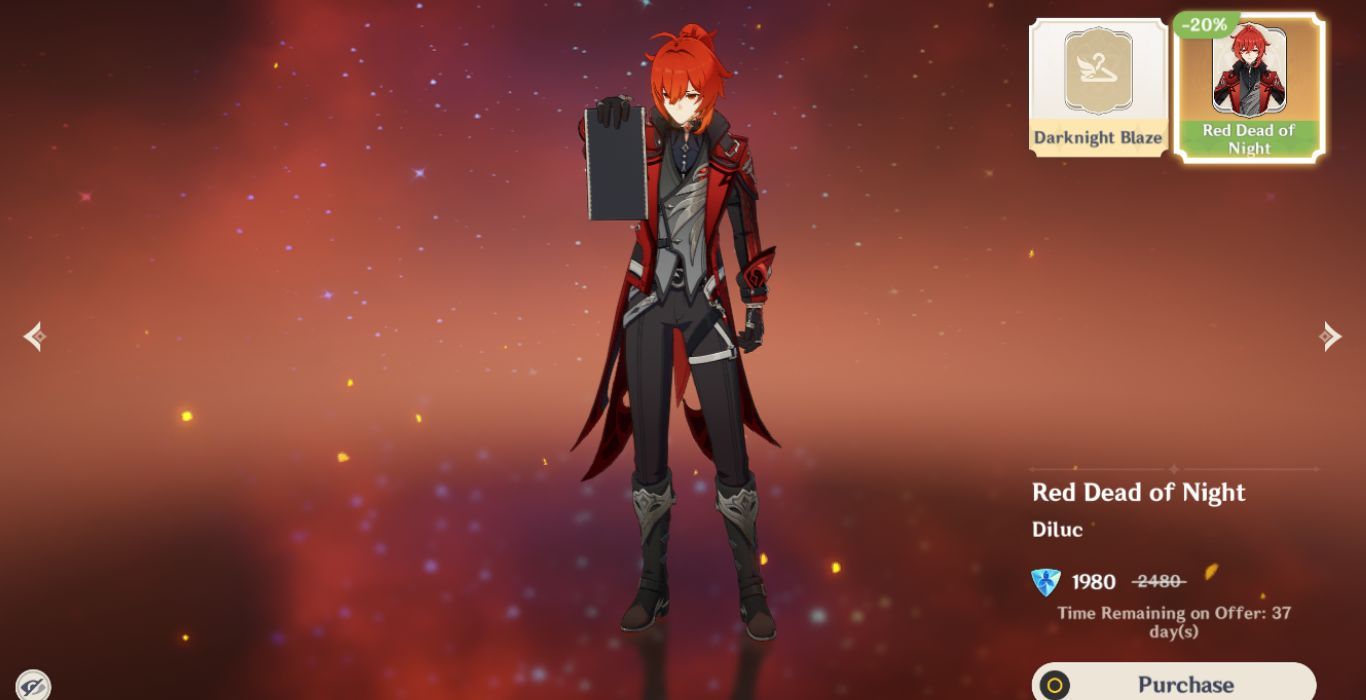 To purchase this outfit, head over to the Main Menu by pressing the Paimon icon on the top right corner of your screen. Here, click on Shop and head over to Character Outfits screen. Next, click on Diluc's five-star skin, and you'll be able to preview how the skin looks and purchase it from this screen.
It costs you 1,980 Genesis Crystals if you purchase it during the summer event discount. Otherwise, the outfit costs 2,480 Crystals.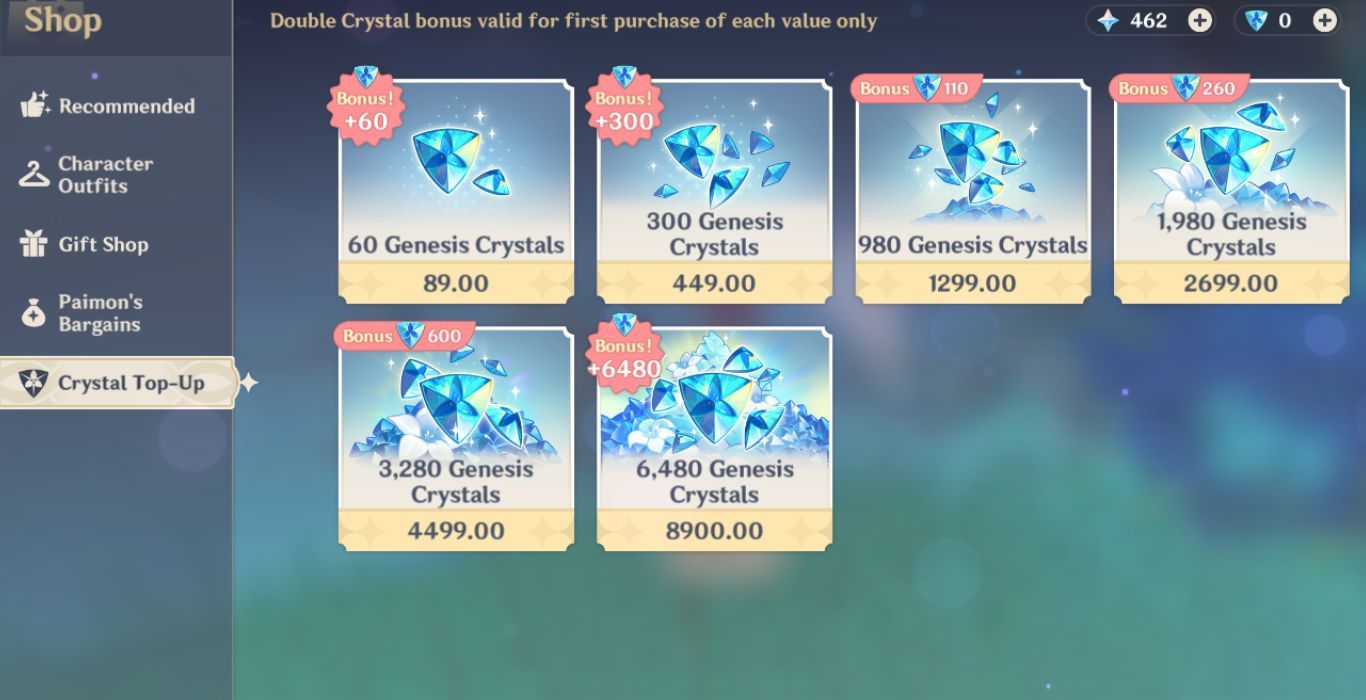 If you're low on Genesis Crystals, you can simply purchase them from the Crystal Top-up section within the Shop. If you're purchasing any of these packs for the first time, you will get a two times bonus. You only get this for one time, unless miHoYo decides to reset the bonuses.
If you're not a massive spender, the cheapest packs to easily get this skin is to buy a pack of 980 Crystals and then a pack of 60 Crystals. This way, you will have just a little over the required amount. This is, assuming that you have the double bonus intact. If you're purchasing it when there's no discount then you'll have to go for a 300 Crystals pack instead of 60.
Although, the best way to acquire this skin and make the most out of it is through Blessings. You can purchase up to six months of blessings where you'll get 300 Crystals for each purchase and 90 Primogems every day for six months. You can just buy the rest of the Crystals through Shop.
How To Get Fischl's Outfit – Ein Immernachtstraum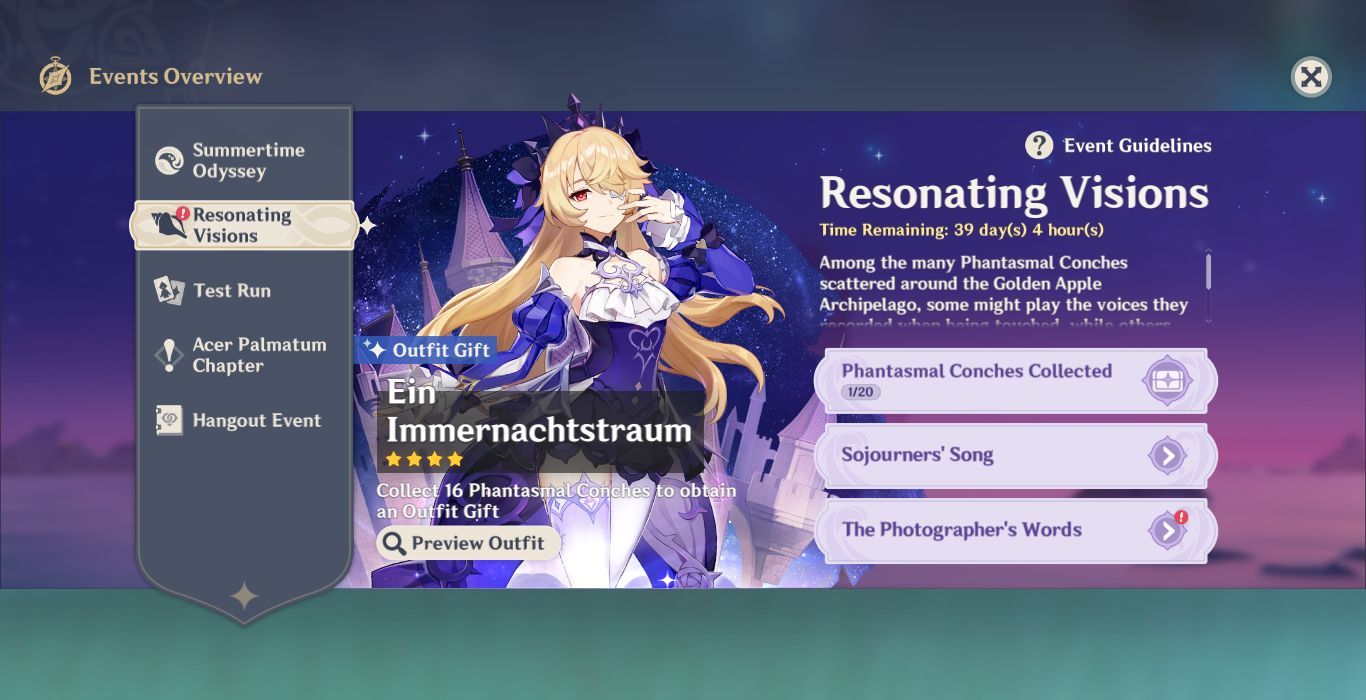 Genshin Impact is known for giving players a chance to acquire every outfit for a four-star character for free. However, this can only be done during their specific events, which is the Summer Event 2022 for Fischl's Ein Immernachtstraum.
To acquire the skin during this event, you have to take part in the Summertime Odyssey event that takes you to the Golden Apple Archipelago. This is a group of time-limited islands that only appears during summer events, and they can be explored during this time.
During your exploration, you will come across an item called Imaging Conch. These contain memories of the past and act similarly to Oculis in any of the main regions. There are a total of 20 conches scattered throughout the islands, and you have to find 16 of them to acquire Fischl's outfit.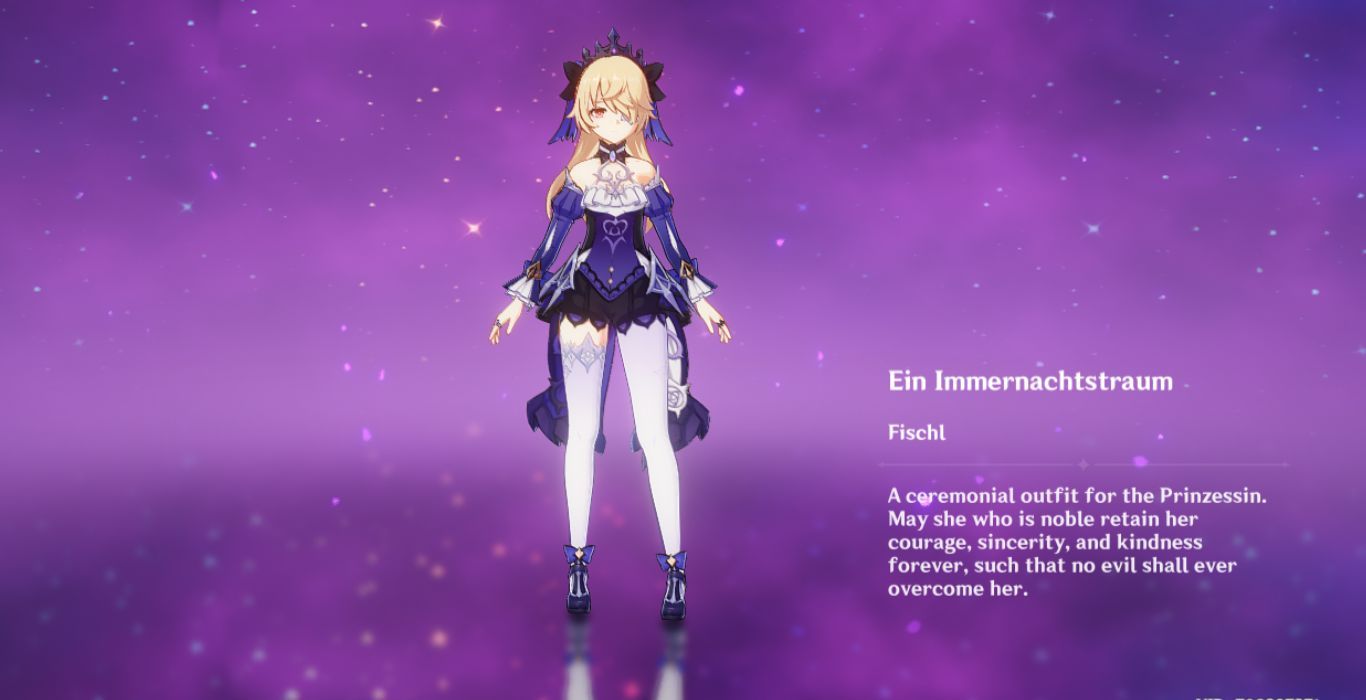 If you have missed the summer event but still want to acquire this beautiful outfit for our beloved Prinzessin der Verurteilung, don't worry, you still can! Unfortunately, you will have to spend a bit of real money to get your hands on it.
Once the event that features this outfit ends, it will be available for purchase through Genesis Crystals in the same Character Outfits shop for 1,680 Genesis Crystals. To get this, all you have to do is buy the pack with 980 Crystals if you still have the double bonus intact. If not, you might have to spend more.
Will There Be More Character Outfits In Genshin Impact?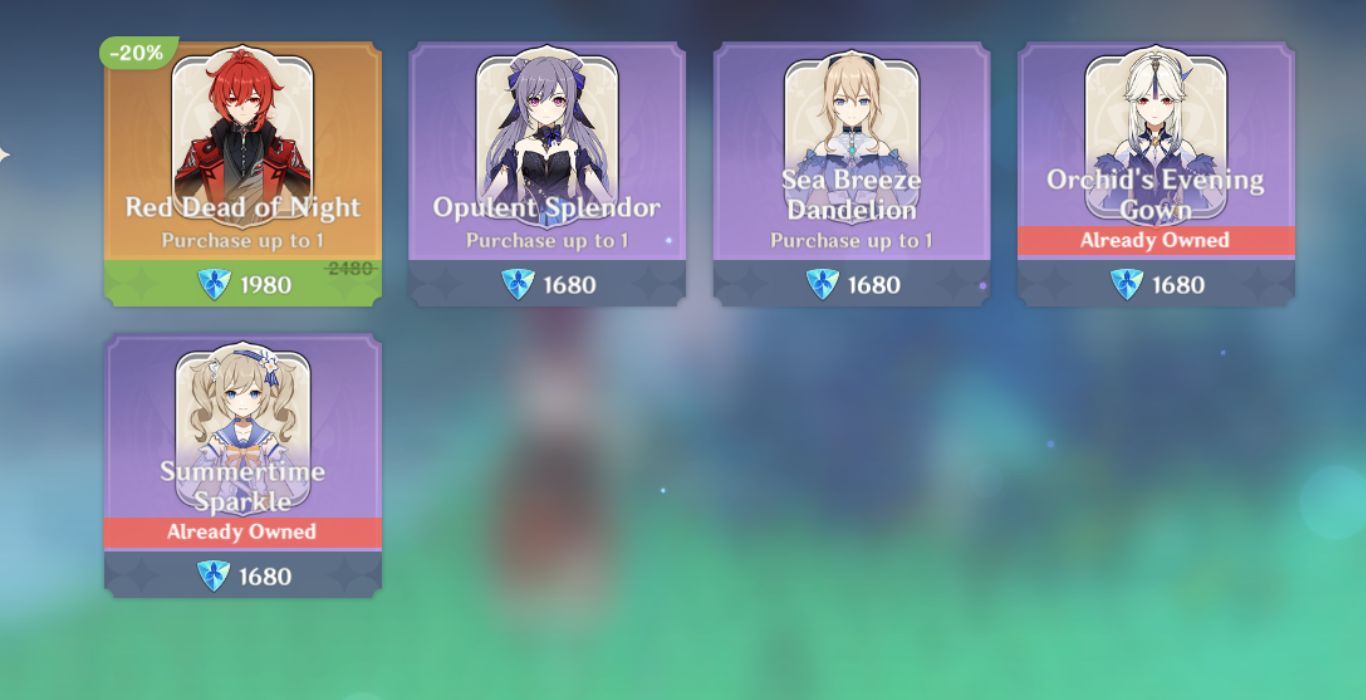 While there is no information on future outfits in the game, there are most likely going to be more. Hoyoverse has been releasing new outfits for characters in a certain region along with the main event for that region. For example, Jean and Barbara's outfit was released during another Summer Festival in Mondstadt, while Keqing and Ningguang's was released during Lantern Rite festival in Liyue.
If this trend keeps up, we can definitely expect more outfits in similar events. Further, it seems like the developers are giving outfits to the characters in the Standard Banner first. So, we can expect outfits for Qiqi and Mona coming soon as well.
Hopefully, the outfits are expanded to the time-limited characters as well, and we can soon have some for characters from Inazuma, Sumeru, and further regions as well.
Source: Read Full Article