Fortnite's Meow Skulls Is Giving Off Some Serious Transgender Energy
When it comes to Fortnite skins, I always go for the fabulous ones. The gay looks that represent my personality, or give me something to simp for and aspire to. Or John Cena. I suppose the Doctor of Thuganomics was a rare exception to my usual habits, but he's enough of a dreamboat to justify his presence in the Epic Games metaverse.
Despite all the licensed skins and crossovers that call Fortnite home, it's the original characters who always stand out the most to me. It is here where the studio has the largest amount of creative freedom to try new things and push the boat out when it comes to their increasingly convoluted storyline. Anything goes, whether it be sentient beings made up of gumballs or bears inside bears, nothing is off the table so long as the characters themselves are fun, creative, and provide enough charm for us to dig deep into each new battle pass.
Meow Skulls is the next in this long line of fantastic skins, and I am absolutely here for this transgender feline and his unmistakable vibes. He's about to put on My Chemical Romance and make out with me underneath the football field bleachers after school, and then we'll light up a blunt and watch some anime back at his place. I love him, and more than a few friends have already messaged me asking about his obvious queer vibes. Something not straight is afoot, and it's dripping from his torn jeans, long-sleeved shirt, and goofy facial expression. This kitty cat has just had his top surgery and is super proud of himself.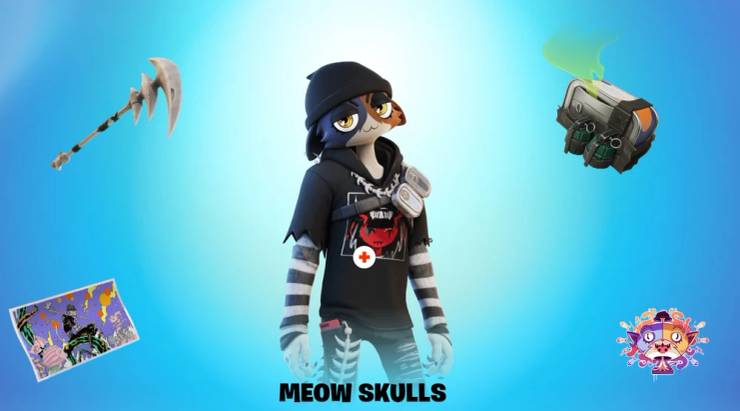 Unlocked in the middle of this season's pass, we sadly have to work to unlock the trans catboy, but those hours are worth it. I'm not even sure he'd be capable of killing his enemies on the battlefield, much preferring to offer them advice or hand over a really cool novel he's reading that happens to feature a bunch of necromancer lesbians. He doesn't discriminate, he's a froot loop hanging out with all his fellow LGBTQ+ gamers.
Like most of Fortnite's original characters, there are so many little details to this skin worth celebrating. The fish bone dangling from his pocket is a fun parody of the excessive wallet chains we'd see only the most prestigious of goths carry, while his back bling features not only grenades, but pungent stink lines that suggest our boy is carrying around some killer kush. Or some catnip, I'm not sure if humanoid cats are still into that kind of stuff.
His colour variant – known as Cloud Nine – turns him from post-hardcore to pop punk with a much brighter mixture of clothing. Meow Skulls has said goodbye to MCR and thrown on some You Me At Six, embracing sappy romance and overbearing rainbows instead of a black hole of emotional despondency. His necklace is made up of sardine cans and his hands have claws!
He reminds me of Breaking Bad's Jesse Pinkman, who has the most accurate dress sense of a non-binary trans masc person I've ever seen. Ripped jeans, baggy hoodies, and a chill vibe I can absolutely fuck with. Meow Skulls is simply having a good time, and I'm absolutely here for it. Now I just need to work on unlocking him. Epic please send me some V-Bucks.
Source: Read Full Article