Fortnite: Omega Knight Pack Challenge Guide
Quick Links
A new pack is here and along with it there are new challenges that you can complete to get new cosmetics and even more Battle Pass levels. It's the second time that Fortnite has done a Level Up Pack and it was a success last time with the release of the Monarch Level Up Pack. For the price of a Rare rarity skin (1,200 V-Bucks) you get not only the outfit, but a pickaxe, a back bling, extra styles, and up to 28 levels.
In this article, we'll go over everything you need to know about the Omega Knight's Level Up Quest Pack as well as how you can complete these quests weekly. Keep reading to learn more.
How It Works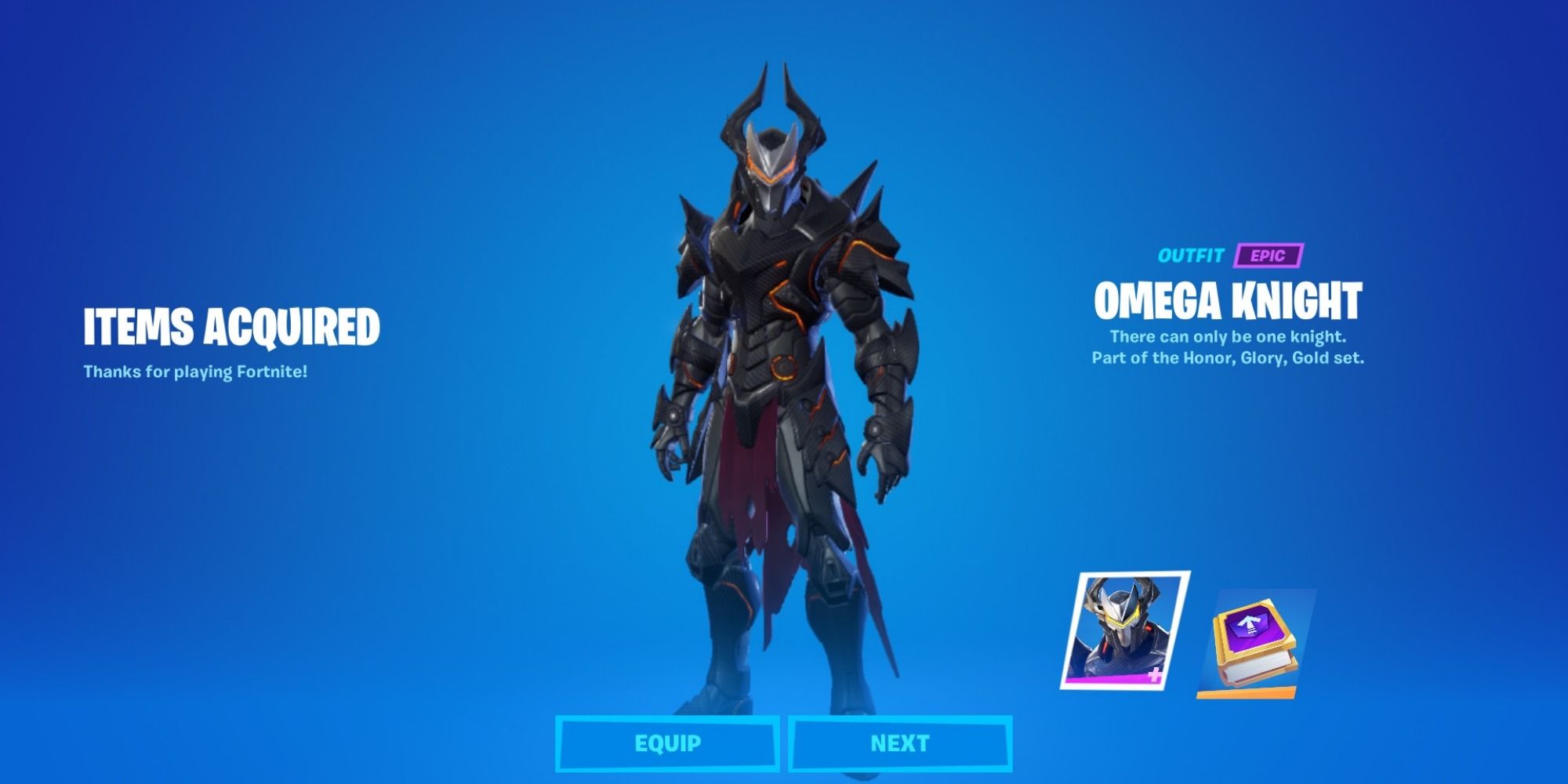 The Omega Knight's Level Up Quest Pack was released May 4, 2022 and will be available until June 3. Although it has great cosmetic items that you can get if you complete all its challenges in time, it's particularly awesome for players that need just a few extra levels to complete the Battle Pass (level 100) or the bonus rewards page (level 200).
Each week seven quests will be added to the pack, allowing players to unlock a new cosmetic item as well as more levels. There will be new quests for a total of four weeks, adding up to a total of 28. Don't worry if you didn't get the chance to complete all seven challenges throughout the first three weeks, they won't disappear once a new week starts so they will all be available until June 3.
How To Get The Skin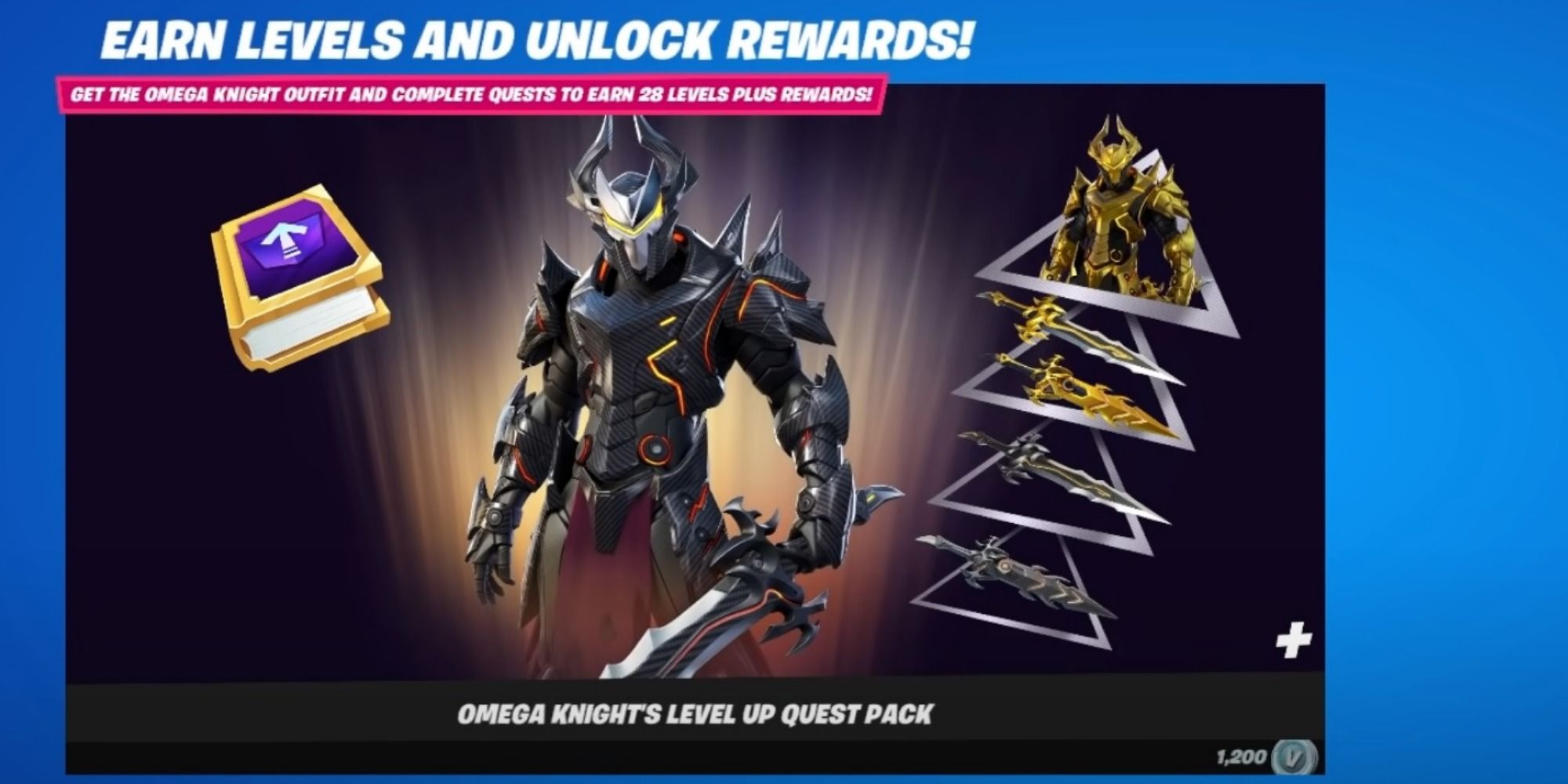 The skin can be purchased in the Item Shop tab for 1,200 V-Bucks. It'll remain in the Item Shop until the end of the Season. Afterward, it will most likely not return — a new Level Up Pack skin will be released next Season replacing this one. At the time of its release these skins tend to be in the upper area of the Shop so they can stick out a bit more, but as time goes by it'll be moved down to the Special Offers & Bundles area of the Shop.
You can get it just like any other skin, you click on it and then select 'Purchase.' You can gift this bundle to your friends as well and they'll receive the skin as well as its challenges pack. If you have extra V-Bucks lying around, it's a good idea since you'll have someone to collect Tokens with you. You can also inspect the items before you purchase them and take a look at everything you will receive if you finish all quests in time.
This skin is not eligible for a refund, so don't purchase it to collect Level Up Tokens and then try to return it because you will not be able to.
Once you've bought it, the skin will appear in your Locker tab and you will see the Omega Knight Pack section in your Quests tab as well.
Rewards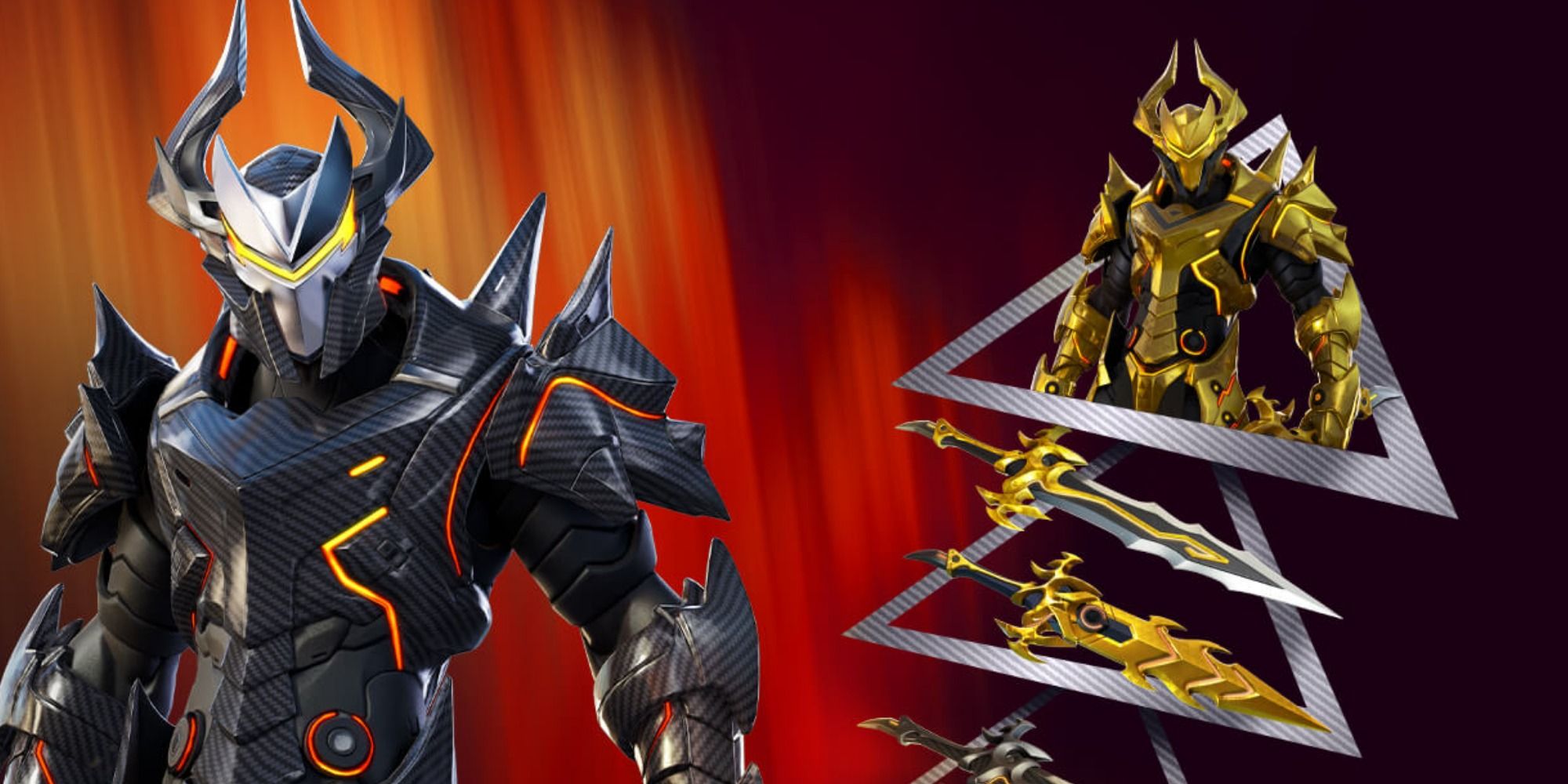 The main reward you'll receive with this pack is a level per challenge. You will have to collect Level Up tokens that are scattered all throughout the Battle Royale map and each time you pick up a Token, it'll level you up. Don't worry, this is a full level up meaning that you're receiving the equivalent XP to a level (approximately 75,000 XP, not simply leveling up and starting from zero on the next level.
Each time you complete seven Omega Knight quests you'll complete a bonus goal, meaning that you'll be able to earn a cosmetic reward or an alternative style. Here are all the bonus goal rewards that you can unlock:
| Prerequisite | Reward |
| --- | --- |
| Complete seven Omega Knight Level Up quests | Knight's Torment Back Bling |
| Complete 14 Omega Knight Level Up quests | Knight's Torment Pickaxe |
| Complete 21 Omega Knight Level Up quests | Knight's Torment Back Bling (Aurum Eques Style) Knight's Torment Pickaxe (Aurum Eques Style) |
| Complete 28 Omega Knight Level Up quests | Omega Knight (Aurum Eques Style) |
All Omega Knight Quests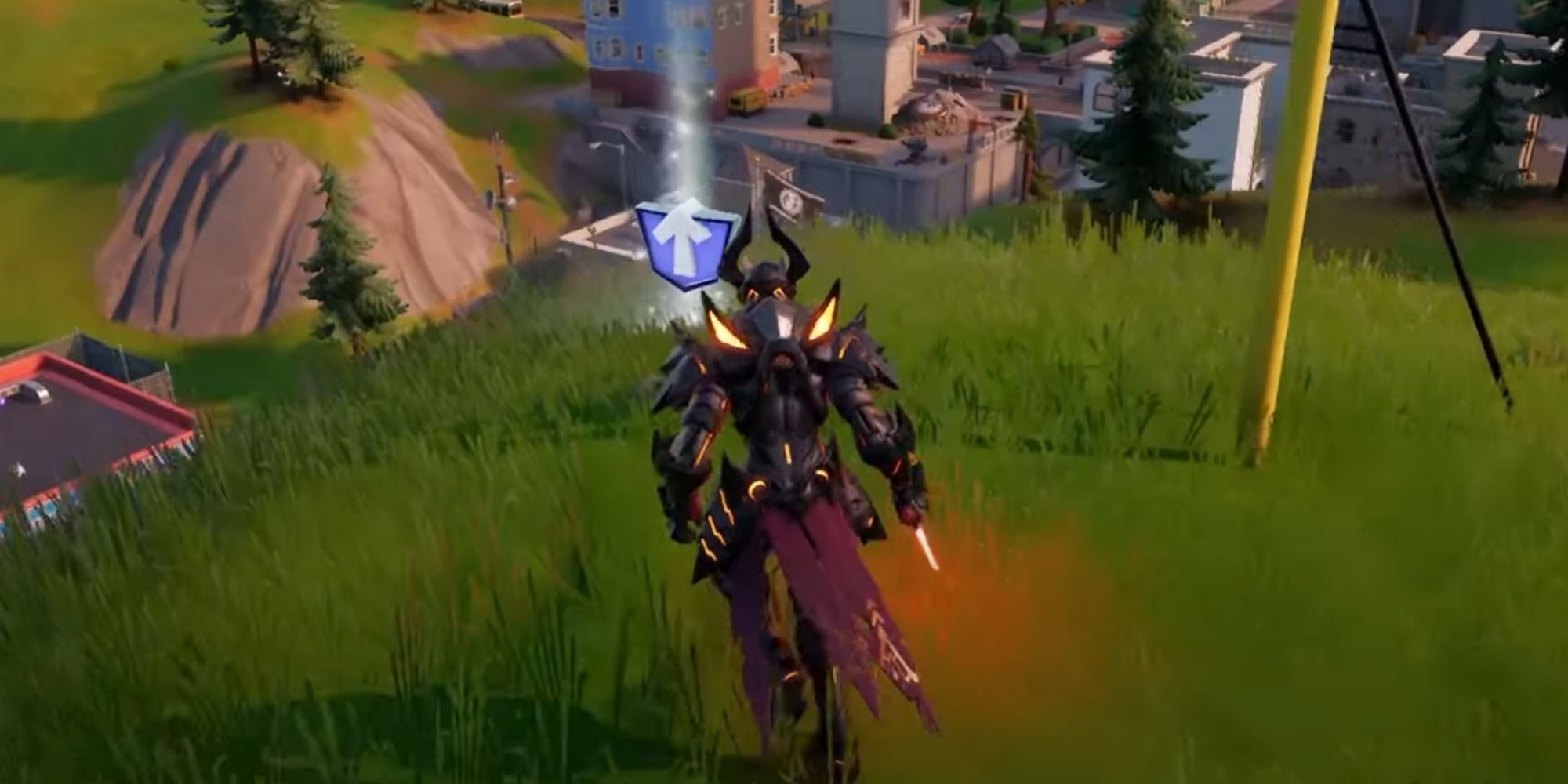 The quests require you to go around the map collecting Level Up Tokens, a purple token with an upward arrow. To collect it, all you have to do is walk through it. There's no need to actually interact with it. We'll update this guide weekly with all-new locations.
If you check your Quests tab and go down to the Omega Knight section, you can go over all of the locations and they'll even appear on your map with a small marker. And, once in-game, if you get close enough to it, it'll show up on your minimap
Week One
This first week it seems as though you'll much have to go everywhere there is to go, all the way from the northwestern corner of the map down to the southeastern regions. If you do all of these, you'll be more than familiar with the map than you previously were.
Four out of seven locations are actually Seven Outposts which is great for mobility since there are always rifts here that you can take to quickly move somewhere else. So, whether you want to collect as many tokens as you can in the same match or just want to rotate some place else, you can do it without much effort at all.
Collect Level Up Token northwest of Logjam Lumberyard
Seven Outpost II is where you'll want to go for this token. It's down the hill that leads from the Outpost to Logjam Lumberyard.
Collect Level Up Token northwest of Camp Cuddle
Seven Outpost V is the next one you'll have to visit. A bit farther down south from it, near the ocean, you'll see a dock with an abandoned shack. On the hill next to it is where the token awaits.
Collect Level Up Token southwest of Greasy Grove
Seven Outpost I is your next stop, right next to Greasy Grove. Go to the area where the area with the rifts and then walk a bit farther west to find the token.
Collect Level Up Token near Tilted Towers
South of Tilted Towers, there is a gas station with a zipline on the hill next to it. Take the zipline which will lead you eastward. Right by it, you'll catch the token.
Collect Level Up Token at Coney Crossroads
On the hill that looks down to the river and also to the white house next to the ice cream shop is where you can collect the token.
Collect Level Up Token on an island east of Sanctuary
Seven Outpost VII is the island you're looking for near this area. Go to the area with the rifts and it'll be right on that same hill.
Collect Level Up Token west of the Joneses
On the hill east of Tumbledown Temple, the one that overlooks the temple itself.
Once you've found all of the Level Up Tokens you'll acquire the Knight's Torment Back Bling. Then, on May 10, at 9 AM ET new quests will be available for you to unlock some more goodies. If you want to know even more about this pack, check out Epic Games' FAQ page on it.
Source: Read Full Article