Fortnite: How To Get All Foundation Items
Quick Links
The Foundation Quests Explained
As soon as this Fortnite season started, it was announced that The Foundation (known most commonly as The Rock) would be joining the Battle Pass as a free bonus skin. And now, week nine has started and the time has finally come.
The Foundation skin has a bunch of challenges that'll keep players entertained for the rest of the week. Each quest unlocks a new cosmetic item and since there are two pages worth of challenges, it's quite a bit to power through. We've written this article to guide you as you progress through all of these quests.
The Foundation Quests Explained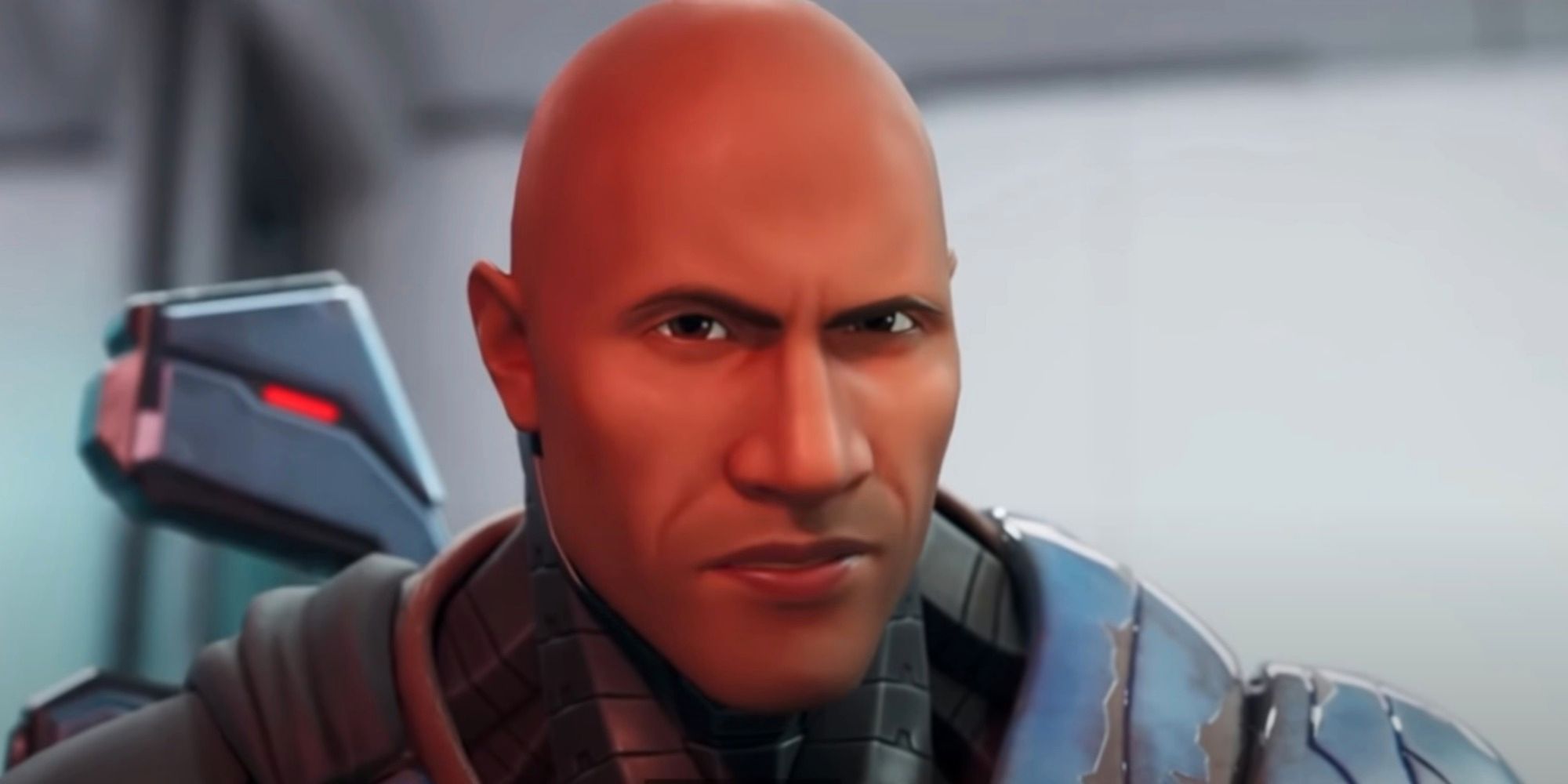 The first page of The Foundation tab in the Locker features six new items, while the second one has five items. This means that there's a total of 11 missions to complete. These quests will be around until the end of the Season (March 19), and they can be done fairly quickly. Here are all of The Foundation quests and what you'll earn for completing them.
Page One Of The Quests
Search chests or ammo boxes at Covert Cavern (3).
To get the Foundation's Fortune emoticon, you'll have to find and search at least three chests or ammo boxes at Covert Cavern, the most recently added POI, south of Logjam Lumberyard and north of Camp Cuddle. Watch out for the hostile IO Guards, they will attack you on sight and so will the location's boss, Gunnar. He holds a powerful mythic Stinger SMG.
Visit Mighty Monument, a Seven Outpost, and Sanctuary.
To get The Foundation skin, you have to visit two types of locations. You'll have to visit the Sanctuary POI and also the Mighty Monument landmark. Then, you'll have to visit one of the Seven Outpost landmarks. The order in which you visit these locations doesn't matter, and you don't have to do it all in one match for it to count towards your challenge progression.
Use shield potions in a single match (4).
To get the True Foundation spray, you'll have to use four shield potions in a single match, which includes big shields and small shields. The fastest way to do this is to pop two small shields, take damage and then drink two more small shields because these are the most common types of shields in the game.
Snipe an opponent with a Sniper Rifle while crouching.
To get the Foundation's Mantle back bling, you will have to get your hands on a Sniper Rifle and then successfully snipe an opponent while crouching. If you're not too good with the sniper, the best way to do this is to shoot it at an AFK player that has fallen at the end of the line of the battle bus or play the Team Rumble LTM since you'll always revive until the end of the game.
Hire a Character and travel 1,000 meters with them.
To get the Foundational wrap, you have to hire an NPC and then travel 1,000 meters with them. However, you can do all the hard work, and it'll still count towards quest progression – the NPC doesn't actually have to move all that much. A trick to do this quickly is to put down a jump pad or take a rift and glide around for as long as you can.
Deal melee damage to opponents (100).
To get the Foundation's Plasma Spike harvesting tool, you have to deal a total of 100 damage to opponents. The easiest way to do this is to enter a Team Rumble match and damage players on the opposing team by landing behind them while they're distracted fighting someone else.
Page Two Of The Quests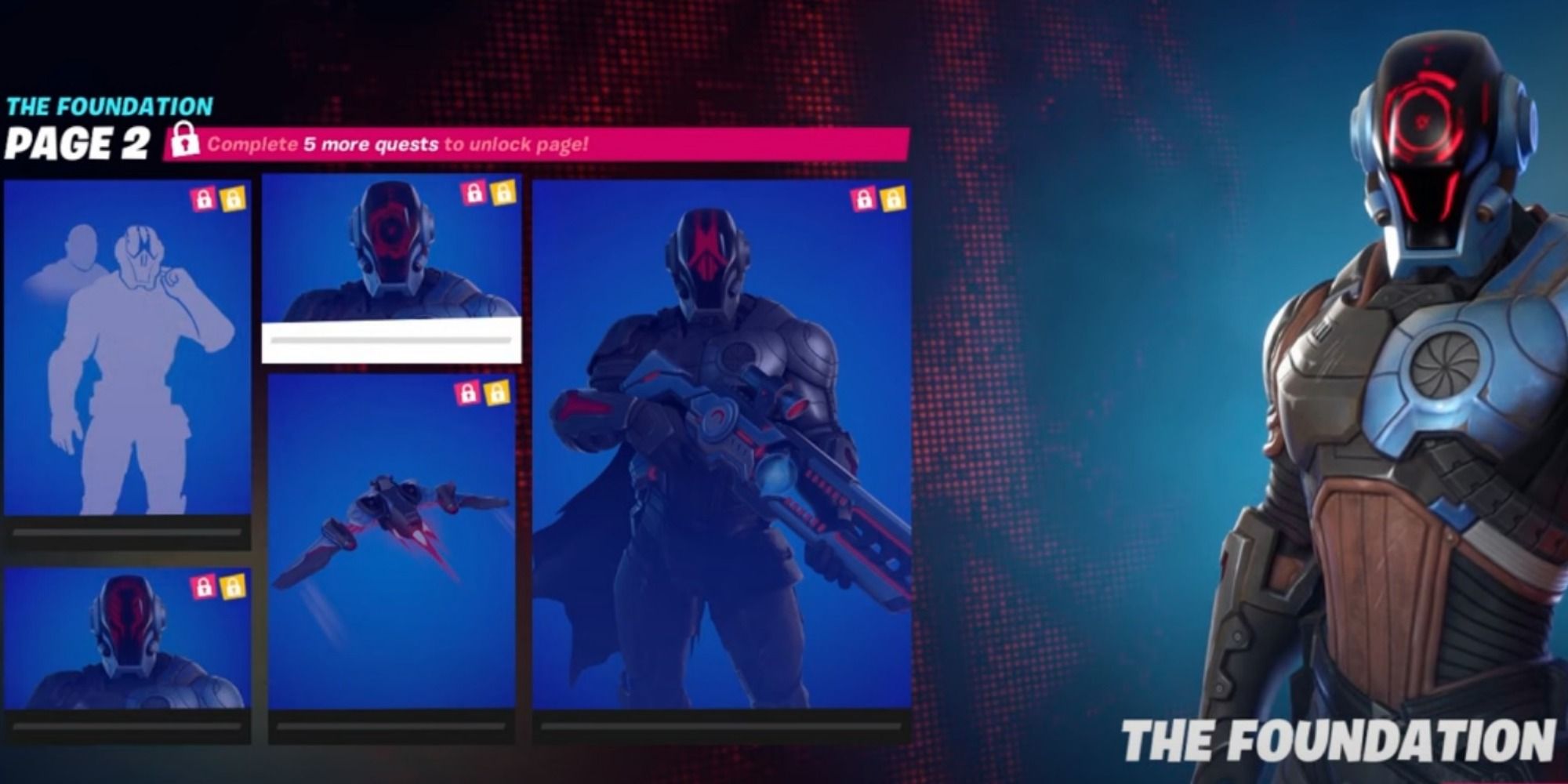 Assist in eliminating Gunnar.
​​​​​​​To get the Tactical Visor Toggle emote, you'll have to assist in eliminating Gunnar, the boss NPC at Covert Cavern. He's quite difficult to take down in solos, so to do this the only thing you need to do is deal some damage to him. If someone else finishes him there's no problem as long as you remain alive long enough for him to be eliminated.
Land at a Seven Outpost, then finish top ten.
​​​​​​​To get the Rocket Wing glider, you'll have to land at a Seven Outpost (any of them) and then finish at least top ten in the same match. If this causes you any problem, try to stay out of sight and take one of the rifts at the outpost to an isolated area. Sometimes camping is a very effective way to do good when it comes to placement.
Deal headshot damage to players with common or uncommon weapons (500).
​​​​​​​To get The Foundation's Combat Elite skin style, you need to get a common (gray) or uncommon (green) rarity weapon and deal a total of 500 headshot damage to players. A guaranteed way to do this is to play a few matches and only pick up weapons with this rarity – it'll put you at a disadvantage, but each headshot you pull off will count towards the challenge's progression.
Deal damage to opponents from above with Shotguns or SMGs (1,000).
​​​​​​​To get The Foundation's Tactical skin style, you'll have to use Shotguns or SMGs to deal 1,000 damage to opponents. These are both close-range combat weapons, so to maximize how much damage you deal and save on ammo, try to get as close as you can to your targets. Plus, since 1,000 is a ton of damage, you may want to get this done in Team Rumble.
Complete all of The Foundation quests.
​​​​​​​Completing all of The Foundation quests will get you The Foundation's Combat skin style. Get through all the challenges listed above and it'll be added to your inventory. Enjoy all of The Rock's awesome cosmetics.
Source: Read Full Article