Final Fantasy 14 – The Hunt Guide
Quick Links
Additional Elite Mark Information
There are many ways for you to spend your time in Final Fantasy 14, with climbing the ranks of your Grand Company being one of them. While it may be easy to ignore your Grand Company as you progress through the MSQ or unlock end game content, it cannot get overstated how important your Grand Company actually is.
Leveling your Grand Company rank up can give you many different rewards and loads of EXP, making it useful for power-leveling new Jobs or helping cut down the experience needed for the higher levels. One of the best things you can do through your Grand Company is participating in Hunts, which can net you unmatchable EXP.
Prerequisites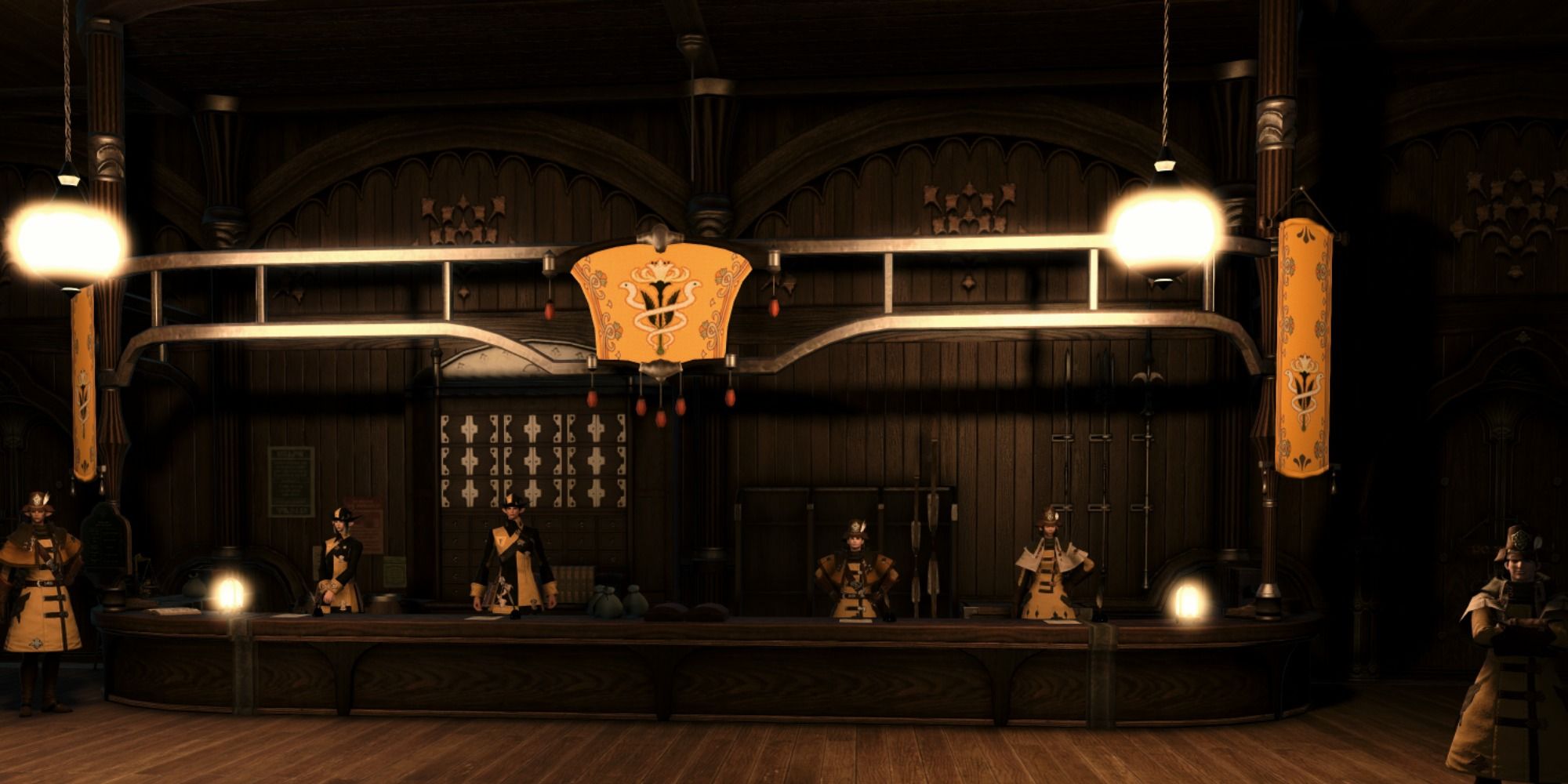 Before unlocking The Hunt in Final Fantasy 14: A Realm Reborn, you must first meet a few requirements in your Grand Company. Accessing The Hunt will require the same steps, whether you're part of the Maelstrom, Twin Adders, or Immortal Flames. Just be sure to head to the Grand Company Hall you chose to advance your progress.
To gain access to Hunts, you will have to first reach the rank of Second Lieutenant in your respective Grand Company. If you find it hard to level up your Grand Company or need to know the requirements for obtaining Second Lieutenant, you can see that information below.
Second Lieutenant Requirements
Complete "Hunting Log: Rank 2"
Complete "Guilding the Bilious" Subquest
9,000 Company Seals
How To Earn Grand Company Seals
Hunting Logs
Expert Deliveries

Must be Sergeant Second Class

Supply and Provisioning
Daily Level Roulette
FATEs
Grand Company Levequests

If you are trying to level your Grand Company rank, don't spend your Company Seals on equipment or items. Instead, talk to your Grand Company Personnel Officer and ask for a promotion. You will then turn your Company Seals in to achieve a higher rank.

Let The Hunt Begin

Once you reach Second Lieutenant in your Grand Company, the subquest "Let the Hunt Begin" will become available in your Grand Company Hall, which will give you the ability to use the Hunt Board to retrieve Mark Bills. Mark Bills will provide you with the list of targets you must dispatch, along with their location and payout.

Regular Marked Bills

Regular Marked Bills primarily refer to the common enemies found in Eorzea and are on a daily reset timer. The time for the daily reset is 08:00 AM (PST) or 11:00 AM (EST). You will get Allied Seals for completing Regular Marked Bills. You can then turn in your Allied Seals to the Hunt Billmaster found in your Grand Company Hall.

Elite Marked Bills

Ranked Marks have their own tiered system based on how dangerous they will be to take down. Elite Marked Bills are stronger, more fierce enemies you must track down under specific conditions and are more challenging than Regular Marks. This tier system ranges from B to SS, though SS tier is only available in Shadowbringers and onward. Furthermore, Elite Marks reset weekly, unlike the Regular Marks. B ranking Elite Marks will reset every Tuesday at 01:00 AM (PST) or 04:00 AM (EST). However, A and S Elite Marks are on a "kill on sight" basis with no daily/weekly reset.

| Reward | B Tier | A Tier | S Tier |
| --- | --- | --- | --- |
| Allied Seals | N/A | 40 | 100 |
| Allagan Tomestone of Poetics | N/A | 30 | 100 |
| Centurio Seals | N/A | 20 | 50 |
| Allagan Tomestone of Aphorism | N/A | 10 | 30 |

Additional Elite Mark Information

While the B Tier Elite Marks won't give you any rewards directly, you are allowed to hunt them to complete your Weekly Elite Mark Bill challenge, which will provide you with 5,000 Gil and 100 Allied Seals. You won't get anything from completing these Hunts from that point onward.

S Tiered hunts require specific events to trigger their appearance, which can happen at various times throughout the day. Each tier Elite Mark has its own respawn timer and potential spawn locations. Below is the complete list of each possible Elite Mark location.

Elite Mark: Tier B

| Mark Name | Tier | Region | Respawn Timer |
| --- | --- | --- | --- |
| Albin the Ashen | B | Southern Thanalan | 5 Seconds |
| Barbastelle | B | Lower La Noscea | 5 Seconds |
| Bloody Mary | B | Eastern La Noscea | 5 Seconds |
| Dark Helmet | B | Western La Noscea | 5 Seconds |
| Flame Sergeant Dalvag | B | Northern Thanalan | 5 Seconds |
| Gatling | B | Eastern Thanalan | 5 Seconds |
| Leech King | B | Mor Dhona | 5 Seconds |
| Monarch Ogrefly | B | South Shroud | 5 Seconds |
| Myradrosh | B | Upper La Noscea | 5 Seconds |
| Naul | B | Coerthas Central Highlands | 5 Seconds |
| Ovjang | B | Central Thanalan | 5 Seconds |
| Phecda | B | North Shroud | 5 Seconds |
| Sewer Syrup | B | Western Thanalan | 5 Seconds |
| Skrogs Fru | B | Middle La Noscea | 5 Seconds |
| Stinging Sophie | B | Eastern Shroud | 5 Seconds |
| Vuokho | B | Outer La Noscea | 5 Seconds |
| White Joker | B | Central Shroud | 5 Seconds |

Elite Mark: Tier A

| Mark Name | Tier | Region | Respawn Timer |
| --- | --- | --- | --- |
| Alectryon | A | Western Thanalan | 3-5 Hours |
| Cornu | A | Outer La Noscea | 3-5 Hours |
| Dalvag's Final Flame | A | Northern Thanalan | 4-5 Hours |
| Forneus | A | Central Shroud | 3-5 Hours |
| Ghede Ti Malice | A | South Shroud | 3-5 Hours |
| Girtab | A | North Shroud | 3-5 Hours |
| Hellsclaw | A | Eastern La Noscea | 3-5 Hours |
| Kurrea | A | Mor Dhona | 3-5 Hours |
| Maahes | A | Eastern Thanalan | 3-5 Hours |
| Marberry | A | Upper La Noscea | 4-5 Hours |
| Marraco | A | Coerthas Central Highlands | 3-5 Hours |
| Melt | A | Eastern Shroud | 3-5 Hours |
| Nahn | A | Western La Noscea | 3-5 Hours |
| Sabotender Bailarina | A | Central Thanalan | 4-5 Hours |
| Unktehi | A | Lower La Noscea | 3-5 Hours |
| Vogaal Ja | A | Middle La Noscea | 3-5 Hours |
| Zanig'oh | A | Southern Thanalan | 3-5 Hours |

Elite Mark: Tier S

| Mark Name | Tier | Event Trigger | Region | Respawn Timer |
| --- | --- | --- | --- | --- |
| Agrippa The Mighty | S | Treasure Maps | Mor Dhona | |
| Bonnacon | S | When harvesting La Noscean Leeks (8-11 AM Eorzea Time) | Western La Noscea | |
| Brontes | S | Consuming food at spawn points. | Central Thanalan | |
| Chernobog | S | A player dies in the area. | Outer La Noscea | |
| Croakadile | S | During a full moon, traverse the spawn points. | Lower La Noscea | |
| Croque-Mitaine | S | When mining Grade 3 La Noscean Topsoil (7-10 PM Eorzea Time) | Middle La Noscea | |
| Laideronnette | S | Will spawn 6 seconds into the second rain shower. | Central Shroud | |
| Lampalagua | S | Start a Battlecraft Leve | Eastern Thanalan | |
| Mindflayer | S | During a new moon, traverse the spawns at 0:00 Eorzea Time. | South Shroud | |
| Minhocao | S | After defeating 100 Earth Sprites | Northern Thanalan | |
| Nandi | S | With your minion out, traverse the spawn points. | Upper La Noscea | |
| Nunyunuwi | S | Complete every FATE in the zone for an hour straight. | Southern Thanalan | |
| Safat | S | Jump off cliffs, dropping your HP to 1. | Coerthas Central Highlands | |
| The Garlok | S | After its random timer expires, it will enter the region. However, if it rains, it will get put to sleep, delaying its appearance by 200 minutes. | Eastern La Noscea | |
| Thousand-cast Theda | S | Catch a Judgeray while fishing at 5-9 PM | North Shroud | |
| Wulgaru | S | Start a Battlecraft Leve | Eastern Shroud | |
| Zona Seeker | S | Catch a Glimmerscale while fishing | Western Thanalan | |

Source: Read Full Article