Fallout 76 Devs Show How You'll Soon Be Able To Build Your Own Vault
Bethesda recently dropped an atomic load of info regarding the upcoming C.A.M.P. shelters that we'll see added to Fallout 76 when December's Steel Dawn Patch 24 goes live. A brief over can be read in the latest Fallout 76: Inside the Vault article over on the website, but the real details are in the C.A.M.P. Shelters (Developer Gameplay) video over on the Bethesda Softworks YouTube channel.
The 13-minute video features Community Manager Nate Valenta hosting a Fallout 76 dev dive with Associate Designer Aspen Clark and Lead Designer Dan Nanni. Together they showcase the C.A.M.P. Shelters by explaining what they are and how they work, how they fit into the game world, and the three types of Shelters that will be available once Steel Dawn goes live.
Fallout 3, Fallout 4, and so far in Fallout 76, players have only been allowed to own and build within available space located above ground. The incoming C.A.M.P. Shelters feature finally changes that by allowing players to effectively build their own Vault-Tec style underground vaults. The Shelters use the instance feature to give access to enclosed rooms like the Vault 76 space where you started Fallout 76 in.
As Nanni explains in the video, Shelters effectively give you "a brand new C.A.M.P. site" that you can build 'within' your existing C.A.M.P. These Shelters have greatly relaxed building restrictions, and have roughly 50% more building budget available than current C.A.M.P.s do. So not only you can place items in your Shelter free-floating, stacked, and even slightly clipped together, but you can also place a great many more items in your available space than is now possible.
Clark, who is also one of Fallout 76's quest designers, tells how she wanted to make sure Shelters tied narratively into the Fallout world lore. So when the Steel Dawn patch goes live, all players will be able to head to any of the train stations around Appalachia and read one of the new posters there to trigger the Home Expansion quest. The quest will lead you to a place in north Appalachia to claim your new Shelter.
C.A.M.P. Shelters will initially come in three types: Utility, Lobby, and Atrium.
The Utility Shelter is the first type, and will be freely available to all players with the Steel Dawn expansion. It's the one you get when you complete the Home Expansion quest, consisting of a two-room location – a short entrance hallway that leads into a larger single-story room.
The Lobby will be free to all Fallout 1st members when the expansion goes live, and consists of a two-story room with a raised platform section at one end that encloses some vault machinery.
The Atrium is the largest two-story Shelter, looking similar to the main common room seen in previous vaults, and can be unlocked from the in-game Atomic Shop.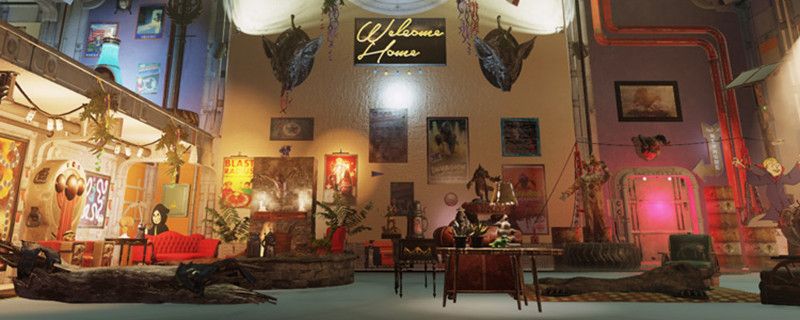 The C.A.M.P. Shelters (Developer Gameplay) video has full details, including how the handy Shelters Control Panel works, and how you can build Shelters within Shelters. Also, click over to the Public Test Server forum to see a whole lotta screenshots test players have posted of their Shelter builds in the Share your C.A.M.P Shelters thread.
Source: Read Full Article