Every Unit In Frozenheim, Ranked
There are a fair number of units in Frozenheim. You have guys with axes, guys with more axes, and even guys with – you guessed – axes. Throw in a few swords, a pointy stick, and bows, and you have yourself a roster. Not all units are made equally of course, and there are some stinkers.
That doesn't mean there aren't some truly great units, of course. If you want to dominate your enemies and massacre their population, then taking only the best makes sense. We have them all ranked in order of effectiveness – although that doesn't necessarily mean they are better in combat.
9

Seidkonas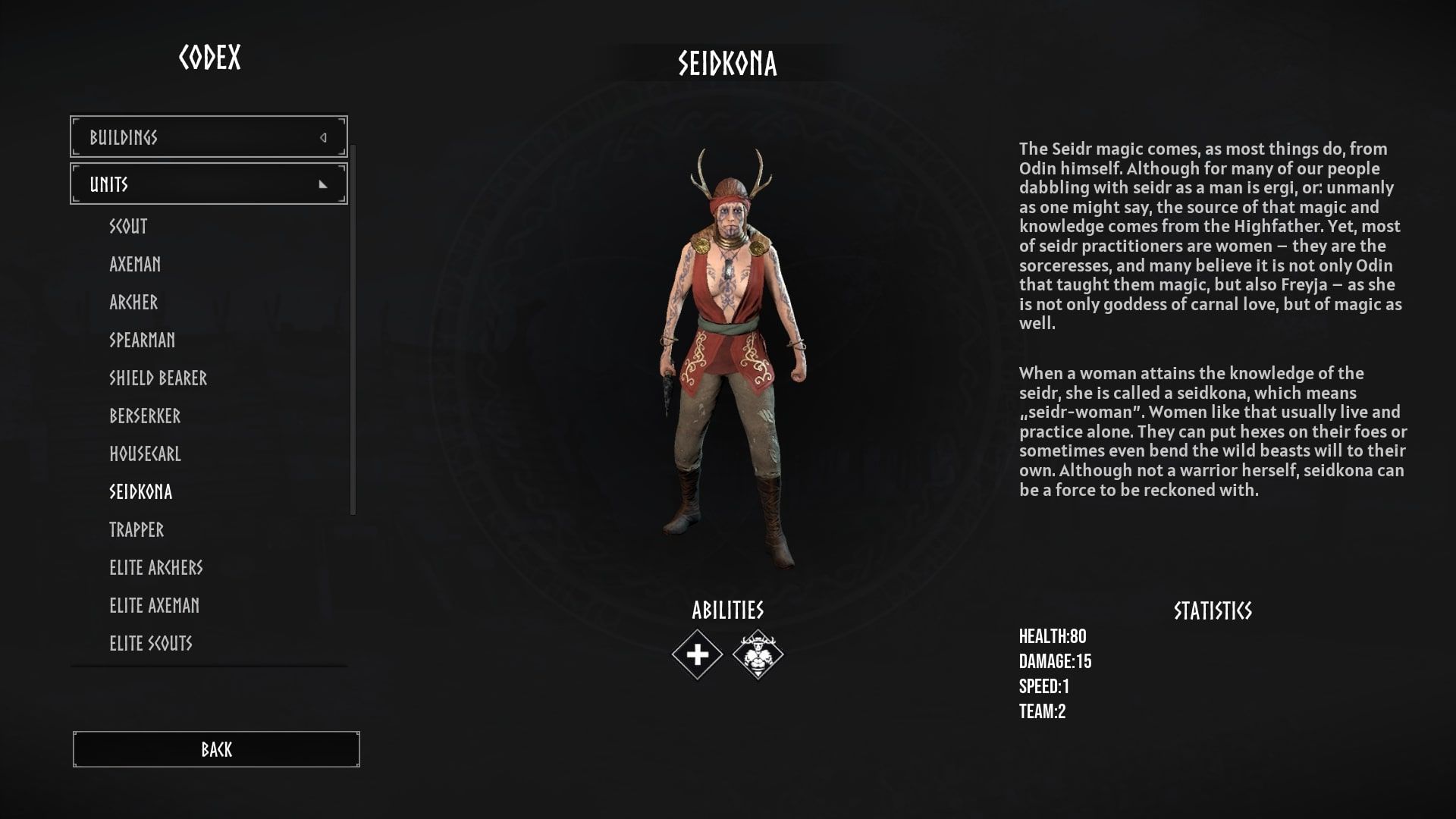 | Stat | Value |
| --- | --- |
| Health | 80 |
| Damage | 15 |
| Speed | 1 |
| Team | 2 |
Unfortunately, the Raven Clan's unique unit is a little bit pants. It does its job well enough, it's a walking, talking healer who can keep your guys fighting without having to return home for a visit to the Healing Hut. That being said, they are very inconsistent.
They have a terrible defence, a small unit size, no combat potential, and are the first to die in any engagement. You ideally want them hanging back and healing after combat, but you are dedicating one (or more) of your valuable unit slots on a unit that doesn't do all that much. Even their beast taming is undercooked as bears and wolves simply don't do enough in a large-scale scrap. In short, the Seikona falls pretty flat.
8

Trappers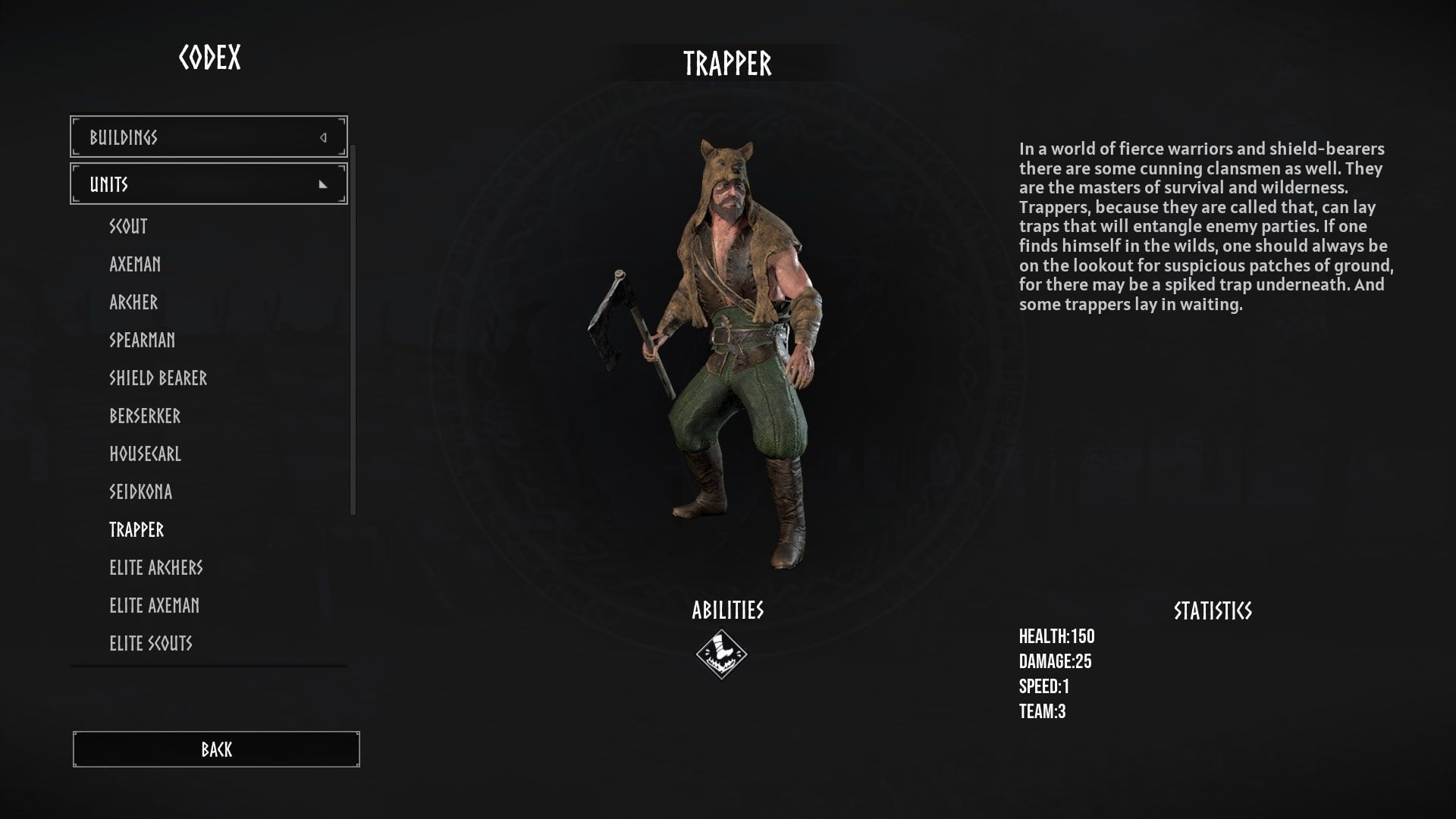 | Stat | Value |
| --- | --- |
| Health | 150 |
| Damage | 25 |
| Speed | 1 |
| Team | 3 |
The Trapper is surprisingly tanky and damaging – the trade-off is the unit size. Their statline implies combat unit, but they don't do that much and often get overwhelmed in the thick of it. You can throw them down some flanks and do fairly well, but you can also do that with literally anything.
The upside is access to their traps, which can be used to great effect when ambushing enemies. You can lock them down and fill them with arrows, which is always a good thing. The Seidkona is pretty naff, but the Trapper has uses and is certainly worth considering if you are running Bear Clan. Especially in Survival Mode.
7

Axemen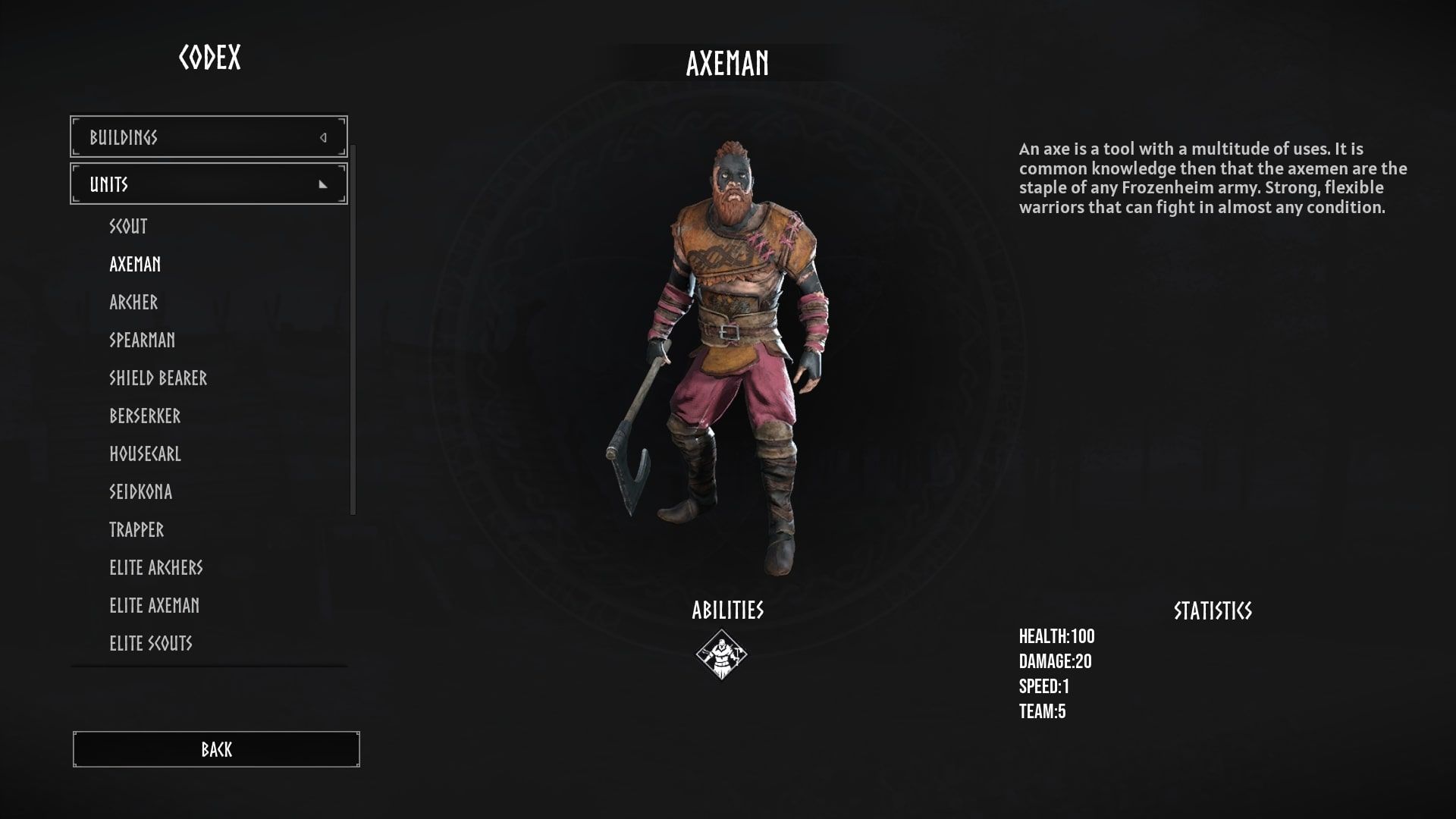 | Stat | Value |
| --- | --- |
| Health | 100 |
| Damage | 20 |
| Speed | 1 |
| Team | 5 |
The Axeman is the cheapest unit to produce and is surprisingly good at doing just about everything you'd want them to do. Their statline is fine – although they do find themselves dying a lot. They are the most throwaway unit you have, but also do great in a frontal attack and on the flanks.
This is especially true when you activate Rage, which increases their damage and speed by 50 percent. This is a big enough boost to make them the most damaging unit in the game, as well as the fastest. Not bad for such a cheap melee troop.
6

Spearmen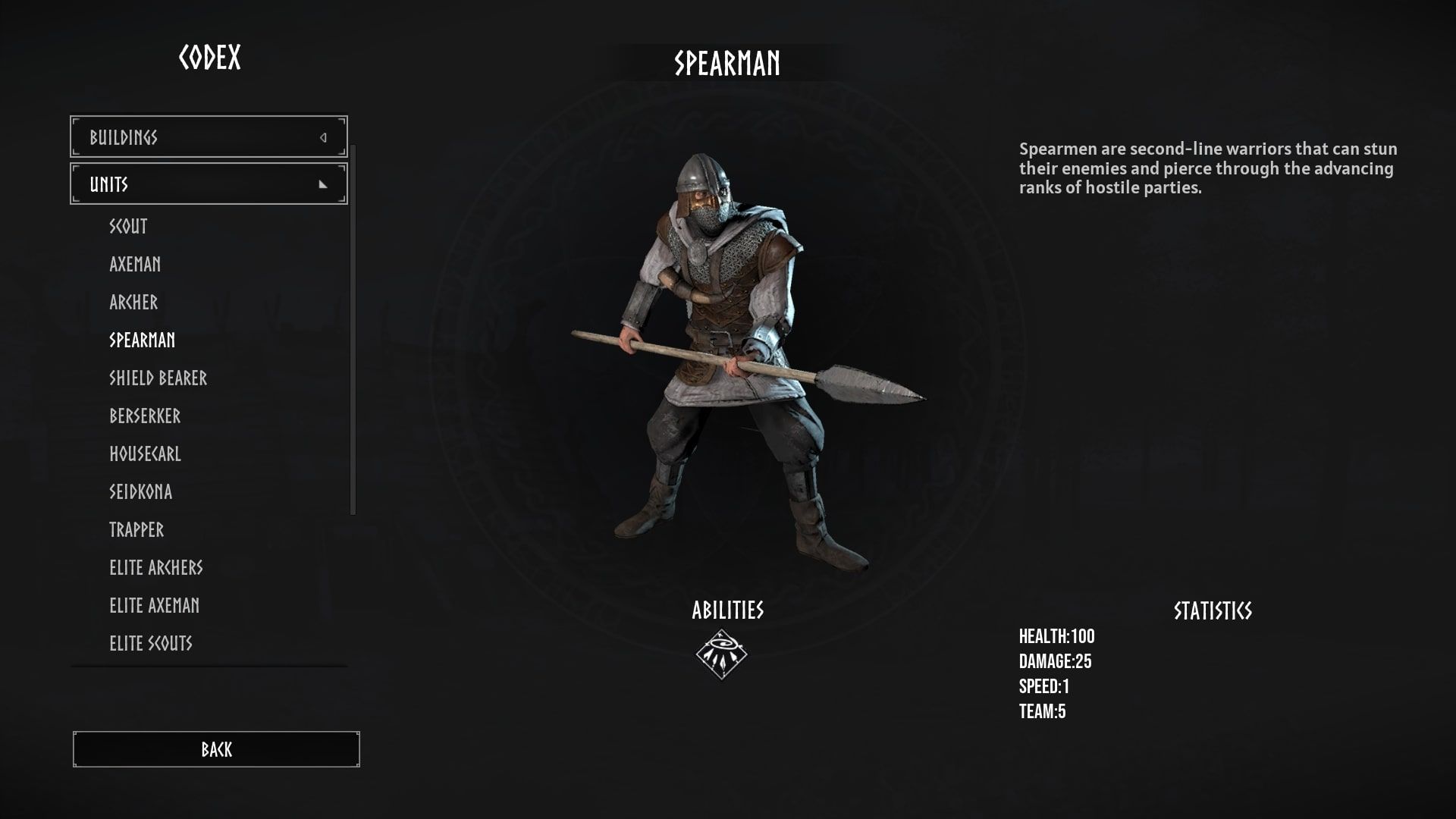 | Stat | Value |
| --- | --- |
| Health | 100 |
| Damage | 25 |
| Speed | 1 |
| Team | 5 |
Spearmen are more or less a straight upgrade to Axemen. They do lack the very powerful Rage ability, but they make up for that in other ways. Namely, they have a higher base attack, so their DPS is very comparable to Axemen – and it's greater than most other units in the game.
Their unique ability also allows them to do great burst damage, and disable especially tricky units. They are more expensive than Axemen, but that cost difference vanishes depending on the Clan you are running. You can make hordes of these on the cheap when running Bear Clan, for example.
5

Berserkers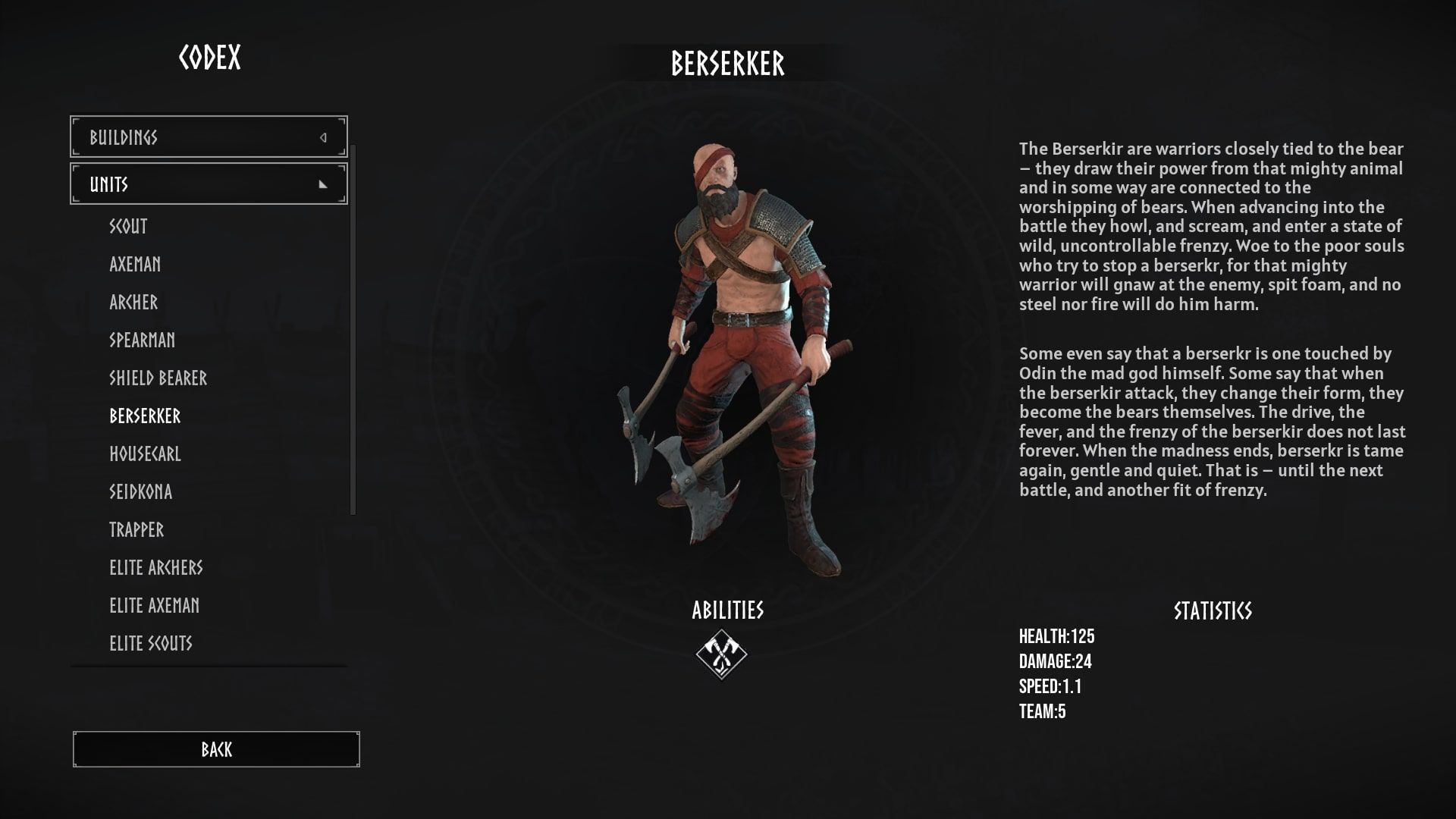 | Stat | Value |
| --- | --- |
| Health | 125 |
| Damage | 24 |
| Speed | 1.1 |
| Team | 5 |
The Berserker is a beastly unit. They are very tanky, surprisingly fast, and deal enough damage to be a problem to most other units. They are locked to the Wolf Clan, which is their main downside, but they are also very easy to get up and running when you are the Wolf Clan.
Berserkers are immensely powerful early game units that will mince the likes of Axemen with ease – especially supported. Their ability to charge through units is also very powerful, allowing them to flank, get rear attacks, and generally disrupt enemies. They are very effective at reaching Archers behind a wall of enemies.
4

Shield Bearers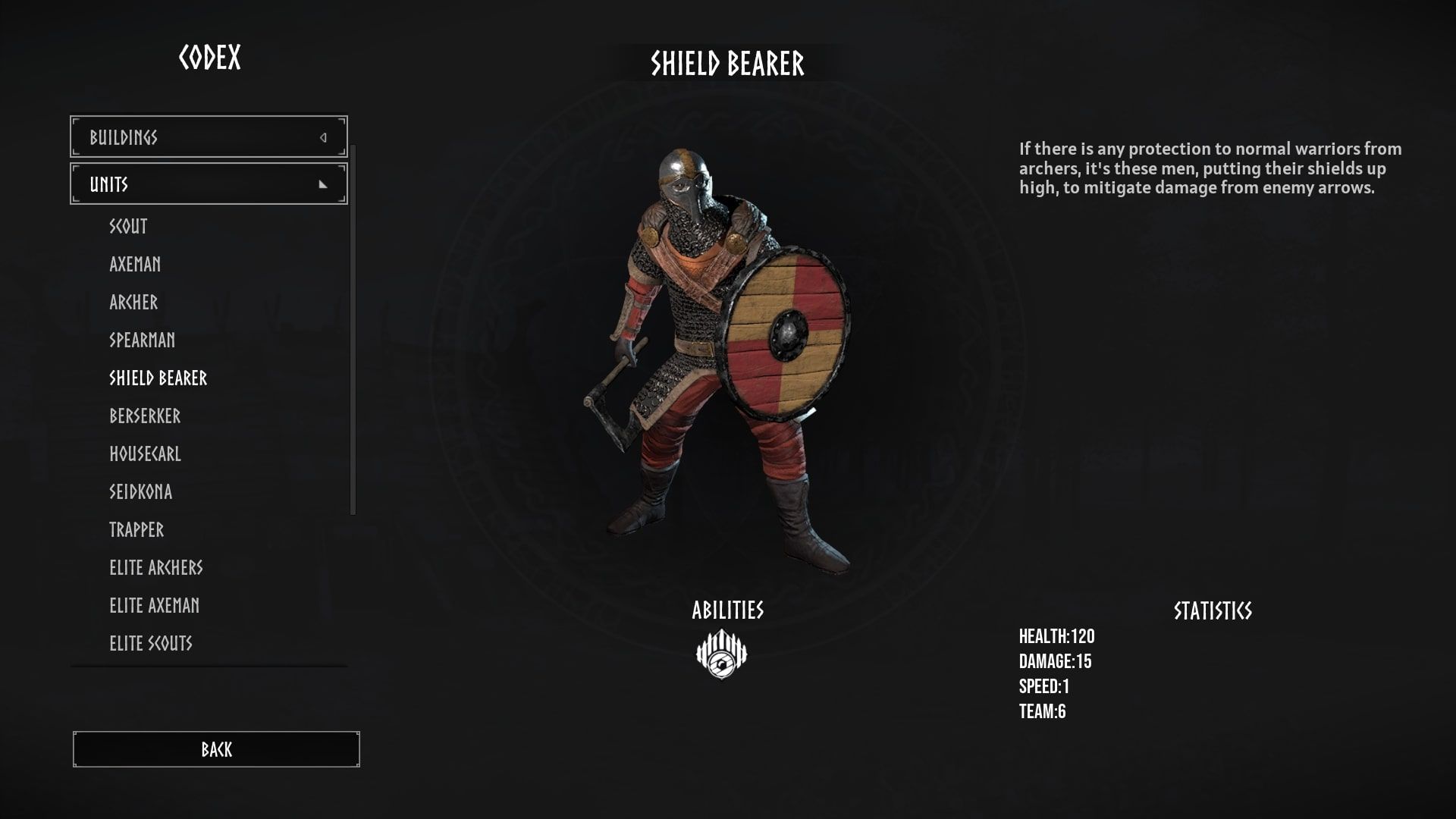 | Stat | Value |
| --- | --- |
| Health | 120 |
| Damage | 15 |
| Speed | 1 |
| Team | 6 |
Shield Bearers are not great on offence, but they are monsters at defence. So much so that they can hold the line against just about anything, and do well. They have one of the higher HP totals in the game and the largest unit size. A few units of these can fill the core of your army, and survive a shocking amount of punishment.
This is made even better by their ability, which increases their defence by a further 30 percent. This takes them from "one of the tankiest", to THE tankiest unit in the game. This ability has no Cooldown either – it is a toggle skill meaning you can hold ground for days. The perfect Anvil.
3

Housecarls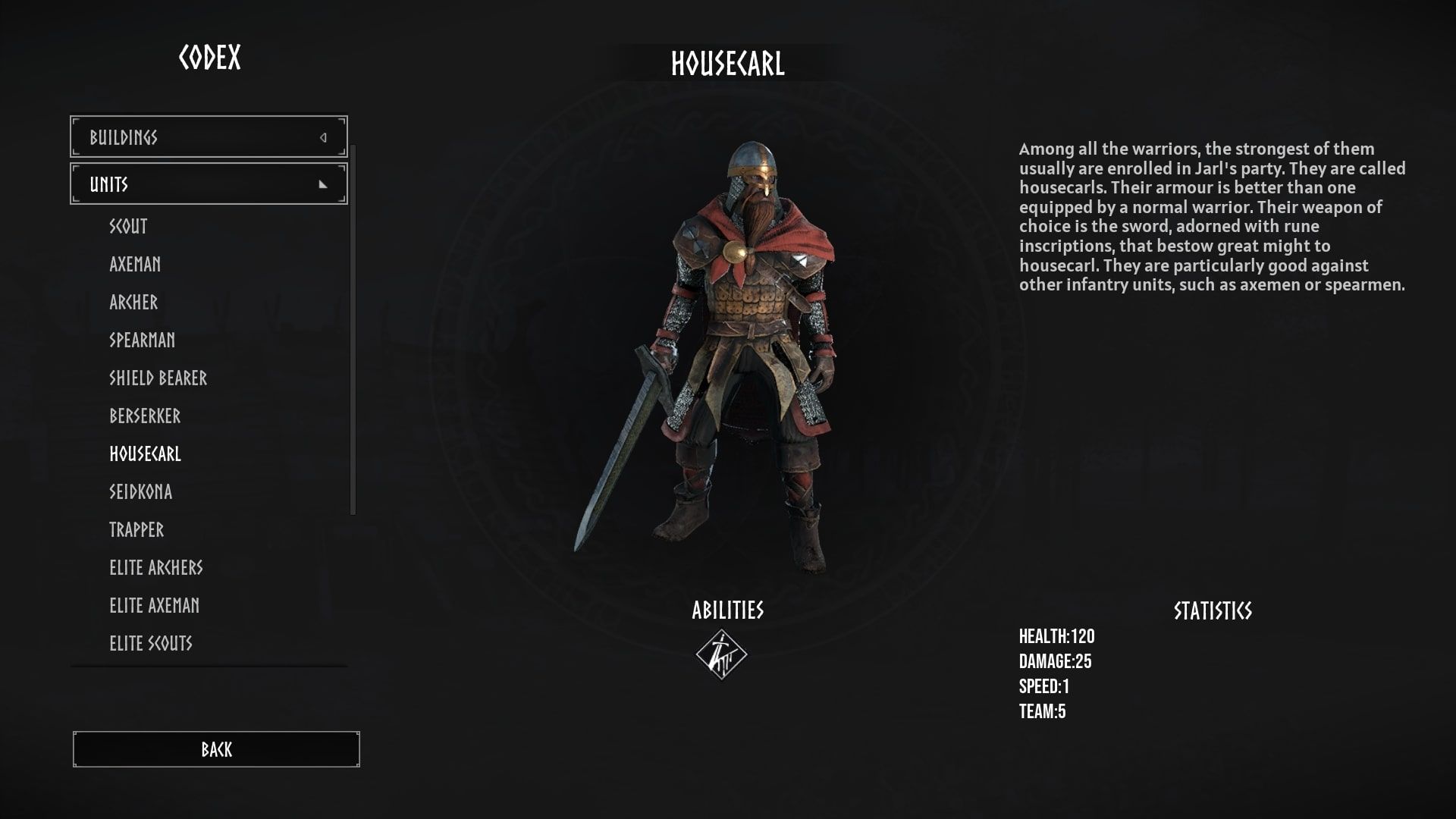 | Stat | Value |
| --- | --- |
| Health | 120 |
| Damage | 25 |
| Speed | 1 |
| Team | 5 |
Housecarls are the latest unit you will gain access to, but they are one of the best. Housecarls combine the tankiness of the Shield Bearer with the damage of Berserker. They are the premier infantry killer, and they can effortlessly go toe-to-toe with just about everything.
Their ability is also top tier, dealing large amounts of AOE damage, and even causing things to Bleed. A well-placed unit of Housecarls can delete units in seconds. The only downside is that they are locked to the Deer Clan, and even then, it's a Tier Four research.
2

Scouts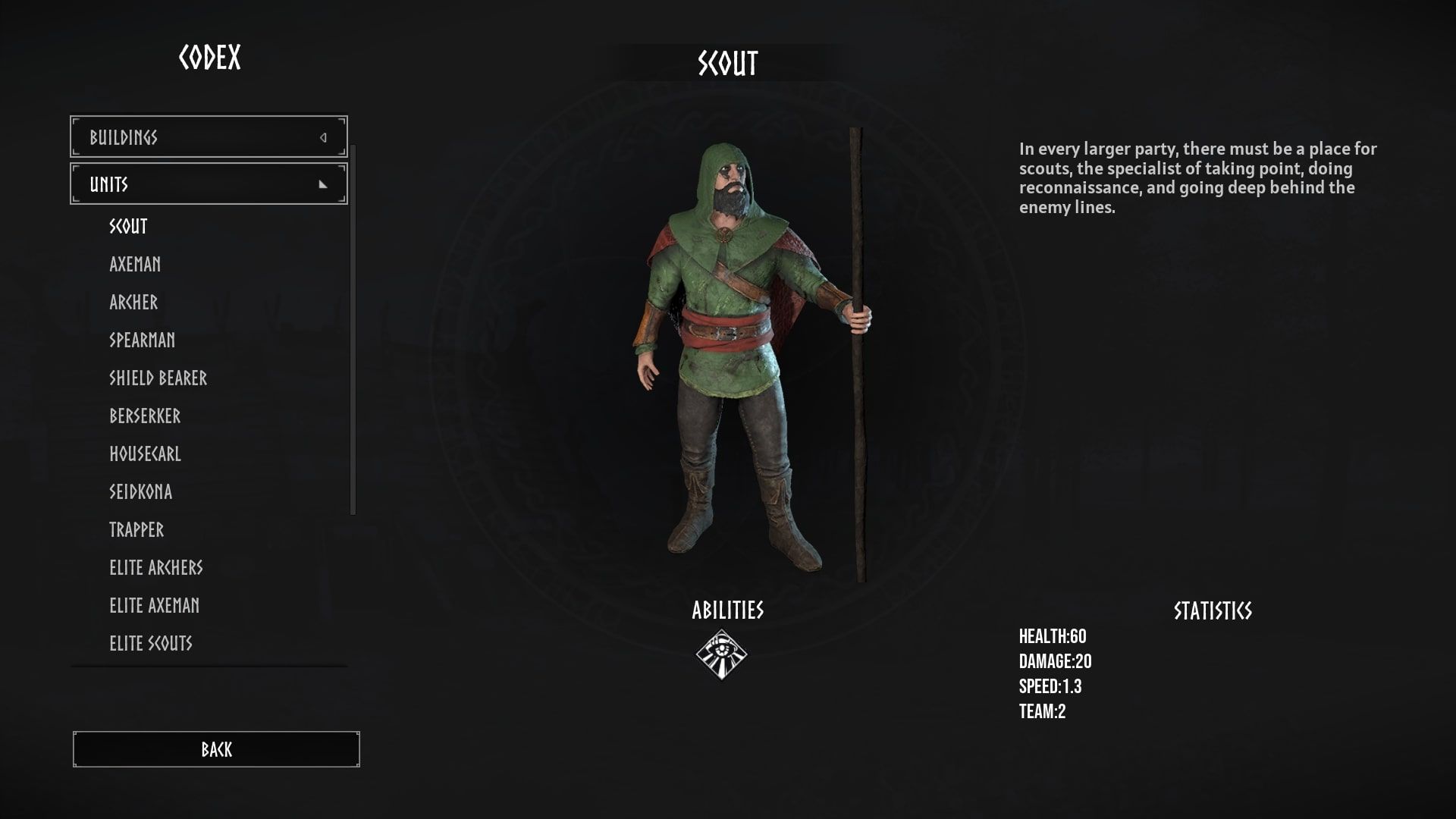 | Stat | Value |
| --- | --- |
| Health | 60 |
| Damage | 20 |
| Speed | 1.3 |
| Team | 2 |
Scouts are absolutely useless in combat. They are terrible. They have the worst stats, and they die to everything in the game, but they are still one of the best units you can ever possibly recruit. This is because they are truly excellent at doing their namesake – scouting.
If you want to succeed in Frozenheim, you need to Scout. You need vision at all times. Any faction and army is improved with the existence of a single unit of Scouts. Have them look for ambushes, find enemy locations, and whatever else you need. Their ability to throw out an eagle for even more vision is also invaluable.
1

Archers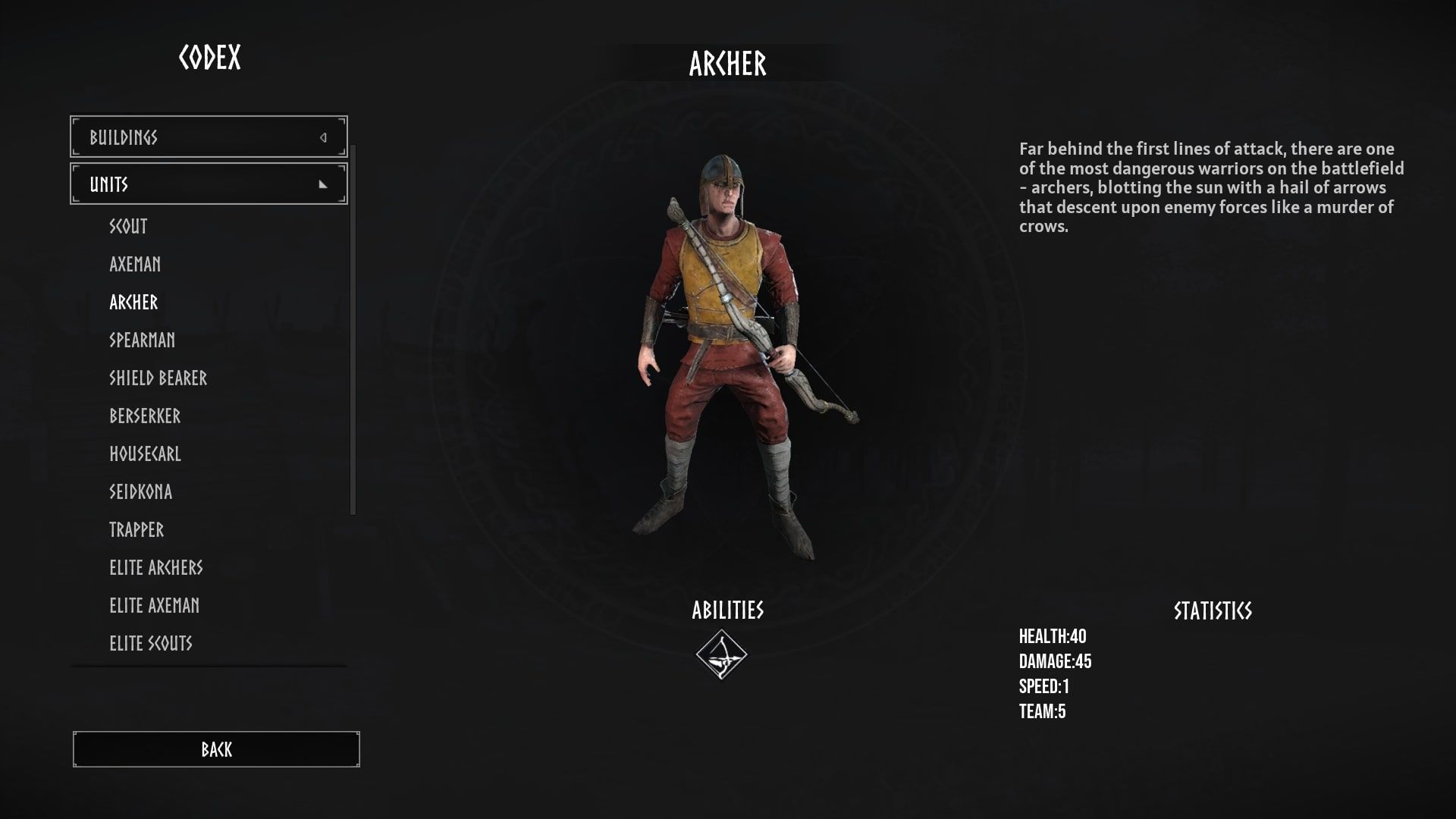 | Stat | Value |
| --- | --- |
| Health | 40 |
| Damage | 45 |
| Speed | 1 |
| Team | 5 |
The only ranged unit in the game (not including siege units). Archers are easy to recruit early and have become the backbone of just about every army we have made. Their damage is staggeringly high – much higher than anything in the game. Due to the nature of a ranged unit, they can deal with this damage safely too.
They can even turn off friendly fire, increase their range, and with a bit of focus fire, they can delete units instantly. They are simply too good not to use. You do need to keep them safe, however. They are very squishy once engaged, but if you can keep them away from axes, they will deliver every time.
Source: Read Full Article