Dying Light 2 Gets Review Bombed By Angry Italian Players
Despite big launch numbers and a mostly positive reception among fans, Dying Light 2 Stay Human is getting review bombed by angry players from a certain European country. The reason is that Techland didn't include an Italian voice-over, which has upset Italian players.
As pointed out on Reddit, Dying Light 2 got plenty of negative player reviews on Metacritic — but mostly from Italians. Some said they were offended by the decision as the original game included Italian-voiced dialogues. Italy is not the only country left without a full native dubbing for Dying Light 2. The title also doesn't offer audio localization for the Czech, Portuguese, and Turkish, among others, but the Italians seem to be annoyed the most.
"The absence of Italian language and inclusion of all other languages in the game is a heavy offense to Italian culture and people," one angry review reads. "Dying Light 2 has only Italian text and full of errors and bad translation," another added. "They showed no respect for Italy and Italians. No way us Italians will show respect for them." Take a look at some other frustrated opinions below: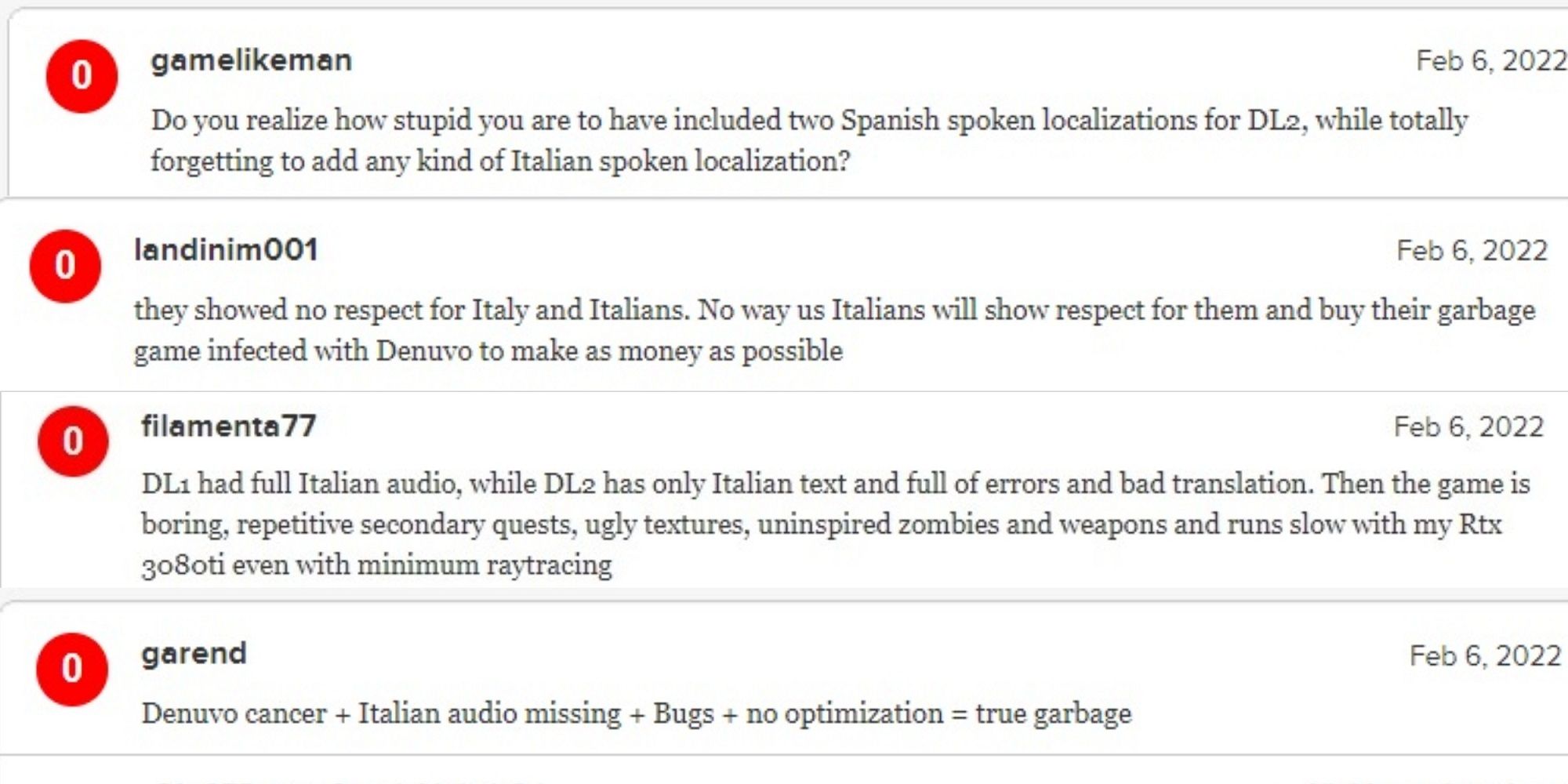 Also, some players are apparently unaware that Techland is a Polish developer and wonder how it's possible to prioritize full Polish localization over the Italian one. Others even have laughable demands to remove the Polish language. As one person wrote: "I really don't understand how is it possible to insert Polish spoken dialogues but forget to include Italian dialogues? Shall we run a survey and ask the people all around the world if Poland is more well known than Italy?" Yikes, they really don't get it.
This unhappy reception has led Dying Light 2 currently boasting the lowest user rating of 4.6 for the Xbox One version on Metacritic. The highest user rating is 6.1 out of 10 for the PS5 version, which is not great either. Aside from the disappointment about the lack of Italian dubbings, other mentioned problems include dissatisfaction with Denuvo on PC, complaints about the game's poor optimization, and occasional bugs.
In contrast, Dying Light 2 is getting 'Very Positive' user reviews on Steam now, with the overall score slowly increasing since launch. The developers have already highlighted all fixes you'll get throughout this week, including connectivity and co-op issues, infinite black screen, story blocks, and other unpleasant stuff.
Source: Read Full Article