Disney Dreamlight Valley: Donald Duck Character Guide
Quick Links
Requirements To Unlock Donald Duck
How To Get Donald Duck In Disney Dreamlight Valley
How To Build Donald Duck's House
Donald Duck Friendship Rewards
Donald Duck is one of the most popular Disney characters, and he might even be the reason you started playing Disney Dreamlight Valley. The game features a beautiful Disney art style as it brings together a bunch of characters across different movies to help you fight The Forgetting plaguing the valley.
Due to the night thorns spread across the valley, some characters decided to head to their respective realms, and you'll go on a nostalgic journey with them as you try to bring them back. Fortunately, Donald is one of the few characters that stayed behind to help.
Requirements To Unlock Donald Duck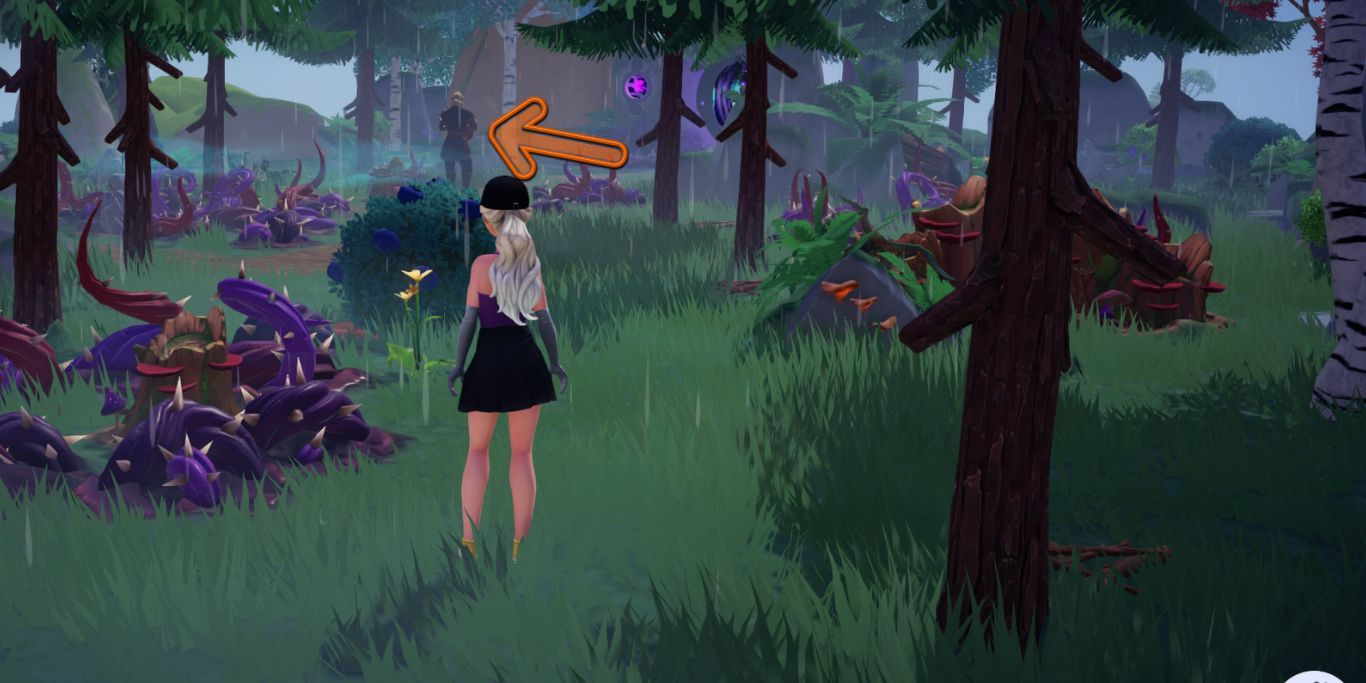 Even though he's in the valley, you can't unlock Donald Duck during the early game like Merlin, Mickey Mouse, or Goofy. If you've just started playing the game, there are quite a few things you'll have to do before you can think about getting Donald on board. Here's everything you require:
Firstly, you will need to progress the main quest with Merlin for quite some time. In the beginning, you will unlock your own house by clearing the night thorn, after which you'll work on getting all the Royal Tools to unlock the Dream Castle.
After you've acquired enough Dreamlight and unlocked the Castle, Merlin will ask for your help with the Pillar of Friendship. You'll have to upgrade three characters to a certain level, allowing you to fix the Pillar using the Orb nearby and removing the dark aura from the locked areas.
Once all of this is done, you can work towards getting 3,000 Dreamlight to unlock the Forest of Valor area. This is located on the eastern side of the map just below Frosted Heights. You can access the thorns blocking this path from Plaza and Dazzle Beach.
While you can unlock Donald after unlocking Forest of Valor in the beginning, it is recommended to finish the main story until With Great Power… quest which will take you on a journey to unlock Ursula in Dazzle Beach.
How To Get Donald Duck In Disney Dreamlight Valley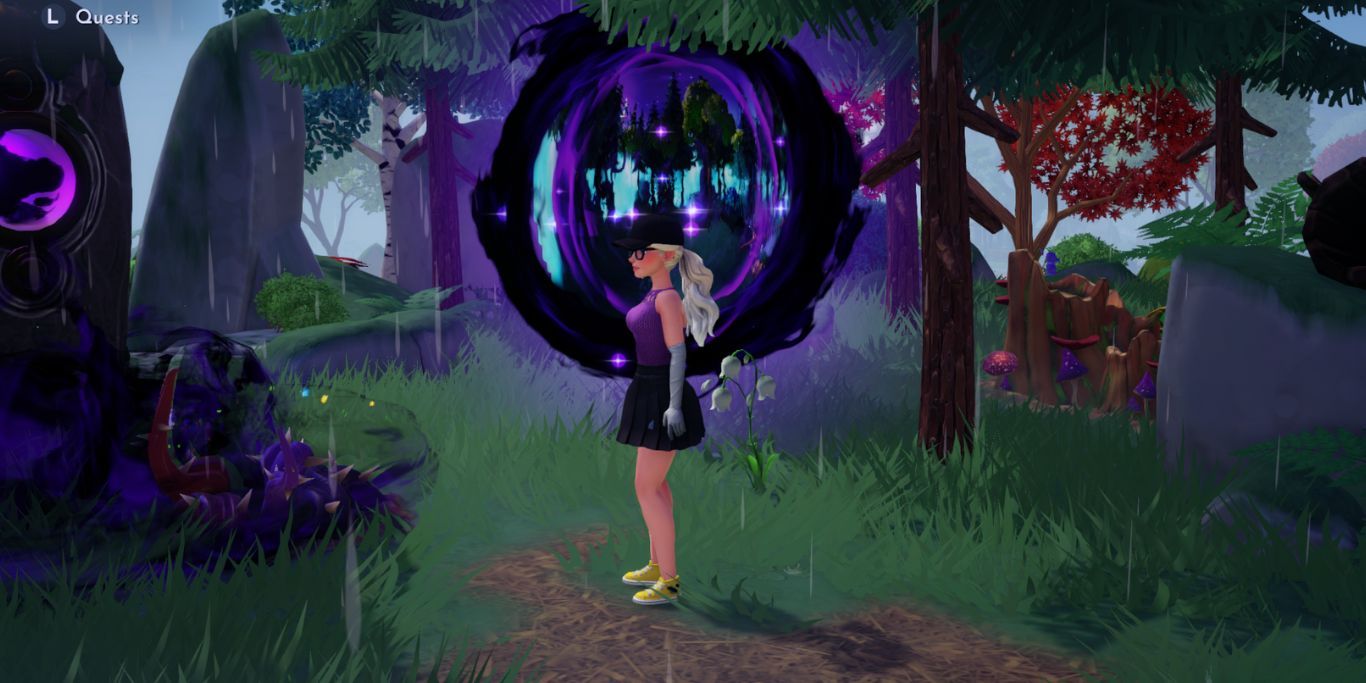 As soon as you unlock Forest of Valor, the Lost in the Dark Grove quest will begin. You'll be asked to find the source of music, where you'll meet Kristoff in front of a Dark Grove. Upon talking to him, you will find out that Donald Duck has followed someone inside the portal.
You will most likely not be able to hear the music during the start of this quest. It comes from Kristoff's guitar, and it's not really the most audible sound unless you have your volume cranked all the way up.
To find Kristoff, simply head towards the right side if you've entered through the Plaza, and left if you've entered through Dazzle Beach. You'll find the location in the southern region of the Forest of Valor.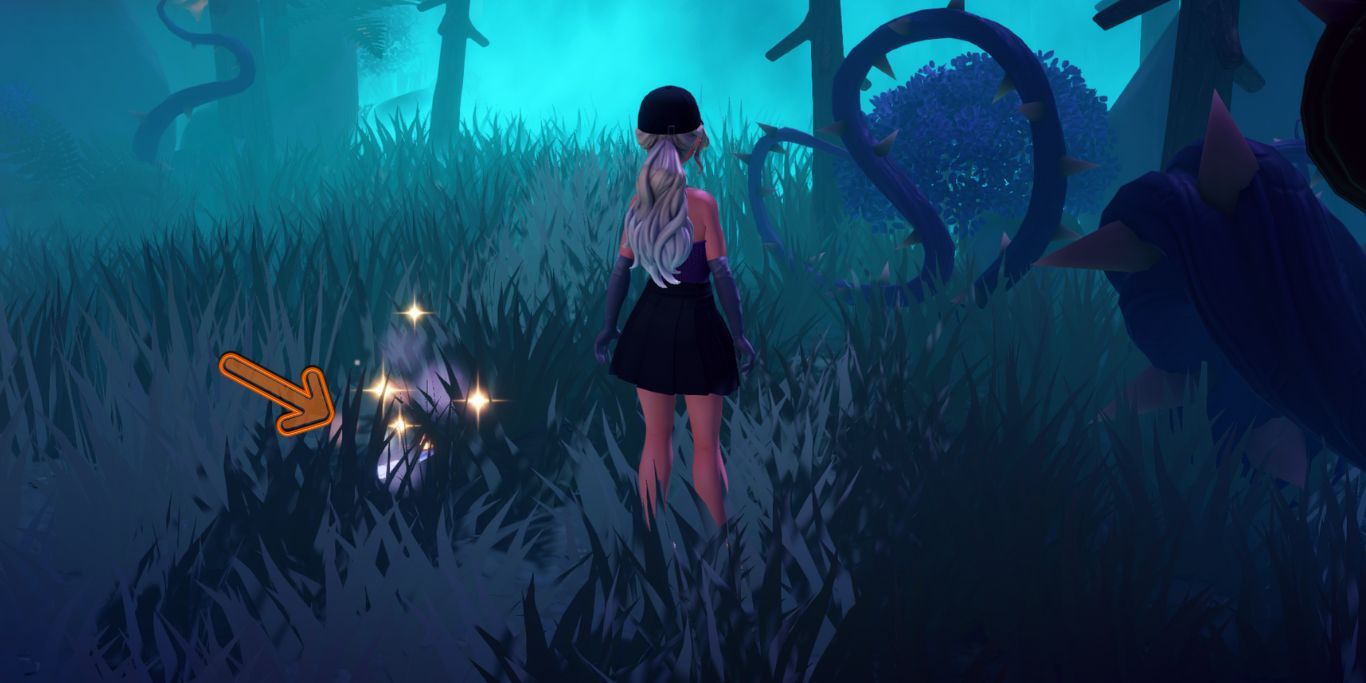 He will also tell you that Donald asked him to stay behind to take care of things on this side of the portal. This will be your first interaction with the Dark Grove, as you're required to follow the duck inside. As soon as you get in, you'll see fog blocking all four sides, but there will be a feather on the ground.
Take the feather and talk to Kristoff, who will ask you to find the wizard of the valley, Merlin, and ask for his help. You'll learn that he can create an Enchanted Feather if you provide him with the required material. Everything you'll need can be found in different areas around the valley:
Emerald – You require two of these, and they can be found in the Forest of Valor and Glade of Trust area. Mine the black rocks at the edges of these areas to have a chance at getting them. They're guaranteed from the rocks that have green Gems shining inside them.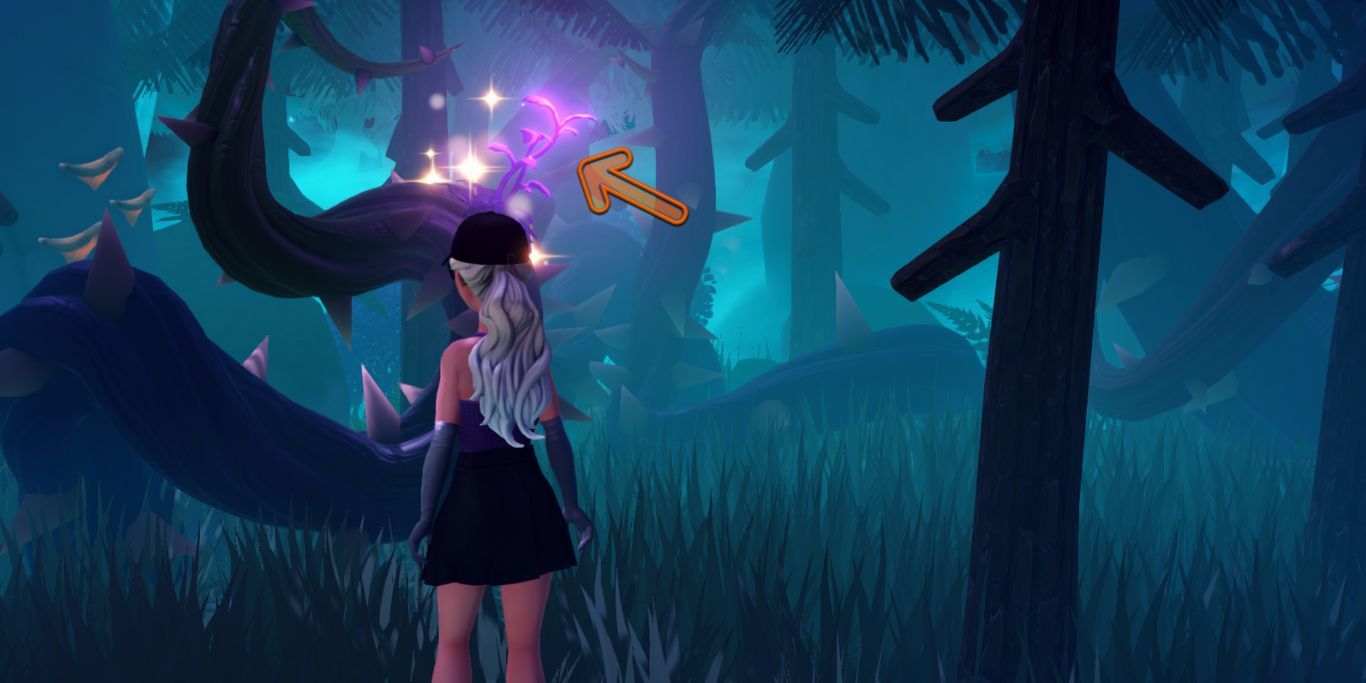 Vile Herb – To get this item exclusive to this quest, you'll have to head back through the Dark Portal, and you'll find it shining on one of the night thorns. It'll be a purple-pink color, making it hard to miss.
Dream Shard – Finally, you require four Dream Shards to help Merlin make the tracking spell. These can be found while clearing night thorns, or by digging them up from the shiny dig spots that appear randomly around the map.
After you have all the items, bring them to Merlin, and he will enchant Donald Duck's feather. At this point, you can head back into the Dark Grove where you'll be able to witness Merlin's true magic unfold.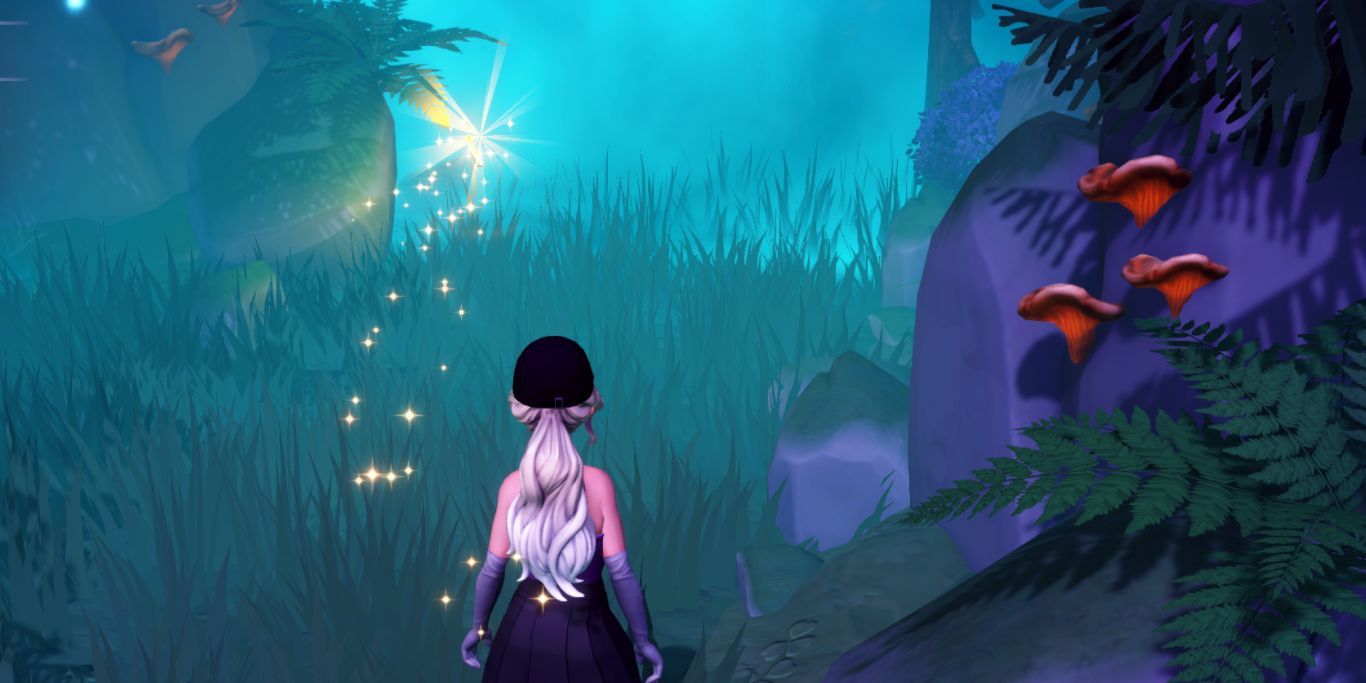 Once you enter the dark realm, the feather will start moving as it leaves a golden trail behind. This will lead you directly to Donald Duck, who will be pretty angry about Kristoff not following him. He will also give you the required Orb that you can put in the pillar just outside.
While the Enchanted Feather moves slowly, it's still not that hard to lose it through the screens of fog. This area is a maze, and it's important to not lose this feather as it's your only hope for finding Donald Duck.
He will also tell you about a dark entity and another castle in the distance in this dark realm. Once you've put the Orb inside the Pillar in this area, Donald will be able to come out, unlocking the character. He will also give you a piece of paper to start The Curse quest.
How To Build Donald Duck's House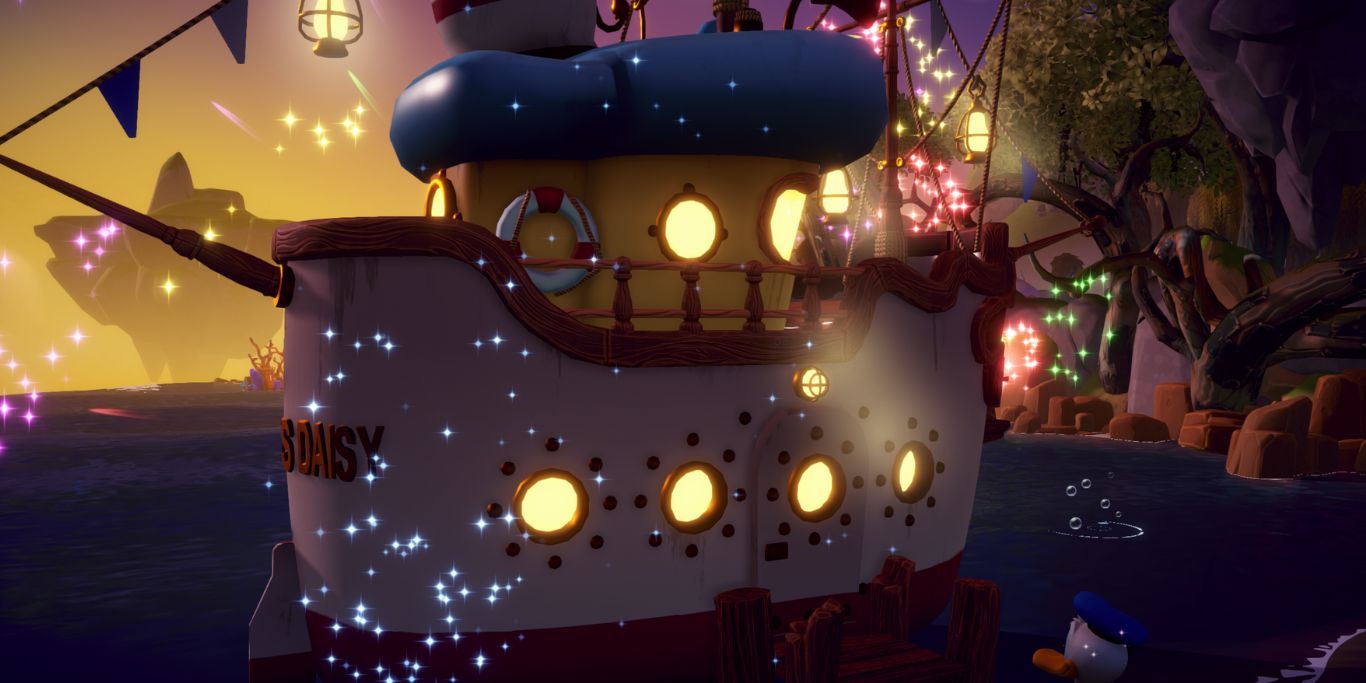 Once Donald Duck is in the valley, you'll have another problem on your hands. If you've unlocked Dazzle Beach, you most likely saw the house that was broken and halfway filled with water. Turns out that is his house, and he needs your help fixing it.
During the A House Fir For A Duck quest that you can get after talking to him, he will first ask you to call in a favor from his uncle, Scrooge McDuck. After telling you how Donald takes advantage of him, Scrooge will give you the blueprint for fixing his home and ask you to get the required items.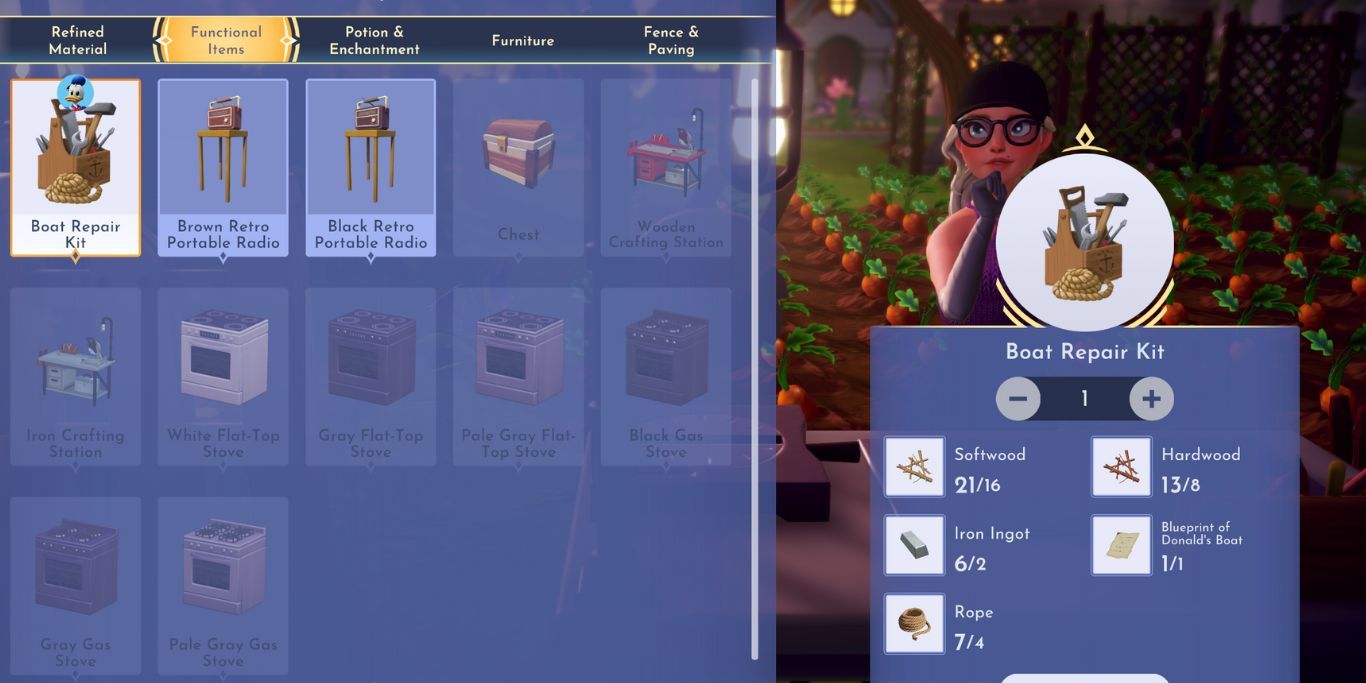 Before being able to create the Boat Repair Kit at the Crafting Station under the Functional Items tab, you need quite a few items that can be significantly hard to get for newer players. Here's everything you need:
Softwood – This is probably the easiest resource required to craft the item. You can go around the valley, and you'll find Softwood lying everywhere. This wood will be a lighter shade of brown. You need a total of 16 of these.
Hardwood – Eight Hardwood is required for the crafting, and you can find these lying around just like Softwood, but in limited areas. The areas Hardwood can be found are Forest of Valor, Glade of Trust, Sunlit Plateau, Frosted Heights, and Forgotten Lands.
Iron Ingot – While you only need two of these, it takes five Iron Ore and one Coal to make one Iron Ingot. These can be mined from black rocks found in the same areas as Hardwood.
Rope – Finally, you need to craft four ropes, which is a two-step process. First, you need to find Seaweed from fishing or foraging. You can craft five Fibers from one Seaweed, and you need eight Fibers to craft one Rope. This means that you'll need a total of 32 Fibers.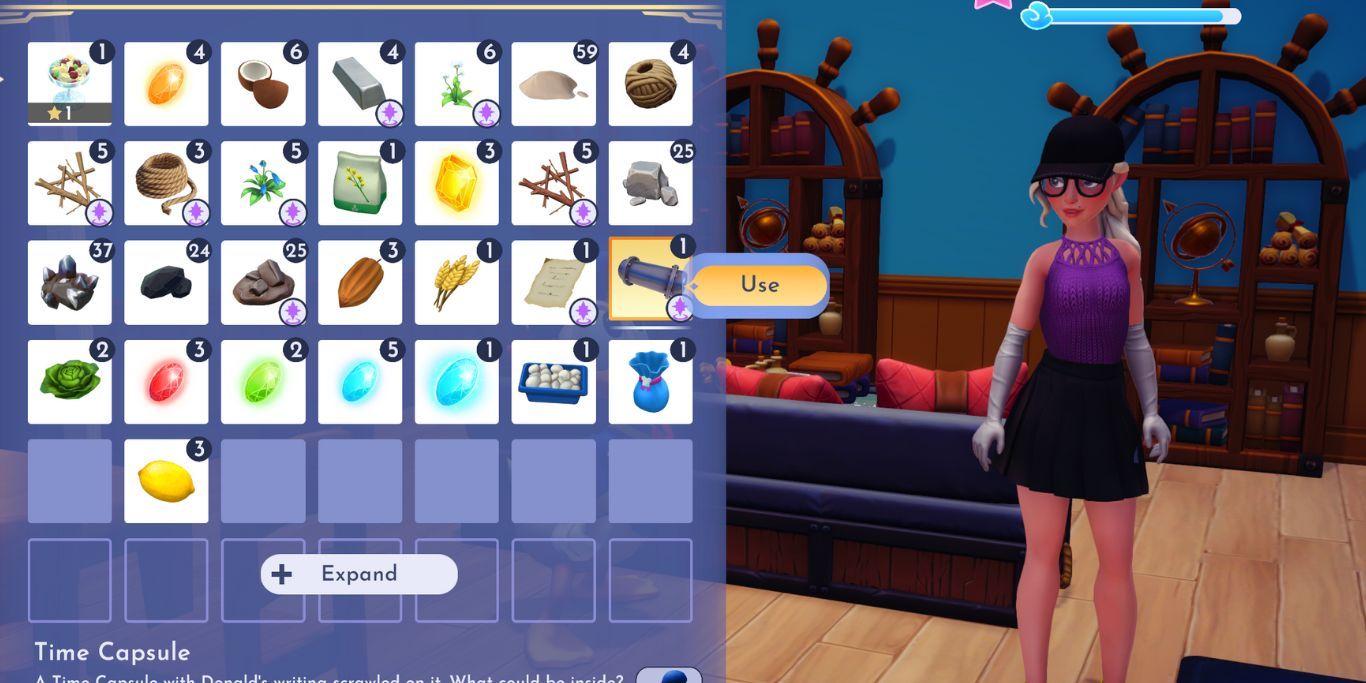 After getting the Boat Repair Kit, talk to Donald and follow him to his house. Here, you can once again call a favor from his uncle, who will repair his house for free. Once repaired, head inside the house and pick up all the required items that can easily be found around the house from their sparkle effect.
To end the quest, you just have to use the Time Capsule which will remind Donald that he was making these to save the village from The Forgetting.
Donald Duck Friendship Rewards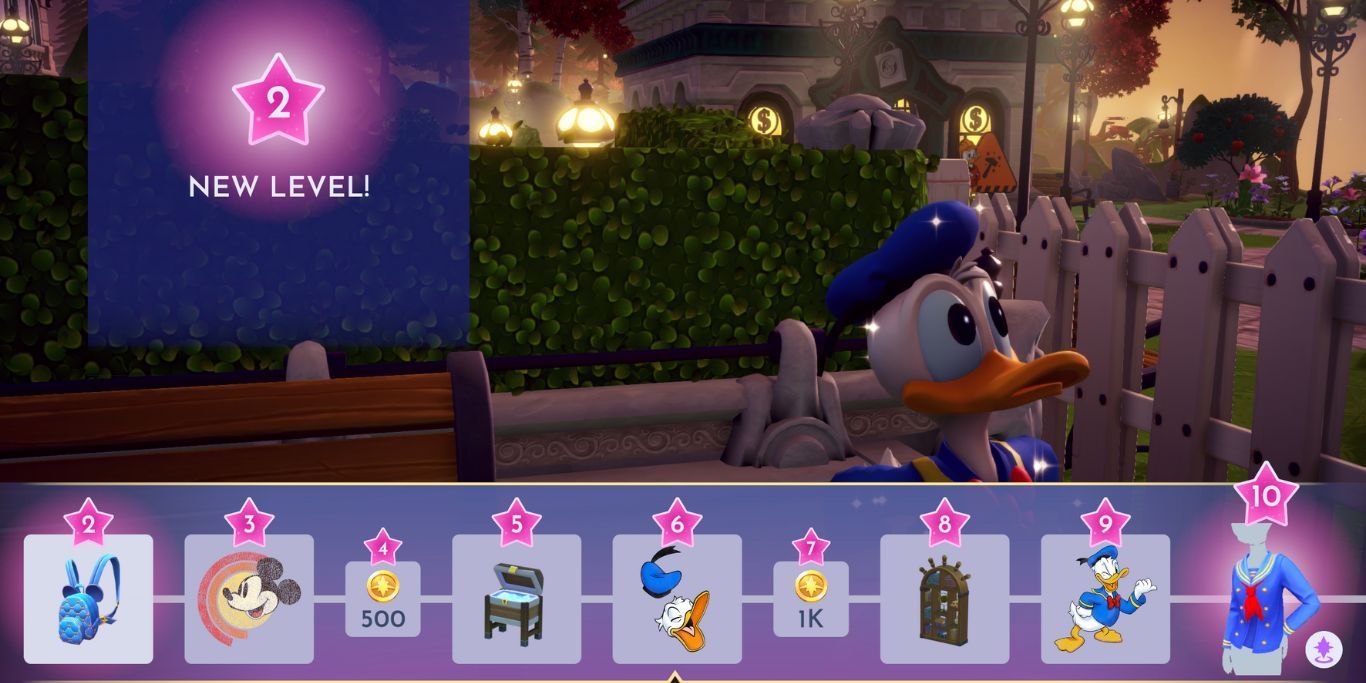 Whenever a new character unlocks, their friendship can be upgraded by ten levels, and it gives you a special reward for each level to celebrate your friendship. You will also unlock some quests after reaching certain levels. The required level for the next quest for each character can be seen in your quest tab.
To increase your friendship super fast, talk to the character every day and give them the featured gifts that provide extra EXP. You can also assign special tasks to them at friendship level two, and perform these tasks while hanging out with them to get extra EXP.
All the friendship rewards that you can expect from our beloved Donald Duck are:
| Friendship Level | Reward |
| --- | --- |
| Level 1 | Unlocks Donald Duck, The Curse quest, and his repaired house |
| Level 2 | Unlocks a blue backpack that you can put on your character |
| Level 3 | Unlocks an outfit overlay similar to the friendship reward from Mickey Mouse. This can be applied to your customized clothing |
| Level 4 | Unlocks 500 Star Coins |
| Level 5 | Unlocks furniture for your home or the valley |
| Level 6 | Unlocks a cute Donald Duck outfit overlay for your customized outfits |
| Level 7 | Unlocks 1,000 Star Coins |
| Level 8 | Unlocks a cabinet skin that you can put inside your home or the valley |
| Level 9 | Unlocks another Donald Duck overlay for your customized outfits |
| Level 10 | Unlocks a blue shirt similar to the one rocked by the duck himself |
Source: Read Full Article