Discover What It Means To Be A Zombie In Adventure Game Surviving The Humans
Newly-formed Surprised Monkey Studio recently announced its first incoming video game product, a 2D point-and-click adventure game titled Surviving the Humans. The game is currently being crowdfunded via Indiegogo, where it launched on December 28 with a $10,000 flexible goal, and has 34 days remaining as of this writing.
If there's any question as to how serious the studio is about wanting to make Surviving the Humans, note that it's also running a Kickstarter campaign to help fund the game. That effort also launched with a $10,000 goal, and as of this writing, has only funded about $3,800, with just 15 hours left.
According to the project's Indiegogo notes, Surviving the Humans places you in the undead role of Cooper, a zombie recently arisen from the dead in the 1980s, with no memory of your life as one of the living. You will guide Cooper through "an epic story where he learns what it means to be a zombie and how to change human's misconception about its kind." The studio aims to tell a story it believes has never been told before, to counter the dominant and popular idea "that zombies always have to be bad, murderous, and monstrous."
The game's point-and-click style was inspired by classic games such as Monkey Island, Full Throttle, and Grim Fandango. The devs state they hope to help you once again have the same feelings you had while playing those games once you get into Surviving the Humans. To that effect, the game features exploring four chapters of engaging gameplay involving collecting numerous items to solve a multitude of puzzles with, as well as meeting and talking to various NPCs who have their own unique stories, and who may need to be convinced "of certain things to advance in the story."
One particularly intriguing feature of the game is that Cooper's body "is in full rot and it is difficult for him to keep his limbs together." This allows you to use Cooper's dismembered body parts to help deal with certain puzzles and overcome game obstacles. For example, you can place Cooper's head somewhere small and inconspicuous so you can see and hear things happening in a certain location without trying to hide your entire body there. A dismembered hand can similarly be controlled remotely to interact with objects your entire body can't somehow get close enough to. An interesting game mechanic, for sure.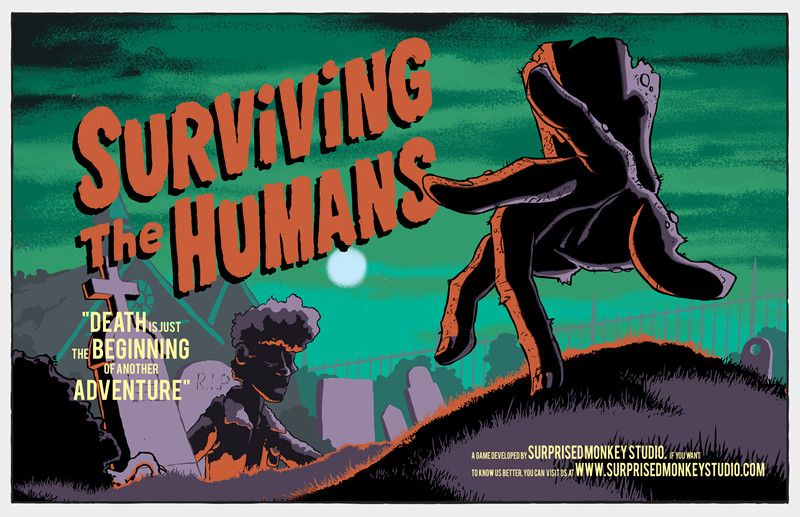 Surviving the Human's Indiegogo project has eight support perks available, ranging from $5 to $500. Depending on your chosen perk, your pledge will earn you a digital copy of the game for any platform, exclusive backer 4k desktop and phone wallpaper, your name included in the game's credits, the official soundtrack, and an in-game grave or crypt with your name on it. Higher perk tiers allow you to become an actual in-game character, or have an original idea of yours added to the game, or both.
Be sure to check the Surviving the Humans Indiegogo page for the full details, including planned stretch goals, as well as art and game development notes. And hit the Surprised Monkey Studios website for all its social links.
Source: Read Full Article